Russillo on the Road: Madison
Updated:
October 20, 2010, 3:18 PM ET
By Ryen Russillo
The Scott Van Pelt Show on ESPN Radio
Russillo on the Road: Madison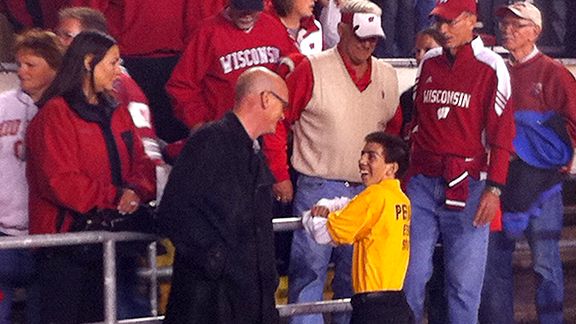 SVP is the mayor of Madison.
As part of his responsibilities for College GameDay on ESPN Radio, our own Ryen Russillo will be spending a lot of time on the road again this fall. Ryen documents his trip to Madison in the fourth edition of the second season of "Russillo on the Road."
Madtown
Van Pelt has said that Madison is the best college town in America and apparently he likes it so much that he is going to make this trip. He also gave a commencement speech here a few years ago. Some have questioned the move by the university, but my class at UVM had Whoopi Goldberg, so that's a win for Wisconsin.
Thursday, 10/14 - 2:00 p.m. CT
Left a little later this trip. Trying to catch up on sleep any chance I can get. We are staying in Johnson Creek, WI, so there wasn't a huge urgency to get here early.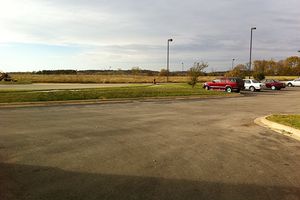 Ryen Russillo/ESPN RadioLook at all this space.
3:38 p.m
Checking in. This place is truly in the middle of nowhere. It's 30 minutes outside of Madison.
4:09 p.m.
Eating in some of these smaller towns is always challenging. I ask the front desk where I should go. I mention I'm looking for something that is a step up from Arby's. This conversation turns into a 'what's wrong with Arby's?' debate.
4:58 p.m.
We settle on Highway Harry's. Stanford Steve and I are skeptical but it's not a bad meal and now we are headed over to the Nike outlet across the street. Actually a little surprised there is one here.
5:10 p.m.
No longer surprised. This is the worst collection of Nike gear I have ever seen. There are third-world countries that wouldn't accept this stuff if it showed up in a box.
I say this with a good understanding of Jamaican attire. One of my friends was thrown in a holding cell for something stupid so he traded his Colorado Rockies hat for freedom. By the way, it is really hard to get arrested during spring break in Jamaica. I did get stopped once on a motorcycle at 3 a.m. by a local police officer, who took about $3 and let me go. He was standing in the middle of the road holding an automatic weapon pointed at anyone driving in his direction.
5:44 p.m.
Highway Harry's is fighting back and your boy is down. May not make it to Madison tonight.
7:00 p.m.
This isn't fun. I'll leave out details. Steve is hurting, too.
8:09 p.m.
Time to suck it up. Still going to go into Madison. This is really our only chance to see the town because Friday is work night and I have to fly out from Milwaukee on Sunday at 6 a.m.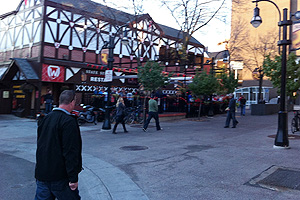 Ryen Russillo/ESPN RadioThe brats have no idea what kind of beating is headed their way.
9:10 p.m.
We head to State Street Brats to watch some football and meet up with Andy Staples from SI.com. Staples has been with us the last few weeks and I guess he isn't sick of us yet so we sit down to plates of pretzels, cheese curds and brats. They also have a TV in the floor by the door guys.
9:47 p.m.
The night is going well. A bunch of people from the TV side are here and we are talking about College GameDay's emergency scenarios. The most ridiculous is me filling in for Chris Fowler. Think about how scary that would be. I promise that "energy would be high." Most everyone agrees it would be a disaster. I argue at least no one would change the channel.
11:00 p.m.
The only downside is that strangers keep walking by and shoving a camera phone into our group to take pictures of Erin Andrews. This is really weak. I honestly feel badly for her. She basically can't go out.
12:19 a.m.
We are headed to Wando's to check out Van Pelt's favorite spot. Jay, the owner, couldn't be nicer. There is mild disappointment as it isn't free bacon night. Every Tuesday, you get a pile of free bacon with your drink. Yes, I'm
serious
.
Later a.m.
We get a cab back to Johnson Creek. Solid night, except for the poor guy driving the cab 30 miles outside of his area.
---
Friday, 10/15 - 8:30 a.m.
Driving back to Madison. We have to tape Jim Tressel and Bret Bielema, and I'll be on with SVP today.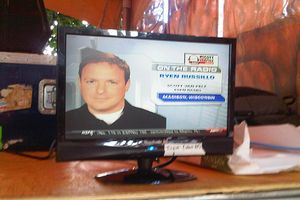 Ryen Russillo/ESPN RadioWho wears a white undershirt anymore?
12:10 p.m.
SVP keeps saying he is trying to make it out for the game, but I inform him that I'm probably not going to be able to go out on Saturday if he does show up. He tells me he's working on something. Maybe he finally bought Special Ed's used
hovercraft
.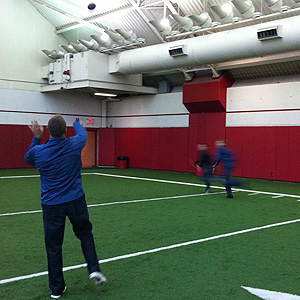 Ryen Russillo/ESPN RadioSo much speed.
3:00 p.m.
Finish up the show and head over to TV meetings to steal some food. Kirk Herbstreit grabs a football and we go to the practice facility to run some drills. We are running corner routes and going one-on-one, Stanford Steve vs. me. I don't remember the score (yes, I do: I won 5-4), but I also take it way too seriously. Steve was one of the top high school recruits in the country and I was a QB at UVM. Intramurals.
3:15 p.m.
Steve's head is pounding.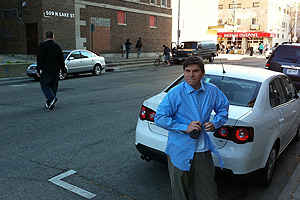 Ryen Russillo/ESPN RadioWaiting vs. not waiting.
4-5:30 p.m.
We are waiting on Brad Edwards. We spend a lot of time waiting for Brad (but Steve doesn't wait for anyone) on these trips. In fairness, Brad is a popular guy during the BCS season.
5:48 p.m.
Grabbing some burgers at Dotty Dumpling's Dowry. Great food and a better atmosphere. Madison is unique because it's a college town that is actually a city, but you feel like you have gone back in time. Most of the restaurants have a ton of character and the people couldn't be nicer. Whenever I meet people this nice, I always wonder what is wrong with us in the Northeast. Not that I'm tough, but I feel like people from Boston start with, "I wonder if I can beat this guy up."
6:01 p.m.
As great as this day has been, our mood is downgraded once we realize we will be leaving the energy of Madison to head back to Johnson Creek. It may actually be called Johnson City. Guess what? I don't care.
6:40 p.m.
Sweet, we are back at the hotel.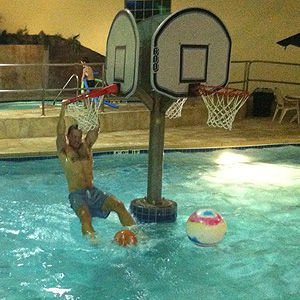 Ryen Russillo/ESPN RadioEmbarrassing or awesome?
7:30 p.m.
Meathead Olympics. Steve and I jump in the pool, which has three basketball hoops in the water. We play horse and then spend 30 minutes trying to jump from the edge of the pool and dunk. There is no way this is going to happen, but we avoid a major injury (surprisingly).
8:00 p.m.
Hungry again and my options are limited. Brad said he got "a pretty good pizza" from a delivery place. I check with the front desk and they tell me that "both places are really excellent."
8:10 p.m.
Place an order and I'm walking around the hotel to look for a vending machine. This place is empty like
The Shining
. I mean, no one is here, one floor has the lights off and I'm honestly scared. I find the hotel bar and it looks like one of your softball buddies' finished basements. The vending machine offers a wide variety of beverages: Squirt, Solar Fusion, something called Drop, RC Cola. No Faygo? How mad would the Juggalos be? Seriously, where does ESPN find these places?
8:30 p.m.
Pizza sucks. Travel tip: people from Johnson City/Creek and Brad Edwards will no longer give me advice on pizza.
9:22 p.m.
Watching some baseball. Yanks are getting killed. I pass out from boredom.
---
Saturday, 10/16 - 8:30 a.m.
Wake up to find out the Yankees came back to win. No way.
11:10 a.m.
Show gets started. It's a beautiful Big Ten fall day, a lot of sun, a little wind and a ton of red. People keep coming up to the set and asking where Van Pelt is. One of us replies, "It's not my turn to watch him." I guess Badger fans were expecting Van Pelt to be dancing in a cage in front of the set.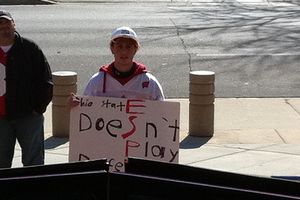 Ryen Russillo/ESPN RadioWorst sign ever.
1:23 p.m.
Worst sign ever. There is a kid in front of us holding one that reads "Ohio State Doesn't Play Defense." It is positioned to spell ESPN. Not only is it completely inaccurate, it looks like his younger and also hammered little brother made it with an eight-pack of crayons and some leftover construction paper.
3:00 p.m.
Texas-Nebraska, Arkansas-Auburn, Cal-USC. Three solid games and history says Nebraska is in trouble even though Texas is as down as it has been in years.
5:10 p.m.
Two-time U.S. Open champion Andy North stops by and says, "You come to my town and you don't call me?" North may be the nicest guy you are ever going to meet, but I have actually never met him, he's just boys with Van Pelt. I tell him, "You don't want me crashing on your couch at 3 a.m." "That is exactly what I want," he replies.
5:33 p.m.
Game changer: Van Pelt notifies me that I will be on the private jet on the way back, direct from Madison. It looks like another run at State Street.
6:05 p.m.
Nebraska loses, Auburn-Arkansas is taking longer than an NBC Notre Dame pregame and we are headed into the stadium.
6:30 p.m.
Camp Randall, 80,000 seats right on top of one of the end zones and Wisconsin has run back the opening kick for a TD. I've come into this game thinking that the Badgers don't have much of a shot. Looks like I might be wrong.
7:30 p.m.
Busy sidelines. USC is the gold standard of having too many people on the sideline; I stood next to Denzel, a storm trooper and Bjork once in L.A. GameDay's celebrity picker is Nathan Followill, the drummer from Kings of Leon. I know you won't believe this, but he is wearing really skinny jeans that Ted Allen from Chopped might sport.
8:22 p.m.
Wisconsin is controlling the line play. Fowler stops by and asks if any of us have ever seen an Ohio State team get dominated this way before.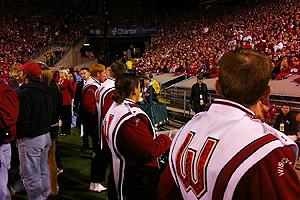 Ryen Russillo/ESPN RadioSnack time.
8:33 p.m.
The "back in time" comment I made earlier still holds true. The band members are working all night. They set up in the aisles, there is a tuba march and the cymbal guys are going crazy, working on specific dance moves with their cymbals. They are also dressed like they're in a Jazzercise video. After the set, they go over their technique. One girl on the base drum is eating an apple with no hands while she plays.
9:10 p.m.
Game over. 31-18 Wisconsin. There was a late score that made you think Ohio State was going to pull out an improbable win, but Terrelle Pryor is just not consistent enough to get it done. I've seen him in person four times and come away unimpressed with his passing every time.
9:20 p.m.
Place is going crazy. People want to rush the field but there are security guards stationed at every gate. One gate seems a little more penetrable than the others: the guard is about 140 pounds and his pep talk is from a guy that makes a corpse look good. No chance. People just slam through him and he keeps trying. It ain't working. Van Pelt goes up to him to offer some encouragement and it makes the kid's day. He may be the only person in the stadium that doesn't recognize Van Pelt. Doesn't stop the kid from being really happy.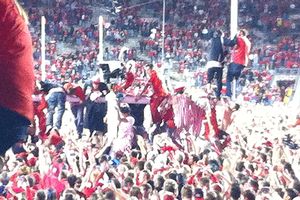 Ryen Russillo/ESPN RadioAggressive joy.
9:30 p.m.
The goal posts are under attack, we head out of the north tunnel and somehow end up walking out with the players. Van Pelt winds up in a long line of fans high-fiving him and chanting his name. Seriously, the kids are going nuts and he didn't even have a tackle.
10:10 p.m.
Postgame activities. We head to Wando's tailgate above the parking garage. Great setup. We meet one guy who is either the best parent or the scariest. I can't really share what he says to his two boys. I don't want to be responsible for him having his sons taken away by the state. It's just some awful dating advice for a 10-year old.
12:40 a.m.
After a long bus ride, we are at Wando's and posting up in the corner. Stanford Steve is in charge of security for Van Pelt and I'm catching up with Tommy Lee. Not the drummer from Motley Crue, but I'm going to his wedding in two weeks. He goes to Tulane but hangs out in Wisconsin on weekends when he's not home in Chicago. He actually might have a better time than the real Tommy Lee.
Later a.m.
Van Pelt was mobbed all night, but he dealt with it well. I don't know how he does it. I mean, four-straight hours of meeting hammered dudes. I make it back to the hotel and close my eyes for a little so I can make the plane in a few hours. No dinner was a terrible idea.
---
Sunday, 10/17 - 7:30 a.m.
My watch says 8:30 a.m., the time our Marquis Jet is scheduled to leave. I freak out. I'm so mad that I'm swearing at myself. I can't believe I messed this up. Instant weirds. Total regret. Shake the cobwebs and think again: actually, I have an hour. Never changed my watch. Great night, totally worth it!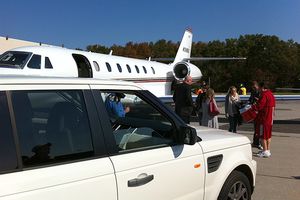 Ryen Russillo/ESPN RadioESPN Radio did not pay for this.
8:31 a.m.
Marquis Jet. Sick, the best way to travel. I almost feel guilty that there is literally nothing I can do to repay the owners Kenny Dichter and Stephen Nitkin for letting me get a ride. It's kind of hard to send a guy an ESPN Baseball Tonight T-shirt for a private charter and say, "We're even."
11:45 a.m.
I have never thought there would be a college town that I would love more than Burlington, VT. My buddies and I always joke that we wish we had a football team at our school, which is always followed by, "We would have gotten beaten up every weekend." On this weekend, I understand why there is so much love for Madison, even if I feel like I took a beating on Sunday.
Stay tuned for the next edition of "Russillo on the Road." Got any questions or suggestions for Ryen? Please comment below and let us know what you think.
MOST SENT STORIES ON ESPN.COM