Russillo on the Road: Missouri and Utah
Updated:
December 7, 2010, 1:43 PM ET
By Ryen Russillo
The Scott Van Pelt Show on ESPN Radio
Russillo on the Road: Missouri and Utah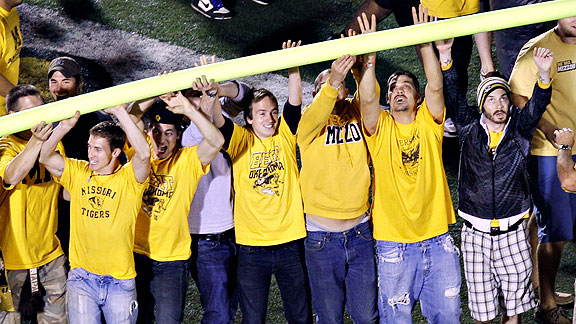 Ryen didn't get to see this.
As part of his responsibilities for College GameDay on ESPN Radio, our own Ryen Russillo will be spending a lot of time on the road again this fall. Ryen documents his trips to Missouri and Utah in this very special two-part edition of "Russillo on the Road."
Thursday, 10/21 - 11 a.m.
We got a direct flight to St. Louis. This is rare. The accommodations are a little challenging this week, but it will be the first ever GameDay from The University of Missouri.
11:40 a.m.
This is the rare direct flight that makes a stop in Pittsburgh. We actually get off of the plane, have an hour layover, change gates and get on a new plane. Other than that, it's a direct shot. Thanks, travel!
2:47 p.m.
On the left is the Mississippi River. This leads to me saying, "The old Miss, the old man" in my head.
3:30 p.m.
Land and headed over to grab my rental car. There is this lady who works for ESPN that I think does makeup and I see her on every trip. She always ends up on the sideline and she is always taking notes. I guess she really likes football. We never say hello.
3:40 p.m.
Grabbing the car and the place is a mess. There aren't enough vehicles. Luckily, I get out in time and have about a two-hour drive to Jefferson City. This trip will be all business. I hate saying that but we are staying over 30 minutes away from campus and we will driving back to St. Louis to make our early flights on Saturday, so this ride back will be hanging over us all weekend.
4:37 p.m.
Driving across the state and I see a sign for Nevada, 131 miles. Now, I realize how poor my geography is on every trip, but this can't be true, right (I later find out it's not even close)?
5:22 p.m.
Still driving. Not a lot to comment on. I see a Nike outlet, but after the Wisconsin visit, I'll keep driving. The other thing I wonder is what I would be like if I grew up in the middle of Missouri. The only thing I know for sure is that I would have a huge truck, and it would mean a lot to me.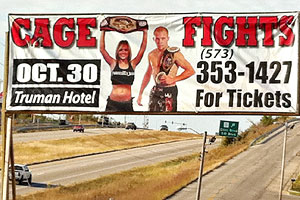 Ryen Russillo/ESPN RadioJefferson City nightlife.
6:00 p.m.
Check in. We are at the Truman hotel or something. There are a lot of pictures of the former president and I'm guessing he used to stay here? Not sure. That presidency must have wanted to keep costs down. There is a cage fight taking place here. Unfortunately, it is next Saturday. The sign is just great: a shirtless dude holding a belt with a random seven next to him. I'm looking for a sign-up sheet for Trevor Matich, my co-host. They tell me, "It's a closed event." Come on, what kind of backwoods town is this if a total stranger can't enter a cage fight?
7:30 p.m.
Stanford Steve and I are headed to get something to eat. The restaurant is supposed to be some jail theme, the bar is behind bars and they have different bras hanging all over the place. I have no idea why. Hopefully the food is better than jail.
8:30 p.m.
Food is good. Oregon is playing UCLA and it feels like I miss a Ducks TD every time I put my head down to take a bite.
9:11 p.m.
Driving back to the hotel, I notice a live jazz bar and a small downtown area. I'm thinking, "Maybe I'll come down here during a study break tomorrow and listen to some music or check out the local scene." It's kind of like when you think, "Maybe I'll take a class towards my master's." I will never do either.
10 p.m.
Philly beats San Fran, Oregon humiliates UCLA and I'm so bored that I sign up for ESPN's College Town on Facebook. I deactivated my real account months ago because dudes were friending my sisters. So now that I'm playing this, let me understand: I am supposed to pay real money to buy fake dorms and sub shops? My College Town sucks. I name it Jefferson City.
---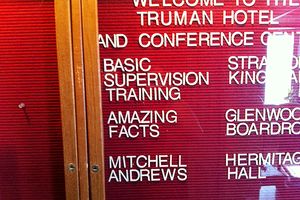 Ryen Russillo/ESPN Radio"Amazing Facts" seminar.
Friday, 10/22 - 8 a.m.
Trying to find the workout room, so I ask a lady for directions and she sends me in the complete opposite direction. So now I'm lost and I stumble across a seminar called "Amazing Facts." I'm so intrigued, I want to crash it and start making amazing statements. "I know a guy that had nipple hairs a yard in length! If time travel was possible, wouldn't someone have come from the future to tell us? I once tracked an elk by just being polite. Wade Phillips actually gets paid!"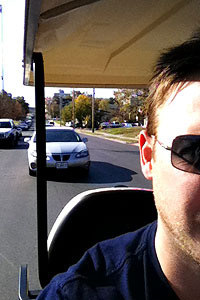 Ryen Russillo/ESPN RadioGolf cart traffic jam.
8:22 a.m.
Treadmill domination.
9:22 a.m.
The set is just outside Mizzou Arena. We take the golf cart over to the student center for something to eat and walk around like creepy old guys.
10:50 a.m.
A couple of observations: Steve never lets any cars pass us in the golf cart, so had a nice traffic jam behind us. We only almost killed one student on the sidewalk. The girls here all wear these jogging shorts to class. A couple of dudes look like bad guys from '80s movies and they cut out the sides of their T-shirts and wear backpacks. Also, the kids love these
LINK?
shades today.
11:10 a.m.
A lot of options for food: sushi, pasta, etc. Things have changed. At UVM, we had gravy fires. Now everybody wants abs, except for the people that don't.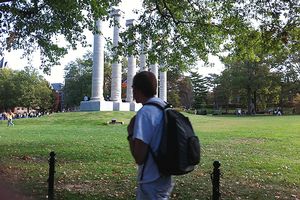 Ryen Russillo/ESPN RadioPillars of knowledge.
11:30 a.m.
We are headed over to the Columns in the center of campus, a terrific backdrop to the GameDay set. The Friday crowd is as big as some Saturday crowds I have seen.
11:48 a.m.
On the drive back, a lady in a sedan pulls alongside Steve and I in the golf cart. She yells, "You're not supposed to do that!" We nod, say thanks and keep driving. I don't know that I have ever listened to anyone less.
1:20 p.m.
The SVP Show has become really popular since last year, especially on campuses. We have had a lot of people come up to the set to say hello, take some pictures and ask if Van Pelt is cool. I should start making stuff up about him. "Yeah, he's great but he's really into exotic pets and TLC will be filming him on an episode of "Hoarders.""
Some dudes from Kappa Alpha stop by. They look "pretty tired" and want to know if I'm going to go out tonight. No chance. It's Friday and your boy needs to study. They offer up some pledges to come pick me up in Jefferson City and drop me back off later that night. I'm intrigued but I'm going to decline. I mean, what if these guys suck and I'm stranded with the worst dudes on campus for an entire night? That can't happen, I'm on TV.
It does remind me of the story of LSU-Auburn in 2008. Stanford Steve and I were staying in Columbus, Georgia, about an hour and a half from the campus and had Friday off, so we wanted to head into town on Thursday night. We drove in, left our car at the set, mingled with the kids at Toomer's Corner and I ran into some guys that were SAE (my fraternity at UVM). We start talking, the kids ask us how we're going to get home and we tell them we're going to get a cab. If you have read this blog, you know that cabs in the south are like people in Hartford, CT: you just don't see them. The dudes offer up a pledge to drive us back. It was 2 a.m., and I agree that it's a fantastic idea. They wake some poor kid up on a phone list, and the most bummed out 18-year-old in town greets us in his pickup truck 15 minutes later. He opens the door and starts right in with the excuses. Here is our conversation:
Pledge: "I've got a test tomorrow."
Me: "Have you dropped the lowest score yet in this class?"
Pledge: "I don't have any gas."
Me: "I'll fill your tank."
Pledge: "My parents said I can't drive out of state."
Me: "Okay, that's it. Let us out."
I would have drank a concrete smoothie when I was a pledge (this actually may have happened, don't remember). I turn around, look back into the window and say, "If you aren't into it, quit, man." Always wonder what happened to that guy. We did end up getting a cab. $90 fare and the lady who drove us was miserable.
Back to Mizzou. Also, the Missouri guys that came up to the set were actually great and brought us food. One kid was kind of a punk. Chazz/Chase/Shaky. Something. But in his punkiness, I saw a little of myself. Kind of wish I went out with them.
3:30 p.m.
Heading over to meet Missouri coach Gary Pinkel, who is 0-7 vs. Oklahoma and Bob Stoops. Pinkel has always been great to us and you kind of want a guy like that to eventually get a win. Of course, I ask him about being 0-7. He handles it well and says, "Look, I'm a competitive guy. I know the record and I want to beat him." I always think it's funny when people in the media are afraid to ask questions like this. What is going to happen if he gets mad? Is he going to yell at me? Don't care. Hit me? Not a chance. I've got 18-inch pipes. Are we no longer going to hang out socially? Pretty good chance I am never going to hang out with any of these guys because I don't now.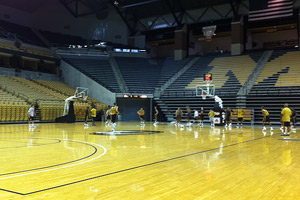 Ryen Russillo/ESPN RadioHoops practice.
Two other things: I'm wearing an old-school Florida T-shirt. You can barely tell, but you shouldn't do this when you are interviewing a college coach. Also, Bob Stoops cancels. Actually, he never cancels, we just don't get him.
4:30 p.m. - Hoops practice
One of the members of the staff shows us around the basketball facilities and we sit in on practice. If you haven't seen Missouri play under Mike Anderson, you are missing out. Mizzou is one of the few teams in the country that can play fast at both ends with transition offense and a full-court press. Remember this name: freshman Phil Pressey.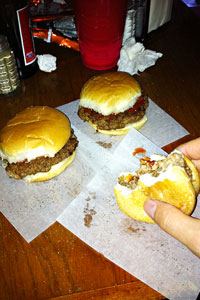 Ryen Russillo/ESPN RadioBurger time.
6 p.m.
Dinner time. We have been advised by Pat Forde that we need to go get burgers at Booche's. This place is awesome. It looks like they haven't changed anything since Orval Overall used to get hammered with
Noodles Hahn
and Whiskey McGovern from the 1897 Kansas City Wool Drifters. Rare was the lady from the Schrempf Soap Factory that was not approached by this trio of hurlers and batsmen back in the day.
Back to the burgers: sick, just great. I could eat 10 of these. They are like sliders, but not the airport slider that makes you want to shoot yourself 30 minutes after you take off in a plane. It's the kind of burger that you would order at the best steak house, except this is an old pool hall. No plates, just napkins, no utensils and they serve about five items. Did have a problem in the bathroom: very small, no sink and the paper hangs from a hook on the door behind you. As I turn to close the door, I cut my arm. I will sue for five more burgers.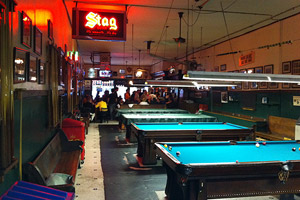 Ryen Russillo/ESPN RadioThe hustler.
7:44 p.m.
Walking around town. Really want to take it in and hang out, but back to Jefferson City to suck at life.
9 p.m.
Studying. At least the Yankees are losing.
11:55 p.m.
Shutting it down.
12:34 a.m.
Waking back up. I noticed that I'm surrounded by three rooms of the same family a few hours ago. Let's try and be nice with my description: they look like they vacation in Jefferson City. Got it? I'll wait... So the kids next door are playing "Call of Duty," and another game called "throw the coat hanger against the wall all night." I'll give this some time.
12:34:22 a.m.
Okay, that's enough. I bang on the wall, yell, "That's enough!" and they stop. Win. When I was a freshman in college, my father and I stayed in this dumpy motel in Burlington, VT (Motel Brown). The people next door made noise all night, so we called the manager and threatened violence. Nothing worked, so we found a French language cartoon station in the morning, turned the TV stand toward their wall, put it on 11 and checked out.
---
Saturday, 10/23 - 9:22 a.m.
Great parking spot. Best in three years.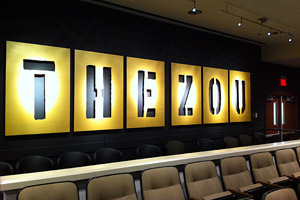 Ryen Russillo/ESPN RadioNot a high-end restaurant, just Mizzou's facilities.
11:20 a.m.
We've got a good crowd early. I always like going to places that have never had GameDay before. It makes sense that this would be a big deal here considering that Missouri is one of the biggest and best communications schools in the country.
2:22 p.m.
Texas keeps losing. what is wrong with these guys? How can you not get one good RB out of the state of Texas in over five years? Maybe this O-line really isn't good.
3:46 p.m.
So sick of Jimmy Johns. We get it every week now. They make a strong sandwich, I'm just worn out.
4:55 p.m.
A couple of observations about the show: I cannot believe how old and out of shape the people in the Mizzou band are. Look, we all know the band stereotypes, but this group is weathered.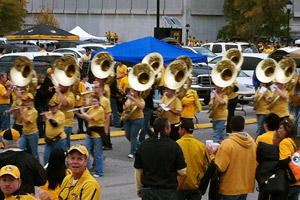 Ryen Russillo/ESPN RadioOld guys. Or not.
5:01 p.m.
Correction: that is the "Alumni Band." I guess you just show up and play. Get some!
5:55 p.m.
Prediction time. Trevor goes with Oklahoma, Brad says, "I think Oklahoma is going to win" on the air, but I keep getting stuff wrong so I'm picking Mizzou. The place goes nuts. This has been one of the best crowds we have ever had for Radio GameDay.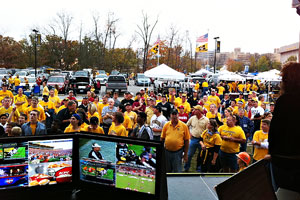 Ryen Russillo/ESPN RadioNot LSU, but just as drunk.
6:12 p.m.
There is drunk and then there is LSU drunk. LSU drunk is almost like an hypnotic state of passive aggression. Think of Sting in his tantric sex days when he bragged about business time for seven-straight hours. LSU fans just make love to bourbon. With all of this yellow and bad decision making around me, I almost feel like I'm in some satellite cell of Baton Rouge right here in Missouri. Feel proud, Tigers to the north.
6:22 p.m.
Walking over to the game and some drunk kid yells my name. I think he wants to hug me, so I give a half grab back pat, and he yells, "Dude, leggo. What's wrong with you?" Must be an SVP fan.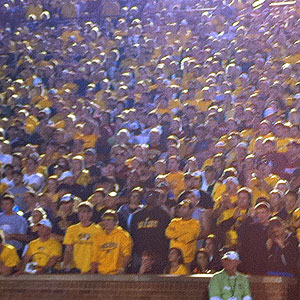 Ryen Russillo/ESPN RadioHungry Tigers.
6:55 p.m.
On the Oklahoma sideline right before kickoff. These guys are so big and the stadium is amped. Record crowd. Mizzou fans want this so bad.
7:10 p.m.
Just like last week in Madison, Mizzou returns the opening kickoff. 7-0, home team.
7:45 p.m.
There have been mistakes on both sides, but this is the first time in a while that Missouri looks like it can hang physically on the lines of scrimmage. Oklahoma is playing really fast on offense. Stanford Steve points out that it's almost too fast.
7:51 p.m.
Really
glad I didn't ask the "makeup lady" anything about makeup because she's actually a spotter for TV. She's taking notes because that is her job.
8:44 p.m.
This is the worst part: it's almost halftime and I'm probably going to have to leave and drive to St. Louis. We have hotel rooms there for just tonight in order to be closer to the airport for our early flights tomorrow. If I want to stay for the game, I won't be at the hotel until 2 or 3 a.m. with traffic. Getting up at 4 a.m.?
8:55 p.m.
I'm walking out of Memorial Stadium and I feel so guilty. This place is going to go off, Mizzou will pull the upset and I'll be 100 miles away on I-70. Out of 21 games for College GameDay, this is only the second one I have ever left early.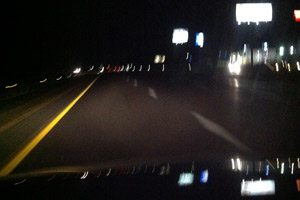 Ryen Russillo/ESPN RadioTerrible way to spend a second half.
9:33 p.m.
Listening to a local call of the game. Not sure if it is the Oklahoma or Missouri announcers. Who is in charge of these broadcasts? There is one guy who only calls the players by their first names, an old guy doing color commentary that consists of interrupting and yelling at the refs and a young sideline guy who is the only one that knows what's going on. Whenever I go through a funk and worry I'm not that good at my job, I listen to stuff like this and think that I'm awesome! So kids, if you are ever down, pay attention to people who suck at what they do for a little while. You will definitely feel better.
Mizzou wins. Good for them. Now don't lose to Nebraska and screw it all up.
11:02 p.m.
Check in. This is funny: they are offering me a shuttle to a "comparable hotel" just a "short distance away." The hotel will cover the cost. Guess who's paying for this room? Not me. That will be a pass.
11:47 p.m.
Watching San Francisco highlights on ESPN. They just won the National League and Brian Wilson is getting interviewed. Man, I love this guy, but could you live with him? Is he always
"on?"
I have a couple of friends that I love, but after 48 hours with them, I'm all set (I think there is a good chance 95% of my friends would say the same thing about me).
---
Sunday, 10/24 - 4 a.m.
End on this note. I'm at the airport. Disaster, a million people, no signs but I check in so early that they switch my flight to an earlier one (ESPN changed me from my original flight to save money). Cost difference: $50. That means I get back to Hartford that much sooner. Wait...
---
Wednesday, 10/27 - Chicago leftovers
I'm not going to lie: your boy is hurting. This will be eight-straight weeks on the road and I just got back from a huge wedding in Chicago (congratulations to Jenny and Tim Walsh). So with that as the backdrop to this week, let's start with some self-evaluation before we head to Utah. I haven't had a day off since August and I feel like my game is no longer tight. I can't find my license or a credit card and my phone had to be FedEx-ed from the last hotel it was left at (before it was stolen in Chicago). I don't think I've paid a bill in two months and I've lost about 12 pounds (my abs do look sweet as a byproduct).
One Chicago highlight was meeting Vince Vaughn. He was at the hotel bar where the wedding was and I figured I would say hello considering I think he's great and I have been telling dudes for to copy Vince Vaughn if you don't know how to talk to girls for years: just talk fast, ask questions, don't wait for answers, make ridiculous statements, be unpredictable, don't wait for reactions and take the room over. He has also called into ESPN Radio a couple of times and we met at the Ohio State-USC game last year. A note on approaching celebrities: you probably never should because there is a 99% chance they don't want to meet you (make it 100% if you're a dude). Most encounters will go badly or you will walk away with an empty feeling. I don't think I've ever been with someone famous who met a stranger that came up to a group to interrupt and said, "That was great. I'm glad that guy did that."
Maybe the worst encounter I had with a famous athlete was 10 years ago when I was out at a Boston bar near Fenway Park. It was real late and I had been talking to a guy who was on the Yankees at the time (they were in town playing the Sox). I was accepted to hang out after hours. Let me emphasize that it was really late. One of the Yankees introduces me to Chuck Knoblauch and I proceed to tell him how to fix his throwing problems to first base. I explain that if he takes 50 ground balls wearing the wrong glove and throwing left-handed, it would feel natural again once he switched to right-handed. He wasn't really receptive. I still think it would have worked. May have saved his career.
So I talked to Vince Vaughn about college football for a few minutes. He seemed genuinely interested, though he did leave. I was never able to tell him about my theory on talking to girls, and it was probably for the best considering his wife was there.
---
Thursday, 10/28 - Morning
I'm going on "First Take" with Skip Bayless and Jalen Rose, and then flying out later today.
12 p.m.
The show went well. Skip didn't say anything too crazy. I was a little afraid I was going to lose my mind on TV. Curious what that would look like.
4:30 p.m.
I'm on the plane to Utah (TCU-Utah) and I've got about seven hours of travel ahead. Can't sleep so I get some writing done for my first book, "My Summer with the Pirates of Somalia."
6:47 p.m.
On the next plane in a middle seat. The girl next to me is crushing food. It's making me hungry so I order some Peanut M&M's, which cost $2 and they only take plastic. I reach for my wallet. It's missing. Panic - can't find it anywhere. I get out of the seat and check everything. Nothing. So I was already missing a license but at least I had two work IDs that got me on the plane. Now I have nothing. Can't get the rental car, checking into the hotel is going to be difficult and I have no money or credit cards.
6:49 p.m.
Absolute rage in my head right now. I'm swearing at everyone, mad about all of these trips. I start thinking crazy thoughts. Do I have anything to sell? Can I ask a stranger for money? What would it be like to mug someone? Could I get away with it?
8:49 p.m.
Basically, I have been furious and sitting here for the last two hours. The guy in front of me asks if I lost my wallet. I say, "Yes." "That sucks," he replies and turns back around. Thanks. I have my first mugging target.
8:58 p.m.
Wanted to mention that my touch-screen personal TV is no longer working. Every time I try to change the channel back to ESPN for the Georgia Tech-Virginia Tech game, it gets stuck and puts me on "House Hunters." This is not a good flight. At least I'll be home next week. Or stuck in Utah.
9:30 p.m.
Getting off of the flight and I run into a few of the guys from TV. I'm embarrassed about my situation and they ask if I need a ride. I tell them it'd be great and that I just need to get my bag. We make plans to meet downstairs in a few minutes. I head over to report my missing wallet. Paperwork, etc.
9:40 p.m.
I have my luggage and I can't find this kid from TV. I think he's a PA (production assistant), so I can't imagine he's just going to blow me off.
9:50 p.m.
Still can't find this kid. Did he leave? Now I'm kind of screwed. I have no cash and can't pay for a cab.
10:01 p.m.
A couple of guys in the airport have recognized me and ask, "Why have you been walking around for like the last 20 minutes? Do you need a ride?" Dude, I need a lot of things right now, but I'm not taking the ride. "Hey guys, thanks for watching. I'll take a ride, but do you guys have any beef jerky or Fruit Roll-Ups I could have? You know, some food that won't go bad outside. Honestly, ESPN does pay me." I finally get in touch with Stanford Steve, who says to get a cab over to the hotel and he'll pay for it. It sounds like he is laughing at me over the phone. Never find the kid from TV. Maybe he's dead?
10:03 p.m.
Need to try and cheer up a little. The nice thing about this trip is that we are right downtown in Salt Lake City. Easy access to the airport and campus is five minutes away, so it's really the anti-Jefferson City.
10:22 p.m.
Walking to get something to eat. I notice there are a ton of homeless people here and they are really aggressive. Had I needed to sleep on the streets, it could have gotten ugly if I rolled into someone else's turf. As we are walking into a restaurant, a girl who is sitting on the sidewalk asks Steve and me for money. We decline and she tells us to, "Go @#$ off." Gee, now I really wish I had given you money.
10:28 p.m.
The place is packed. 20-minute wait. Steve walks right by the hostess station, finds a table in the back, sits down and says, "We are all set."
10:30 p.m.
We get kicked out of the table.
10:35 p.m.
Walking back past the homeless girl that yelled at us and I notice she has a kid in her arms. Seriously, there is nowhere for her to go? I feel badly. That has to be awful but there isn't a shelter that would take in a young child?
10:44 p.m.
We are at another pub called Gracie's. The food is average, but it doesn't matter since I'm so hungry. There is a three-piece band (stand-up bass, guitar and drums) doing Jay-Z, Lady Gaga and Lil Wayne songs. It actually works. Trying to describe the scene and I can't tell. Need more time in the field. So far, it reminds me of some ski/snowboard towns I've been to in Colorado.
---
Friday, 10/29 - 8 a.m.
Go for a run. Best hotel we have stayed at this season. Great food, great gym and no amateur cage fights. Salt Lake is beautiful; even though it's a city, it feels smaller. Nestled in the Wasatch Mountains, it appears to be protected from nature and misunderstanding (that last line was my attempt at travel writing).
9:10 a.m.
Good news/bad news: I find my wallet right in the middle of my laptop bag. It's like someone placed it there when I was in the shower. I have no idea how I couldn't see it. Maybe I'm that tired. Really weird. I should invent a bag that has just one pocket instead of 12. The bad news is that I just found out that we are flying to Cal-Berkeley for the Oregon game next week. I love my Ducks, but I would love to not be in a plane for a weekend.
10:20 a.m.
At the set getting ready for the SVP Show. We've got Freddie Coleman filling in today. There are some people kind of hanging around and watching the show. One of the kids is the most bummed out guy in Utah. His name is Ryan and he says he is a fan of the show and would like to hang out. After a little while, we just invite him up on set to sit in a recliner, and he does.
12:40 p.m.
Show is almost over and Ryan is still here. We hook him up with a gift bag of gear. Most people would have been psyched, but Ryan just shrugs. Before he gets a picture taken with me, he admits, "I'm not going to smile." He stays true to his word. I almost feel like I should give him a hug. My guess is he is in that weird "post-graduation" phase where you really thought life would different than it actually is. It is different: it's less fun. Before we leave the set, I ask him who he likes. He says, "We (meaning Utah) are probably going to get killed," and walks off (if you are reading this, Ryan, cheer up or move. I spent a decade bummed out and it's a waste of time).
1:20 p.m.
I'm doing a hit with a Utah radio station. I've gone on with these guys a few times over the last few years and they ask me to pick the game. I've never been one of those guys who doesn't like to pick a side or go against the home radio station's team. I have never understood this. I guess there is a fear of being wrong and also wanting people to like you, but guess what: no matter what we do, we will always get stuff wrong and we work in sports, so most people think we all suck anyway.
I still can't get over the one question of whether or not Utah can get to the BCS title game this year with a win on Saturday. Wow. Utah is good, better than I thought, but BCS title game good? No way, right?
2:44 p.m.
Back at the hotel and TCU is staying here. This actually happens a lot. Highlights include watching 80 college guys check out Erin Andrews, Brad Edwards knowing where every one of them played in high school and walking around in Texas Tech shorts that I got three years ago. A TCU guy in the elevator tells me that I'm "brave for wearing them around here." Two things: 'around here' is a hotel in Utah, not exactly the Alamo. Second, I tell the guy, "You guys own Texas right now, anyway, and Tech thinks Tuberville is a moron. You're doing okay."
3:56 p.m.
We will be taping TCU coach Gary Patterson in few minutes. Unfortunately, I missed the interview with Utah coach Kyle Whittingham. I have interviewed Whittingham numerous times and have always thought this is a guy you could play for. Rumor has it that one BCS conference coach said, "If you put all 120 college football coaches in a cage, Whittingham would be the last one standing." I want them to say that about me with our radio lineup. Do you hear me, Chuck Wilson?
5:22 p.m.
We hit the campus bookstore. Nothing too exciting. Driving back and I think I have it: there is a younger element to this town that seems anti-establishment, fighting the image of Utah as a boring religious state. It looks and feels like a lot of cities, but there is an edge to some of the guys that I haven't witnessed before. It's like every guy aged 19-29 reminds me of Kevin Federline, except for his talent, professionalism and maturity.
6:20 p.m.
Get a lift in with Bruce Feldman of ESPN.com. Bruce's blog is my favorite source for information. Today is chest day. Just chest. The only bench is a Smith machine; I usually laugh when dudes only bench on a Smith. Guys will load up 315 and act like they are doing something. My buddy is a trainer in L.A. and said 50 Cent was in there, repping 315 for 10 sets on a Smith. No offense, dudes may have shot at you, but really? Then 50 Cent lost a million pounds.
8:30 p.m.
Agent is in town. We grab dinner and debate about whether I would be hot enough to get on "The Bachelor" if I had better hair.
10:22 p.m.
Hotel bar. TCU is getting rowdy. A couple of guys around 25-30 come rolling in well-primed, and one yells, "The a**#$@%s are here!"
10:23 p.m.
I leave.
11:57 p.m.
Finish studying and am watching hoops highlights in bed. Is Joakim Noah the second-best center in the East?
---
Saturday, 10/30 - 8:41 a.m.
Leaving the hotel and driving to the set with Steve. No, wait: Brad got confused on arrangements and we have to turn around to pick him up. I really can't make fun of him since I've lost every important element of my wallet over the last week.
9:47 a.m.
Good early crowd. Worried we may lose everybody because it's a 3:30 ET kickoff, so we will be broadcasting during the game. It's not ideal, but this is the game to be at.
9:58 a.m.
A couple of students/locals rush up to the front of the stage and ask if it's cool if they stand that close. "Sure, knock yourself out, but this isn't exactly like being up front for Pantera." One kid is a loser, trying to bug us and asking for free stuff, so this leads to the game 'Hammered or Utah?' Considering the perceptions of the state, we can't figure out if some of these guys are drunk or just acting strange because they have never had a drink. It was easier to figure out in Provo because no one was drinking.
1:30 p.m.
Empty. Kickoff and there is no crowd. Too bad because we have other interesting games going on: Alabama-LSU, Oregon, JoePa looking for win No. 400 and Boise State hosting Hawaii.
2:30 p.m.
We are also paying close attention to Zenyatta. Great legs on that horse.
3:30 p.m.
Bummed out Utah Ryan is right: the Utes are getting killed.
4:30 p.m.
Bama is in trouble in Baton Rouge.
4:55 p.m.
Joe Paterno locks up No. 400, TCU makes the biggest statement of the weekend and Les Miles chews grass, runs a reverse on fourth down and eliminates the defending champions.
5:12 p.m.
Leaving the set. Utah fans are bummed out, but so are Bama fans, so don't make this about the little guy being disrespected.
5:17 p.m.
Stanford Steve is signing autographs. Favorite part of my weekend. One Boise State fan and med student at Utah says hello, and follows with this: "I wish coach Petersen would let Kellen Moore get more stats instead of taking him out." Are you serious? They throw on the goal line all of the time and as good as Moore is, those stats make him look even better. How did he get into med school?
5:23 p.m.
Also, Zenyatta lost and we may never see her again.
6:16 p.m.
Back at the hotel. Steve and I are watching Stanford. He has a red-eye back to New York City and I'm flying out at 5 a.m., so not a lot of action for the crew this weekend. Steve does not appreciate me checking in on the Texas-Kansas State game.
7:22 p.m.
As we sit here, thinking about the show and the weekend, I ask, "Would you rather be in Baton Rouge right now?" He says no, I call him a liar and he admits, "Sure, it would be fun, but I would definitely end up missing my flight." That is very true. Baton Rouge never really closes. Utah certainly does.
---
Stay tuned for the next edition of "Russillo on the Road." Got any questions or suggestions for Ryen? Please comment below and let us know what you think.