I've got some new hardware, and it's not just the silver medal around my neck from last month's world championships in St. Moritz, Switzerland.
I'm engaged!

It happened at the medal ceremony right after they finished playing Canada's national anthem (Canadians Kaillie Humphries and Chelsea Valois took gold). All of a sudden, the president of our national federation stopped the ceremony and brought my boyfriend, fellow bobsledder Nic Taylor, up to the podium.
It was a total surprise, but when I saw him coming up, I knew what was going to happen. He got down on one knee and said, "Elana, will you marry me?" I don't think I said anything -- I just nodded my head yes. I was still in my speed suit, sweatpants and a towel, and I was so cold -- but I was so happy!
It was amazing that so many of the people I've been around for the past six years of my life were able to share the moment, everyone from former to current teammates who have seen our relationship from the start. That was really special.
We don't have a date yet, but I'm pretty sure it will be in Georgia near my home. We've got to finish out the season first, and then we'll talk. We've got to think about timing with the Olympics, too. How do you plan a wedding and prepare for the Olympics? I'm not sure you can!
[+] Enlarge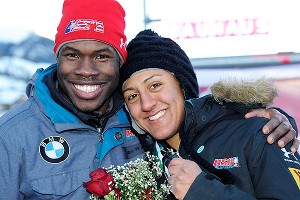 AP Photo/Keystone/Karl MathisNic and Elana have a packed calendar and no date for a wedding -- yet.
To top it all off, worlds was one of the most fun bobsled races I've ever been a part of. First, I managed to really lighten the mood for myself and my brakeman, Katie Eberling, by completely tripping over my pants twice in the 20 meters between the start house and starting line, despite trying to look all fierce and competitive. We both cracked up about that.
Then we had a great race. Being in a close race and coming out on top is what every athlete wants. The best moment was after my last run, knowing I had done absolutely everything I could. I looked up at the scoreboard and saw we were going to at least win a medal -- I just didn't know what color. Knowing how hard I've worked and how hard it's been this whole season, it was awesome.
This year I have a different attitude: I'm going out there and attacking in my sled. When I won the bronze at last year's worlds in Lake Placid, I held third place for a day and just tried to hold on and not drop to fourth. This year, I went after it and did everything I could to put it all out there. That's really the difference this season, which has made it fun and difficult. Last year, no one had any expectations for me and I was able to approach every run with a rookie mentality. Now, with more experience under my belt, it's about being able to keep my calm and compete with an expectation that I'm going to win races or consistently be at the top of races.
Now, we're in Sochi for two weeks of training and a test-run competition for the Olympics. (They do a test run just to make sure the facilities are all up to snuff, checking things like the timing system, transportation up and down the track -- everything and anything that could go wrong so it won't go wrong at the Games.) I was lucky to be invited to test out the track once before at Sochi last year, but I feel even more fortunate to spend two weeks there now, just one year away from the Olympics. The more runs I can get in, the better I can get to know the track, which will add up to more-skilled driving at the Games.
Getting back to Sochi in 2014 is still my biggest goal. I want to make the Olympic team and win gold, and what's driving me right now is my love of the sport. I know I've made a lot of progress and accomplished a lot, and I want to see how good I can be at this, how far I can go. Like any athlete, I just want that perfect run. I want to be in my sled, get to the bottom and be like, "Wow, that was perfect." And so I keep trying.