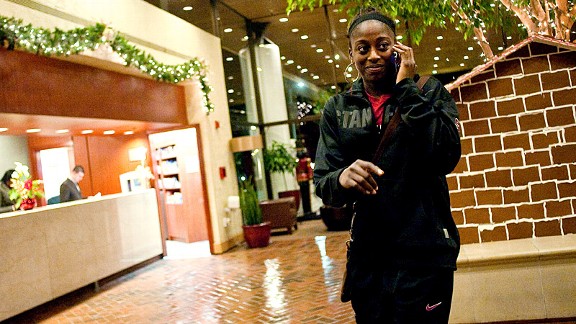 Don Feria/isiphotos.comChiney Ogwumike and the Stanford women's team made the cross-country hike to Norfolk, Va., on Thursday.
On Thursday, our team headed for Norfolk, Va.! The NCAA tournament is about to begin! I can't believe it.
March is by far the sweetest month of the year, and I'm not just saying that because my birthday coming up. March Madness consumes you! This is the one time of the year when you can flip on your television at any time and see blood, sweat and tears all over the hardwood floor; everybody is fighting to stay alive, trying to get one more win. That is what differentiates college sports. It's not about money. It's not about the individual. It's all about the collective effort: winning! This is the one time all of us -- athletes and fans -- can go crazy for men's and women's basketball, just because.
I remember feeling my heart stop when Brandon Knight of Kentucky pulled up versus Ohio State at the buzzer. I remember the intensity of the last Texas A&M possession versus our team in Indianapolis. Even though there is only one winner at the end, the moments we create are so special to each and every one of us. The #journey is what we remember for a lifetime.
On Thursday, we woke up at the crack of dawn to practice. Coach Tara always wants us attending class as much as possible, so if it means practice at 6:45 a.m., we are there! After practice and class, we packed up and bid a momentary farewell to #NerdCity.
It's awesome how many people have watched our music video: students, athletes, professors, fans, tweeters, etc. As a team, we are full of personality, and once a year we try to show it. No, Nneka and I are not serious rappers (even though she can truly sing); yes, Toni always wears tie-dye. I think the point that we were trying to make was people tend to think of #Stanford as a place where we bury ourselves under books and live double lives as athletes. Rather, we embrace our inner nerd. Stanford is a beautiful, fun, opportunistic and slightly quirky place, and we hope people were able to see that.
During our cross-country trip to the East Coast, we made a short pit stop in Oklahoma City, hopefully stealing some good vibes from Kevin Durant, one of our team's favorite players (and fellow member of Team Lanky!). I am so eager to start a new day. I see the light at the end of the tunnel! One more final left to go (actually, two if you count Coach Tara's), then a homework-less spring break! Then, we get ready for Hampton. Nothing is guaranteed. New season. It's 0-0.
#Lettssssgggoooodoeee!!!!!
#13
(P.S. -- If you want to follow my nerdalicious tweets or ask me a question, I'm here @Chiney321.)