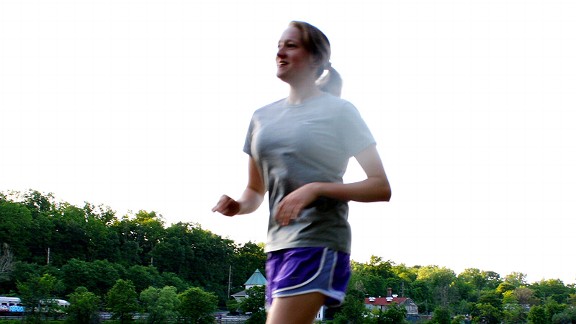 Chantel Jennings Jordan Keen's pain from reflex sympathetic dystrophy syndrome (RSD) began after a skiing accident at age 12. She couldn't resume athletics until she joined running groups in college at Western Michigan.
Why do I know that building? Jordan Keen thought as she spotted the white tower through a tree cover blocks away.
She heard cars humming beneath as her feet met the freeway overpass.
The bridge, the noise -- it felt familiar. She was in a city four hours from her home, but Keen knew this place. She just didn't know why.
With her eyes focused on the white tower, she released a long sigh of stale air and drew in a deep breath. She held it in her lungs. She knew that smell. Then it hit her.
That building is where she spent a month in and out of drug-induced comas. That sound is what she heard as doctors attempted to keep her from feeling the relentless, crippling pain of reflex sympathetic dystrophy syndrome (RSD). That smell had made her nauseous.
Three years earlier, she had gone into that white tower in a wheelchair, paralyzed by pain. She left it no better.
Keen could count the birthdays, homecomings and Thanksgivings celebrated in buildings like that. They never felt like celebrations, though.
So as she ran past Rush University Medical Center on Mile 19 of the Chicago Marathon, she couldn't help but laugh. She had worked so hard to forget her time spent in buildings like that.
For too long, she ran from her past. But now, she just ran.
Battling the pain
Keen is a member of the U.S. national netball team and an accomplished runner, but five years ago she couldn't walk.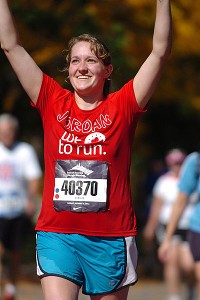 Courtesy of the Keen familyJordan Keen completed the Chicago Marathon last fall, running past the hospital where she'd spent some of her darkest days.
It started with a ski injury when she was 12. The RSD left her on crutches, feeling the pain of a broken knee constantly.
It was never easy being the girl in and out of school, between crutches and wheelchairs, leaving classes early to catch the elevator.
"I wasn't really in a group, wasn't really in the 'pie' of high school kids," Keen said. "I was more in the crust. There was a disabled group and I guess I fit there, even though I didn't want to. I struggled because I wanted to see myself as normal. But it came to a point where that was impossible."
For three years, the RSD was contained to her right leg. But the summer after 10th grade, she contracted food poisoning, then pancreatitis. The RSD spread through her blood. Within a week, her body from the neck down was swollen and bruised.
Few understand her disease. But today, at 21, Keen easily describes her nerve disorder.
"It's like a fire alarm," she said. "Your body gets injured, there's fire. Your brain sets off the signal. Your body reacts -- it swells, bruises. In a normal person, when the fire is gone, the fire alarm stops, your brain stops sending the signal. But mine never did. My fire alarm was always on."
She remained immobile for nearly five years, until a community fundraiser and her surgeon, Dr. Michael Stanton-Hicks of the Cleveland Clinic, raised the money for surgery to implant a spinal cord stimulator. The stimulator would act as a roadblock, catching the fire-alarm signals, then disabling them.
There was a 1-in-5 chance the stimulator would do nothing. With luck, it would rid the pain in one limb.
The morning after the surgery, she awoke pain free. She walked, though gracelessly, out of the hospital.
Finding solace in sports
When college applications rolled around, Keen didn't apply close to home. She wanted a fresh start.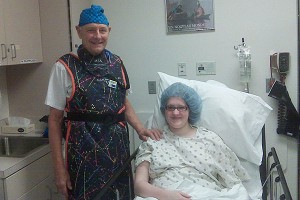 Courtesy of the Keen familyJordan Keen's surgeon, Dr. Michael Stanton-Hicks of the Cleveland Clinic, helped raise the money to implant a spinal stimulator, which has relieved Keen's pain and given her a new life.
"To go from an athlete to crippled was embarrassing," Keen said. "I felt like people perceived me as weak. And even when I got better, people only saw one side. I was always categorized as the sick girl or the girl who used to be sick."
At Western Michigan, she joined running clubs and study groups. For the first time in a long time she felt "normal."
But the more involved she became on campus, the more she realized she couldn't ignore her past. It had shaped her, made her more grateful for each day.
"I think she needed that time at Western to step back and realize that her disability didn't and wouldn't define her," Keen's friend Christina Plamann said. "Yeah, it was shocking. But then the more you got to know her, the less shocking it became. It was like, 'Yeah, Jordan would fight and overcome this.'"
Keen decided to return home for her sophomore year, facing head-on the stereotype RSD had given her. She enrolled at Eastern Michigan, just 10 miles from her hometown.
She continued running and, last October, completed the Chicago marathon.
"The marathon was kind of my bridge," Keen said. "It was the event that allowed me to connect my past to my present and move to my future."
After conquering 26 miles, she moved her focus to netball, a sport that's like ultimate Frisbee and basketball (sans backboards) combined. By February she had made the national team, which will compete at the World University Championships in July.
In May she was voted team captain. It's the first team sport she has played in a decade, but her spirit made her a unanimous choice.
A Team USA jersey now hangs in her closet, above the shoes and sports bras that are making up for the years she lost.
"I don't want people to see my triumphs in the light of my injuries," Keen said. "I just wanted to be recognized for the triumphs. I think I'm finally at that point. Yes, I had and still have RSD. Yes, I'm an athlete. You can be both. I am both."
Pushing beyond
This is what Keen loves.
It's workout No. 3 of the day. She already ran and did yoga, but she wants to push further.
She loves hard workouts. She cherishes the soreness that follows. She thrives on the challenge of going past her limit.
She suffered for five years. Pain should be the last thing she wants. But it drives her.
This pain means she's doing something. This pain means she's past the wheelchair and crutches. This pain means she's not only fighting her RSD, but winning.
For Jordan Keen, this pain is perfect.