Kay might be modest, but others happy to talk about his success
Columbus coach Doug Kay says he's in the twilight of a mediocre career, but his success proves otherwise, writes William Bendetson.
Originally Published:
July 27, 2007
By
William Bendetson
| ESPN.com
NEW ORLEANS -- Columbus coach Doug Kay has been coaching for over 40 years and is quick to say he is "in the twilight of a mediocre career."
The only problem with Kay's statement is that his success keeps proving him wrong. He's coached and succeeded on every level from high school to small college to a major D-I college program to the USFL to the last 13 seasons in the AFL. Over those years, 11 times Kay's helped lead his team to the playoffs. He's won two ArenaBowl titles as an assistant coach. Now he sits one win away from winning his first title as a head coach when he leads the Destroyers against San Jose on Sunday in ArenaBowl XXI (ABC, 3 p.m. ET).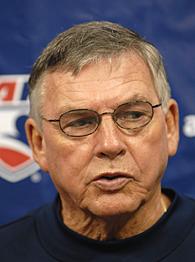 Cheryl Gerber/AP PhotoColumbus' Doug Kay won two ArenaBowls as an assistant, but now can win his first as a head coach.
"He is the probably the most organized and meticulous coach that I have seen," said QB Sherdrick Bonner, who played in Arizona when Kay was the defensive coordinator. "When you are a perfectionist you are going to be self-deprecating because you will not accept anything less than perfect."
Players point out that Kay probably watches more film than any coach in the Arena league -- sometimes up to 50 hours a week. Kay even admits that he will often forget to return telephone calls because he is lost in film study. Kay, 71, played at Western Illinois under Lou Saban and says he learned so much about coaching because he did not get much playing time.
From there, Kay coached, among other stops, at Olivet College in Michigan, San Jose State, UCLA and Hawaii. He also coached the Boston Breakers and Tampa Bay Bandits in the USFL.
"I am used to being bounced around," said Kay, who is in his second season with the Destroyers. "A lot of people ask if I would like stability. I don't know the feeling. I do, however, know what it is like to be unemployed."
Kay never thought he would coach Arena football. In 1993, however, the Tampa Bay Storm lost their defensive coordinator before the season started and Kay was offered the job. In a short period of time Kay began to appreciate the AFL. He liked both the pace of the game as well as the special type of athlete it took to play arena style.
"I was a traditionalist," Kay said. "The thought of being involved in the Arena League was something I never dreamed of. But before they implemented the rules of free substitution, the Arena League was really the last ironman game."
The Storm won a championship in Kay's first year and he was the defensive coordinator when Arizona won the ArenaBowl in 1997. Even though the AFL is an offensive league, Kay stood out with defenses that kept offenses honest and featured players who always knew their assignments.
"When I was in Arizona I learned a lot from him even though he was not one of my coaches," Bonner said. "I learned how to pick apart a defense by watching film with Doug. He would show me certain things that the defense was doing, which I never could have learned on the offensive side of the ball."
Kay is also known as the ultimate motivator. In a conference call this week with reporters, Kay said that Columbus QB Matt Nagy can throw the ball into the ground as well as anyone or throw the ball high as well anyone, but that no one should question his desire to win.
"He is going to do whatever it takes to motivate you and a lot of players might not be able to handle that, but he has given me the confidence and respect that I did not have in the past," Nagy said. "He has had my back from my first day in Columbus. He sticks with you through the good and the bad. He is the main reason why I want to spend the rest of my career with Columbus."
When Kay was with Arizona, he lived in the same facility as the players and checked to see what time they returned home at night. Kay would ask them the question the next day and they couldn't lie because Kay already knew the answer.
"When I was in Albany with him," said San Jose head coach Darren Arbet, who was an assistant under Kay for a year, "he would play all types of mind games with me."
Kay's biggest success story might be his work with the Destroyers. The year before Kay took over, Columbus was 2-14. Now, as both head coach and general manager, he has the Destroyers one win away from an ArenaBowl championship. Kay turned around the defense quickly, but it was the acquisition of Nagy from Georgia and the signing of wide receiver Damien Groce that put Columbus over the edge.
"When you have been around as long I have, you think things should be done a certain way," Kay said. "But what has made me a better coach through the years is that I am now able to see the game from the perspective of other players and coaches."
Added Nagy: Doug really does a good job of knowing what is going through your mind."
He works on building trust with his players. He's been around long enough to know what works and what doesn't. After all, 40-plus years in the business teaches you a few things.
"Doug used to tell us about himself, 'you can't b.s. a b.s.er and there is nothing I haven't seen before,'" Bonner said. "That is how he is able to tell which players are going to work hard and which ones are not."
Not that modest Kay would take any of the credit. After all, he's just in the twilight of a mediocre career, remember?
William Bendetson covers football for ESPN.com.