Commentary
Plenty of tough calls when naming All-AFL team
Horton: ESPN.com's All-AFL team
Updated:
July 16, 2008, 10:52 AM ET
By
Gary Horton
| Scouts Inc.
With so many players having outstanding season in 2008 it is difficult to pick only 17 guys but here is ESPN.com's All-AFL team.
QB: Joe Germaine, Utah
He continues to put up awesome numbers despite offensive changes. He lost his best receiver, Siaha Burley, in the offseason and had to break in a new group of receivers, but still threw for 4,859 yards and 97 TDs and posted a sparkling 123.1 QB rating.
Fullback: Marlion Jackson, Cleveland
Jackson is the catalyst for the best run game in the AFL. Cleveland had 31 rushing TDs, and 27 came from Jackson. He is tough with good instincts and is an outstanding red zone threat.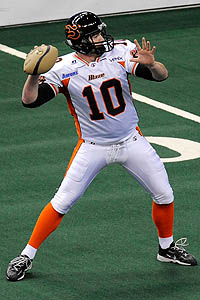 Michael C. Hebert/Getty ImagesUtah's Joe Germaine threw 97 TDs and just 13 INTs this season.
Offensive Line: Phil Bogle, Philadelphia
Last year, he made the All-AFL team as a rookie. He's back this year as well and does an excellent job as an edge pass blocker. He has good size and athleticism and he even caught seven passes, six of which were for touchdowns.
Offensive Line: Martin Bibla, Philadelphia
Like Bogle, he also made All-AFL as a rookie last year and is back again. He is a big, physical guy with surprising pass protection skills and is a tenacious blocker. He also had eight catches for 82 yards as an outlet receiver.
Offensive Line: Will Rabitan, Columbus
He started 15 games for the Destroyers at center in 2008 after being named to the All-Rookie team in 2007. He is a solid pass blocker with good feet and a young guy who should anchor this O-line for a long time.
Wide Receiver: Chris Jackson, Philadelphia
He was the best offseason acquisition in the AFL and made the Soul the most formidable team in the AFL. His 1,719 yards is second in the league, but his 49 TDs are tops and he has a whopping 140 receptions. It's little wonder he was voted AFL Offensive Player of the Year.
Wide Receiver: Huey Whittaker, Utah
He is part of a great receiving trio in Utah that puts up record-breaking numbers. Whittaker has excellent hands and size and caught 126 passes for 1,541 yards and 32 TDs in what was a breakout season.
Wide Receiver: Otis Amey, Cleveland
He was a big part of the offensive success of the Gladiators this season. He led the AFL in scoring with 302 total points, including 50 TDs, and is explosive and very competitive.
Defensive Line: Colston Weatherington, Dallas
He is the best edge rusher in the league and rarely has a bad game. Weatherington has excellent first-step quickness off the edge and his 10.5 sacks in 2008 was typical. Simply put, - he is impossible to block one on one
Defensive Line: Henry Taylor, New York
He was exactly what the Dragons were looking for when they signed him away from New Orleans in the offseason. Taylor is not a big tackle guy versus the run, but he is an excellent penetrator with 9.5 sacks and is great at piling up tackles for loss.
Defensive Line: Gabe Nyenhuis, Philadelphia
He is a very aggressive pass rusher with a great motor. Nyenhuis finished fourth in the AFL with 9.5 sacks and led the league with 12.5 tackles for loss. He is not huge, but is very active and never quits on a play.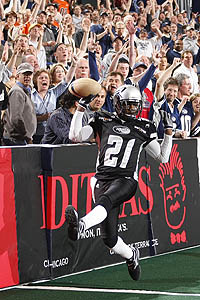 Steve Woltmann/Getty ImagesChicago's Dennison Robinson had plenty to celebrate, including taking two of his 13 INTs back for TDs this season.
Mack Linebacker: Duke Pettyjohn, Dallas
He is an All-AFL player for the third year in a row and a tough, veteran player who has been an Ironman in the past. He posted 60.5 tackles with four sacks on a good Desperados defense and always seems to be in the right place.
Jack Linebacker: DeJuan Alfonzo, Chicago
He may be the most dominating defensive player in the league but he is the ultimate playmaker. Even though his season ended early with an injury, Alfonzo tallied 80 tackles, three interceptions, four passes broken up, four fumble recoveries, and even 17 special teams tackles.
Defensive Back: Dennison Robinson, Chicago
He is the best ballhawk in the league and was named the AFL's Defensive Player of the Year. He had a whopping 13 interceptions, 92.5 tackles, with nine passes broken up, and three forced fumbles and was the catalyst on a very good defense.
Defensive Back: Rashad Floyd, Colorado
He is a great player on an average defense. Although Floyd is not real big, he is very competitive and physical. He finished the regular season with a 117.5 tackles and nine interceptions.
Defensive Back: Marquis Floyd, San Jose
He is a guy who is always around the football and the key contributor on a good SaberCats defense. He finished the season with 79 tackles, but what is most impressive are his 10 interceptions, second in the league.
Kicker: A.J. Haglund, San Jose
He was clearly the best kicker in the league and led all kickers in scoring with 179 points. He also connected on 21 of 25 FGs, which is a rarity to see a kicker not only try, but be that successful on field goals. Haglund also converted 116 of 124 PATs. On kickoffs, he had 26 touchbacks and even recorded 16 tackles.
Gary Horton, a pro scout for Scouts Inc., has been a football talent evaluator for more than 30 years. He spent 10 years in the NFL and 10 years at the college level before launching a private scouting firm called The War Room.
Scouts Inc.
Gary Horton spent 10 years in the NFL as a scout and another 10 years at the college level as an assistant coach and recruiter. He is the founder and most seasoned member of the Scouts Inc. staff, and his extensive experience at all levels of football make him an excellent talent evaluator.