Discussion
Nine things MMA fans want to see in '09
What do you give the MMA fan that already gets every fight he or she dreams of? How about a shake-up to the "Ultimate Fighter" format? Or bringing Fedor Emelianenko to the Octagon? Sherdog lists nine hoped-for events in the new year.
Pre-"Ultimate Fighter," pre-Affliction, pre-state sanctioning, fans will remember the UFC's modest promotional resolution for 1999: run nine shows. (The campaign was dubbed "Nine in '99," which is what happens when you can't afford a marketing department.)
But as a sad testament to the state of the sport at the time, they could only manage six.
Ten years on and the UFC is likely to meet or exceed the 20 programs it ran in '08. Wishes have become largely extraneous, since ...

Read full story
ESPN.COM'S LOOK AT THE YEAR AHEAD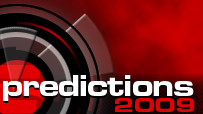 What to expect across the sports spectrum in 2009? ESPN.com offers things you might see coming, some you won't and some that will just flat-out surprise. Predictions to consider:
PRO SPORTS
COLLEGE SPORTS
MORE SPORTS