Commentary
Will Ponting step up for Australia?
Updated:
February 28, 2011, 7:25 AM ET
By
Ravi Ubha
| ESPN.com
Turmoil? What turmoil?
Australia, which entered the cricket World Cup under a cloud, didn't miss a beat in the opening week. Faced with less-than-stellar opposition, the Aussies nonetheless blew away New Zealand and Zimbabwe to make it 31 straight wins in the competition.
Speaking of turmoil, Pakistan cast aside seemingly permanent off-field troubles to upset Sri Lanka in a heavyweight Asian clash, while England, seeking a maiden World Cup title, barely avoided losing to unheralded the Netherlands. England blew a lead but was ultimately relieved to tie India on Sunday in an even better thriller. Unfortunately ugly scenes preceded the affair, as Indian police battered fans queuing up for tickets.
Here are five things to keep an eye on in Week 2.
Ponting's progress
The Ashes were an unmitigated disaster for Australia. As a result, more than a few in Australia felt Ricky Ponting, one of the best cricketers of his generation, should have been omitted from the World Cup squad, or at least stripped of the captaincy.
[+] Enlarge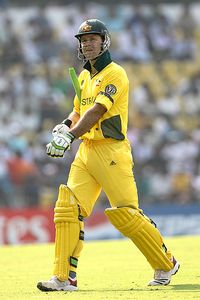 Hamish Blair/Getty ImagesAn apparent Ricky Ponting locker room outburst has overshadowed his performance in the World Cup.
When Australia crushed England in the one-day series without him -- he was sidelined with a broken finger -- it gave more ammunition to his critics. In the end, Ponting wasn't axed.
His performances against New Zealand and Zimbabwe in Group A have been the major source of concern for Australia. Ponting managed only 12 against the Kiwis, the lowest score of five Aussie batsmen, and was run out for 28 versus Zimbabwe. When a frustrated Ponting removed his equipment in the dressing room, a domino effect led to a television being damaged.
His last century came more than a year ago.
Australia needs Ponting on Saturday, when it meets Sri Lanka in the match of the week in Colombo.
Australia cruised past Sri Lanka in the 2007 finale, largely thanks to Adam Gilchrist's rapid 149. Sri Lanka should have exciting fast bowler Lasith Malinga, currently nursing a sore back, in the lineup.
Pakistan's surge
If sound preparation is vital to success at the World Cup, then Pakistan should have no chance.
Pakistan was stripped of its status as co-host because it was deemed unsafe; three players, including the prominent duo of Salman Butt and Mohammad Asif, received bans of at least five years for their role in last summer's spot-fixing scandal in England; and the team has swapped captains for fun in the past year, currently settling for explosive all-rounder Shahid Afridi.
Pakistan's 11-run win over Sri Lanka, however, might be a turning point, as Afridi suggested.
"I think this will raise the morale of players," said Afridi, who has taken nine wickets in two matches to surpass the 300 mark in his career.
Barring a collapse, Pakistan should improve to 3-0 in Group A on Thursday when confronting Canada. Given its ensuing tussle is against New Zealand on March 8, four wins from four games looks likely.
Going deep would reverse much of the negativity and counter 2007, when coach Bob Woolmer died under mysterious circumstances during the World Cup and Pakistan was embarrassed in the opening round.
Ireland versus England
Whenever England plays Scotland, Wales, Ireland or Northern Ireland, in any sport, the stakes are raised. It's almost always a battle. England's victory in 2007 was hardly straightforward.
The Irish have fond memories of the World Cup, too, surprisingly advancing to the Super Eights in the Caribbean and knocking off Pakistan in the process. Cricket in Ireland climaxed.
Ireland, now more experienced, almost engineered another upset last week, falling to Bangladesh after being in a winning position.
Despite the result, confidence isn't lacking heading into Wednesday's tilt.
"They have a lot of quality players, and no obvious weaknesses," fast bowler Trent Johnston, who hit the winning runs against Pakistan, told Ireland's Sunday Independent. "But I think if we can put together partnerships with bat and ball we can put them under serious pressure. I was in Australia for the winter and I saw that when they were up against it in the one-day games they didn't know what to do."
Put that up in the England dressing room.
Pietersen versus South Africa
If Australia-Sri Lanka is the highlight, England tackling South Africa in Group B on Sunday isn't far behind.
Even with Ireland's tough talk, England is fully expected to win and thus move to two wins and a draw. South Africa, third in the one-day rankings, battered the West Indies on Feb. 24 and should rise to 2-0 Thursday after meeting the Netherlands.
The rivalry has become more intense since South African-born Kevin Pietersen, one of the biggest hitters in cricket, left to join England.
Pietersen has been steady in two games, which means he could break out against South Africa. Fellow opener Andrew Strauss is on a roll, having smacked 158 on Sunday.
South Africa possesses the two highest-ranked, one-day batsmen in Hashim Amla and A.B. de Villiers. De Villiers sizzled against the West Indies, tallying 107, although Amla was gone for 14.
Can Kenya deliver?
Having essentially second-tier Zimbabwe, Kenya, Ireland, the Netherlands and Canada -- who went 0-6 in the first week -- at a World Cup adds color. Further, a few of their players shined against the more reputable sides.
Dutchman Ryan ten Doeschate hit 119 against England, also taking two wickets, and Canada's Rizwan Cheema clobbered a mammoth six facing Sri Lanka.
But Kenya's bowling against Pakistan was dismal. Kenya delivered a record-equaling 37 wides, adding three leg byes and six no balls in the 205-run defeat.
Kenya meets Sri Lanka on Tuesday, hoping the bowling improves and the margin of defeat isn't gargantuan.
Ravi Ubha is a frequent contributor to ESPN.com.
CRICKET WORLD CUP
Coverage from ESPN Cricinfo.com
Feb. 19-April 2 in India, Sri Lanka and Bangladesh
Live scores
Schedule and results
Video and audio
Photos
Teams and groups
World Cup travel guide
World Cup fantasy
World Cup home
More from the World Cup
Blogs/Features
News