Commentary
Grant Jr. still the best in the business
While the likes of John Grant Jr., Brodie Merrill and Ryan Boyle remain fixtures among the MLL's elite, a new crop of players -- Paul Rabil, Steven Brooks et al -- is leaving its mark.
There's no better time to take another look at the top dogs in the MLL. The superstars of the game are ready to embark on the rest of the season following the all-star game at the Mile High City. Along with a talented crop of rookies who are also making their presence felt in the league, the cream has really begun to rise to the top.
As always, this list is a reflection of the player's on-field value to a team; it will continue to evolve as we get closer to playoff mode.
1. John Grant Jr.: The Rochester organization has done a tremendous job piecing together complementary parts to blend with Grant's unique talents. With 38 points after eight games, he's been limiting the sloppy turnovers -- when he was younger he'd cough it up trying to be too creative.
2. Matt Striebel: With Roy Colsey back in the lineup, Striebel becomes impossible to cover with his split dodge to either hand and shot on the run. The Princeton grad has 23 goals after nine games.
3. Nicky Polanco: Nicky made his fourth straight all-star game appearance last week in Denver. Polanco was the 2004 and 2005 MLL Defensive Player of the Year and has played at that level this summer.
4. Kevin Leveille: Chicago's human highlight reel has 27 goals. He does things I've never seen before. I don't know where he comes up with his stick fakes and interior moves. It's amazing.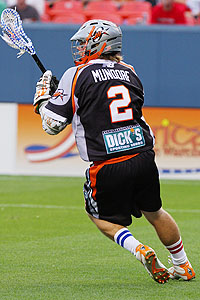 Major League LacrosseBrendan Mundorf has 24 goals and 12 points for the Denver Outlaws.
5. Ryan Boyle:
He's tough, not shy around the crease and simply the best distributor in the game. Boyle has 15 goals and 16 assists -- but more importantly has the Barrage in the midst of another run to the playoffs.
6. Brodie Merrill: The 2005 Georgetown grad played in his fourth straight all-star game. Merrill has nine points in six games and is the two-time reigning defensive player of the year. The usual defensive boundaries do not apply to his game.
7. Brian Langtry: Denver's offense has suffered a power outage over the past two games, managing only 16 goals total. Langtry has drawn a pole but still is having a monster summer with 15 goals and 18 assists. That's the most helpers by a midfielder.
8. Joe Walters: Walters and San Francisco's Jake Byrne have the game's most gorgeous releases. Whether he shoots over the top, sidearm or underhand, Walters generates velocity and makes goalies move to corners. Walters was the No. 1 overall selection in 2006 and has 29 points in 2008.
9. Spencer Ford: Long Island's field general experienced a smooth arrival on the East Coast (five-game winning streak) but now must manage the turbulence of a two-game skid. The veteran leads the MLL with 24 assists.
10. Brian Dougherty: Philadelphia has won four of its past five games and Dougherty has been the glue. Doc may have found inspiration in an all-star snub.
11. Stephen Berger: Washington College product plays with soul. At times he believes he can fly through the crease. Actually, he believes he can do a lot of things with the ball, and usually tries.
12. Kyle Dixon: Skillwise he's one of the best all-time midfielders in the eight-year history of the league. After a 3-1 start, Washington has been singing the blues, losers of four consecutive games. Dixon was scratched from the all-star game with an undisclosed injury.
13. Paul Rabil: Boston has won four of five games with Rabil in the lineup. The first overall pick in the MLL draft is averaging three goals per game. Rabil led Johns Hopkins to three NCAA title game appearances in four years and recently signed an endorsement contract with Under Armour.
14. Kyle Sweeney: Kyle knows when to put pressure on the ball carrier and when to retreat and play his angles. The former pole at Georgetown has become a much more complete team defender and has a keen sense of when to attack in transition. He has nine points this summer.
15. Casey Powell: One of the MLL's gems, Powell still provides breathtaking highlights. Watch Powell this summer and you get a sense he craves the ultimate victory.
16. Eric Martin: The defender from Salisbury was ultraimpressive during our ESPN2 "Game of the Week" in Denver on July 4.
17. Jack Reid: When he's patient and disciplined he's as good as any cover defender in the MLL. Reid thrives when asked to shut down a respected opponent.
18. Roy Colsey: Longtime dominator missed a pair of games midseason but his return has Philadelphia back in the hunt. For years, Roy has done the hard work no one else wants to do.
19. Kyle Harrison: 2005 Tewaaraton winner made a dramatic midseason turnaround. He's hitting the net with a much higher frequency and dodging to better shooting angles. Not surprising that L.A. has won three straight in the process.
20. Steven Brooks: Rookie from Syracuse is leading the re-branding in Chicago. His windup and release puts goalies into a trance. He's grown up fast in his first summer.
21. Peter Vlahakis: Long Island's FOGO has won 202 draws and is on pace to shatter Paul Cantabene's single-season record. He's won 64 percent of his draws while scooping up a league-leading 79 ground balls.
22. Brendan Mundorf: Third-year attackman from UMBC has a funky game, relying on misdirection and hidden power.
23. Jeff Sonke: Sonke was scratched from the all-star game after being rattled in Los Angeles.
24. John Christmas: The scorer from Virginia is no longer Mikey's co-pilot. He engineered the game winner last week against Long Island -- which is one of this summer's biggest goals.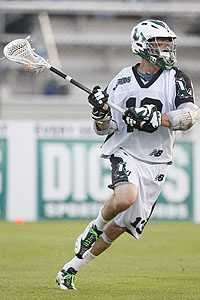 Major League LacrosseThe last pick in the 2004 MLL draft, Stephen Berger has been instrumental to the success of the Lizards.
25. D.J. Driscoll:
He's the centerpiece of L.A.'s defense, versatile enough to play the role of tough guy down below or cover midfielders at the top of the arc. Driscoll is averaging nearly six ground balls per game.
26. Benson Erwin: Erwin is the best of the short stick defensive types in the MLL -- ranking ahead of J.J. Morrissey, Jarett Park, Billy Gladding, John Orsen, Jimmy Borell, Danny Cocchi, Mike Ward, Will Barrow, Chris Schiller and Tim Byrnes.
27. Drew Westervelt: UMBC alum creates matchup problems at the midfield for Denver and is a top-notch midrange shooter.
28. Chris Fiore: Lizard midfielder has 26 points in nine games. He uses brute force to find the only destination that matters -- the back of the net.
29. Mikey Powell: Sore hamstrings have limited Powell's effectiveness this summer. He sat out last weekend in a Boston win over Long Island and was scratched from Thursday's all-star game with tender guitar strings.
30. Greg Downing: Second-year pro from Fairfield is tough -- stronger than he looks -- and willing to take a beating to make a play. He is a threat dodging left-handed, up top, from the wing or inverted.
Comments? E-mail quint@insidelacrosse.com. ESPN.com is working with Inside Lacrosse to provide you with news and analysis. Click here for more coverage.
ESPNU
Quint Kessenich covers college and professional lacrosse for ESPN.
SPONSORED HEADLINES
ESPN TOP HEADLINES
MOST SENT STORIES ON ESPN.COM