Commentary
Chandler advances by mauling 'Pitbull'
Originally Published:
May 16, 2011
By
Josh Gross
| ESPN.com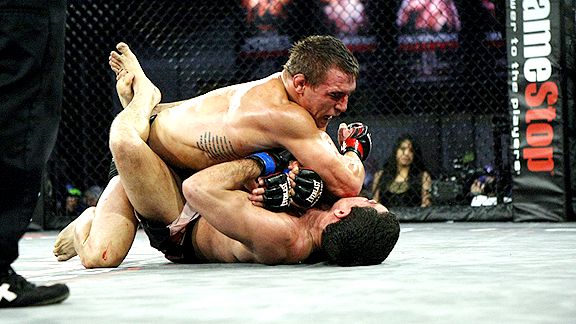 Keith Mills for Sherdog.com Wrestling with success: Michael Chandler's grappling skills came in handy against Patricky Freire.
Bellator Fighting Championships needs several things to be a long-term, viable mixed martial arts promotion. Among those things is that the public must regard its fighters as legitimate, talented and dangerous enough to test the company's champions.
In some weight classes that's easier said than done, and Saturday's card in Atlantic City, N.J., showed that.
The middleweight division appears to be problematic for the company. Its champion, Hector Lombard, is a heavy hitter who has drawn attention for his made-for-viral-video knockouts. Yet the level of his opposition leaves his results in a tenuous place. Is he as good as a 29-2-1 record would indicate, or is his success based upon fighting washed-up names from the past? We still don't know after Lombard pasted Falaniko Vitale this past weekend. And based on the dynamics of the division, we might not know even after the next contender emerges from the company's middleweight tournament. The weight class has a long history of being fractured, and talent is dry outside of Zuffa since Strikeforce was brought into the fold.
Follow us on Twitter

Don't miss a moment of the latest MMA coverage from around the world. Follow us on Twitter and stay informed. Join »
Lightweight is another story, as more fighters have potential at and around 155 pounds than in any other class in combat sports. Eddie Alvarez is well regarded in most circles because he competed and in most cases succeeded against high-level opposition before entering Bellator. In his last bout, a decision over Pat Curran, most observers felt the Philadelphian went unchallenged in a boring fight. Clearly, the tournament format won't always deliver noteworthy challengers. But sometimes it will, and based on the unblemished performances of his next contender Michael Chandler, Alvarez will face a much more serious threat later this year. Chandler, 25, won three fights in three months to earn the opportunity.
It's case by case, of course. No one wants Lombard's career to waste away as he mows over dead grass. Unless Bellator finds the Cuban a Michael Chandler -- someone the public will believe has a chance to win the belt -- he'll be a fringe player and never get the due he might be owed.
Here are grades for fighters competing in Bellator 44, the only event of note in the U.S. this past weekend:
Bellator 44 report card





Michael Chandler

Another in an impressive lot of mixed martial artists from the University of Missouri wrestling program, Michael Chandler scored the best win of his young career with a convincing decision over heavy hitter Patricky Freire. He deserves better than a "B" for a performance that netted him $100,000, the Bellator Season 4 lightweight tournament title and a crack at top-five-ranked Eddie Alvarez -- yet three low blows in three rounds speaks to his inexperience and isn't an "A"-worthy effort. Chandler (8-0), quick with a nonstop motor, fights like Frankie Edgar, but his striking isn't near the UFC champ's level. Still, Chandler, 25, proved he could hang on the feet thanks to his movement, quality jab and, of course, the threat of a takedown. He will push Alvarez, which is something to look forward to.






Hector Lombard

Another fight, another win and another knockout. Maybe it's not fair to Hector Lombard (29-2-1) that this stuff feels routine, but until the Bellator middleweight champion fights quality opponents who aren't years past whatever prime they had, he'll be little more than a fringe top-10 player. Lombard didn't explode off the opening bell as he had in recent fights. Instead, the stout, 33-year-old Cuban danced with Falaniko Vitale (29-10) and mixed wild lefts and rights. Credit goes to Lombard, however, for the beautiful knockout, which will be remembered among the best at the end of 2011 and is worth better than an above-average great. Still, unless Bellator can groom a middleweight to match Lombard, it will continue to feed him opponents who are perceived to have no shot like Vitale. Maiquel Falcao and Mamed Khalidov, who is tied to Polish promoter KSW, are the best opponents outside of Zuffa. Otherwise, whatever noise Lombard has made during an unbeaten-since-2006 stretch means little.






Alexander Shlemenko

Alexander Shlemenko is always fun to watch, even though the 26-year-old Russian middleweight is limited as a mixed martial artist. He's in trouble against a quality wrestler, but when opponents strike with him, Shlemenko twirls off spinning attacks that land with alarming accuracy. That's how he handled Brett Cooper on Saturday, a win that put Shlemenko (39-7) back in line for Bellator's next 185-pound tournament. Last time he made it through the finals before going the distance with Lombard. A dream fight unless you're prone to dizziness: Shlemenko versus Cung Le.






Patricky Freire

After two dazzling victories in Bellator's lightweight tournament, the explosive Patricky Freire (9-2) was neutralized by speed, movement and, above all else, wrestling as he fell on points to Michael Chandler in the finals. The slugger landed some shots, but he was never allowed to get comfortable in the cage, and that pressure clearly played a part in his defeat. From his back, "Pitbull" showed an ability to stand, but he generally lost the scrambles and barely registered any offense from his guard. The Brazilian also took three shots to the groin that could not have helped his cause.
Josh Gross covers MMA for ESPN.com. Follow him on Twitter at JoshGrossESPN.
EDITORS' PICKS
The espnW team looks back at the fans of UFC 184.
Gallery

Ronda Rousey doesn't need to move up in weight.
Brett Okamoto »

Duke Rufus discusses CM Punk's recent scrimmage.
Brett Okamoto »
MOST SENT STORIES ON ESPN.COM