Commentary
Khalidov makes short work of Lindland
Originally Published:
May 23, 2011
By
Josh Gross
| ESPN.com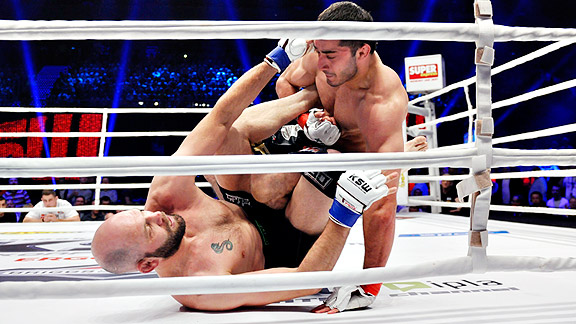 Jumana Totongi for Sherdog.com Backed down: Matt Lindland, bottom, found himself in a compromised position from the first bell.
During the last "quiet" weekend before MMA in North America flexes its muscles in what should be a wild few months, the sport drew interest in locales from Poland to Louisiana to London.
Follow us on Twitter

Don't miss a moment of the latest MMA coverage from around the world. Follow us on Twitter and stay informed. Join »
Fighters and promoters delivered just about everything fans have come to love about MMA; you just had to scour the Internet to find some of this stuff. From young to old, novice to veteran, prospect to journeyman, distractions and great performances were mixed with dismal ones -- sometimes all in the same fight.
Graded here from A to F, fighters familiar with life outside the cozy Zuffa confines:
Bellator 45/BAMMA 6/KSW 16 report card





Mamed Khalidov

As one of the few established middleweights unaffiliated with Zuffa, Mamed Khalidov remains largely anonymous in the U.S. In Poland, however, he's very well known, and quick wins against internationally known talent -- even the likes of Matt Lindland (who is well beyond his best days) -- will only bolster his profile. With Khalidov winning the week after Bellator middleweight champion Hector Lombard did his thing, calls for a fight between the two will grow stronger. Just don't expect it to happen soon: Khalidov (23-4-2) might not fight before he observes Ramadan in August. The 30-year-old fighter earns a near-perfect grade for an efficient 95 seconds of work.






Christian M'Pumbu

Talk about someone with a great story. Few people had heard of Christian M'Pumbu, 33, before his run in the Bellator light heavyweight tournament. Now Bellator is touting the Congolese Frenchman as the first African-born fighter to win a major title -- if you consider the Bellator belt at 205 "major." Nonetheless, the undersized light heavyweight used speed, movement, striking and a keen instinct to negotiate the light heavyweight field. M'Pumbu (18-3-1) is a long way from earning any consideration for a spot in the Power Rankings. He has to prove he can fend off large wrestlers who populate the division first. The problem is the vast majority reside in the UFC, and Bellator controls M'Pumbu for the long haul.






Tom Watson

Tom Watson was in complete control throughout his fight with Murilo Rua. Beating Rua isn't headline-worthy these days, but the manner in which Watson dominated is something to highlight. Known mainly as a puncher -- and Watson did plenty of that by scoring big with his left hook -- the British fighter and current BAMMA champion mixed in kicks that had the Brazilian hobbling as early as the opening round. Although it's hard to gauge the value of beating a fighter on the verge of retirement, Watson receives credit for putting together a professional performance. He calmly walked down Ninja and seemed to know that the end would come so long as he continued to move forward with pressure.






Patricio Freire

Whereas older brother Patricky Freire failed to capture the Bellator tournament at 155 pounds; Patricio Freire did not. Edges in athleticism, experience, conditioning and overall skills led him to a points win against Daniel Straus -- the second time Freire, 23, captured a Bellator tournament at 145. From time to time, Bellator has managed to identify talent and, through its tournament format, allowed it to flourish. "Pitbull" is an example of that. Whether Freire (17-1) can make the most of another opportunity against Joe Warren remains to be seen, although many people felt the younger fighter won their first contest last year.






Frank Trigg

It's difficult to know the true value of a win over British middleweight John Phillips, but at a minimum, Frank Trigg, 39, deserves praise for his aggression and fight-finish ground-and-pound, which netted him a victory at 2:41 of Round 1. Trigg opened several ugly cuts on Phillips' face, prompting a cageside doctor to halt the fight. It was a nice win over a 25-year-old fighter who just scored the biggest victory in his career, but don't take it as a sign that Trigg is on the verge of a comeback. For one night, it was about as good as he could do.






Daniel Straus

All Daniel Straus had done in earning a Bellator featherweight tournament final slot was win. He didn't care if people fell asleep, so long as he walked away with a W. The problem for fighters like Straus is that when you're boring and you lose, upside is limited. Straus had to rely on wrestling to beat Patricio Freire, and he fell well short of expectations Saturday in Lake Charles, La. Once the more athletic Freire took over, he stuffed and reversed takedowns and landed enough strikes to make it a convincing decision. Featherweight is a young division, and Straus, 26, can make an impact. For that to happen, he must work on his aggression and finishing skills.






Richard Hale

Richard Hale, 26, was beaten to the punch by a quicker, smaller fighter on Saturday as he vied for Bellator's first light heavyweight championship. Although the 6-foot-4 fighter from Cleveland cuts an imposing figure, he failed to make the most of his size against Christian M'Pumbu and was eventually caught in the third round. There's hope for Hale (17-4-1) as a prospect, but he doesn't appear quick or athletic enough to compete at the upper reaches of the division.






Murilo Rua

Less than a week from the 11-year anniversary of his MMA debut, Murilo Rua called it a career after two-plus rounds of abuse from Tom "Kong" Watson. In the early going, it was clear that Ninja, still just 31, wasn't going to be a physical match for Watson. He absorbed punches and kicks to his legs and head, and he seemingly offered little resistance. Rua participated in his share of exciting wars throughout the years, and fans loved him for that. He wasn't the best fighter the game has seen, but he always came to compete. Yet sometimes, like Saturday, that meant Rua (20-12-1) was in for a rough time.






Mariusz Pudzianowski

In Mariusz Pudzianowski's world, five minutes is a marathon. The Polish strongman gave MMA another try Saturday in Poland, where he met journeyman James Thompson and didn't look half-bad for one round. For what it was, the fight seemed to entertain Polish fans, who represent perhaps MMA's most rabid fan base outside North America. But after a first period featuring takedowns, counters on the floor and extended punching exchanges -- during which Pudzianowski (3-2) appeared fairly relaxed -- the five-time "World's Strongest Man" winner played the part of Mark Coleman to Thompson's Maurice Smith. The turn was so fast, my first thought was "Pudzian" had progressed to the point as a fighter that he was trying to bait Thompson into moving forward. Apparently not. Not long after Thompson (16-14) put the 34-year-old Pole on his back, a submission ended the fight. Mind you, after Saturday, Thompson is 4-12 since 2006. Pudzianowski's celebrity will dictate how many tickets he sells in Poland because his ability to fight isn't enough.






Matt Lindand

Rough week for Olympic silver medalist Matt Lindland. After having his name repeatedly mentioned in connection with Chael Sonnen's suspension- related issues in California, Matt Lindland, 41, was choked unconscious in 1 minute, 35 seconds. Lindland (22-9) is now just 1-4 since 2009. He has nothing left. The only question is when Lindland, who's facing civil lawsuits with old business partners, will decide the money the can make from being fodder in the cage just isn't worth it anymore.
Josh Gross covers MMA for ESPN.com. Follow him on Twitter at JoshGrossESPN.
SPONSORED HEADLINES
MORE MMA HEADLINES
MOST SENT STORIES ON ESPN.COM
EDITORS' PICKS
Lyoto Machida smashed through CB Dollaway.
Brett Okamoto »

Lyoto Machida and CB Dollaway clash tonight.
FightCenter

Anderson Silva talks Nick Diaz, Jon Jones, more.
Watch