Commentary
Cruz defends belt, picks up another
Originally Published:
July 4, 2011
By
Josh Gross
| ESPN.com
Just so I have this straight, Urijah Faber lost to a white belt on Saturday?
Dominick Cruz's in-cage promotion from "beginner" by Brazilian jiu-jitsu coach Lloyd Irvin will go down as a classic footnote in his rivalry with Faber, the only fighter to hold a win over the current UFC bantamweight champion. Much more important than the anecdote and nifty new blue belt, obviously, are the fights, and their rematch will go own as one of the most satisfying contests of the year.
Follow us on Twitter

Don't miss a moment of the latest MMA coverage from around the world. Follow us on Twitter and stay informed. Join »
You just sort of get a sense for these things beforehand. Two competitive and skilled guys who know how at win? Like Frankie Edgar and Gray Maynard in January, of course Cruz-Faber 2 was going to be an excellent fight. Fast, competent, unique striking and some of the best wrestling scrambles you'll see in MMA marked the tenor of the 25-minute match. As for jiu-jitsu, the only time we were reminded of it was when Irvin draped a royal blue rope around Cruz's neck.
But c'mon, a white belt?
"No comment," laughed Cruz's head trainer Eric Del Fierro.
So, then, an attempt to show up Faber?
"No comment," he texted. "But it was actually more of a mental thing for Dominick. We knew he could handle Faber on the ground but we needed him to believe it."
[+] Enlarge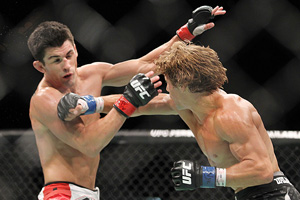 Ed Mulholland for ESPN.comDominick Cruz took it on the chin more than a few times against Urijah Faber.
Neither bantamweight was interested in spending more time than he had to on his back. Cruz danced and did his thing. Faber was perhaps less aggressive than we've seen him in the past, but that was apparently by design. It looked as if he aimed to catch Cruz coming in and he certainly did not go without his successes.
"It feels like I was in a tornado and I was running into stuff. Dressers and whatnot," said Cruz, who felt Faber's power on more than one occasion.
Yet even Theo Faber, Urijah's dad, admitted that from his couch in Sacramento, it looked like the UFC belt was Cruz's to take home.
"I'm not an easy guy to beat," the 'California Kid' said after dropping his first contest at 135 pounds. "Joseph Benavidez isn't an easy guy to beat. We've got a good champ."
Before the bout, both fighters told me they expected a third contest no matter what happened in Las Vegas this weekend. Now the question is when?
Cruz-Faber By The Numbers
| Stats | Cruz | Faber |
| --- | --- | --- |
| Strikes Landed | 97 | 58 |
| Strikes Attempted | 246 | 181 |
| Strike Accuracy | 39% | 32% |
UFC has pegged Brian Bowles or Demetrious Johnson as Cruz's next challenger. Faber, whom Del Fierro deduced was "stronger and more seasoned" than Benavidez, may have to win another one or two in between before getting another chance, but you have to think the trilogy will happen.
"Third fights are always fun especially when they're as good as that one was," said UFC president Dana White. "It was a great fight. A very technical fight. It was MMA at its finest tonight."
That's as true is it can be of a fight without a whiff of Brazilian jiu-jitsu.
"Urijah came out to fight and that's what I wanted," Cruz said. "I looked forward to these wars. This is is how I learn about myself. This is how I find out what I'm made of. That's what I'm in this for.
"I want to see what I've got. I proved it tonight. I proved a lot to myself. I proved a lot to the fans around the world."
Proved himself worthy enough, it seems, of a belt promotion.
Beyond the main event, UFC 132 featured several inspired efforts. From A+ to F, here's how the card stacked up:
UFC 132 report card





Tito Ortiz

Does anyone do drama better than the "Huntington Beach Bad Boy?" Tito Ortiz was literally told he'd been cut by the UFC. That's how far it had gone. Yet he also felt, despite major neck and back surgeries, that he wasn't done. The UFC, Ortiz's professional home since 1997, gave him all he wanted: another shot. And he finally came through. In his first win since 2006, Ortiz (16-8-1) landed a short uppercut that dropped heavy favorite Ryan Bader and allowed the 36-year-old former UFC champion to sink in a guillotine choke. As an astute Twitter follower suggested: Ortiz didn't pull out his classic "grave digger" routine to bury Bader, he was just digging up his career.






Melvin Guillard

Chances are from time to time rewarded with positive results, and such is the case with 28-year-old lightweight Melvin Guillard. Adding to the most consistent stretch of his career, Guillard plowed through wrestler Shane Roller in 2 minutes, 12 seconds. Guillard (29-8-2) simply did what he wanted, stalking Roller before finishing with his speed and power. Guillard is at peace with himself and his life. And if the way he fights is any indication, the man is focused on the right things.






Carlos Condit

Carlos Condit won like a serious contender is supposed to, and were it not for an impossibly close split decision loss to Martin Kampmann in 2009, we'd be talking about a welterweight that hadn't lost in 13 fights since 2006. At 27, Condit (27-5) is coming into his own. A kid who used to get in trouble against stronger grapplers, Condit slammed the door shut on Dong Hyun Kim, whose intention it was to bury Condit's shoulders into the canvas and grind out a decision. But that didn't happen because Condit immediately reversed Kim's first takedown to his advantage, then finished the bout in just under three minutes with a $75,000 bonus-worthy, flying-knee knockout. He has established himself as a worthy challenger for the UFC welterweight title.






Rafael dos Anjos

A wild right hand 59 seconds into Rafael dos Anjos' fight against George Sotiropoulos changed the pace of UFC 132. A streak of four decisions during the preliminary portion ended suddenly when the 26-year-old Brazilian knocked out the Australian lightweight for the first time in 18 fights. Coming off a broken jaw and painful loss to Clay Guida 11 months ago, dos Anjos asserted himself back into the lightweight picture.






Dominick Cruz

Per usual, Dominick Cruz's movement -- both pace and direction -- consumed the action. The UFC champ had a closer fight than scores (50-45, 49-46, 48-47) may have indicated. He was hit and hurt, but not enough to make a real difference in the fight with Faber. Cruz, 25, pressed throughout and scored with regularity. On the mat, the scrambling exchanges were tremendous and, if he hadn't before, Cruz proved he could wrestle with anyone in the division. If you're looking for something to criticize, Cruz (18-1) still doesn't hit with much power and has gone the distance in four of his last five.






Urijah Faber

Urijah Faber, 32, has nothing to feel bad about after pushing a younger champion to the limit over five rounds. Some will wonder if he's entered the downward track of his career, and if so, whether it's possible to change that trajectory. Considering how competitive he was with Cruz, I think it's fair to say Faber (25-5) remains as serious a threat as there is in the division. He didn't quite have enough to win on Saturday, but that may be more a matter of tactics than any sort of physical or mental dominance. In a third fight, with intent to attack instead of counter, Faber has what it takes to come out on top.






When chins go up and fists start flying, someone is going to fall. For the benefit of Chris Leben (26-7), that happened to be the other guy this time. Recovering from a poor performance against Brian Stann, Leben probably ended Wanderlei Silva's career in 27 seconds with a violent series of punches. There was nothing pretty about this fight. Just two guys intent on hurting each other. Leben, 30, salvages himself yet again. The question is, can he find consistency?






Brian Bowles

The man who preceded Dominick Cruz atop the bantamweight division has brittle hands, and that appears to be the first roadblock between him and the No. 1 spot. Brian Bowles (10-1) put together a much-needed (though somewhat slow) points win against Takeya Mizugaki, but questions about the structural soundness of the 31-year-old's right hand and his performance at UFC 132 could be enough to force him to wait. Bowles had some early difficulty with Mizugaki's speed, which is troubling considering what's waiting for him at the top of the heap.






Matt Wiman

Did the 27-year-old Matt Wiman win? I thought so. I gave him the second and third rounds. In Round 2 he showed what he could do with ground-and- pound. But it wasn't enough for judges cage-side, and the loss must be considered costly. A fourth win in a row would have placed Wiman (13-6) in position for a big step. Now he's yet again recycled through the deck.






Dennis Siver

Germany's top mixed martial artist improved to 7-1 in the UFC with a unanimous decision against Matt Wiman. The fight offered a preview of how Dennis Siver would handle wrestlers at lightweight, a style he's largely avoided during his second stint in the UFC. And the verdict: no verdict. Siver was put on his back and kept there, particularly in a second round that resulted in him bleeding all over himself after taking slicing elbows to his forehead. The powerfully built 155-pounder managed to please the judges enough to walk away the winner, but Siver (19-7) didn't do anything to make wrestlers ahead of him pause at the prospect of a fight.






Takeya Mizugaki

Takeya Mizugaki (14-6-2) blew a big opportunity. The Japanese bantamweight, sharp and quick, had Brian Bowles' number in the first round. But then Bowles adapted to a grappling-based attack and Mizugaki, 27, didn't have an answer. He spent long periods fending off chokes as Bowles secured back control, and that diminished his offensive opportunities. After a solid introduction in the States during a loss to then WEC bantamweight champion Miguel Torres, Mizugaki has swapped wins and losses.






Dong Hyun Kim

Carlos Condit represented a significant step up in competition for Dong Hyun Kim, and the 29-year-old South Korean could not answer the call. Kim's first loss should have plenty of value, though. He now knows what an elite welterweight opponent feels like. He should understand that he can't just wrestle his way to wins. And, often times, not having to cope with being undefeated frees fighters up to become more relaxed and find their best form. Kim (14-1-1) could certainly manage that.






George Sotiropoulos

Less than a year ago, the 33-year-old Australian was being talked about as a soon-to-be lightweight title contender. This year has been unkind to those prospects. Losing for the second time after seven straight wins to begin his UFC career, George Sotiropoulos (14-4) finds himself in a totally different place. Sotiropolous suffered because of his lack of size and power against Dennis Siver. Against Rafael dos Anjos, he was beaten to the punch, and a winging right hook put him out for good.






Shane Roller

Shane Roller (10-4) was overmatched from the opening bell against Melvin Guillard and was left to taking whatever it was the Louisiana native wanted to give him. The former three-time All-American wrestler at Oklahoma State never sniffed a takedown. Roller, 31, couldn't corral Guillard long enough to take a shot. A speed gap was the biggest difference in this one, as it was against Ben Henderson and Anthony Pettis.






Ryan Bader

Perhaps the biggest loser on the card was its heaviest favorite. Ryan Bader fell for the second time in a row after winning his first 12, victim to a guillotine choke yet again. Fighting Tito Ortiz, someone everyone had written off as having no shot, Bader took a punch on the inside that essentially knocked him out. The rest of the fight was written at that point. Bader, 28, may be better off focusing on his wrestling ways for the time being by planting opponents on their back and grinding out wins. The talent is there, but so too are growing questions. This isn't the end of the line -- far from it. Expect Bader to have chances to redeem himself.






Wanderlei Silva

A legend -- a true legend -- of mixed martial arts is done. 27 seconds after the opening bell, Wanderlei Silva lay unconscious, his brain rattled badly for the fifth time since 2006. Now 35 years old, Silva has been through enough and done enough that he's going to face the same questions as Chuck Liddell. The UFC seems to have no more interest in promoting Silva (33-11-1). He may be the kind of fighter that will continue so long as he can get a license and someone will pay him. Or will a cushy desk job await the "Axe Murderer?" I don't see him walking away so quietly.
Josh Gross covers MMA for ESPN.com. Follow him on Twitter at JoshGrossESPN.
SPONSORED HEADLINES
MORE MMA HEADLINES
MOST SENT STORIES ON ESPN.COM
EDITORS' PICKS
Dillashaw looks for second win over Barao at UFC 177.
Preview »

Expect Henderson to bounce back from his loss.
Power Rankings »

Wladimir Klitschko suffered a torn biceps while training.
Dan Rafael »