Commentary
Grading Strikeforce's fighters
Originally Published:
January 24, 2011
By
Josh Gross
| ESPN.com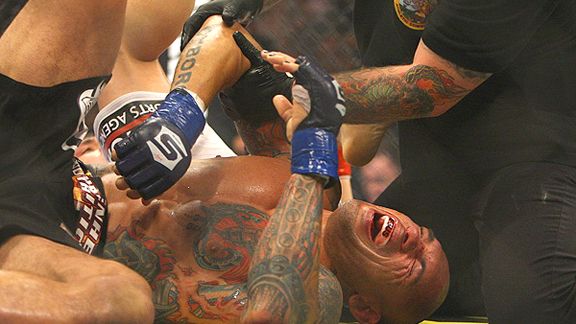 Dave Mandel/Sherdog.comWe know at least one fighter who won't be hanging his report card on the refrigerator.
From A-minus to an F, the evening's report card:
Strikeforce: "Diaz vs. 'Cyborg'" report card





Nick Diaz

Strikeforce welterweight champion Nick Diaz started the new year strong against an opponent he was supposed to look good against. Doing what was expected of him -- including fighting with an entertaining style -- Diaz's armbar finish brought him a ninth straight victory. The caliber of his opposition can and should be called into question, and fighting journeymen like Evangelista Santos feeds into that narrative, but is it so difficult to imagine the 27-year-old from Stockton, Calif., wouldn't be more competitive against No. 1-ranked Georges St. Pierre than Dan Hardy or Josh Koscheck? "Cyborg" hit Diaz plenty, and for that the champion misses out on a perfect mark. All in all, it was a stellar effort.






Ronaldo Souza

Multiple-time Brazilian jiu-jitsu world champion Ronaldo Souza once again proved the effectiveness of his power grappling game. Though "Jacare" was challenged by Robbie Lawler on the feet and nearly lost the Strikeforce middleweight title -- by his own admission, he was hurt several times by the challenger's power -- Souza maintained poise under heavy fire. He's showing maturity with each fight, and presents difficult stylistic matchups for anyone in the division. Because Lawler had him walking in potholes, Souza earns less than an A. Regardless, this is a real fighter at 185.






Roger Gracie

Let there be no doubt to light heavyweights out there willing to grapple with Roger Gracie: You do so at your own peril. The most accomplished grappler in the storied history of the Gracie family won his third straight fight by rear-naked choke on Saturday; he's so good, opponents can't stop what they know is coming. Still, as others have proved, jiu-jitsu alone won't cut it. That's why the most notable aspect of Gracie's victory over Trevor Prangley wasn't the ease with which he passed guard into mount and back-control. It was the use of his considerable length to establish a jab. The continued development of his footwork, jab and ability to control distance will only make transitioning to the ground easier. Gracie showed he can have a real fighting future if he wants one.






Herschel Walker

Herschel Walker admits his potential is limited. He knows he wants no part of the upper crust of the heavyweight division. So it's fruitless to grade him with a forward-looking gaze. Saturday's effort against an opponent who took nine months off between fights isn't worth much, except as inspiration to anyone approaching the age of 50. That said, Walker's respect for MMA and his position as a budding ambassador for the sport are significant. There are murmurs that he could walk away from fighting, though that doesn't mean he'd move on from MMA entirely. Walker sounds intent on training, and it should be clear by now that there's very little, if anything, negative about his presence in the sport. Kimbo Slice he is not.






Robbie Lawler

Because of his training emphases over the years, it appears Lawler won't make good on his potential. He's forever aggressive and dangerous on the feet. But beyond the ability to deliver damaging blows in striking exchanges, Lawler remains a flawed mixed martial artist. It may be too late to reverse the trend, though there remains some upside. He's 28, meaning his physical prime is just now coming into play. The American was within reach of finishing Jacare, but things needed to come together perfectly for him to do so -- there was no Melvin Manhoef moment this time.






Evangelista Santos

An inspired performance by Brazilian veteran wasn't enough. As many opportunities as "Cyborg" had against Diaz, all it took was one mental lapse for his effort to fall apart. That Cyborg so quickly surrendered an armbar submission upon hitting the canvas should tell you all you need to know about his overall ability as a fighter. Santos is always game to brawl, but beyond that he's never been someone to be taken seriously as a potential champion.






Trevor Prangley

Tough guy. Veteran of many a war. Prangley isn't the sort of fighter to go down easily against anyone, yet he fizzled out meekly against Gracie and, with an unmistakable sense of inevitability, tapped to the most basic of submissions. At the age of 38, Prangley is as road warrior, capitalizing on that "UFC veteran" tag to get fights and make a buck. That's about as good as it gets for him, though.






Scott Carson

In the end, Scott Carson is a sympathetic figure. That's all. He was quiet in the days before fighting Herschel Walker. And he remained so once they hit the cage. With a weak effort in the biggest moment of his professional MMA life, Carson goes down as little more than a footnote in the brief MMA exploits of a Heisman Trophy winner.
Josh Gross covers MMA for ESPN.com. Follow him on Twitter at JoshGrossESPN.
SPONSORED HEADLINES
MORE MMA HEADLINES
MOST SENT STORIES ON ESPN.COM