Commentary
Nick Diaz promises big things in '11
Originally Published:
January 30, 2011
By
Josh Gross
| ESPN.com
SAN JOSE, Calif. -- Nick Diaz sees himself as capable of something extraordinary, and this is the year the 27-year-old Strikeforce welterweight champion plans to prove as much.
Following a late second-round armbar victory against Evangelista "Cyborg" Santos (18-14) in front of an audience of 9,059 at the HP Pavilion, the enigmatic Diaz (24-7) made clear his intention to fight all comers, regardless of weight or discipline.
Follow us on Twitter

Don't miss a moment of the latest MMA coverage from around the world. Follow us on Twitter and stay informed. Join »
Best known, of course, for his exploits in mixed martial arts, Diaz has longed for a chance to prove his mettle in boxing. It's one of his loves, and he's spent countless hours working with the likes of trainer Richard Perez and Olympic gold medalist Andre Ward. With a new contract in hand that includes a provision for him to box on Showtime once in 2011 "if the schedule permits," said Diaz's MMA promoter, Scott Coker, the opportunity is now.
As contending MMA welterweights like Paul Daley and Tyron Woodley gear up for a shot at the Strikeforce 170-pound title, or middleweight rival Jason Miller angles for what is sure to be a hype-filled showdown, Diaz wants to do more than merely reign as champion of a division that has been maligned in some quarters for its lack of ranked competitors.
Said the Stockton, Calif.-based Brazilian jiu-jitsu black belt: "I don't want to be your everyday regular MMA fighter -- because I'm not."
[+] Enlarge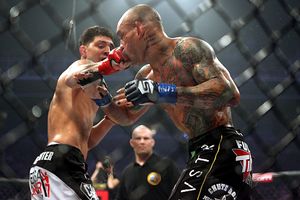 Dave Mandel/Sherdog.com Nick Diaz showed off his competent hands in boxing circles around Evangelista Santos.
Diaz is unquestionably dynamic. Unafraid to stand and trade, he is a rarity in that most MMA strikers of his caliber cannot claim to be as proficient on the ground -- which is where he closed the show on Saturday after indulging the crowd against an aggressive Muay Thai veteran like Santos for nearly 10 minutes.
But that's not enough to assuage Diaz, said his manager, Cesar Gracie, who suggested a bout against boxing veterans Fernando Vargas or Ricardo Mayorga could take place in August.
"I think the monumental impact of having an MMA striker in boxing makes sense," said Gracie, who suggested Diaz's lack of interest in moving up to 185 to meet the "buffoon" Miller also has much to do with the possibility of fighting at super middleweight, where Vargas is scheduled to compete April 16 in Las Vegas against Henry Buchanan. "If Nick loses, he loses. Whatever. But it would show where MMA is with the hands. There's a significance to that."
Discussions in coming weeks are expected between Diaz's camp, Strikeforce, which Coker said would need to play a part in the promotion, and boxing promoters aligned with Gracie to see if something can get done.
"I'll fight Fernando Vargas," Diaz said. "I'm not afraid to box him."
Whether Diaz does or doesn't, Coker said the fighter will be busy in 2011.
"All three of those fights that he really wants this year, I think he'll get them," Coker said. "One of them is Daley. I think 'Mayhem' Miller will happen. And I think Tyron Woodley will happen towards the end of the year, or maybe beginning of next year."
A bout against Daley, 27, sometime before summer is contingent upon the British striker's defeating DEEP welterweight champion Yuya Shirai on Feb. 26 in Manchester -- a tuneup Daley opted for instead of an earlier meeting with Diaz in the cage.
"

It's the beginning of a long season for me that I plan on really warming up into.

"

-- Nick Diaz, on his fighting hopes for 2011
"It's the beginning of a long season for me that I plan on really warming up into," said Diaz, who crowned himself the best welterweight striker in MMA.
If Daley (26-9-2) is indeed next, Diaz would face a stronger, more technical striker than the man he defeated Saturday. "Cyborg" plastered the inside of Diaz's lead leg with kicks throughout the fight, something Daley could easily mimic. Daley, whose infamous postbout punch against Josh Koscheck led to his release from the UFC last year, is a better puncher than Santos. He joined Strikeforce late in the year and scored a first-round knockout of Scott Smith -- not that it impressed Diaz.
"I see me putting punches on him," Diaz said. "Make him try to take me down too, get caught in a choke. Something like that. He can run from me. I'd run him down. I'd run him down, take him down and beat him on the ground. I can see that fight going a lot of ways."
By the sound of it, Diaz will be in position to envision many fights in many ways during the year ahead. And, just maybe, he'll be anything but ordinary.
Josh Gross covers MMA for ESPN.com. Follow him on Twitter at JoshGrossESPN.
SPONSORED HEADLINES
MORE MMA HEADLINES
MOST SENT STORIES ON ESPN.COM