Commentary
Davis keeping up with MMA's Jones?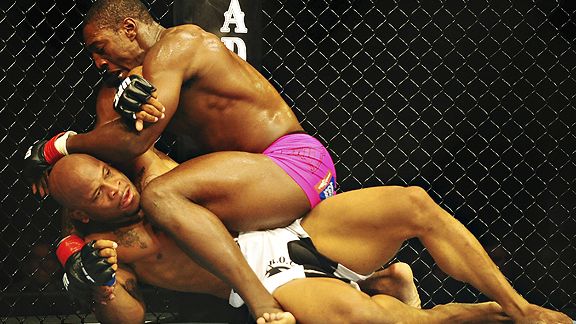 Mark J. Rebilas for ESPN.comPhil Davis has taken down his opponent in the first round of each of his eight professional fights.
When Phil Davis became an NCAA Division I wrestling champion for Penn State in 2008, his confidence rose to the point that he truly believed he would never lose.
Davis, 26, remembers matches in which he trailed his opponent headed into the final minute, only to pull ahead in the waning seconds.
"Man, when I was on top of my game in wrestling, it was kind of like -- I don't want to say invincible, but I just knew nothing could go wrong," Davis told ESPN.com.
"Even when things were basically going wrong, it was just like, 'Oh goodness, Phil. Better turn it up now.' Nothing ever seemed like it was going to end up bad. And it didn't."
"

The speed he has to shoot from the outside to your chest is lightning-fast. It freaks guys out. It's not something they want to deal with.

"

-- Adrian Melendrez, Phil Davis' striking coach, on the fighter's takedown ability
Davis (8-0) has maintained that confidence during his transition into mixed martial arts, and he'll carry it into the Octagon again Saturday when he meets Antonio Rogerio Nogueira (19-4) in the main event at UFC Fight Night 24 in Seattle.
Nogueira was originally scheduled to face former UFC champion Tito Ortiz, but the fight fell through when Ortiz pulled out because of an injury. Although Davis has accomplished far less in his career, Nogueira sees the two as equals.
"This fight is just as tough as it would have been with Tito," Nogueira said. "I feel they are at the same level in the division."
Lofty expectations already fall on Davis' shoulders heading into this bout, despite the fact he began training in MMA just three years ago.
With 23-year-old Jon Jones having claimed the UFC light heavyweight belt this past weekend, fans are scouring the division for a man capable of offering him some kind of challenge. Many eyes have turned to the 6-foot-2 Davis, who matches up well with Jones athletically.
It's the kind of expectations that could derail a less confident fighter. So far, they haven't had an impact on Davis.
Listen to the ESPN UFC Podcast
"I think that's what enabled him to get this quick start, is his confidence level," said Adrian Melendrez, Davis' striking coach. "I think it comes from that background as a Division I athlete.
"We have a lot of confident guys in our gym [including Dominick Cruz, Brandon Vera]; Phil is the most confident."
Part of that self-assurance comes from the fact that, up to his point in his career, Davis has yet to meet an opponent who can stuff his takedowns.
In every one of his eight professional fights, Davis has taken his opponent down in the first round. When it happens, he seems to suck the confidence from a fighter and add it to his own.
Because lying on your back underneath Phil Davis is not a good place to be.
"You don't want to be on the ground and get smothered against the cage," Davis said. "No one likes that feeling."
From a technical standpoint, Davis isn't ready for the likes of Jones quite yet -- and he and his camp know it.
The team actually spent some time considering whether or not to accept the fight against Nogueira, acknowledging the fact that it's a big step up in competition from what Davis has faced thus far.
ESPN.com currently ranks Davis as the No. 9 light heavyweight in the world -- a distinction that fails to impress Davis, or even bring a smile to his face. He dismisses the topic of a title shot as "silly talk" and admits the only time his head starts to grow is when his two older brothers call to talk about his career.
Follow us on Twitter

Don't miss a moment of the latest MMA coverage from around the world. Follow us on Twitter and stay informed. Join »
"The only time I ever get amped up about things happening in my career is when I talk to my brothers," Davis said. "They'll tell me, 'Dude, Phil, we just talked to this guy in the barber shop who said you'll lose and I said I'd smack him for saying it!'
"When strangers in the barber shop are talking about your fight, then it becomes a little real. It's pretty crazy."
That grounded approach has Davis working hard in the gym to make up for lost time -- the 22 years he lived before taking a jiu-jitsu or boxing class.
According to his coaches, he's a fast learner. Melendrez swears Davis has dropped every single fighter at the San Diego-based Alliance gym with his leg kicks, and the physical ability the fighter brings is nearly impossible to train for.
It's the same compliment so many gave to Jones heading into the weekend of his title shot.
"There's a few of those guys out there, Jon Jones and Anderson Silva, that you just can't find anyone like them to train against," Melendrez said. "You can get kind of an idea by going out and getting a good wrestler, but the pressure Phil puts on from the top is just awesome.
"The speed he has to shoot from the outside to your chest is lightning-fast. It freaks guys out. It's not something they want to deal with."
Davis has a major step ahead of him in the form of Nogueira. If he is successful this weekend, more steps lie ahead.
It's still a long road ahead, but if things continue on as they have, Davis' road likely will lead straight to Jones. And that will be some fight.
"These are two guys who are the type of athletes that would have been good at any sport," Melendrez said. "Phil could have been a U.S. wrestler. Jones could have played pro football, I'm sure. I'd like to see Phil move slow, but if that fight comes along, I'm excited for it just like everyone else."
Brett Okamoto covers MMA for ESPN.com. Follow him on Twitter at bokamotoESPN.
MMA columnist for ESPN.com
Analyst for "MMA Live"
Covered MMA for Las Vegas Sun
EDITORS' PICKS
Rick Story isn't about to play "sacrificial lamb."
Brett Okamoto »

Cung Le has been suspended for using HGH.
Brett Okamoto »

Demetrious Johnson wanted to be the best fighter ever.
Blog »