December, 20, 2013
Dec 20
7:03
AM ET
By Michael Huang
ESPN.com
Archive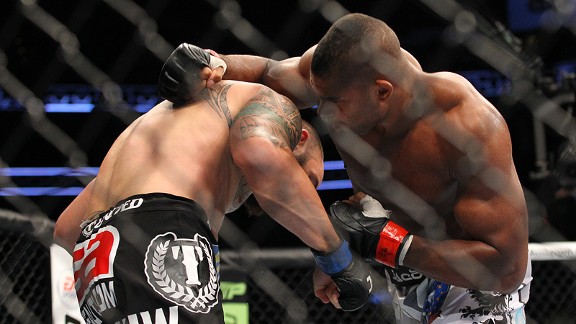 Ed Mulholland for ESPNTravis Browne, left, endured tense moments and hellacious strikes before taking out Alistair Overeem.
Travis Browne
probably isn't the first opponent to describe the knees of
Alistair Overeem
thusly:
"[Overeem] had heat-seeking ability in those knees," Browne said. "He's always had devastating knees."
Indeed, Browne survived a vicious 40-second tirade of strikes and knees from the former Strikeforce and K-1 heavyweight champion and came back to knock out Overeem in the first round at UFC Fight Night 26 on Aug. 17.
It was a gutsy performance by Browne, who, compared to most UFC fighters, is a relative latecomer to MMA, having taken up the sport professionally in 2009 and only first stepped foot in a jiu-jitsu dojo at 25.
Six years later, the 31-year-old is on the cusp of becoming the No. 1 contender for the UFC heavyweight title, if he can defeat veteran and former UFC champ
Josh Barnett
at UFC 168 on Dec. 28. The winner will face Fabricio Werdum for the next title shot when champion
Cain Velasquez
returns from injury.
As he was against Overeem, Browne is once again a decided underdog at plus-170 odds, according to most MMA betting websites. But Browne is used to that and doesn't sweat it.
"I don't have a combat sports background, so I'll always be the underdog," Browne said. "I want to be the best and fight the best. But people who know will tell you I'm just a big softie. I'm more of a lover than a fighter."
And who doesn't love an underdog?
Hawaiian heritage
Browne is half Hawaiian, and his nickname "Hapa" literally means "half." Browne says his middle name, Kuualiialoha, means "Prince of Love" in Hawaiian. And while the literal translation from a Hawaiian-English dictionary might suggest something more along the lines of "beloved child," either way Browne holds his Hawaiian heritage dear to him as a symbol of his compassion, as well as his warrior pride.
Raised in Hawaii until he was 10, Browne learned to swim, surf and do anything but fight. He dabbled in a little karate, but he admits he was an "emotional kid."
"I cried a lot," he laughed.
Sadly, his parents' divorce took him and his mother to San Diego where he eventually developed into a standout basketball player. At 6-foot-7 and 230 pounds, Browne dominated his local competition and had offers to play some smaller schools and even semi-pro leagues overseas.
"I had good quickness to play a big 3 or small 4, maybe even the 2 at times, depending on the lineup. I could play on the perimeter or down low. I was a strong kid and liked the contact."
"

I told my buddy 'show me how you do [jiu-jitsu]', and he put me in an armbar. I was hooked and just became obsessed with it.

"

-- Travis Browne, on his start in mixed martial arts
After one season at Palomar College, Browne gave up the hard court and took to the mats. On a whim, a buddy convinced him to try jiu-jitsu.
"I told my buddy, 'Show me how you do [jiu-jitsu],' and he put me in an armbar," Browne said. "I was hooked and just became obsessed with it."
Browne began in at Oceanside's North County Fight Club, the starting point for fellow UFC heavyweight
Joey Beltran
. After the fight club disbanded, Browne landed at Alliance MMA for a while and developed his wrestling and muay Thai skills. It wasn't until he joined Greg Jackson and Mike Winklejohn's gym in Albuquerque, N.M., however, that Browne's career took off.
Browne's laid-back style and warrior spirit is a juxtaposition that fits in well with the Zen-like atmosphere of Jackson and Winklejohn's.
"It was the perfect fit for me," Browne said. "They encourage creativity and teach you to believe in yourself, your skills. The coaches are on board with experimenting with different things. So I asked Winklejohn to teach me a new skill for Barnett."
"Heat-seeking knees" was the response.
"I try to do different stuff for every camp," Browne said. "Always add something you can use. Train smarter, harder."
He will have to first get through Barnett, a grizzled 16-year MMA veteran who has fought wars in nearly every fight league that's existed -- Pride, Pancrase, Affliction, Dream, Sengoku, Strikeforce -- and held the UFC heavyweight title in 2002 after defeating
Randy Couture
.
Barnett is an oppressive grappler, with 20 wins by a multitude of submissions. He also is a devastating striker, as evidenced by his most recent demolition of
Frank Mir
at UFC 164. In many ways, Barnett contrasts with Browne like day and night. If Browne is a lover and a fighter, the fighter part will have his work cut out for him.
At 6-foot-7, Browne's length and 79-inch reach gives him some safe distance to gauge Barnett's striking. However, in the clinch there are few better than Barnett. That's fine with Browne.
"I want to be the best and fight the best. I have momentum now," Browne said. "To stop me, my opponent is going to have to finish me to win."
December, 15, 2013
Dec 15
12:47
PM ET

By Brett Okamoto
ESPN.com
Archive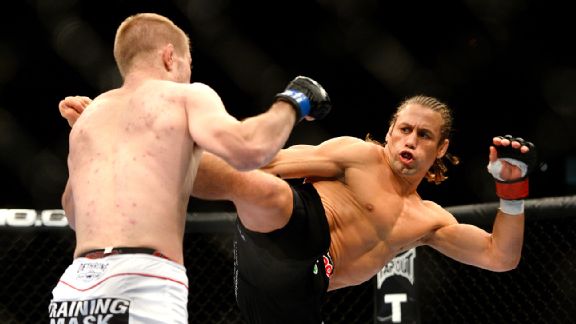 Al Powers for ESPNAfter destroying Michael McDonald on Saturday, Urijah Faber is back in the title conversation.
SACRAMENTO, Calif. -- In all likelihood,
Urijah Faber
won't be a serious candidate for "Fighter of the year," but he's done something incredible these past 12 months -- and I'm not solely referring to his destruction of
Michael McDonald
on Saturday -- although that was nothing short of awesome.
What's really amazing about Faber right now is that within about a year, he not only built himself back into the undisputed No. 1 contender at 135 pounds -- he's done it in such a way that we're actually excited about it.
"

Dana has paid me a great compliment by saying I'm the type of guy who believes I can beat anyone. I'm ready to fight anyone, any time. I'll fight Godzilla, King Kong, I don't care.

"

-- Urijah Faber
When 2013 began, Faber was coming off a previous year's campaign that saw him fight only once: a lopsided, at-times tedious five-round loss to
Renan Barao
for the UFC interim belt. It was his fifth loss in a title fight in a span of less than four years.
The very thought of Faber (30-6) in another title fight made some mixed martial arts fans sick to the stomach. It had become clear he couldn't win the big one anymore, having lost five consecutive title fights across two weight classes.
The craziness of this resurgence story starts right there, with the fact Faber didn't care. After that many heartbreaking defeats, nobody would have blamed him had he come out flat his next couple fights -- in fact, we probably expected him to.
Instead, here we are in December 2013 and the idea of Faber fighting for a title doesn't even feel all that repetitive. It doesn't feel like an undeserved gift based on his popularity. The man has never looked better.
"A lot of people have said [the UFC] is just looking for excuses to give Urijah Faber a title shot," said UFC president Dana White. "You can't deny it now. You can hate. You can dislike. You can do whatever you want, but you can't deny him.
"Faber is in like this
Vitor [Belfort]
zone. The older he gets, the better he gets."
White didn't officially call Faber the No. 1 contender on Saturday, but it's hard to see a scenario unfold in which he wouldn't be.
Dominick Cruz
will return from injury for the first time since October 2011 against Barao at UFC 169 in February. Faber is a marketable next opponent for the winner, regardless of who it is.
He has no hesitation in raising his hand for that opportunity, either. It's not as if he's felt out of his league in these title losses. A cracked rib hindered him against Barao. He broke his hand against
Mike Brown
. He still thinks he did enough to beat Cruz.
"Dana has paid me a great compliment by saying I'm the type of guy who believes I can beat anyone," Faber said. "I'm ready to fight anyone, any time. I'll fight Godzilla, King Kong, I don't care. I'm a little bit delusional about it, even.
"My losses have been to
Jose Aldo
, Barao, I lost to Cruz when I thought I beat him, Mike Brown with a broken hand -- what do you guys want from me?"
One sort-of-interesting part about this whole thing is that Faber doesn't seem to see it. In his mind, he was just going out and winning fights. He expected to win all four of his fights this year, and in the manner in which he did it.
He dismisses talk about fans not wanting to see him fight for a title or his inability to win the big one as merely "people looking for stuff to talk about." And in some respect he's probably right: We do love our storylines in this sport.
Still, Faber's insanely fast return to legitimate title contender was one of the most impressive things to happen in the UFC this year. For all the hate he's taken along the way, it needed to be pointed out.
December, 15, 2013
Dec 15
7:33
AM ET
By Michael Huang
ESPN.com
Archive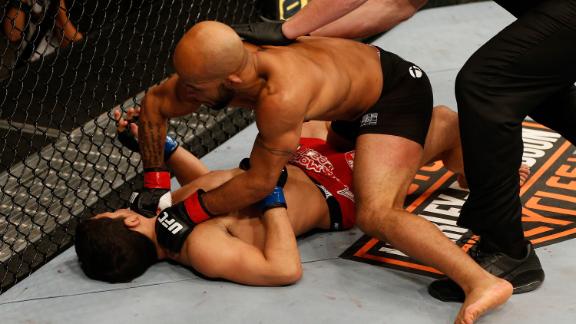 If any questions still lingered about whether
Demetrious Johnson
is the best flyweight fighter in the world, his right fist answered every one of them unequivocally Saturday night in his first-round demolition of
Joseph Benavidez
at UFC on Fox 9 in Sacramento, Calif.
Johnson planted a solid right on Benavidez's jaw, dropping Benavidez cold to the canvas. The knockout marked the second consecutive finish for Johnson, who submitted
John Moraga
at UFC on Fox 8 with an arm bar.
Johnson's two finishes stonewall the run of seven straight decisions he posted en route to winning the UFC's flyweight belt and in defense of it. Not only has Johnson perhaps proved himself a champion to his critics, but also champions a weight class that has perhaps thirsted for respect.
"Those people who said they hate the flyweight division don't know [expletive] about fighting," said UFC President Dana White shortly after Johnson's first title defense, at UFC on Fox 6 in Chicago. "It's not a deep division, they're fighting the same guys. ... These guys know how to fight."
Johnson has cleaned out the division, with wins over all the top challengers, including Benavidez twice, Moraga,
John Dodson
and
Ian McCall
. And with the impressive knockout win over Benavidez, it should leave little doubt about who's the clear-cut best flyweight in the world.
However, Johnson's rise through the pound-for-pound rankings has been slow, perhaps for the very reasons White detailed, as well as Johnson's inability to finish fights until recently. Dare we say overlooked? And why shouldn't Johnson be in the discussion for the top pound-for-pound fighter in MMA?
Against Benevidez, Johnson's technique was exquisite, as it was against Moraga and Dodson. If Johnson seemed hesitant early against Dodson, he was dominant against Moraga and precise against Benavidez. His boxing was crisp and flawless, earning him "Knockout of the night" honors. Against Moraga, Johnson relied on his grappling, earning "Submission of the night" honors. Under trainer
Matt Hume
at AMC Pankration in Kirkland, Wash., Johnson has become a dangerously efficient fighter.
The scary thing that is Johnson, 27, continues to get better. He also seems to be settling into his position as a UFC champion. In a year in which the UFC has seem a seismic shift in titleholders --
Anderson Silva
and
Benson Henderson
both losing titles,
Georges St-Pierre
vacating after a controversial win, and
Jon Jones
looking absolutely human against
Alexander Gustafsson
-- Johnson and perhaps heavyweight champ
Cain Velasquez
offer the most stability atop their respective divisions.
The flyweight might be the lightest class in the UFC, but it doesn't mean its members should be taken lightly. After Johnson's latest win, his inclusion in the pound-for-pound discussion was all but assured, and the legitimacy of the flyweight division cemented. Johnson is already ranked eighth in
ESPN's pound-for-pound rankings
.
"You know, if people want to see me as the best pound-for-pound fighter in the world, that's totally fine," Johnson said during the postfight new conference. "My job is to go back to the gym and keep on improving, keep on showcasing my skill set with finishes and knockouts."
Johnson's climb into those rankings might have been slow, but considering his dominance over the flyweight division, his ousting from it might take equally as long. The only question that remains is whether Johnson, with a 3-0 record including two title defenses and two finishes in 2013, will win "Fighter of the year" honors?
"There's no doubt he should be in the running for that," White said.
And with all those wins coming in front of non-pay-per-view national audiences, rest assured Johnson will no longer be overlooked.
December, 14, 2013
Dec 14
12:02
AM ET

By Brett Okamoto
ESPN.com
Archive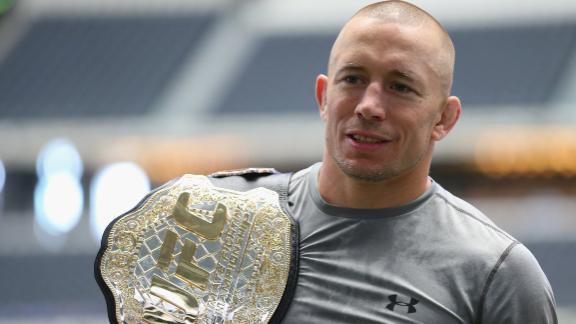 The greatest welterweight in the history of mixed martial arts, and one of the sport's most influential figures of all time, did the unthinkable on Friday.
Georges St-Pierre
, 32, vacated the highly coveted UFC title, saying that after a near 12-year career that has included 14 UFC title fights, he needed to take an indefinite leave of absence to focus on living "a more normal life."
Even in the current media landscape, where news is broken, analyzed and moved on from almost instantaneously, this announcement figures to linger for a bit.
The reason St-Pierre gave for walking away from the absolute pinnacle of his sport was, more or less, that he was tired. In addition to some personal issues he refused to detail, it sounds like St-Pierre has simply grown to dread the weight of that belt.
"Nobody can understand my situation," St-Pierre said. "All this pressure and all this weight I carry on my shoulders.
"Everywhere I go, as soon as I step out of my house, people are [talking about my fights]. It's completely insane. It's every day of my life. Nobody can understand this."
St-Pierre is right, obviously. No one can understand the exact circumstances he's personally under. But if anyone can come close, it might be
Anderson Silva
.
Connected in one way or another for years (at times, as potential opponents), St-Pierre and Silva have faced similar trials this year in their respective careers.
Silva lost the UFC middleweight title to
Chris Weidman
via second-round knockout, exactly 133 days before St-Pierre fought
Johny Hendricks
to a bitterly close split-decision win. It was Silva's first loss in 17 UFC fights.
[+] Enlarge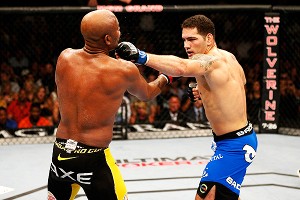 Josh Hedges/Zuffa LLC/ Getty ImagesIf there's one fighter able to relate to Georges St-Pierre's decision, it's former UFC champion Anderson Silva following his loss to Chris Weidman.
Immediately after, Silva said he was tired. He claimed he would no longer fight for the UFC belt anymore. He didn't want an immediate rematch against Weidman, whom he made it a point to repeatedly call the champion.
There were other details worth noting. Prior to the fight, Silva tried to give Weidman the belt to hold at a press conference. He predicted in a pre-fight video, which later drew massive interest on the Internet, that Weidman would beat him.
Neither Silva nor St-Pierre appears to have lost his love for the sport -- St. Pierre said Friday he would continue training regularly and improving his skills and, during a recent interview in Brazil, Silva said he would do the same even if he were to lose again and be "forced" into retirement by the UFC.
And they aren't falling apart physically, either. Silva, 38, showed no visible sign of athletic decline in his loss to Weidman. Although St-Pierre's win over Hendricks was close, it was still against one of the most talented and dangerous fighters in his division.
It's hard to sum up two of the most successful MMA careers of all time into one neat comparison (which wouldn't be accurate anyway), but I guess what I'm saying here is that when St-Pierre described his situation, I thought of Silva.
When talking about his future, St-Pierre sounded genuinely excited about the prospect of having to "climb Everest" again. He even mentioned the specific act of wearing (challenger) blue gloves for once, instead of the (champion) red gloves.
I don't think St-Pierre is done in the Octagon. He left the door too blatantly open for a return and he loves the sport too much.
But I think he might be searching for an answer to the question that hopefully Silva has already found (considering he fights this month): How do you want to become a champion again?
December, 13, 2013
Dec 13
11:36
PM ET

By Josh Gross
ESPN.com
Archive
Joseph Benavidez
saw his first live UFC card inside what was then the ARCO Arena in Sacramento, Calif.
Two fights into his pro career, Benavidez was happy enough sitting in the nosebleeds at
UFC 65
, eating hotdogs and watching
Georges St-Pierre
take the welterweight title from
Matt Hughes
.
"If someone tapped me in the shoulder and said seven years later you'll be down there doing the same thing I would have been like 'Get out of here, you're nuts,'" Benavidez said this week.
He would also owe that person an apology, because that's exactly what will happen Saturday when Benavidez gets a second chance at winning the UFC flyweight title against
Demetrious Johnson
at
UFC on Fox 9
.
"Never in in my wildest dreams," Benavidez said, despite being a dreamer.
Sacramento is the flyweight's home, and has been since 2007, when he sought out
Urijah Faber
before making the move from New Mexico.
Faber's camp, Team Alpha Male, was in its early days. Training out of Ultimate Fitness in the heart of California's capital, the operation was designed to provide Faber the best training he could get.
Faber, a former WEC 145-pound champion, had proved himself to be one of the best fighters below the lightweight limit. "The California Kid" turned out to be a pioneer, as well as a brand that has mattered for the past 10 years.
It's no surprise that the mixed martial artists who found a home at Faber's gym fight mostly between 125 to 155 pounds. Leading up to a card that features a four-pack of Alpha Male teammates looking to finish 2013 with a combined 14-0 record, the storyline seems like something you'd respond to by telling a person they're nuts.
But that's right. Benavidez, Faber,
Chad Mendes
and
Danny Castillo
will step into the Octagon inside the newly dubbed Sleep Train Arena before family and friends this weekend, aiming to complete an astounding year for themselves and their gym.
Faber would probably add the city he lives in to that list. The 34-year-old bantamweight, who meets young
Michael McDonald
in the co-feature, said he feels like he has come to understand how important it is to represent Sacramento as a community. This town and his gym share an identity, and it's important enough to embrace.
"I see this as me and my guys doing our part," explained Faber.
The great run of 2013 has largely been credited to the arrival of the team's new head coach, retired Muay Thai fighter and mixed martial artist
Duane "Bang" Ludwig
.
Ludwig is a technician. He loves detail and structure. And though he didn't accomplish as much as Faber has as a pro, and he's just a year older than the head of the gym, Ludwig's presence has been portrayed as a big boost.
[+] Enlarge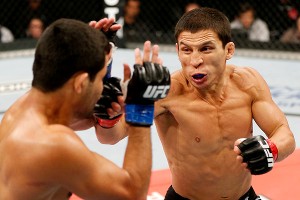 Josh Hedges/Zuffa LLC/Getty ImagesJoseph Benavidez's title shot against UFC flyweight champ Demetrious Johnson will close out a standout year for multiple members of Team Alpha Male.
"We've had great coaches throughout time, guys that were really strong in some places but not others," Faber said. "But having Duane in there with his system, the confidence of having someone in there orchestrating everything, helps a lot. You can definitely see improvement."
Ludwig had a vision when he was a kid that one day he would train great a fighter. Faber and Alpha Male gave him his chance, and thus far they're better off for it. A co-op atmosphere has emerged in the gym, which suits Faber and his hippy-parent roots just fine.
Fighters bow when they step on and off the mat. They wear color shirts that signify ranking, like a belt around a gi. A martial arts feel has taken over the crew, and that's all from Ludwig, who said his life was changed many years ago and he has grown as a person because of the experience.
"When I have the guys step on the mat I ask four things of the guys," said Ludwig, who moved his family from Colorado to Sacramento for the job. "I ask them to show up on time. Get better. Get tired. And take care of their partners.
"Don't waste my time or your money."
Ludwig's influence. Stars aligning. Whatever the case may be, 2013 has been tremendous for the group.
"As far as the team, it's been an amazing year," Benavidez concluded. "I've gone out and gotten three wins. Faber has three wins. Chad is on streak to get his fifth knockout in a row, which would actually be a UFC record. I think he'd beat Shane Carwin.
"It seems somehow when we all fight on the same card our games get elevated, and just the fact that it's in Sacramento is crazy. You can't really count on everything being meant to be, but everything is in place to really make the year put that exclamation point on it."