Commentary
Lightweight class not about to wait on Penn
What are the top 155-pound fighters to do when lightweight champ B.J. Penn has his sights set on challenging a welterweight? Fight each other, writes Myron Medcalf.
Originally Published:
October 27, 2008
By
Myron Medcalf
| Special to ESPN.com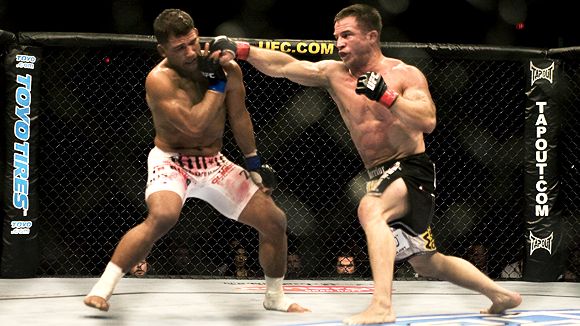 Ross Dettman/ESPN.comStill a player: Sean Sherk, right, proved he still has a place among the lightweight elite by earning the nod over Tyson Griffin.
ROSEMONT, Ill. -- If the lightweight division were a bank lobby, then B.J. Penn just walked in and told everyone to stick their hands in the air. The king of the 155-pounders has chosen to test his skills against welterweight champ Georges St. Pierre in early 2009. But some of Penn's colleagues feel like he's holding the division hostage until he decides to return to the lightweight division to defend his crown. "In some way, definitely, I think some of the lightweights believe that," lightweight contender Kenny Florian said. "I understand. And I think he deserves that shot." In the meantime, the numerous skillful lightweights within the Ultimate Fighting Championship intend to hold up the division until Penn decides to defend his belt. Anderson Silva and Patrick Cote were the headliners of Saturday's UFC 90, but it was also a showcase for the lightweight division, one of the UFC's most competitive.
[+] Enlarge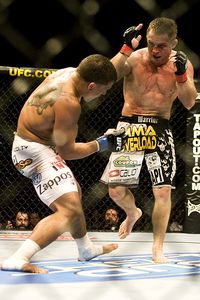 Ross DettmanSean Sherk's bloody brawl with Tyson Griffin, left, had the crowd on its feet for all three rounds.
Lightweights Tyson Griffin and Sean Sherk won "Fight of the Night." The two fighters stayed upright and threw power punches for the bulk of their three-round bout, in what was expected to be a grappling match for the two wrestlers known for tough takedowns. The fight, a unanimous decision for Sherk, probably could have gone either way. Few, however, could contest that the match was deserving of the honor. "The lightweight division's stacked," Sherk said. "I asked [UFC matchmaker] Joe [Silva] to fight Tyson. I thought it would be a great fight and I thought that the winner of this fight would hopefully get a shot at that belt, assuming B.J. comes down. … Hopefully, I can fight Kenny [Florian] and Joe [Stevenson] next." Spencer "King" Fisher stole submission of the night, when he wrapped up Shannon Gugerty in a fierce triangle at the end of the third round. And Hermes Franca earned a unanimous decision over his former teacher Marcus Aurelio. Only Gray Maynard and Rich Clementi failed to please the Allstate Arena crowd, but mixed martial arts insiders know that Clementi's a wily veteran that can make it hard for his opponents to look good against him. Throw in Stevenson, Florian and Frankie Edgar and you have even more proof that the lightweight division is deep, and like their boxing counterparts, the little guys are proving that they can carry a fight card on any given night. "Like Sherk said, that division is stacked," said UFC president Dana White after Saturday's fight. "There's a lot of good fights. But the belt right now is kind of on hold. We'll see what happens with GSP [St. Pierre] and B.J. Penn." White would like Penn to hold onto the lightweight title, even if he beats St. Pierre, but admits that's not necessarily something he can control. "That's what I'm saying," White said about his desire to have Penn remain a lightweight. "So we'll see what happens. I have to try to keep him under control. That's not an easy job." Penn, who in years past considered a move to heavyweight, has been rumored to be thinking about another jump in weight after the St. Pierre fight: up to 185 pounds to challenge Anderson Silva for his middleweight crown. But White expects Penn to defend his lightweight title after his bout against St. Pierre and attempt to become a reigning champion in two divisions, a la former pride 185- and 205-pound champ Dan Henderson. White also likes to make the best fights, regardless of weight. And after a May destruction of Sherk, who's in the mix for a title shot after Saturday's win over Griffin, Penn might not have too many meaningful bouts to fight at 135 pounds. That said, the winner of next month's Florian-Stevenson bout figures to become the No. 1 contender. The lightweight division may be the UFC's best, which is why fans get treated to so many thrilling bouts between 155-pounders. "Without a doubt, it's one of the toughest divisions out there, if not the toughest division," Florian said. "I think you've seen a lot of great fights because of it."
Myron P. Medcalf is a staff writer for the Star Tribune in Minneapolis and a freelancer for ESPN.com and ESPN The Magazine.
ESPN.com college basketball reporter
Joined ESPN.com in 2011
Wrote for Minneapolis Star Tribune
SPONSORED HEADLINES
MORE MMA HEADLINES
MOST SENT STORIES ON ESPN.COM
EDITORS' PICKS
Jon Jones gets put through his paces by espnW.
Watch

Dana White expects to have Gina Carano under contract soon.
Story »

Heavyweight Pat Barry joins our expert MMA panel.
The Weigh-In »