Commentary
Eight Winning Losers of 2008
Losing isn't the worst thing that can happen to a fighter. Just ask Ben Rothwell. Sherdog looks at eight losers who, for one reason or another, came out looking like winners in '08.
Originally Published:
January 9, 2009
By
Danny Acosta
|
Sherdog.com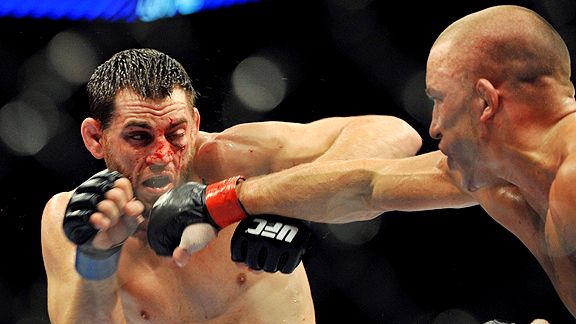 Jon Kopaloff/Getty ImagesJon Fitch left fight fans wanting more after giving his all against Georges St. Pierre.
Borrowing from a favorite Karate High School song, fighters can either believe "no one remembers second place" or "winning isn't everything" when they fall short of victory. In a sport where defeat afflicts everyone not named Fedor Emelianenko, it seems wise to believe the latter.
Leonard Garcia made his name smiling under a barrage of punches from Roger Huerta at UFC 69, some 19 months before he became known for waylaying Jens Pulver. Every year, a select group of mixed martial artists experiences victory in defeat. Here's the graduating class of 2008.
[+] Enlarge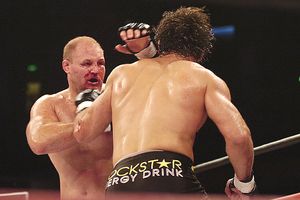 Darryl Dennis/Icon SMIBen Rothwell saw his stock rise in defeat.
Stepping into the ring against a former champion is never an easy task. Rothwell proved it when he took on former UFC heavyweight titleholder Andrei Arlovski at Affliction "Banned" on July 19. But he did not just step through the ropes; he walked through them -- and Arlovski's punches. And kicks. And knees.
The Belarusian punished Rothwell for the first 10 minutes of the fight. The International Fight League veteran had little success standing but continued to exchange. He showcased "Robocop"-like resistance in his first major step up in competition. The fight was not a complete lost cause, however, as Rothwell put Arlovski on his back and delivered effective ground-and-pound.
Rothwell entered the third round battered by any normal fighter's standards and still lasted a minute with someone who had earned "The Pitbull" moniker. The toughness Rothwell displayed in defeat might have done more to solidify his spot in the top-10 than his entire IFL career. He rebounded with a first-round win over Chris Guillen at Adrenaline MMA 2 in December and expects to battle Arlovski-caliber fighters with more "Terminator"-like results.
[+] Enlarge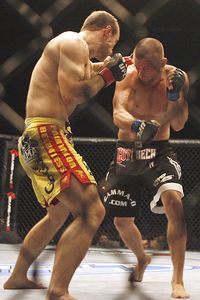 AP Photo/Simon DawsonPaul Taylor, left, gave as good as he got in Round 1 against Chris Lytle.
Taylor got his chance to make war with Chris Lytle at UFC 89 on Oct. 18. For the first 30 seconds of the bout, Taylor (the former professional kickboxer) stood across from former professional boxer Lytle and the two threw leather at each other without stepping away from the center of the Octagon. They repeated slight variations of the process in Rounds 2 and 3 in a fight that saw Taylor's combinations matched against Lytle's power shots.
Ultimately, Lytle's clinch game won him a unanimous decision. Taylor, however, enjoyed the support of his English countrymen and undoubtedly won over fans abroad after the telecast aired free on Spike TV. Picking up a hefty $40,000 bonus with his third "Fight of the Night" honor in five UFC outings likely dulled the sting of defeat.
Betting on a gritty "Ultimate Fighter" veteran against a well-respected international fighter seemed silly at the time. Yet Brown, a Season 7 cast member, gave gamblers a scare against Dong Hyun Kim at UFC 88 on Sept. 6.
The Korean impressed at UFC 84, as he brutalized Jason Tan with enough elbows to enter an "It's Always Sunny in Philadelphia" dance contest. His judo and ground-and-pound, however, failed to find their marks against Brown. The Jorge Gurgel protégé had a defense and escape for most of the undefeated Kim's offerings.
Striking and aggression made the fight close for Brown on the scorecards, even though he lost a split decision in a fight he entered as a heavy underdog. The bout made the main card, and everyone saw Brown was not just another TUF throwaway.
Brown picked up a submission win over Ryan Thomas at UFC 91, where his toughness earned him his second win in three UFC tries on a week's notice.
Stewart's cutting demeanor and heavily tattooed body make him look like a fighter, but like all jiu-jitsu players entering MMA, questions about his grit were less likely to go away than Uwe Boll movies.
Enter Joe Riggs at Strikeforce "Destruction" on Nov. 21. The UFC veteran had a reputation for retaining heavyweight power at 170 pounds and having a punishing brand of ground-and-pound; he represented the gravest threat in the grappler's young career. Stewart closed the distance on Riggs at will, working his game and nullifying Riggs when the fight hit the mat. Stewart looked nothing like a fighter who was at a 30-fight experience deficit, as he dictated the pace and place of the fight.
However, Riggs found his mark in the second round and turned Stewart's nose into a bloodied Rich Franklin double. Despite the break, Stewart did not cower and cover up like many other jiu-jitsu players. He pushed Riggs' hips, returned to his feet and continued to look for the ankle pick after being dropped to the mat, signaling in heated competition that his days of taking and dishing out punishment will be on more than just jiu-jitsu mats.
To Riggs' credit, he broke his hand to start the fight. Stewart's confidence, execution of an important game plan and the 10 he earned in the first round colored a home loss green.
A fighter nicknamed "McLovin" needs to be tough. Hazelett, a Brazilian jiu-jitsu understudy of Jorge Gurgel, decided to show his wiry, 21-year-old frame was something to be feared when he fought against Josh Koscheck at UFC 82 on March 1.
Koscheck has athletic edges on most people not made in a laboratory, but Hazelett was undeterred and traded strikes with the American Kickboxing Academy welterweight. The opening bell triggered Hazelett's bottled-up aggression, as he found Koscheck with a head kick. He followed fast, unleashing killer stand-up instinct not typically associated with slick grapplers. He repeated this process later in the round and had no qualms about coming forward into Koscheck's huge overhand right.
Having enjoyed submission success in his previous unaired bouts, Hazelett solidified himself as an all-around threat against a top-10 welterweight. He ended up on the wrong end of the highlight reel, but the overall excitement factor got him more televised UFC nods, which he parlayed into more enthralling clashes, capped off with two "Submission of the Night" bonuses and Sherdog.com's "Submission of the Year."
[+] Enlarge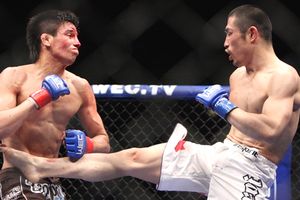 Courtesy Sherdog.comYoshiro Maeda, right, pushed Miguel Torres further than he had been pushed before at WEC 34.
When an international fighter wants to endear himself to fans who do not speak the same language, putting on a hell of a fight accomplishes the mission. Maeda did so when he challenged WEC bantamweight champion Miguel Torres on June 1.
A tricky and powerful striker, the Japanese fighter drew blood from Torres and prompted the champion to come forward angrily. Maeda rolled from leg lock to leg lock with the Carlson Gracie disciple and stayed out of quicksand with the black belt. Maeda's night ended early between the third and fourth rounds, when doctor's refused to let him continue. A Torres jab had broken his eye socket.
Maeda's next showing, however, was an untelevised and uninspiring first-round submission loss to Rani Yahya at WEC 36 in November.
Like Maeda, Miura could not win a war of words. Instead, he relied on his judo against welterweight kingpin Carlos Condit at WEC 35 on Aug. 3, and it paid off.
He treated the champion like an ultimate Frisbee instead of an ultimate fighter. Throwing around Condit was a tad sweeter after the New Mexican had vowed it would not happen. He held his own in Condit's deadly guard, too, and laid down some ground-and-pound. Against the superior striker, "The Last Samurai" managed to stay competitive for four rounds, landing some meaningful shots of his own and coming back from strikes that sent him to the mat.
Miura took Condit into deep water in his welterweight debut. With his breakout performance still fresh in the minds of many, Miura may be plotting his revenge against "The Natural Born Killer."
Fitch was not an unknown, nor did he lack notable performances heading into his championship bout against welterweight titleholder Georges St. Pierre at UFC 87 on Aug. 9. Still, he may have done more for his career in those 25 minutes than he had done in his record-tying eight-fight winning streak inside the Octagon.
Fitch was taken down immediately. Thrown off his game, Fitch found himself standing with the champion, unable to handle the French Canadian's speed and athleticism. He was nearly finished in the first but walked to the center of the Octagon for the next four rounds like a George A. Romero movie extra, even though he was able to mount little offense in the five-round tilt.
However, the loss proved Fitch was the blood-and-guts fighter he had been billed as entering the match. Even St. Pierre was surprised at how Fitch kept himself in the fight, and the welterweight king tired as he attempted to finish off the American Kickboxing Academy cyborg.
After a publicized run-in with UFC President Dana White, Fitch will land back on the unaired portion of UFC 94 later this month. Still, the graphic images that remain from his encounter with St. Pierre remind fans why he's one of the world's premier 170-pound fighters.
Danny Acosta is a contributor to Sherdog.com.
EDITORS' PICKS
We list the five fastest starters in the UFC.
The list »

L.C. Davis is still dealing with his brother's disappearance.
Blog »

Ronda Rousey doesn't consider herself a role model.
espnW »
MOST SENT STORIES ON ESPN.COM