Commentary
A burgeoning black influence in MMA
Updated:
February 23, 2009, 9:16 PM ET
By
Mike Chiappetta
| Special to ESPN.com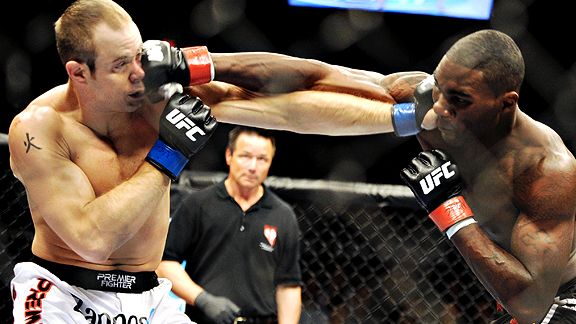 Jon Kopaloff/FilmMagicAnthony Johnson, right, is one of a growing number of African-American prospects.
Several years ago, before he ever stepped foot inside a gym to train in the sport in which he would become a champion, Rashad Evans was just a fan watching on TV. And in his upstate New York hometown, that made Evans a rarity: a black fan of mixed martial arts.
"For the most part, I was watching it with my white buddies," he said.
Evans has since become part of a growing influence of blacks on the sport. In December, he became the fifth black fighter to capture a UFC championship (Maurice Smith, Kevin Randleman, Carlos Newton and Quinton "Rampage" Jackson are the others) when he scored a third-round TKO against Forrest Griffin, and he hopes to use his title reign to draw more African-Americans to the sport.
For those who would like to see more racial diversity in MMA, the trend is encouraging. Along with Evans and Jackson, there are a host of other UFC contenders and prospects, including welterweights Anthony Johnson and Josh Koscheck and light heavyweight Jon Jones. In other leagues, there is unbeaten heavyweight Brett Rogers, light heavyweight Muhammed Lawal and welterweight Jay Hieron.
Most of today's black stars didn't have many African-American fighters to look up to when they started out in the sport. That's no longer the case.
"Any positive faces we can put out there is a good thing," said Johnson, who at 6-foot-2 is considered a top prospect in the 170-pound division. "Black men get stereotyped as thugs and drug dealers, and that's not what we're about. We're good people that want to be something in life. I'm proud we have guys like Rashad out there doing their thing and making something of themselves, so the young guys have someone positive to look at."
"

Black men get stereotyped as thugs and drug dealers, and that's not what we're about. We're good people that want to be something in life. I'm proud we have guys like Rashad [Evans] out there doing their thing and making something of themselves, so the young guys have someone positive to look at.

"

-- 170-pound prospect Anthony Johnson
But the reach of blacks in MMA has gone beyond the fighting arena. Even behind the scenes, the numbers are growing.
The man behind Evans' career is Jervis Cole, who managed Chuck Liddell and Griffin at MMA powerhouse Zinkin Entertainment before starting his own company, Cole Blooded Management.
Cole, who played professional basketball overseas for 10 years before starting his business career, has been involved in the MMA world for the past four years. It was Cole who struck the deal with Microsoft that made Evans the first mixed martial artist to appear in an ad for the software giant. But it hasn't always been easy. At 6-6 and 260 pounds, Cole often was assumed to be either a security guard or a fighter.
"Because there have been so few of us in the sport, they didn't really know of any major managers that were black," he said. "But not everyone can say they've worked with Chuck, Forrest and Rashad. When it comes down to sitting down and negotiating, they figure out who I am and what I'm about. I have my clients' interests at heart, and they take me seriously."
Ron Frazier, the head boxing trainer at Xtreme Couture, had similar experiences in his early days in the sport. Frazier, who has trained ex-champions Randy Couture and Forrest Griffin among others, laughs when he remembers that at the outset of his MMA career. "People thought of me as the black guy with the do-rag in the corner," he said.
But the issue isn't always so innocent.
When Evans fought Liddell in September in Atlanta, he and Cole heard the ugliest word you can say to an African-American and also received threatening e-mails.
"Down South, they weren't shy about being racist at all," said Evans, who's unbeaten at 13-0-1. "Outside of that incident and looking at the response on the Internet, some of the things people say, I feel there are some racial undertones. For example, talking about the possible matchup between me and Rampage, someone called it a 'ghetto brawl.' Why is 'black' and 'ghetto' synonymous? Why can't two black fighters just get in there and fight?"
[+] Enlarge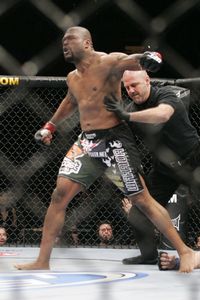 Ric Fogel for ESPN.comIf Quinton "Rampage" Jackson and Rashad Evans meet in the cage, it would be a historic and potentially trend-busting event.
The tension, however, should not overshadow the fact that if Evans and Jackson meet, it would be a historic event: the first time in UFC history that two black fighters square off in a title match. Johnson believes such a showcase would cause many to take notice.
"It can show a lot of kids that they can be something, no matter what anyone says about them," he said. "It's going to open some doors, and kids will want to follow in their footsteps. They'll see that dreams can come true, and for the right reasons."
Johnson, who was adopted by his grandparents Morris and Pearlene Johnson when he was 2 years old, doesn't just wait for the change to come around. Although he says he doesn't view himself as a role model, he actively helps troubled children because "it's just the right thing to do." Jackson and Cole also are working with urban communities and hoping to partner with Microsoft in building a computer center for at least one such neighborhood.
"It's going to take time to get more blacks and Hispanics," Frazier said. "We have to remember that boxing is entrenched in those communities where Muhammad Ali, Sugar Ray Leonard and Julio Cesar Chavez are heroes. But some of the guys like Rashad and Rampage are breaking through those barriers. As the sport is exposed to those audiences, they'll gravitate here."
Frazier, who is on the front lines of the sport at a gym that teaches all levels of participants, says he already sees evidence of growing numbers.
The trend likely was helped by a pair of other factors: the unlikely rise of Kimbo Slice, who was the face of the EliteXC promotion when it aired on CBS, and the series "Iron Ring," which was a surprise hit for the Black Entertainment Television channel in 2008. Although neither Slice nor "Iron Ring" was embraced by the hard-core MMA community, it did introduce the sport to a demographic that rarely was specifically targeted. (A BET spokesperson said no decision has been made about whether a second season of the show will air.)
All of which means that around the country, young black fans aren't alone when rooting for their favorite MMA fighters, as Evans was years ago.
"I knew back then black fans would come on board," Evans said. "They didn't know anything about it, and they didn't want to spend money for the pay-per-views not knowing what they'd get. But once they got a taste, I knew black fans, white fans and fans of all colors … everyone was going to love it."
Mike Chiappetta is a freelance writer who has written for NBCSports.com and FIGHT! Magazine. He can be reached at mgc324@gmail.com.
SPONSORED HEADLINES
MORE MMA HEADLINES
MOST SENT STORIES ON ESPN.COM
EDITORS' PICKS
Can the inexperienced Browne land a coveted title shot?
Blog »

Send your questions to champ Chris Weidman.
Chat: 11:40 ET »

Demetrious Johnson is climbing his way up the ranks.
Power Rankings »