Commentary
Boxing and MMA still worlds apart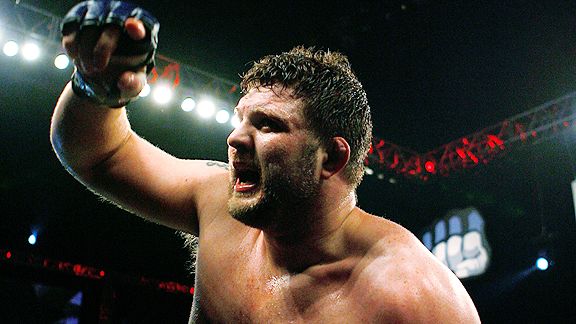 Jim Rogash/Getty Images for IFLRoy Nelson can hold his own in the ring, but can he move tickets? Probably not.
Saturday evening is going to be an interesting one for the statisticians.
That's when Roy Jones Jr., boxing's former pound-for-pound king -- crown now hanging lopsidedly off his head -- will both promote and headline March Badness, a grammatically suspect pay-per-view event that can brag of being the first high-visibility card to integrate boxing and mixed martial arts contests.
Jones has practical missions: He wants to "bring together" the two warring, disparate combat sports like some kind of pugilistic U.N. negotiator, and he wants to make money. Both goals are admirable, but it's hard to say whether they'll be met -- or taken seriously.
For their part, MMA fans are being courted into purchasing the show based on two fights that defy comprehension: Jeff Monson versus Roy Nelson and WWE expatriate Bobby Lashley versus Jason (brother of Clay) Guida, a late replacement for Ken Shamrock. (Contrary to expectations, I suspect this won't be the end of Shamrock. He refuses to take hints, cosmic or otherwise, to retire and remains "The World's Most Dangerous Man" only to himself.)
Lashley, who might actually possess the lean muscle mass of both Guida brothers put together, is being courted as a hot prospect in the sport. Jason Guida has been around the block a few times, knows a few tricks and might be able to pull one out. As fights go, it's all right. As main events go, it's best paid for with Monopoly money.
The real headache is Monson versus Nelson, a battle of heavyweights known more for their physiques -- at opposite ends of the fitness spectrum -- than any real potential as dominating contenders. The idea that anyone is organizing fight parties and heating nachos in anticipation of their meeting is perhaps too generous a notion.
MMA fans duly disappointed, that leaves the boxing fragments to shoulder most of the weight. Speaking as someone who has had little patience for that sport, I have no idea whether Jones' taking on Omar Sheika is something that will move tickets. Sheika's 27-8 record doesn't give off reverberations. It probably doesn't need to, considering the event is taking place in Jones' home of Pensacola, Fla. Civic pride can move tickets.
Anyone outside that arena is going to be a tough sell. Assuming you're an ardent fan of stand-up fighting, the mild enthusiasm at seeing Jones is going to be tempered by paying for a card that's one-half back-alley brawl. If you're an MMA fan eager to chart Lashley's progress, having to suffer through a bunch of stilted pugs jabbing each other into early onset Alzheimer's is enough to make you pray for a cable blackout.
The lone exception -- and where the statisticians come in -- is the rarest of creatures, the hybrid MMA/boxing fan: the guy who can appreciate the sweet science at the same time he critiques takedown technique. To these guys, the idea of paying $29.95 to see Jones and Lashley is like getting two pants for the price of one. What the March Badness buy rate is likely to reveal is exactly how many of these non-prejudicial combat sports fans are really out there. (The honest ones willing to pay for content, anyway.) How or when this information will prove useful is for smarter people to decide.
Me? Thanks to the UFC's business model, my pay-per-view bill is already eligible for refinancing. Thirty bucks for half a card of bouts, all of them as impactful as a dropped cotton ball, doesn't exactly antagonize my salivary glands.
The real story of interest is outside the ring. With Jones' Square Ring Promotions' getting into MMA -- it's planning free-fight-only cards in the months ahead -- and Don King's stench's beginning to waft through chain-link fencing, it's clear that boxing's royalty are anticipating the paradigm shift of American fight culture. Once mainstays like Jones and Oscar De La Hoya retire their gloves to a box in the attic, their sport is going to be in for a struggle for attention against the more articulate, colorful personalities in martial arts.
It's not a fight boxing is likely to win.
Jake Rossen is a contributor to Sherdog.com.
Jake Rossen is a contributor to ESPN.com. His byline has appeared in the New York Times, Wired.com, and numerous other outlets. He began covering mixed martial arts in 1998.
SPONSORED HEADLINES
MORE MMA HEADLINES
MOST SENT STORIES ON ESPN.COM
EDITORS' PICKS
Anderson Silva talks Nick Diaz, Jon Jones, more.
Watch

Who should be Lawler's next foe? Machida has answers.
Weigh-in »

CB Dollaway is eager to capitalize on an opportunity.
Brett Okamoto »