Commentary
Breaking down the UFC 102 main card
Updated:
August 29, 2009, 9:11 PM ET
By
Tomas Rios
|
Sherdog.com
Flying ninja robots, mutant monkey assassins and … wait, that's next month's UFC event. No worries. "UFC 102: Couture vs. Nogueira," booked for the Rose Garden in Portland, Ore., is stacked with enough top-shelf violence to claim yet another Saturday night from mixed martial arts fans the world over.
With a main card headlined by two of the sport's heavyweight heavyweights, Randy Couture and Antonio Rodrigo Nogueira, one needs no other reason to cancel that family reunion and spend an evening getting reacquainted with the wonders of television.
Plus, Demian Maia will flex his jiu-jitsu, Keith Jardine will remind us he's the world's funkiest Viking, and maybe those flying ninja robots will make an appearance. In the meantime, settle in for some serious fight talk. Perhaps some of it will manage to be accurate.
[+] Enlarge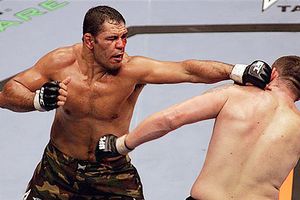 Sherdog.comA win over Randy Couture wouldn't be the first time Antonio Rodrigo Nogueira beat the odds.
Randy Couture versus Antonio Rodrigo Nogueira
The breakdown: Two of MMA's heavyweight legends will try to prove naysayers wrong one more time as elder face-smasher Couture takes on a suddenly shopworn Nogueira. Despite being just a few months removed from his 33rd birthday, Nogueira's years of absorbing beatings like a Brazilian Jake LaMotta seemed to have caught up with him when Frank Mir soundly trounced him at UFC 92. And Couture isn't coming off the fight of his life, either. In November, he failed to stop the centaur known as Brock Lesnar from claiming the heavyweight crown that once rested upon his own head. That said, Couture hasn't left his past few fights looking like a back-alley hospital patient.
With Mir having already written the script for starching Nogueira, expect Couture to use his wrestling to keep the fight standing and to rely on his boxing from there. Whether or not playing the same tune as Mir works for Couture will depend on just how much of his old self Nogueira has rediscovered in his eight months away from the cage. In a sport in which nostalgia runs deep but counts for little, Nogueira has to prove he has something left to offer after already having given so much.
The X factor: Lost in all the dismissive chatter about Nogueira is the fact that Couture is a 46-year-old man competing in a sport that skews younger than the cast of whatever atrocious teenage drama the CW is airing these days. Sooner or later, Couture is going to hit the same wall Brett Favre has already run into several times. How capable Nogueira is of sending Couture on his way is anyone's guess, but he has proved everyone wrong countless times before.
The bottom line: Nogueira fans should start practicing their cringes, as Couture is going to turn this into a one-sided dirty boxing display that the Brazilian won't be able to avoid. There won't be any miracle submissions this time around, as Nogueira will end up getting saved by the referee's sense of compassion, but not before taking two rounds worth of Couture's old-school bullying.
[+] Enlarge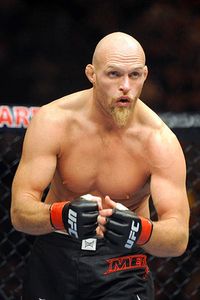 Sherdog.comKeith Jardine is unconventional in the cage, but he has the repertoire to take out Thiago Silva.
Thiago Silva versus Keith Jardine
The breakdown: Two of the light heavyweight division's forgotten men will try to restart their title runs, as Silva and Jardine try to bounce back from demoralizing losses by bouncing their fists off each other's heads. While Jardine is at his best snapping leg kicks and confounding opponents with his off-kilter timing and angles, Silva is at his best on the mat, using his slick guard passing and positioning to pound out opponents. But Silva often confuses himself with a striker, and that bit of identity crisis could cost him a fight he can ill afford to lose.
The X factor: As uncoordinated as Jardine can appear inside the cage, he actually has shown a stout takedown defense. That could become a major factor, as Silva has the bad habit of going into Clubber Lang mode when his takedowns come up short. Discipline and proper game plans have been absent from Silva's game before, and he'll need both to handle Jardine.
The bottom line: My personal betting favorite for "Fight of the Night." Expect a wild one, with Jardine loading up on leg kicks and Silva answering with his underrated clinch game. Eventually, Silva's struggle for the takedown will tax his cardio and leave him gasping for air as Jardine starts finding a home for his unorthodox arsenal. Don't expect Silva's chin to be up to the punishment. Jardine scores an impressive third-round technical knockout and immediately goes into Techno Viking mode.
Demian Maia versus Nate Marquardt
The breakdown: Title implications abound as jiu-jitsu demigod Maia attempts to lock up a date with UFC middleweight champion Anderson Silva by keeping Marquardt from earning a second date with the Baryshnikov of Violence. At this point, Maia is a tough fighter to gauge; his jiu-jitsu has proved so dominant that no one has forced him to show anything but his all-universe mat machinations. Although Marquardt is a solid grappler in his own right, he is well out of his depth against Maia and instead must focus on using his strength and striking advantage in tandem to keep this fight upright. Otherwise, Marquardt will be padding Maia's bank account by ending up on the wrong end of a "Submission of the Night" award.
More from Sherdog.com
Want the complete UFC 102 main-card preview? Sherdog has you covered.
The X factor: No one knows anything about Maia's striking or conditioning, and Marquardt has the style to keep this fight going long enough to get answers on both fronts. Plenty of fighters look like the second coming of Chuck Norris when they get to play by their own rules. Most come crashing to earth when the game changes on them. Sooner or later, Maia is going to have to step outside his domain, and Marquardt might just drag him out of it kicking, screaming and perhaps even tapping.
The bottom line: This will be Maia's toughest fight yet, but not even Marquardt's busting out the pile driver again will be enough to save him from getting ensnared in the Brazilian's web of tangled limbs and blocked airways. The difference-maker this time around will be Maia's wrestling, as Marquardt will struggle to keep him at bay before learning the same lesson Chael Sonnen received against Maia: Some of these jiu-jitsu guys have the wrestling stuff pretty well figured out.
Tomas Rios is a contributor to Sherdog.com.
EDITORS' PICKS
Ronda Rousey and Cat Zingano meet at UFC 184.
Preview

Cris Justino obliterated Charmaine Tweet in Round 1.
Brett Okamoto's roundup »

Rousey and Zingano have little to say ahead of their bout.
Watch
MOST SENT STORIES ON ESPN.COM