UFC may be last chance for Hunt
Originally Published:
July 14, 2010
By
Jordan Breen
| Sherdog.com
In a pair of high-top Air Jordans and matching basketball shorts, an unshaven, 290-pound Mark Hunt doesn't seem like any kind of combat sports star. Barely even fit to be a bouncer, really.
"If I'd trained as hard as some of the guys out here, I probably wouldn't be sitting here right now," Hunt said. "I'd be at a different level of fighting.
[+] Enlarge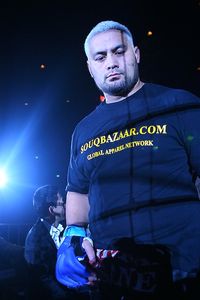 Daniel Herbertson for Sherdog.com.Mark Hunt may not look like prime UFC material, but the former K-1 world champ said he has dedicated himself to making the most of his opportunity at UFC 119.
"I just used up my time," he said with a shrug. "I squandered it."
Despite his nonchalance, he seems genuinely filled with regret.
Hunt may have won the 2001 K-1 World Grand Prix and he may own MMA wins over Wanderlei Silva and Mirko "Cro Cop" Filipovic, but "The Oceania Super Fighter" hasn't won a fight of any kind in more than four years. He has racked up five straight MMA losses, and in an ignominious K-1 return in April 2008, he was knocked out by a spinning back kick to the gut from heavyweight kingpin Semmy Schilt.
Yet in spite of his recent failures, the 36-year-old Hunt will get one last chance for redemption -- and on the biggest stage imaginable.
The Octagon is rarely where you'll find a fighter with a 5-6 MMA record. Nonetheless, the longtime K-1 and Pride star will make his Ultimate Fighting Championship debut against unbeaten Sean McCorkle when the promotion rolls into Indianapolis on Sept. 25 for UFC 119.
Hunt is aware how fragile his opportunity is.
Asked whether he was given the standard four-fight contract, he said, "I'm not even sure on the contract. It might be four fights, but I think I have to win my first one first, 'cause I haven't really been too successful lately."
The fact that he has been given an opportunity at all is puzzling. There was a moment following Zuffa's purchase of Pride in 2007 that there seemed to be interest in Hunt, but given the surprisingly dynamic current state of the UFC heavyweight division and Hunt's age, high-profile failures and lack of dedication, it seemed the moment had passed.
UFC boss Dana White tweeted Thursday that Hunt was owed fights because of the company's purchase of Pride, although history showed us many of those contracts were nontransferable and thus unenforceable. Hunt himself is unwilling to divulge the nature of the deal.
"I don't think I should say anything," he said. "I could get in trouble, you know? I'm not saying nothing."
Hunt is asked how active he was in the negotiation. Was he involved at all or was the business handled strictly by his management? Hunt squints his eyes at his questioner.
"You just changed the way you said the question, didn't you?" he said, laughing. "I'm still not answering."
Well, fair enough. But that is only the first of two major questions surrounding Hunt's signing. There's also the subject of his weight.
"You sayin' I'm fat? It doesn't look like it," he said with a laugh, "but I've got a lot of muscle under here."
Whatever he may have lost competitively, Hunt certainly hasn't lost any of the personality that made him a fan favorite in the first place.
"I never had to make weight before," he said. "I never gave a damn what I ate. I've already stopped eating KFC, chocolate, that stuff. I've got a personal trainer -- never had one of them before. I'm not a big person; I'm only 5-foot-10 or something."
Follow us on Twitter
Don't miss a moment of the latest MMA coverage from around the world. Follow us on Twitter and stay informed. Join »
Hunt said that he plans to diet and train in order to slim down some 25 pounds, to below the 265-pound weight limit. He said he hopes he doesn't have to use the sauna, admitting, "I've never done that, either."
The fact that Hunt is paying mind at all to his training camp is a significant change. Typically, he exhibited a bizarre amount of naiveté. His insights about training and preparation don't seem inattentive; they seem outright negligent, as if at no point in more than a decade of prizefighting did he ever consider his training in any kind of philosophical way.
When Hunt claimed that it's now "all about training," he was asked what his old training camps were like. "There wasn't any," he said with a shrug.
There is some measure of irony in this explanation. After all, when Hunt made the leap to MMA almost seven years ago, he was seen as a great candidate to cross over from K-1 to MMA because of his toughness, work ethic be damned. His street-fighting background, his legendary ability to absorb blows to the face and his surprising athleticism all seemed to bode well for success when compared to some of his other K-1 contemporaries who tried their hand at MMA.
"It's been two or three years of bad training for me -- not my training partners, but how hard I trained," Hunt said. "I'm looking to go overseas to train for the first time, to really get some good training partners. If I do things like I should do them, it shouldn't matter who I'm facing, ever."
Hunt is undecided about where he's going to train abroad, though he did meet with Josh Barnett and Erik Paulson at Impact FC's first card in Brisbane, Australia, and wants to spend time in California at CSW. If nothing else, he seems explicitly aware of how little his ground game has grown, and the necessity to rectify it.
"It is what it is now. I wish I could change the way I did things, but I'm here for a reason," he said. "For me now, I know this is my last chance. I won a K-1 world title, then I fought MMA. I wanted to win, but I didn't have that drive to be a champion. I feel like now, I really want to be an MMA champion."
It's hard to tell if it's truth, bluster, more naiveté or simply something a fighter with a sub-.500 record feels obligated to say before competing in the UFC. Odd as it might be, we'll find out in September in Indianapolis if there really has been a sea change in the South Pacific.
Jordan Breen is a contributor to Sherdog.com.
MOST SENT STORIES ON ESPN.COM