Commentary
The stories of the year so far
Updated:
July 15, 2010, 10:05 AM ET
By
Tomas Rios
|
Sherdog.com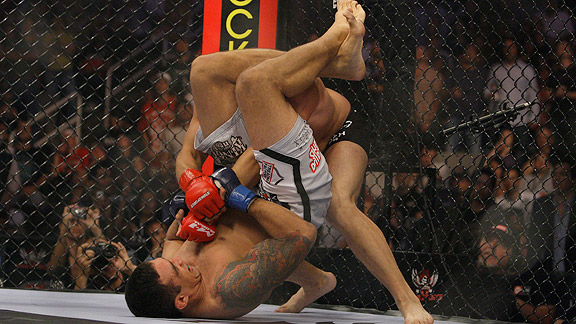 AP Photo/Jeff ChiuFabricio Werdum's win over Fedor Emelianenko means … UFC is home to MMA's best heavyweight.
We're just six months into 2010 and the MMA landscape looks like someone blasted it with nukes and ran a terraformer over the scorched earth.
The stories have been coming in at an astounding pace, as the global nature of the sport makes it almost impossible to stay abreast of everything that goes down on a daily basis. However, there are a few of stories that not only stand out but whose impact is such that it affects the game in ways no one could have predicted.
Here are the ones you won't be escaping anytime soon:
The fall of Fedor
The routine nature of Fedor Emelianenko's dominance was well past the point of even being worthy of discussion. Odd as it may sound, Emelianenko plowing over the division was starting to get passÚ after seven years as the world's No. 1 heavyweight.
And then Fabricio Werdum trapped him in a triangle and made the supposed cyborg tap out. The moment was a historic one and the fallout continues to reverberate throughout the sport. However, nothing has approached the hysteria and venom produced by fandom's reaction to a world where Emelianenko is no longer the world's top-ranked heavyweight. The very idea of Brock Lesnar, a former pro wrestler and all-around uber-jock, usurping Emelianenko's spot is anathema to many and simple logic to others.
Regardless of how anyone feels about it, the fact is that Emelianenko's loss means the UFC has the world's best heavyweight, and UFC won't be giving up that claim anytime soon. Perhaps the most intriguing question for the second half of 2010 is whether we'll enter 2011 with Brock Lesnar or Cain Velasquez leading the division.
The WEC is the greatest thing ever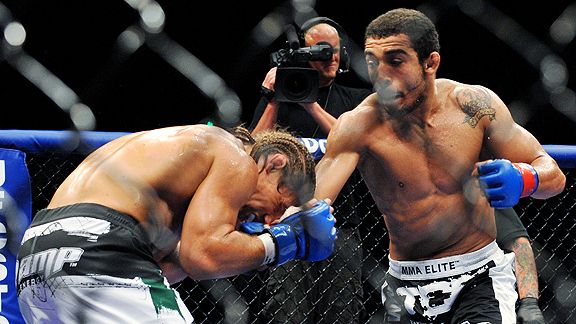 Jon Kopaloff/Getty ImagesJose Aldo and the WEC have proved that the little guys pack a punch, too.
Not too long ago the WEC was Urijah Faber, some unknown prospects and a random collection of scrubs feeding on his scraps.
Post-Zuffa acquisition, however, the organization has morphed into the premier locale for all talent at featherweight and below. Just barely six months into 2010 and the WEC's metamorphosis is nearing light speed, as its recent shows have produced some of the best and most intriguing fights of the year.
Perhaps even more importantly, these fights have captured the imagination of fans used to wondering if anyone would bother watching a bunch of pint-sized pugs fight. That notion was soundly repudiated by WEC 48, the organization's pay-per-view debut. Not only was it one of the best nights of fights in the sport's history, but it also far exceeded expectations by notching a reported buyrate of nearly 200,000.
It's likely a matter of time before the brand is absorbed by the UFC, and that is something everyone should be excited for. Just look at boxing, a sport that has repeatedly failed the brilliant fighters who compete at lighter weights -- a fact that makes Zuffa's dedication to the WEC brand all the more heartening.
Sonnen and his big mouth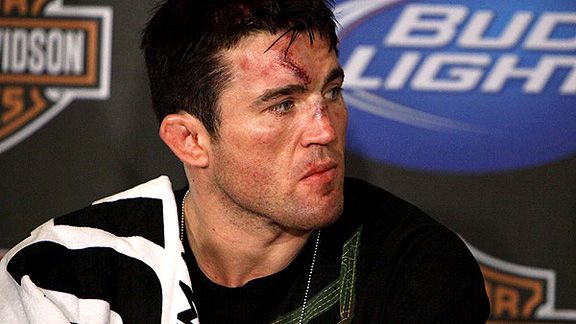 Sherdog.comChael Sonnen's lack of a vocal governor has everyone seeing red.
Let's get this out of the way early in the game: Chael Sonnen's attempts to build the hype for his UFC 117 middleweight title bout against Anderson Silva have run the gamut from standard-issue idiotic to appallingly racist.
With that said, Sonnen and his 1950s insults have generated far more interest than the overplayed wrestler versus striker narrative imposed on this fight. With every tweet, interview and media appearance, Sonnen has dominated the headlines and managed to build a considerable following of fans who find amusement in his vitriol.
Constructing controversy has long been the golden ticket in fight sport, and Sonnen relying on racial and cultural divides to up the ante is hardly new. However, between this and the unfortunate race-baiting that marred the Quinton Jackson versus Rashad Evans match, we could be witnessing the birth of a trend that will only worsen the image of a sport dealing with ignorant, politically charged pontificating both at home and abroad.
Weighing the short-term financial payoff of these cheap ploys against the potential long-term collateral damage is a dicey game and one the UFC has almost no choice but to engage in. At a time when the sport can't even get sanctioned in New York or a fair shake in Germany, the last thing anyone wants to deal with is a Sonnen quote hitting the mainstream media and going viral.
Judges and Referees: Is there no cure?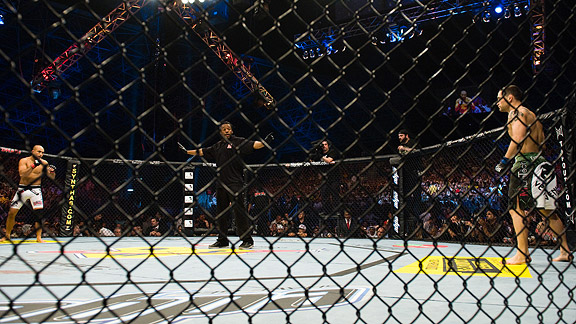 Martin McNeil for ESPN.comHopefully the next time B.J. Penn, left, and Frankie Edgar get it on, the judges will actually be watching.
As more and more MMA goes down worldwide, the unacceptable standards for judges and referees is becoming less of an occasional headache and more like an ongoing migraine.
It seems as if every event has at least one judge handing in a foolish scorecard and a referee making calls that fly in the face of reason and sanity all at once. In 2010 alone we've seen Yves Lavigne cost Mac Danzig his fight with Matt Wiman because he couldn't distinguish between consciousness and unconsciousness.
Judges haven't done any better this year, as evidenced by the inexcusable scorecards handed in for high-profile bouts like Jamie Varner versus Kamal Shalorus, B.J. Penn versus Frankie Edgar and Gray Maynard versus Nate Diaz. The scoring in these bouts resulted in either the wrong man winning or simply exposing the sheer incompetence of some judges.
There are certainly great judges and referees out there, but they're severely outnumbered and their work is almost always overshadowed by their less capable peers. All the potential solutions out there involve trying to change static bureaucratic systems uniformly unwilling to admit a problem even exists. In other words, things are only going to get worse and they may not get any better.
Tomas Rios is a contributor to Sherdog.com.
SPONSORED HEADLINES
MORE MMA HEADLINES
MOST SENT STORIES ON ESPN.COM