Commentary
Edgar rounds out game for rematch
Updated:
August 24, 2010, 12:29 PM ET
By
Franklin McNeil
| For ESPN.com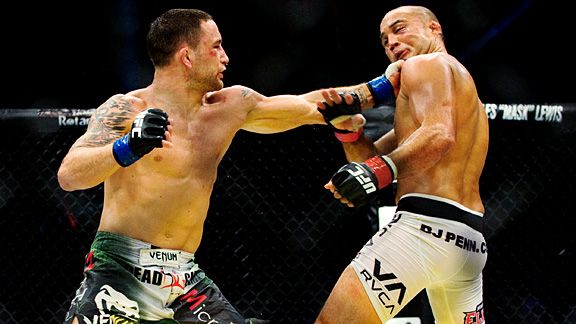 Martin McNeil for ESPN.comFrankie Edgar, left, will bring more than just boxing skills this time around against B.J. Penn.
Standing across the Octagon from B.J. Penn on Saturday will be the man who took his lightweight title in April, Frankie Edgar. Standing behind him will be the man who put the fight plan for Edgar together -- Mark Henry.
There is sure to be some eye contact between Penn and Henry, but the champ's head coach and boxing guru won't reveal any secrets. Penn won't learn a thing until the action starts, and by then it might be too late.
That's what happened the first time Penn and Edgar met. Henry came up with a plan and Edgar executed it to near perfection. Penn (15-6-1) never saw it coming.
"Frankie is a difficult competitor for anybody he fights. He is in it to win it," Penn told ESPN.com. "What made him a difficult opponent to fight against is that he and his team -- they had a good game plan.
"His team had a good game plan and Frankie executed. That's always a difficult thing to go against."
Boxing was an essential part of Edgar's fight plan in the April showdown with Penn, and Henry was the orchestrator. The longtime New Jersey-based boxing trainer has helped turn Edgar into a top-level standup fighter.
Under Henry's tutelage, Edgar has developed into one of the best 155-pound strikers in mixed martial arts. Using solid footwork, head movement and hand speed, Edgar now controls the pace of his fights.
And being one of the top wrestlers in his weight class, Edgar (12-1-0) often decides where a fight will take place -- standing or on the ground. He credits Henry with turning him from a good mixed martial artist into a champion.
"The fact that Mark is so open-minded makes him a great coach," Edgar told ESPN.com. "Many guys get stuck in their ways: It's their way or no way, but Mark is open to everything. We train in kicks and knees, and he has a boxing background. He has me doing takedowns, everything.
"The fact that he's on me all the time, and how much passion he has for striking and the sport of mixed martial arts in general, it's forced me to progress," Edgar said.
"There are some things that boxers do that you can't get away with in MMA; Mark recognized that early. He also teaches the main principles of boxing that are beneficial, that you can't get away from, otherwise your boxing won't be that good -- it'll be more like slugging or street fighting."
Henry has developed into one of the best coaches in mixed martial arts, but the adjustment from a strict boxing trainer did not come easy. He had to alter his training approach, and Edgar played an important role in helping Henry make that transition.
Edgar was a willing student. He wanted to become champion and absorbed all the boxing techniques Henry offered him.
But the partnership didn't reach its apex relying solely on Henry imparting boxing knowledge. Edgar offered many suggestions that helped meld his wrestling with boxing, and Henry listened intensely.
"We're both definitely evolving together," Henry told ESPN.com. "Everything has changed. I'd never done kicks; I'd only done boxing.
"Now when we do kicks or wrestling, I will call out different moves to do. It's exciting for me to call out certain combinations to his shots, which I'd never been able to do before."
Henry's rapid rise in mixed martial arts has caught the attention of many boxers, several of whom seek his opinion about making the move to MMA.
The first piece of advice Henry offers his boxers, or anyone else interested in competing in MMA, is to learn wrestling. Henry, who works with several of New Jersey's top boxing prospects -- including highly touted junior middleweight Denis "Momma's Boy" Douglin -- is convinced wrestling is the most important discipline inside the cage.
"I'd say totally forget the boxing, do wrestling," Henry said. "Start with wrestling. You definitely have to have that wrestling base.
"I can't see James [Toney] saying 'I want to stand up.' He can't dictate that, but Randy [Couture] can. Without the wrestling base, you really can't dictate where the fight is going to be fought," Henry said.
"If you're a wrestler, the second thing you want to improve is the standup."
Henry is convinced having a wrestling base will make a fighter competitive in MMA, a good standup game will make him a title contender -- maybe even a champion. Edgar possesses both solid wrestling and boxing skills.
He will need each of those disciplines Saturday against Penn. It is Henry's responsibility to assure that Edgar retains his title.
Henry expects to see the best Penn ever against Edgar, and is leaving nothing to chance. He doesn't have one plan, but several.
In the event none of their prefight strategies do the trick, Henry and Edgar are prepared to make adjustments on the fly.
"The reason we've done well is that we never go in with just a Plan A," Henry said. "We go in with four or five plans.
"Against a guy like B.J., you almost have to plan as the fight develops. We have to be ready for everything," Henry said.
"There is so much more we have to learn; but Frankie's learned so much more in this last camp than in the previous three combined."
Franklin McNeil is a contributing mixed martial arts/boxing writer for ESPN.com. He also appears regularly on "MMA Live," which now airs on ESPN2. Follow him on Twitter at www.twitter.com/Franklin_McNeil.
MOST SENT STORIES ON ESPN.COM