Who was the best fighter in 2010?
Originally Published:
December 23, 2010
ESPN.com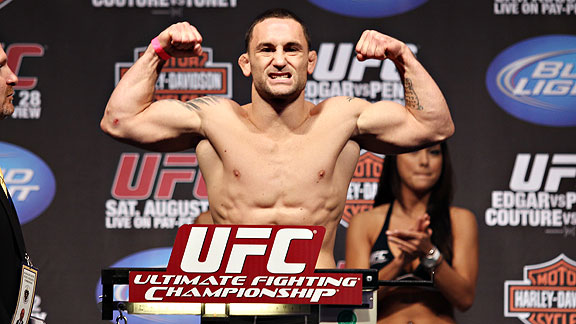 Ed Mulholland for ESPN.comPecking order: Frankie Edgar became the man to beat at lightweight in 2010.
With the exception of Chris Leben, ESPN.com's list of candidates for MMA Fighter of the Year reads like a top-five pound-for-pound list. Three wins in three fights, including a fantastic submission win over Yoshihiro Akiyama, propelled Leben into a contest with UFC champions Cain Velasquez, Georges St. Pierre, Frankie Edgar, Jose Aldo and Dominick Cruz.
Follow us on Twitter
Don't miss a moment of the latest MMA coverage from around the world. Follow us on Twitter and stay informed. Join »
There's plenty to like when it comes to the titleholders. Velasquez emerged as the top-ranked heavyweight following stoppages over Antonio Rodrigo Nogueira and Brock Lesnar. St. Pierre continued to roll up wins with two title defenses. Edgar proved he was better than B.J. Penn, besting the Hawaiian twice to earn a No. 1 ranking at 155 pounds. Aldo dominated fellow featherweights Urijah Faber and Manny Gamburyan and will forever be remembered as the first UFC featherweight champion. Cruz will go down as the promotion's debut bantamweight king, thanks to three dominant victories.
Jon Anik: Frankie Edgar -- This was the easiest category for me. Edgar beat the greatest lightweight in MMA history. Twice. If that doesn't win you fighter of the year, I'm not sure what does.
Josh Gross: Cain Velasquez -- The recently crowned UFC heavyweight champion was the perfect mixture of patience and violence this year, stopping both men he faced -- Nogueira and Lesnar -- at his leisure.
Franklin McNeil: Edgar -- He defeated a man (Penn) most mixed martial arts observers consider the best lightweight ever, not once, but twice in 2010. More impressive is that Edgar, ranked among the top five on most pound-for-pound lists, is a true featherweight.
"MMA Live" Awards
You've heard what the experts have to say. Now it's your turn. Hit the polls and vote for who is deserving of "MMA Live's" 2010 awards here.
Chuck Mindenhall: Velasquez -- Coming into 2010, it was conceivable he would get a shot at the title. Going out, it's less conceivable that he will relinquish it in 2011. Most heavyweights have shown big weakness in their games, and we're still waiting on Velasquez to dish.
Brett Okamoto: Jose Aldo -- He fought the best competition of his career so far and made it look easy. Aldo could very well win titles at 135, 145 and 155 pounds if that becomes his goal.
Darius Ortiz: Edgar -- Don't give me that "Penn couldn't get up for Edgar" malarky. He knew exactly what to expect in the rematch and still couldn't do anything. Edgar proved his worth in '10 by beating the best lightweight in the world -- twice.
Jake Rossen: Georges St. Pierre-- Dominating Dan Hardy was expected, but St. Pierre's inch-by-inch deconstruction of Josh Koscheck was like watching someone slowly being robbed of their will. He spent 50 minutes in the most dangerous arena in sports and came out without a scratch. Amazing.
Jon Anik is the host of "MMA Live." Follow him on Twitter at Jon_Anik.
Josh Gross covers MMA for ESPN.com. Follow him on Twitter at JoshGrossESPN.
Franklin McNeil covers MMA and boxing for ESPN.com. He also appears regularly on "MMA Live," which airs on ESPN2. Follow him on Twitter at Franklin_McNeil.
Chuck Mindenhall is a features writer at FIGHT! magazine and can be followed on Twitter at ChuckMindenhall.
Brett Okamoto covers MMA for ESPN.com. Follow him on Twitter at bokamotoESPN.
Darius Ortiz is the boxing and MMA editor for ESPN.com.
Jake Rossen covers MMA for Sherdog.com.
SPONSORED HEADLINES
MORE MMA HEADLINES
MOST SENT STORIES ON ESPN.COM