Commentary
Capps, Santos still valuable as closers
Twins retain Capps while Blue Jays make deal for former White Sox stopper
We've finally gotten some answers about two American League teams' closers in the past 24 hours.
One wasn't a surprising move: The Minnesota Twins, having lost Joe Nathan to free agency, re-signed their 2011 Opening Day closer, Matt Capps, to a one-year, $4.75 million contract. The other, meanwhile, was surprising: The Toronto Blue Jays, whose 2011 co-closers Frank Francisco and Jon Rauch are free agents, acquired Sergio Santos from the Chicago White Sox in exchange for pitching prospect Nestor Molina.
Capps
Capps' fantasy value is somewhat clear; he's back with the team for whom he saved 15 games with a 4.25 ERA and 1.20 WHIP in 2011, and he has averaged 24.6 saves with a 3.43 ERA and 1.21 WHIP the past five seasons combined. Though effective enough in the role, he's not one of the more reliable finishers, having converted 81.5 percent of his save chances (123 of 151) from 2007 to 2011. Those are the stats of a clear second-tier fantasy closer; someone who might rank 20th among the 30.
Job security is what has improved for Capps. With Nathan gone, Glen Perkins and Jose Mijares become Capps' primary competition for saves. But at the same time, Capps' diminished strikeout rate -- a career-low 4.66 per nine innings in 2011, and 4.33 after the All-Star break -- balances any advantage in terms of job security.
Santos, meanwhile, has considerably higher upside than Capps, a substantially better strikeout rate and a stronger record of success as a closer in 2011. From April 25 -- the date of his first save -- forward, Santos was 30-for-36 (83.3 percent success rate) in saves with a 4.19 ERA, 1.12 WHIP and 13.25 strikeouts-per-nine innings ratio in 56 games. Erratic as he was in September, allowing runs in five of 10 appearances in the month, Santos classified as a success. His ability to blow away opposing hitters increases his chances of a repeat, and his late-season struggles could at least partially be explained by fatigue in his first season in the role.
Santos
With Santos on board, Casey Janssen drops back to the Blue Jays' primary setup man and a handcuff in deeper fantasy leagues -- think AL-only formats -- though Janssen's 1.61 ERA and 1.00 WHIP in 27 second-half appearances demonstrate that he might be of help to your ratios. It wouldn't be unthinkable if Janssen posts a noticeably lower ERA than Santos in 2012, though Santos will almost assuredly best him in strikeouts and saves, while coming close in WHIP.
Molina, who had a 2.21 ERA, 1.00 WHIP and 9.25 strikeout-to-walk ratio in 26 games (23 starts) between Class A Dunedin and Double-A New Hampshire last season, probably isn't an immediate candidate for the White Sox's rotation. As one of the Blue Jays' best pitching prospects, however, he might be in line for a midseason promotion. With command like his, he'd be a stronger bet to succeed at homer-friendly U.S. Cellular Field than a typical prospect, however, so keep tabs on his progress in the upper minors early next season.
As for who might close in Chicago, now that Santos is gone?
Don't count on the White Sox spending on one of the available free agents, like Francisco Cordero, Ryan Madson or Francisco Rodriguez. If that was their intent, they wouldn't have moved a 28-year-old earning only $8.25 million the next three seasons. They'll likely go in-house, meaning Matt Thornton and Jesse Crain become the top candidates, assuming Chris Sale indeed moves to the rotation.
Tristan H. Cockcroft is a fantasy baseball analyst for ESPN.com and a two-time champion of the League of Alternative Baseball Reality (LABR) experts league. You can e-mail him here, or follow him on Twitter @SultanofStat.
Fantasy
Senior writer for ESPN.com
Co-host of the Fantasy Focus Baseball podcast
Two-time LABR, two-time Tout Wars champion
Member of the FSWA Hall of Fame
SPONSORED HEADLINES
FANTASY TOP HEADLINES
MOST SENT STORIES ON ESPN.COM
2011-12 Offseason Coverage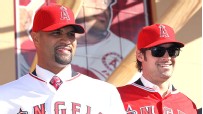 Keep track of all the offseason moves and how they'll affect your fantasy team next season.
OFFSEASON MOVES ANALYSIS
INSIDER
COCKCROFT'S EARLY 2012 RANKINGS