Commentary
What's wrong with Bumgarner?
Giants' top pitching prospect still unsure about recent drop in velocity
Updated:
September 22, 2009, 4:23 PM ET
By
Jason Grey
| ESPN.com

Madison Bumgarner's midseason drop in velocity has been puzzling. Even to Bumgarner.
"I wish I knew," Bumgarner said. "The ball feels like it's coming out the same."
It's definitely concerning considering that Bumgarner is the best pitching prospect in baseball not named Strasburg, and is a likely member of the San Francisco Giants' rotation in 2010. There have been some reports going around the Internet that Bumgarner's previous radar gun readings were exaggerated. Those reports are incorrect. I had several 95 mph readings from him in short stints during the spring, and a consistent 93-94 mph when he was working as a starter in May.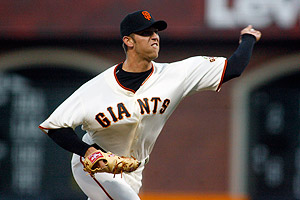 Cary Edmondson/US PresswireMadison Bumgarner has appeared in just one game since making a spot start for the Giants on Sept. 8.
In the second half of the season, the southpaw -- who turned 20 in August -- had dropped to 88-90 mph, and that was basically where he was sitting at when he made a surprise spot start in place of Tim Lincecum earlier this month. He was still putting up the numbers, but such a sharp drop raises red flags and one would naturally wonder if he was hurt.
The fact the Giants didn't seem too alarmed by it, continued to pitch him, and have not shut him down yet would indicate it's likely just something that's happening due to his being a very young pitcher getting through the grind of the season, and nothing to worry about over the long haul. I also spoke with a couple of other scouts who have watched him more extensively than I have this year who share that opinion.
I had a good conversation with Bumgarner on Monday night, and he confirmed that things are fine.
"Everything feels good," Bumgarner said. "There are no problems with my arm, no pain or anything like that. It feels the same to me."
Does he think it's just the grind?
"I honestly don't know. I wish I did. But there are no problems. The last outing especially, I really liked the way the ball was coming out of my hand."
The lefty was back up to 91-92 mph in his most recent one-inning relief appearance, so that may be a good sign. Those counting on Bumgarner in their keeper or dynasty leagues should breather a little easier. I expect an offseason of rest will allow him to come back just fine and be more like the pitcher who posted a 1.85 ERA in 25 minor league games this year between two levels.
Fortunes Rising
Top 80 Starters for 2010
Note: Jason Grey's top 80 starters are ranked for 2010. Jason tends to take more risks and focus more on upside when dealing with starting pitching.
1. Tim Lincecum, SF
2. Zack Greinke, KC
3. Felix Hernandez, SEA
4. CC Sabathia, NYY
5. Johan Santana, NYM
6. Dan Haren, ARI
7. Adam Wainwright, STL
8. Justin Verlander, DET
9. Roy Halladay, TOR
10. Javier Vazquez, ATL
11. Josh Johnson, FLA
12. Chris Carpenter, STL
13. Jon Lester, BOS
14. Cliff Lee, PHI
15. Jake Peavy, CWS
16. Josh Beckett, BOS
17. Yovani Gallardo, MIL
18. Clayton Kershaw, LAD
19. Tommy Hanson, ATL
20. Brandon Webb, ARI
21. Cole Hamels, PHI
22. Matt Cain, SF
23. Ubaldo Jimenez, COL
24. Chad Billingsley, LAD
25. Matt Garza, TB
26. Jair Jurrjens, ATL
27. John Lackey, LAA
28. James Shields, TB
29. Scott Feldman, TEX
30. Scott Baker, MIN
31. John Danks, CWS
32. Roy Oswalt, HOU
33. A.J. Burnett, NYY
34. Ricky Nolasco, FLA
35. Brett Anderson, OAK
36. Wandy Rodriguez, HOU
37. Ted Lilly, CHC
38. Max Scherzer, ARI
39. Edwin Jackson, DET
40. Jered Weaver, LAA
41. Ryan Dempster, CHC
42. Stephen Strasburg, WAS
43. Scott Kazmir, LAA
44. Clay Buchholz, BOS
45. Jorge De La Rosa, COL
46. Jonathan Sanchez, SF
47. Hiroki Kuroda, LAD
48. Gavin Floyd, CWS
49. Tim Hudson, ATL
50. Mark Buehrle, CWS
51. Rick Porcello, DET
52. David Price, TB
53. Brian Matusz, BAL
54. Neftali Feliz, TEX
55. Trevor Cahill, OAK
56. Kevin Slowey, MIN
57. Ervin Santana, LAA
58. Daisuke Matsuzaka, BOS
59. Carlos Zambrano, CHC
60. Rich Harden, CHC
61. Wade Davis, TB
62. Johnny Cueto, CIN
63. Joel Pineiro, STL
64. Jeff Niemann, TB
65. Randy Wolf, LAD
66. Joe Blanton, PHI
67. Derek Lowe, ATL
68. Ryan Rowland-Smith, SEA
69. Mat Latos, SD
70. Randy Wells, CHC
71. Pedro Martinez, PHI
72. Bud Norris, HOU
73. Chris Tillman, BAL
74. Chris Young, SD
75. Madison Bumgarner, SF
76. Homer Bailey, CIN
77. Derek Holland, TEX
78. Robinson Tejeda, KC
79. J.A. Happ, PHI
80. Marc Rzepczynski, TOR

Here's a trio of pitchers who have been top-20 starters over the past 30 days in our Player Rater:
• Jorge De La Rosa, SP, Colorado Rockies: I short-changed De La Rosa a couple of weeks ago after he walked six batters in an outing and was lucky to escape with just one earned run, but he's been on in his past two outings. Granted, they were against the Giants and the San Diego Padres, but both teams had hit him well earlier in the year. The fact is De La Rosa now has a 2.89 ERA and 1.27 WHIP in 12 second-half starts, with more than a strikeout per inning. De La Rosa has teased us many times before with the idea that he's gotten his control in order and finally broken through, and there's a reason he's now with his fifth organization as a pro. Still, this may not be just an extended tease, and at age 28 the lefty may finally be getting it.
• Robinson Tejeda, SP, Kansas City Royals: Tejeda has always had a big fastball and the ability to make batters miss, but no clue where the ball was going, and he's walked 40 in 64 1/3 innings this season. Still, he's posted a 0.84 ERA in four starts and struck out more than a batter per inning since the Royals have given him a look in the rotation, thanks to some really good luck with his batting average on balls in play (BABIP), and homers per fly ball rate. Making batters hit nothing but air is a good start, though, and even marginal improvement in his command and control make him a potential cheap starter play next season. Could Tejeda become some type of right-handed version of De La Rosa?
• Brian Duensing, SP, Minnesota Twins: The command lefty has flourished in seven starts in the Twins' rotation, posting a 1.70 ERA and a 1.09 WHIP. There really isn't anything special about him, as none of his pitches grade out as plus, but he succeeds by mixing well, hitting his spots, and adding and subtracting velocity. While he's having a good run right now, there's not a ton of upside here.
Fortunes Falling
• Scott Richmond, SP, Toronto Blue Jays: The way Richmond has finished the season may actually create a small opportunity for the savvy owner next year. While some will think Richmond is just regressing back to a normal level, he just hasn't been the same since a biceps injury at midseason, which has reduced some of the sharpness of his pitches and affected his control. Richmond now has an 8.92 ERA in eight starts since the break, yet is still managing to get strikeouts, which is a good sign. He posted a 3.69 ERA and a 1.20 WHIP with 7.5 strikeouts per nine in the first half before getting hurt, and that's a little more reflective of how he can pitch as opposed to the second-half stats. He's a sleeper for 2010, even in a tough division, who will be dirt cheap given how he's staggered in the second half while not at 100 percent.
• Randy Wells, SP, Chicago Cubs: Wells may get shut down after his next start because he's shown some signs of being worn down in his past two outings. Another scout I talked to said he thinks Wells' arm slot has been slightly lower, which is usually an indicator of fatigue (in the absence of injury). His money pitch is his slider, and he's had some trouble commanding it over his past two starts, giving up 10 runs -- although four were unearned -- and eight walks over his past 7 2/3 innings. While he's established himself for 2010, his utility for this season is about done.
• James Shields, SP, Tampa Bay Rays: Shields has not had a good run in the second half of the season, with a 5.23 ERA since the break and a 6.83 ERA this month. It's been a combination of everything -- a little too wild, a few too many homers, and lack of command of his fastball. I don't see it as anything to get too concerned about for 2010, but he's not a good bet for his final couple of outings.
Comings and Goings
• There's no guarantee Tim Wakefield will make another start this season, even after returning on Monday. His back and leg injuries will be re-evaluated over the next couple of days.
• Max Scherzer's next start on Friday likely will be his final one of the year.
• Gavin Floyd (hip) will try to play catch Tuesday, but is still experiencing soreness, and may not make another start again this season. We'll know more after he tries to throw. Dan Hudson would get another chance or two if Floyd is unable to go.
• Reports are that Chris Tillman will make his final two starts for the Baltimore Orioles and not be shut down.
• Rich Harden will get a start against the Giants this weekend and may get one more after that. San Francisco's offense should be a good matchup for him even though he's struggled lately.
• The Pittsburgh Pirates officially shut down Ross Ohlendorf, who had a strong second half of the season to establish himself as a sleeper in NL leagues next year.
• J.A. Happ (oblique) is likely to return to the Philadelphia Phillies' rotation on Thursday, while Pedro Martinez (neck) is still questionable for his start on Friday.
Note on the rankings
In the sidebar you'll find a first run of rankings for 2010. As with any list, it's sure to provoke disagreement. One of my philosophies that is important to note when looking at the list is that I like to take more risks than most with starting pitching, looking more at upside. That's just the way I play, because I know there will be "safer" and more stable plays that lack the upside in the free agent pool if I need them. So, I take a few more chances and hope to get lucky. Studies have shown that roughly 70 percent of the eventual hitting value in a typical league is on Opening Day rosters, but for pitching it's generally around 30 percent. Those numbers indicate there will be pitching to find on the waiver wire if some of your upside plays don't pan out.
Jason Grey is a graduate of the MLB Scouting Bureau's Scout Development Program and has won two Tout Wars titles, one LABR title and numerous other national "experts" competitions.
MOST SENT STORIES ON ESPN.COM