Commentary
Ground-ball pitchers off to good starts
Pound the bottom of the strike zone.

That's effectively what "Dave Duncan's magic" is: tutelage that over the years has made relative no-names into useful fantasy options.
The strategy makes a heck of a lot of sense. Keep the ball down, and you'll induce countless ground balls. Ground balls are good, primarily because:
• They're certainly more harmless than line drives. The major league batting average on ground balls was .236 last season, 26 points below the major league batting average overall. On line drives it was .733, per Baseball-Reference.com.
• Fly balls do have a lower BABIP (.138), which might make you think they're more "harmless," but they also put a pitcher at greater risk of costly home runs. Among all batted balls hit in the air in 2009, 6.8 percent became home runs. In comparison, a hitter obviously cannot hit a ground ball out of the park.
• The potential for a double play, wiping out other hitters who find their way on base, either on solid hits, walks or lucky circumstances, is significantly greater. Last year, 6.5 percent of all ground balls were converted into double plays.
The other half of that strategic equation -- "pound … the strike zone" -- is equally important. Throw strikes and you avoid costly walks, which bloat your WHIP and can burn you in ERA if an untimely home run follows. Not that this is news to fantasy owners; we've known to avoid pitchers with inflated walk rates for years.
But it's the combination of the two that is so often overlooked by fantasy owners, and there might be no greater evidence of that than the relative disdain they demonstrated for one of Duncan's most brilliant pupils, Joel Pineiro, in the preseason. Among all major league starters, Pineiro's average draft position ranked him 74th. Apparently, no one believed Duncan's teachings would travel with Pineiro when he signed with the Los Angeles Angels during the winter.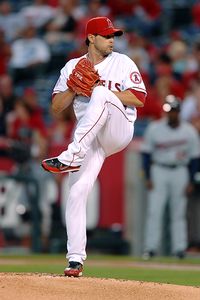 John Cordes/Icon SMIJoel Pineiro has started his Angels career maintaining numbers from his 2009 in St. Louis.
Pineiro is the one laughing now.
Granted the sample size is small, but through his first three starts for the Angels, Pineiro's walk and ground-ball rates are almost spot-on with his 2009 numbers:
2009: 1.14 BB/9, 60.5 percent GB rate, 2.54 GB/FB ratio
2010: 1.33 BB/9, 60.0 percent GB rate, 2.79 GB/FB ratio
What's more, Pineiro has done that despite what hasn't been the easiest of schedules, having faced the teams ranked fifth (Minnesota Twins), first (New York Yankees) and 11th (Detroit Tigers) in the majors in terms of team OPS. If he can keep up those rates, which doesn't seem quite so crazy a thought anymore, imagine what he might do when he faces some of the league's weaker offenses.
Not to suggest that Pineiro is on the verge of top-20 starting pitcher potential, not at all. He's not a strikeout artist, and pitchers who put the ball in play as often as he does are susceptible to the occasional unlucky bounce. After all, it's not like the aforementioned BABIP on ground balls was .136 in 2009. It was .236, which means they'll result in hits from time to time. A finish closer to his No. 23 ranking among starting pitchers on last year's Player Rater than his No. 74 ADP, however, seems possible.
One fact in Pineiro's favor: His 2009 represented one of eight instances since 2002 in which a pitcher finished in the top 10 in baseball in both walks per nine innings and ground-ball-to-fly-ball ratio while qualifying for the ERA title, and so far this season he's one of two qualified pitchers to rank in the top 10 in both of those categories. Those eight pitchers, incidentally, averaged 17 wins, a 3.12 ERA and 1.11 WHIP.
In other words, pitchers who maintain ratios like Pineiro's -- or at least numbers within his range -- are low-risk options who shouldn't be underrated. Scanning the 2010 leaderboards, it seems many of the league's best ground-ball specialists are also the ones off to similarly hot starts. Here are five more who are entirely legitimate long-term considerations:
Hiroki Kuroda (0.60 BB/9, 2.89 GB/FB): He's the other pitcher currently ranked in the top 10 in baseball in both of those categories, as he continues to perfect a splitter that induces a countless number of ground balls. Kuroda has actually been surprisingly effective during his two-plus years in the U.S., with a 3.62 ERA and 1.18 WHIP in his career. If there's anything not to like about him, it's his propensity for injury, not his raw talent. So long as he can avoid the disabled list, however, he's well worth having active every time out.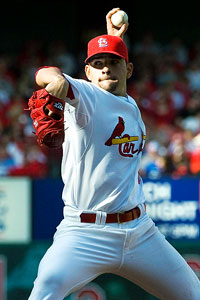 Scott Rovak/US PresswireIn his second full season in the majors this year, Jaime Garcia was 13-7 with a 3.56 ERA in 32 starts.
Jaime Garcia (3.46 BB/9, 3.29 GB/FB): He's one of 2010's most promising breakout candidates thus far, though the St. Louis Cardinals are doing a fine job keeping his workload in check by using off days to shuffle him back in the rotation. Garcia won't come close to 200 innings pitched, but between his standout spring training and dazzling first two regular-season starts, it appears that his comeback from Tommy John surgery is a complete success.
Tim Hudson (3.55 BB/9, 2.70 GB/FB): While that walk rate is a tad high, don't forget that Hudson had a 2.76 walks-per-nine ratio during his seven-start comeback stint last summer, not to mention 2.77 for his career. He's more than capable of bringing that number back beneath 3, and there's little doubt that he's one of the game's most accomplished ground-ball specialists. Something to like: Hudson has had an ERA north of 3.61 in just one of the past nine years.
Ricky Romero (2.35 BB/9, 2.50 GB/FB): It's the second consecutive week he has been profiled in this column, and in addition to all the positive comments about him last week, you can add his ground-ball tendencies to the list. Romero's career ground-ball-to-fly-ball ratio now stands at 2.07.
Brett Anderson (1.59 BB/9, 2.29 GB/FB): One of the reasons Anderson was such a popular breakout candidate in the fantasy industry this spring was this very combination. Last season he induced ground balls on more than 50 percent of his total balls in play (50.9 to be exact), and this year he's already well on his way to improving his numbers in both categories. Oh, and he calls a pitchers' park with the game's most spacious foul territory his home. What's not to like?
TOP 100 STARTING PITCHERS
Note: Tristan H. Cockcroft's top 100 starting pitchers are ranked for their expected performance from this point forward, not for statistics that have already been accrued. * Phil Hughes was included in our preseason relief pitcher rankings at No. 34, which would have equated to a No. 63 ranking among starting pitchers. He's included in this week's list now that he's an official member of the New York Yankees' rotation, even if he might not yet have qualified for starting pitcher status in some formats.
Rnk

Player, Team

Prev
Rnk

1
Tim Lincecum, SF
1
2
Roy Halladay, PHI
2
3
Dan Haren, ARI
3
4
CC Sabathia, NYY
5
5
Felix Hernandez, SEA
4
6
Zack Greinke, KC
6
7
Adam Wainwright, STL
8
8
Chris Carpenter, STL
11
9
Johan Santana, NYM
10
10
Justin Verlander, DET
9
11
Ubaldo Jimenez, COL
15
12
Jon Lester, BOS
7
13
Josh Johnson, FLA
14
14
Tommy Hanson, ATL
16
15
Yovani Gallardo, MIL
12
16
Ricky Nolasco, FLA
17
17
Josh Beckett, BOS
13
18
Cole Hamels, PHI
20
19
Brett Anderson, OAK
23
20
Cliff Lee, SEA
18
21
Clayton Kershaw, LAD
22
22
Matt Garza, TB
27
23
Matt Cain, SF
21
24
Scott Baker, MIN
26
25
Jake Peavy, CHW
25
26
Jered Weaver, LAA
29
27
John Lackey, BOS
24
28
Javier Vazquez, NYY
19
29
Tim Hudson, ATL
30
30
David Price, TB
35
31
Jorge De La Rosa, COL
36
32
A.J. Burnett, NYY
33
33
Max Scherzer, DET
32
34
Roy Oswalt, HOU
39
35
Chad Billingsley, LAD
31
36
John Danks, CHW
38
37
Wandy Rodriguez, HOU
28
38
Ryan Dempster, CHC
40
39
Francisco Liriano, MIN
53
40
James Shields, TB
37
41
Jonathan Sanchez, SF
47
42
Jair Jurrjens, ATL
34
43
J.A. Happ, PHI
44
44
Rick Porcello, DET
45
45
Clay Buchholz, BOS
42
46
Ted Lilly, CHC
46
47
Mark Buehrle, CHW
49
48
Brian Matusz, BAL
52
49
Kevin Slowey, MIN
61
50
Andy Pettitte, NYY
68
51
Hiroki Kuroda, LAD
50
52
Edwin Jackson, ARI
48
53
Phil Hughes, NYY
54
54
Rich Harden, TEX
41
55
Joel Pineiro, LAA
65
56
Mat Latos, SD
51
57
Gavin Floyd, CHW
43
58
Jeff Niemann, TB
66
59
Derek Lowe, ATL
59
60
Joe Blanton, PHI
55
61
Brad Penny, STL
70
62
Bronson Arroyo, CIN
58
63
Randy Wolf, MIL
67
64
Scott Kazmir, LAA
57
65
Ben Sheets, OAK
62
66
Ricky Romero, TOR
77
67
Wade Davis, TB
63
68
Shaun Marcum, TOR
71
69
Randy Wells, CHC
76
70
Scott Feldman, TEX
64
71
Justin Duchscherer, OAK
78
72
Aaron Harang, CIN
60
73
Brett Myers, HOU
73
74
Johnny Cueto, CIN
72
75
Stephen Strasburg, WAS
74
76
Colby Lewis, TEX
85
77
Daisuke Matsuzaka, BOS
75
78
Dallas Braden, OAK
79
79
Jaime Garcia, STL
NR
80
Aroldis Chapman, CIN
80
81
Barry Zito, SF
82
82
Tom Gorzelanny, CHC
81
83
Erik Bedard, SEA
84
84
Brandon Webb, ARI
56
85
Justin Masterson, CLE
87
86
Ervin Santana, LAA
91
87
Carlos Zambrano, CHC
69
88
Kevin Correia, SD
83
89
Fausto Carmona, CLE
90
90
Ian Kennedy, ARI
98
91
Mike Leake, CIN
89
92
Brandon Morrow, TOR
NR
93
Jason Hammel, COL
86
94
Homer Bailey, CIN
92
95
C.J. Wilson, TEX
NR
96
Paul Maholm, PIT
96
97
Mike Pelfrey, NYM
NR
98
Kyle Lohse, STL
88
99
Jon Garland, SD
100
100
Kevin Millwood, BAL
NR
Four up
Ubaldo Jimenez, Colorado Rockies: A no-hitter on Saturday might now have everyone thinking, "Wow, this Ubaldo Jimenez is pretty good," but isn't the truth that he was already pretty good? Consider that in his past 32 starts, he's 17-9 with a 2.90 ERA, 1.15 WHIP and 190 strikeouts, including 26 quality starts. To put those numbers into perspective, Justin Verlander, selected 12 spots higher than him on average during the preseason, has 17 wins, a 3.36 ERA, 1.16 WHIP and 239 K's, and only 21 quality starts, in his past 32 turns. Fantasy owners have this deep-seated fear of Rockies pitchers, presumably due to the Coors Field factor, and while it's true that Coors might keep Jimenez from winning the ERA crown, the advent of the humidor, not to mention better quality scouting in that organization, has helped make Rockies pitchers meaningful again. To repeat my stance from my preseason top 200 keeper rankings: "If a Rockie can possibly win the Cy Young, [Jimenez would] be the guy to do it."
Colby Lewis, Texas Rangers: So far, so good for Lewis, who indeed appears to have revived his career during his two-year stint in Japan. Standout season-opening starts versus the Seattle Mariners (7 IP, 5 H, 1 ER) and Cleveland Indians (5 1/3 IP, 2 ERs, 10 K's) could be casually discarded as his having capitalized upon soft matchups, but a five-inning, three-run, five-K effort at Boston's Fenway Park hints that he's nearing the point of every-start status in AL-only formats, as well as mild selectivity in mixed. There's still a hint of the unknown surrounding Lewis, who pitched brutally badly in the States from 2002 to '07, so keep monitoring his progress closely. But for now, consider picking him up if available.
Francisco Liriano, Minnesota Twins: Speaking of dominant outings versus the Boston Red Sox, Liriano ripped through that lineup to the tune of seven shutout, four-hit innings, including eight strikeouts Thursday. Coming off entirely unhittable winter-ball and spring-training performances, Liriano appears to be carrying the effort into the regular season, which is why he soared to No. 39 among starting pitchers this week. With one more dominant outing he might very well reach the top 25, so while the pains of 2009 might be fresh in some of his owners' minds, if you're interested in a roll of the dice on a possibly elite arm, consider this your last chance to affordably acquire him.
Brad Penny, St. Louis Cardinals: In contrast to Liriano, Penny did not look sharp during spring training, leading to lingering fears that Dave Duncan's magic might not work with him. Three consecutive quality starts to begin the regular season, however, have eased those worries, especially since Penny's numbers reflect many of Duncan's teachings: Throw strikes (67.1 percent of all his pitches); induce grounders (54.1 percent of his balls in play, per FanGraphs, which is his highest rate in any year since 2002). That's very much the recipe that made the aforementioned Pineiro one of 2009's biggest surprises. Might Penny be next?
Four down
Gavin Floyd, Chicago White Sox: For the record, I'm not so terribly worried about Floyd's slow start that I'd declare there being no hope of a turnaround. After all, he was 2-4 with a 7.71 ERA and 1.87 WHIP in his first eight starts last season, so slow starts are apparently not anything new to him. The problem, however, is that in ESPN standard mixed leagues, where bench spots are at a premium and the waiver wire is deep, patience with slow-starting pitchers isn't always a winning strategy. You can often let a pitcher with stats like Floyd's go, because your counterparts might be just as scared by his numbers as you. One thing to remember: Monitor every start of his going forward if you do, because you're going to want to be back on the bandwagon the instant he comes around.
Aaron Harang, Cincinnati Reds: It'd be a lot easier to forgive him his awful start to the regular season if his spring-training numbers hadn't been equally horrible (9.88 ERA, 2.12 WHIP in four starts). Harang might have the command numbers to hint there's still something there, including a 3.25-1 strikeout-to-walk ratio, but it could just as easily be said that he's no longer as sharp today presumably due to his hefty workloads during the Jerry Narron days of 2005-07. If you can convince someone that his command numbers hint he's capable of a return to his former form, by all means try. But you probably shouldn't count on it.
Rich Harden, Texas Rangers: Speaking of past fantasy stars, Harden is another pitcher who looks like only a shell of his former self. As FanGraphs' numbers indicate, Harden has lost a few ticks on the radar gun with his fastball, averaging 90.2 mph this season, down from 92.1 in 2009 and 93.1 for his career. He's also a pitcher who relies primarily on changing speeds, so the slower his fastball, the easier for hitters to solve the Harden puzzle. That he has an alarming 14 walks in 13 1/3 innings doesn't help matters. This isn't to say Harden can't be of help from time to time, but most people who drafted him probably did so hoping for numbers much closer to his 2008 than 2009.
Brandon Webb, Arizona Diamondbacks: He was shifted from the 15- to 60-day disabled list this past week, which means he's officially out until May 25, at the bare minimum. However, that might even be an optimistic timetable, being that he was scheduled to resume throwing long toss just this week. Any fantasy owner's plan based upon having Webb back before Memorial Day is a foolish one, and one can't help but wonder whether he'll even offer half a season's worth of production.
Pickups of the week
Mixed: Mike Pelfrey, New York Mets. While Johan Santana's healthy return might be gathering the headlines in the Big Apple, Pelfrey has actually been this staff's ace thus far, having recorded half of his team's six wins to date. Not that success is anything new to him; he won 13 games with a 3.72 ERA as recently as 2008. Fantasy owners can't expect him to continue offering elite, top-10 starter's numbers, but one of the primary reasons Pelfrey is a worthy mixed-league pickup is the ease with which you can pick his individual matchups. For example, in his 19 career starts at Citi Field, he's 8-5 with a 3.46 ERA and 1.32 WHIP. At the bare minimum you want him in your lineup in any home game.
AL-only: Doug Fister, Seattle Mariners. "Upside" is not a word typically associated with Fister, but since when does a pitcher have to boast overwhelming upside? Through 13 career major league starts, he has a 3.49 ERA and 1.18 WHIP, and the reason he has done it is that he has flashed pinpoint command (2.14 career walks-per-nine, 65 percent first-pitch strikes per Inside Edge) and kept opposing hitters off balance with an array of four quality pitches. At the very least fantasy owners should consider Fister a streaming option, picking only his favorable matchups, but this might be a hot streak you could ride out for a few weeks.
NL-only: Wade LeBlanc, San Diego Padres. Chris Young hasn't been the healthiest fella in recent years, so when you hear that LeBlanc is the Padres' short-term fill-in for the veteran, consider how long that term might be. While LeBlanc's prospective owners might be baffled by which is the real deal, the terrible 2008 model or surprising one from 2009, consider that the reason for his surge late last year was the addition of a cutter, which helped improve his performance versus right-handed hitters. LeBlanc might be a pitcher better reserved for Petco Park starts, but the chances at a repeat of 2009 make him well worth the pickup.
Tristan H. Cockcroft is a fantasy baseball analyst for ESPN.com and a two-time champion of the League of Alternative Baseball Reality (LABR) experts league. You can e-mail him here, or follow him on Twitter @SultanofStat.
Fantasy
Senior writer for ESPN.com
Co-host of the Fantasy Focus Baseball podcast
Two-time LABR, two-time Tout Wars champion
Member of the FSWA Hall of Fame
SPONSORED HEADLINES
FANTASY TOP HEADLINES
MOST SENT STORIES ON ESPN.COM