Commentary
Rockies' rotation all beat up
Notable starters De La Rosa, Hammel land on disabled list

It's a good thing for the Colorado Rockies that they have Ubaldo Jimenez, because after him, not much is going right with their pitching staff.
Sure, Jimenez is off to a scorching 5-0, 0.79-ERA start that includes a no-hitter and five quality starts. But consider this: The Rockies' other four starters have five wins and five quality starts combined, not to mention a 5.67 ERA and 1.58 WHIP. Plus, on Tuesday, two of them -- Jorge De La Rosa and Jason Hammel -- landed on the disabled list, joining Jeff Francis, who has been there since Opening Day, not to mention closer Huston Street, who has been on the DL just as long.
How are the Rockies, whom fantasy owners already shy away from because of their hitter-friendly home ballpark, to survive such misfortune?
De La Rosa's loss is painful, considering he was baseball's winningest pitcher since last June 1 (19 wins) and was the Rockies' second most effective pitcher so far this year. The No. 40 starting pitcher in terms of average draft position in the preseason (166.3), De La Rosa ranked a comfortable 36th at his position on the Player Rater through three-plus weeks, thanks primarily to a 10.17 strikeouts-per-nine-innings ratio that ranked among the game's top 10.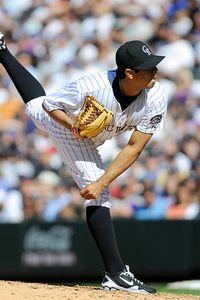 Dustin Bradford/Icon SMIJorge De La Rosa's finger injury will keep him out an extended period of time.
According to the Denver Post, De La Rosa's absence won't be short. The paper described his injury as "rare": a torn flexor tendon band in the middle finger of his pitching hand that will cost him a four- to six-week minimum stay on the DL. That's hardly a stint most fantasy owners in standard ESPN leagues can afford to endure, especially not ones who have already locked up DL spots with such notable names as Nelson Cruz, Jacoby Ellsbury, Ian Kinsler or Jimmy Rollins.
Hammel, meanwhile, was off to a brutal start following a surprising 2009 during which he managed a 4.33 ERA and 1.39 WHIP, one that looked better if you consider how easy it was matching him up and exploiting only his road starts (7 wins, 3.13 ERA, 1.19 WHIP). Fantasy owners will be quick to cut him -- and they should -- but expect his recovery from a strained groin to be somewhat quicker than De La Rosa's. Hammel's 9.16 ERA and 1.93 WHIP during his first four starts might make him untrustworthy to most anyone even after his activation, but the Post notes there were explanations for the two poor outings that led to those numbers: His April 16 outing at the Atlanta Braves (1 2/3 IP, 8 H, 7 ERs) was traced to a mechanical flaw, while he already showed signs of injury trouble during his Monday start versus the Arizona Diamondbacks (3 IP, 6 H, 5 ERs).
So while De La Rosa and Hammel might be fantasy discards -- at least in shallow leagues -- are the youngsters filling in for them pickup-worthy?
Jhoulys Chacin has already been tabbed Sunday's starter, and the team's official website reports that Esmil Rogers is the most likely starter Saturday. If those names sound familiar, they should: Both were ranked among the team's top 10 prospects by Baseball America in the preseason.
Fantasy owners might remember Chacin's last starting opportunity at this level, a 2 2/3-inning, six-walk, four-run nightmare on Aug. 11, and be dismissive of his chances this time around. But to be fair, the right-hander was making an emergency start on two days' rest, that coming on the heels of four relief appearances for the Rockies after he had been converted from a full-time starter in the minors. Chacin's minor league numbers as a starter are sparkling: 40 wins in 81 starts, 2.43 ERA, 1.13 WHIP, 2.91 strikeout-to-walk ratio.
One thing Chacin will need to do more effectively than he did last summer: throw strikes. He did so only 58.0 percent of the time with the Rockies in 2009, leading to 11 walks in as many innings, though his 2.71 career walks-per-nine in the minors shows his command can be better. Chacin also generates a decent share of ground balls, with a 2.04 ground out-to-air out ratio in 22 starts last season, 1.60 in his four Triple-A starts this year. NL-only owners at least should scoop him up, as those stats demonstrate his overwhelming upside.
Rogers, meanwhile, doesn't quite have the ceiling of Chacin, meaning he's a pitcher more worthy of watching than adding. Rogers' minor league numbers have been all over the map, resulting in a career 4.37 ERA and 1.40 WHIP, the primary problem being that he has endured adjustment periods at the Double-A and Triple-A levels. Prepare for the same from him with the Rockies, though it's not unthinkable he might have matchups appeal given time.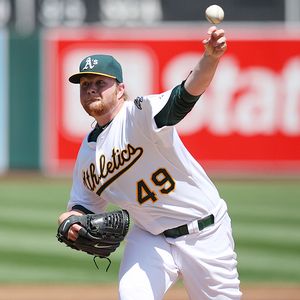 Tony Medina/SMIBrett Anderson had an average draft position of 131.7, 28th among starting pitchers.
De La Rosa wasn't the only promising lefty starter to land on the DL on Tuesday. Brett Anderson, one of the most popular breakout candidates of the preseason, hit the sidelines with a left forearm strain and elbow inflammation, an injury Buster Olney reports will cost him four to six weeks.
Besides the long-term concerns with Anderson -- he's absolutely DL-worthy in standard ESPN leagues, but his MRI results bear watching -- fantasy owners surely have the same question with him as they do with the Rockies: Will his fill-in warrant a pickup? So far no word from the Athletics on who it'll be, but the popular choices were members of their 2009 rotation, Trevor Cahill and Vin Mazzaro.
Cahill is the name fantasy owners would want, after he turned in a respectable 4.63 ERA and 1.44 WHIP as a rookie last year, 3.44/1.22 in his final nine starts. Unfortunately, he might be the less likely of the two to get the call, having thrown just 62 and 77 pitches in his first two starts for Triple-A Sacramento after beginning the season on the DL with a shoulder injury. Cahill should be back soon enough, especially on a team with two other DL candidates in Justin Duchscherer and Ben Sheets, but if now is the time, patience with him is needed. If you're in an AL-only league, however, patience with him was required anyway.
Mazzaro, who has a 1.86 ERA and 1.19 WHIP in four appearances for Triple-A Sacramento, might ultimately be the pick. He's a less attractive fantasy pickup, however, because of his mediocre numbers with the Athletics last year, not to mention his so-so strikeout rate in the minors (6.78 per nine in his career).
TOP 100 STARTING PITCHERS
Note: Tristan H. Cockcroft's top 100 starting pitchers are ranked for their expected performance from this point forward, not for statistics that have already been accrued.
Rnk

Player, Team

Prev
Rnk

1
Tim Lincecum, SF
1
2
Roy Halladay, PHI
2
3
Felix Hernandez, SEA
5
4
Dan Haren, ARI
3
5
CC Sabathia, NYY
4
6
Adam Wainwright, STL
7
7
Zack Greinke, KC
6
8
Johan Santana, NYM
9
9
Ubaldo Jimenez, COL
11
10
Chris Carpenter, STL
8
11
Josh Johnson, FLA
13
12
Justin Verlander, DET
10
13
Tommy Hanson, ATL
14
14
Jon Lester, BOS
12
15
Yovani Gallardo, MIL
15
16
Ricky Nolasco, FLA
16
17
Cliff Lee, SEA
20
18
Cole Hamels, PHI
18
19
Josh Beckett, BOS
17
20
Matt Garza, TB
22
21
Clayton Kershaw, LAD
21
22
Jered Weaver, LAA
26
23
Francisco Liriano, MIN
39
24
Scott Baker, MIN
24
25
Matt Cain, SF
23
26
David Price, TB
30
27
Tim Hudson, ATL
29
28
Jake Peavy, CHW
25
29
Roy Oswalt, HOU
34
30
John Lackey, BOS
27
31
John Danks, CHW
36
32
Max Scherzer, DET
33
33
A.J. Burnett, NYY
32
34
Wandy Rodriguez, HOU
37
35
Ryan Dempster, CHC
38
36
Jonathan Sanchez, SF
41
37
Javier Vazquez, NYY
28
38
James Shields, TB
40
39
Clay Buchholz, BOS
45
40
Kevin Slowey, MIN
49
41
Ted Lilly, CHC
46
42
Jair Jurrjens, ATL
42
43
Chad Billingsley, LAD
35
44
Brian Matusz, BAL
48
45
Phil Hughes, NYY
53
46
Andy Pettitte, NYY
50
47
Hiroki Kuroda, LAD
51
48
Joel Pineiro, LAA
55
49
Ricky Romero, TOR
66
50
Brett Anderson, OAK
19
51
Mark Buehrle, CHW
47
52
Rick Porcello, DET
44
53
Brad Penny, STL
61
54
Jeff Niemann, TB
58
55
Shaun Marcum, TOR
68
56
Randy Wolf, MIL
63
57
Wade Davis, TB
67
58
Mat Latos, SD
56
59
Joe Blanton, PHI
60
60
Edwin Jackson, ARI
52
61
Derek Lowe, ATL
59
62
Randy Wells, CHC
69
63
Justin Duchscherer, OAK
71
64
Colby Lewis, TEX
76
65
Jaime Garcia, STL
79
66
Stephen Strasburg, WAS
75
67
Brett Myers, HOU
73
68
J.A. Happ, PHI
43
69
Gavin Floyd, CHW
57
70
Bronson Arroyo, CIN
62
71
Scott Kazmir, LAA
64
72
Dallas Braden, OAK
78
73
Barry Zito, SF
81
74
Tom Gorzelanny, CHC
82
75
Ervin Santana, LAA
86
76
Fausto Carmona, CLE
89
77
Rich Harden, TEX
54
78
Daisuke Matsuzaka, BOS
77
79
Kevin Correia, SD
88
80
C.J. Wilson, TEX
95
81
Johnny Cueto, CIN
74
82
Jorge De La Rosa, COL
31
83
Aaron Harang, CIN
72
84
Ben Sheets, OAK
65
85
Aroldis Chapman, CIN
80
86
Erik Bedard, SEA
83
87
Ian Kennedy, ARI
90
88
Brandon Morrow, TOR
92
89
Mike Pelfrey, NYM
97
90
Paul Maholm, PIT
96
91
Scott Feldman, TEX
70
92
Justin Masterson, CLE
85
93
Mike Leake, CIN
91
94
Jon Garland, SD
99
95
Carl Pavano, MIN
NR
96
Gio Gonzalez, OAK
NR
97
Kevin Millwood, BAL
100
98
Brandon Webb, ARI
84
99
Doug Fister, SEA
NR
100
Wade LeBlanc, SD
NR
Four up
Clay Buchholz, Boston Red Sox: In a rotation with the amount of competition as that of the Red Sox, Buchholz's numbers might help his fantasy owners relax. He's currently the only one of their five starters with an ERA under five and WHIP under 1.50, but that's not meant like a "least-of-the-bad"; his 2.19 ERA and 1.30 WHIP would make him a certain starter for any of the game's 30 teams. In fact, Buchholz's eight wins and 1.23 WHIP since Aug. 8 lead all Red Sox starters, and his 3.33 ERA is better than anyone's but Daisuke Matsuzaka's, whose 2.22 was accrued in only four turns last September. Buchholz has long been hailed as a front-of-the-rotation prospect, and in his age-25 season, he's looking like a pitcher who belongs at least in the middle of this rotation.
Phil Hughes, New York Yankees: Speaking of front-of-the-rotation prospects, Hughes fits the bill for the Yankees, and in his first three starts this season he has looked comparably spectacular to Buchholz. Hughes' 11 walks in 18 innings need improvement, but he held the Los Angeles Angels at bay during his 2010 debut April 15, tossed seven innings of no-hit baseball in his next turn and limited the Baltimore Orioles to one run in 5 2/3 innings Tuesday. The Yankees might have designs on capping Hughes' innings, but don't forget that he did throw 121 2/3 combined between the majors and minors last season. There's no reason he couldn't throw an effective 180 without any long-term concerns.
Stephen Strasburg, Washington Nationals: How much longer can the Nationals keep this kid in the minors? Strasburg has made quick work of Double-A hitters, limiting them to a .115 batting average, no home runs and 23 strikeouts in 61 at-bats through his first four starts for Harrisburg, including five no-hit innings Tuesday night. Numbers like that justify a double-level jump to the nation's capital, and the case could be made that it's warranted today. Even if there's a cap on Strasburg's major league innings in 2010 -- though there are conflicting reports on there being one -- he's looking like a prospect sure to make an instant fantasy impact. Be patient, because by June, you'll be happy with the returns.
Jered Weaver, Los Angeles Angels: He's 5-for-5 in terms of quality starts, but more important, he has 34 strikeouts compared to just six walks, demonstrating similar command to his college and minor league days. It's easy to forget that Weaver was considered a top-of-the-rotation prospect as recently as four years ago, but let's remember that he's still 27 years old and building upon a strong 2009. If there's anything keeping him from being deemed a true "ace," it's his propensity for giving up home runs, but if that simply means his ERA will be closer to three than two, will his owners complain?
Four down
Josh Beckett, Boston Red Sox: Slow starts are nothing new to Beckett, who now has a 5.04 ERA and 1.36 WHIP in the month of April during his Red Sox career, but there comes a point where his performance can't help but be of concern. This is a pitcher fantasy owners trust to lead their staffs, as evidenced by his ranking 14th in terms of ADP at his position (67.7), yet through five starts he has the majors' fourth-highest ERA (7.22) among qualified pitchers. Not that Beckett's owners should give up on him, not without any evidence that there's a lingering problem, but the fact that his average fastball velocity, per FanGraphs, has dropped from 94.1 to 93.6 mph this year from last bears watching.
Edwin Jackson, Arizona Diamondbacks: The shift to the National League doesn't help every pitcher, apparently. Jackson has but one quality start in his first five turns for the Diamondbacks, and that one came in a start at San Diego's Petco Park. But most disconcerting about his slow start is his strikeout rate. When Jackson was at his best with the Detroit Tigers the first half of last season, his strikeouts-per-nine was 7.18. This year it's 5.40. Chalking that up to a mere adjustment period would be foolishly ignoring the warning signs.
Rick Porcello, Detroit Tigers: It's nice to see Porcello's strikeout rate on the rise, up 1.36 per nine innings from his rookie-year rate of 2009, but that's only because every other one of his numbers looks awful in comparison. The Tigers can complain that Porcello's problems are mechanical; fantasy owners can't help but wonder whether it's something as easily fixed as that. If he doesn't begin turning his season around in his next couple of starts, it might be panic-button time, which might include the Tigers' considering demoting him.
Javier Vazquez, New York Yankees: No one believed Vazquez stood a chance at repeating his career bests in ERA (2.87) and WHIP (1.03) set last season, but everyone should feel his 9.00 ERA and 1.80 WHIP are at least a little surprising. Here's the big worry: You can't claim that he's "crumbling under the New York spotlight," because three of his four mediocre starts thus far have been pitched on the road, away from that so-called "spotlight." The real problem is that Vazquez's command has been dreadful, including a career-worst 4.95 walks-per-nine ratio, and as Inside Edge reveals, an alarmingly high 27 percent of his plate appearances going to three-ball counts. He's also having trouble finishing hitters off, converting only 65 percent of two-strike at-bats into outs, which is decidedly not typical Vazquez. Might there be an underlying physical problem? Possibly. For now, he's a must-bench until he straightens himself out.
Pickups of the week
Mixed: C.J. Wilson, Texas Rangers. While there's some question how a pitcher who averaged 59 innings pitched per year from 2005 to 2009 might hold up over the course of a 162-game schedule, Wilson should have proved by now that he's at the bare minimum a ride-the-hot-streak type, even in shallow mixed formats. He's changing speeds effectively, generating a huge number of ground balls (on 54.8 percent of his balls in play at that) and using his cutter to keep right-handed hitters at bay. He's also a top-10 starting pitcher on our Player Rater, and the first Rangers pitcher since Kevin Brown and Charlie Leibrandt in 1993 to begin a season with four consecutive quality starts. Enjoy the ride!
AL-only: Jake Arrieta, Baltimore Orioles. It's a speculative pickup, yes, but owners in AL-only formats need to hop aboard this bandwagon a few weeks in advance of his possible promotion. Arrieta is off to a fantastic start for Triple-A Norfolk, going 2-0 with a 0.36 ERA, 0.92 WHIP and 23 strikeouts in 25 innings, and the Orioles do currently have a rotation opening, being that Brad Bergesen was demoted to Norfolk following three miserable starts (12.19 ERA, 2.61 WHIP). Chris Tillman might be the prospect most believe is next in line for the Orioles, but he disappointed this spring and has a 6.11 ERA in his first four minor league starts, meaning Arrieta by all rights might have passed him in the pecking order. One thing's for sure: The Orioles demonstrated last summer that they're not afraid to test their prospects, having promoted both Tillman and Brian Matusz.
NL-only: Tom Gorzelanny, Chicago Cubs. Amazingly, Carlos Silva is owned in more ESPN leagues than Gorzelanny. I'll take a moment to let that sink in. To repeat: Carlos Silva is more owned than Gorzelanny. Now, nothing against Silva's hot streak, as his 1.35 walks-per-nine ratio hints that he might be able to sustain value for a couple more turns, but if you're looking for the beneath-the-radar Cubs starter who should sustain long-term success, Gorzelanny is your man. Sure, his 2008-09 numbers leave plenty to be desired (6.32 ERA, 1.65 WHIP), but he has also demonstrated in the past that when his command is sharp, he can be one of the more reliable arms in the game. To that end, through four starts his strikeout-to-walk ratio is a career-high 2.43, and as Inside Edge points out he has converted 77 percent of his two-strike at-bats into outs.
Tristan H. Cockcroft is a fantasy baseball analyst for ESPN.com and a two-time champion of the League of Alternative Baseball Reality (LABR) experts league. You can e-mail him here, or follow him on Twitter @SultanofStat.
Fantasy
Senior writer for ESPN.com
Co-host of the Fantasy Focus Baseball podcast
Two-time LABR, two-time Tout Wars champion
Member of the FSWA Hall of Fame