Commentary
Scherzer, Anderson appear "fixed"
It's remarkable how, sometimes, one minor adjustment is all a pitcher needs.

Max Scherzer
is a perfect example of that. After being pounded to the tune of 27 runs and 33 hits, six of them home runs, in a four-start stretch from April 28 to May 14, the right-hander was assigned to Triple-A Toledo for two turns to work on his mechanics.
Triple-A pitching coach A.J. Sager and roving specialist Jon Matlack made quick work fixing Scherzer. In two starts for Toledo, Scherzer won both times, totaled 17 strikeouts compared with two walks, limited opposing hitters to a .083 average and allowed one run on four hits in 15 innings. What's more, in his return start with the Tigers on Sunday, he whiffed 14 Oakland Athletics and tossed 5 2/3 innings of shutout, two-hit baseball.
Even Tigers manager Jim Leyland was surprised by Scherzer's turnaround, which, according to the Detroit Free Press, included a bump in his fastball velocity to 96-97 mph, 5-6 mph higher than it was before his demotion. Whatever Sager and/or Matlack did, it was sheer genius, and not the kind Wile E. Coyote talks about right before falling off a cliff. No, no cliff here; Scherzer's performance -- assuming he has fully absorbed their teachings -- should coast on flat ground until season's end.
What's the basis for such confidence? That's simple. Mid-to-high 90s heat is what Scherzer is all about, not the low-90s junk he was throwing in his first few outings with the Tigers. He averaged 94.2 mph with his fastball in his rookie year of 2008 and 93.6 as a sophomore in 2009, according to FanGraphs. Those velocity levels helped him log 9.54 strikeouts per nine innings in those two seasons.
We're not out to paint the picture of a budding fantasy ace, though. Scherzer does have his weaknesses, most notably that he lacks an elite pitch versus left-handers (.278/.362/.441 career batting average/on-base percentage/slugging percentage against him). He also fails to hit his spots from time to time, which shows itself in his elevated home run rate (1.12 per nine in his career). Still, neither of those is a devastating strike against him, and if Scherzer is indeed "fixed," his preseason No. 35 average draft position among starting pitchers (158.5 overall) is entirely appropriate. He's more than talented enough to rank that high from this point forward and is available in 53.1 percent of ESPN.com leagues.
Scherzer isn't the only pitcher who seemingly was "fixed" in the past week.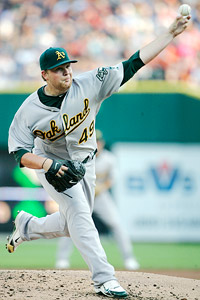 AP Photo/Duane BurlesonBrett Anderson has allowed just four walks and no home runs in 28 2/3 innings this season.
Brett Anderson
, who was selected seven spots earlier among starting pitchers in the preseason (ADP: 131.7), returned to the Athletics' rotation with 5 2/3 innings of shutout, three-hit baseball in Detroit a day before Scherzer's return. He looked very much like the Anderson of old, reaching 95 mph on the radar gun, displaying a sharp slider and, perhaps most importantly, generating nine ground balls. He departed after only 70 pitches, as the Athletics took a cautious approach with him after a five-week stay on the disabled list because of an elbow injury.
In Anderson's case, elbow problems hint at more long-term concern than mechanical issues like Scherzer's. But Anderson's upside also was noticeably higher of the two. Now healthy, the left-hander might yet make a run at top-25-starter status from this point forward, especially in light of his improved walk and ground-ball rates in his first five starts of 2010. Anderson is available in only 8.7 percent of ESPN.com leagues, but if he's somehow available via trade, this might be a good time to swoop in before he rattles off consecutive quality outings.
Is he really "fixed"?
After a five-plus-week stay in the bullpen, Carlos Zambrano returns to the Chicago Cubs' rotation on Wednesday, and fantasy owners are certainly curious about his prospects looking forward. After all, if they weren't, he wouldn't have been picked up in more than 6 percent of ESPN.com leagues this past week.
Curiously enough, three of Zambrano's four shortest relief outings (in terms of pitches thrown) came in his past four outings, including a two-pitch appearance this past Saturday. Sure enough, Zambrano won't throw more than 80 pitches on Wednesday, and he'll face the Pittsburgh Pirates, the 29th-ranked offense in terms of runs per game (3.23). In other words, don't read too much into his numbers.
Although a short-relief role did seem a good fit for Zambrano's arsenal, his command was still questionable, casting doubts upon his prospects back in the rotation. Per Inside Edge, a scouting service, he has thrown only 50 percent of his off-speed pitches for strikes this season, dropping from the 53, 54 and 55 percent numbers he had in the category in the past three years. He also has averaged just 90.6 mph with his fastball, the worst rate of his career. Zambrano's return to the rotation might make sense for the Cubs, and a pitcher with his talent might yet be a streaky type capable of exploiting in the short term, but make no long-term plans with him. He might be no more successful in his old role than he has been since the 2008 All-Star break.
Is our fantasy ace "broken"?
You'll notice that Tim Lincecum, widely considered the No. 1 starting pitcher in fantasy entering the season, slips from the top spot in the rankings this week, and with good reason. His issues with command have been well documented and are disconcerting enough to drop him to fourth overall.
But will Lincecum continue to drop in future editions? Perhaps, especially if he continues his streak of four consecutive outings walking exactly five hitters, a rough stretch for him during which he has thrown just 58.4 percent of pitches for strikes. His velocity is also down, according to the San Jose Mercury News. Might this be the proverbial "dead-arm" period that even the best pitchers in the game endure on occasion? It's possible, but the other worry is that Lincecum's workloads in his first three big league seasons might have worn him down.
With his track record, Lincecum is too talented to trade at a price beneath that of a top-five starter. Remember, as recently as May 15, he was 5-0 with a 1.76 ERA, 0.94 WHIP and 69 K's in 56 1/3 innings, looking every bit the Cy Young contender expected. Still, he needs to be closely monitored his next couple turns.
Welcome, Stephen Strasburg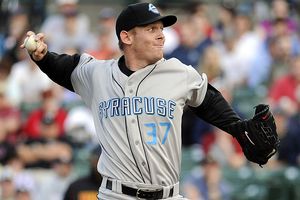 Lauren Mackson/US PresswireAn innings cap is the only thing keeping Stephen Strasburg's ranking from climbing even higher.
June 8 is the day we welcome one of the most hyped prospects in baseball history, that of 2009 No. 1 overall pick Stephen Strasburg. Like Zambrano, Strasburg will battle the light-hitting Pirates in his first start, but unlike Zambrano, he'll have a healthier pitch count, meaning fantasy owners should want him active immediately.
Why? Strasburg has raw talent, evidenced in his 1.43 ERA, 0.79 WHIP, .157 batting average allowed and 5.0 strikeouts per walk in 10 minor league starts this season, all at the Double- and Triple-A levels. Strasburg has been making minor league hitters look silly, and a pitcher with his skill set shouldn't have much trouble making an immediate transition to the big league level.
Long term, however, it's more difficult to project Strasburg's potential. You'll see in this week's column that he's ranked 45th, which is higher than preseason early picks Josh Beckett and Wandy Rodriguez but lower than up-and-coming youngsters like the aforementioned Anderson, Jaime Garcia and Mat Latos. One reason is Strasburg's innings cap; the Washington Nationals, according to The Washington Post, use a formula adding 20 percent to a pitcher's previous-year innings total to determine his current-year workload. Going by that, his target number for 2010 is approximately 160, and with 50 1/3 minor league innings under his belt with one start to go, he might have only 100 frames to work with in the majors.
Another reason: Even the best prospects often endure some sort of adjustment period at the big league level, however slight. Look at Felix Hernandez, whose sophomore year of 2006 was rather disappointing, or Tommy Hanson, who endured a couple of rocky outings at the beginning of May. Strasburg could have one shaky month sprinkled into an otherwise stellar rookie year, and if it comes in August, the Nationals, if out of the race, might be tempted to shut him down early.
There's no questioning Strasburg's raw talent, however, and the Hernandez and Hanson examples are fair. Both pitchers, if you remember, were fantasy standouts as rookies; Hernandez had a 2.67 ERA and 1.00 WHIP in a 12-start stint late in 2005, while Hanson was 11-4 with a 2.89 ERA and 1.18 WHIP in 21 starts in 2009. If I'm a Strasburg owner, I won't be trading him at less value than those numbers.
TOP 100 STARTING PITCHERS
Note: Tristan H. Cockcroft's top 100 starting pitchers are ranked for their expected performance from this point forward, not for statistics that already have been accrued.
Rnk

Player, Team

Prev
Rnk

1
Roy Halladay, PHI
2
2
Ubaldo Jimenez, COL
4
3
Adam Wainwright, STL
3
4
Tim Lincecum, SF
1
5
Jon Lester, BOS
7
6
Justin Verlander, DET
8
7
Zack Greinke, KC
6
8
CC Sabathia, NYY
5
9
Josh Johnson, FLA
11
10
Dan Haren, ARI
9
11
Chris Carpenter, STL
12
12
Felix Hernandez, SEA
10
13
Yovani Gallardo, MIL
13
14
Cliff Lee, SEA
14
15
Tommy Hanson, ATL
15
16
Johan Santana, NYM
16
17
Jered Weaver, LAA
18
18
Francisco Liriano, MIN
17
19
David Price, TB
19
20
Roy Oswalt, HOU
21
21
Cole Hamels, PHI
22
22
Clayton Kershaw, LAD
23
23
Phil Hughes, NYY
24
24
Matt Garza, TB
20
25
James Shields, TB
25
26
Scott Baker, MIN
27
27
Jake Peavy, CHW
28
28
Matt Cain, SF
29
29
John Danks, CHW
26
30
Tim Hudson, ATL
33
31
Ricky Romero, TOR
32
32
Ryan Dempster, CHC
31
33
Jaime Garcia, STL
35
34
Clay Buchholz, BOS
36
35
Shaun Marcum, TOR
37
36
Jonathan Sanchez, SF
34
37
Chad Billingsley, LAD
42
38
Brett Anderson, OAK
44
39
Ricky Nolasco, FLA
30
40
A.J. Burnett, NYY
39
41
Mat Latos, SD
45
42
Ted Lilly, CHC
41
43
John Lackey, BOS
38
44
Ervin Santana, LAA
58
45
Stephen Strasburg, WAS
52
46
Kevin Slowey, MIN
40
47
Colby Lewis, TEX
43
48
Jeff Niemann, TB
48
49
Andy Pettitte, NYY
49
50
Johnny Cueto, CIN
59
51
Gio Gonzalez, OAK
51
52
Hiroki Kuroda, LAD
46
53
Josh Beckett, BOS
50
54
Wandy Rodriguez, HOU
47
55
Mike Leake, CIN
60
56
Dallas Braden, OAK
53
57
Wade Davis, TB
54
58
C.J. Wilson, TEX
57
59
Brett Myers, HOU
62
60
Brian Matusz, BAL
55
61
Barry Zito, SF
65
62
Max Scherzer, DET
NR
63
Ian Kennedy, ARI
68
64
Randy Wells, CHC
61
65
Anibal Sanchez, FLA
88
66
Jon Garland, SD
70
67
Brad Penny, STL
63
68
Javier Vazquez, NYY
74
69
Daisuke Matsuzaka, BOS
73
70
Rick Porcello, DET
75
71
Jorge De La Rosa, COL
77
72
Randy Wolf, MIL
67
73
Jhoulys Chacin, COL
72
74
Jair Jurrjens, ATL
64
75
Joe Blanton, PHI
69
76
Rich Harden, TEX
71
77
Clayton Richard, SD
80
78
Doug Fister, SEA
81
79
Gavin Floyd, CHW
82
80
Derek Lowe, ATL
79
81
Brett Cecil, TOR
87
82
Mike Pelfrey, NYM
92
83
Trevor Cahill, OAK
98
84
Joel Pineiro, LAA
76
85
Aaron Harang, CIN
86
86
Derek Holland, TEX
84
87
Bronson Arroyo, CIN
83
88
Mark Buehrle, CHW
66
89
Carl Pavano, MIN
91
90
John Ely, LAD
95
91
Fausto Carmona, CLE
85
92
Kevin Correia, SD
89
93
Kevin Millwood, BAL
90
94
Mitch Talbot, CLE
96
95
Ben Sheets, OAK
99
96
Edwin Jackson, ARI
NR
97
Jeff Francis, COL
NR
98
Jeremy Bonderman, DET
NR
99
Wade LeBlanc, SD
78
100
Carlos Zambrano, CHC
NR
Four up
Chad Billingsley, Los Angeles Dodgers: The three home runs he served up early in Monday's start would be more difficult to swallow if he hadn't finished the outing with eight innings of six-hit, 11-strikeout baseball, including no walks. With it, he's now 4-0 with a 2.45 ERA and 1.06 WHIP in his past five starts, including 9.6 K's per nine and 2.2 walks per nine. Don't overlook those peripherals; they're even better than his numbers from April 30, 2009, through July 5, 2009 -- 8.5 K's per nine, 3.5 walks per nine -- when Billingsley was pitching at peak form. Although his command had been called into question from July 10 of last season until his May 5 turn this year -- he averaged 7.5 K's and 4.1 walks per nine in those turns -- it seems he's finally turning the corner.
John Ely, Dodgers: What an astonishing start to his major league career for a pitcher who scarcely touches 90 mph with his fastball. Since a six-inning, five-run debut at the New York Mets, Ely has rattled off six consecutive quality starts, including 33 K's in 40 innings. He's a perfect example why you don't need overpowering stuff to strike out hitters; he's doing a fine job keeping hitters off balance and hitting his spots. A pitcher with his arsenal is sure to hit his cold spells from time to time, but so long as Ely keeps his command as sharp as it has been, he'll be useful at the very least in NL-only formats.
Mike Pelfrey, Mets: After a blip in his first three starts of May, during which efficiency was not his strong suit, Pelfrey is back to elite form with a 4-0 record, 1.26 ERA and 1.08 WHIP in his past four turns. His matchups were hardly easy, either, including home outings versus the New York Yankees and Philadelphia Phillies. Although most fantasy owners think of Pelfrey as a put-the-ball-in-play, matchups-prone option, it's the addition of a splitter to his arsenal that appears to have made the difference in his performance this season. He's no longer a road worry (3-1, 2.93 ERA on the road so far), he's having fewer problems with lefties (.227/.329/.344) and is striking out more hitters than ever at this level (6.2 per nine).
Anibal Sanchez, Florida Marlins: From NL-only to mixed-league pickup to "Four up" choice in a matter of three weeks, Sanchez's stock soared in May, to the point where he should now reside in most every fantasy owner's active lineup each week. He has quality starts in seven of his past eight outings, during which he's 5-1 with a 1.97 ERA and 1.21 WHIP. What's more, Sanchez's splits are balanced, eliminating one of his primary concerns from the past, an issue with left-handed hitters. They're hitting just .241/.331/.286 against him this season, compared with .261/.318/.328 by righties.
Four down
Mark Buehrle, Chicago White Sox: When Buehrle has full command of his pitches, he can be quite a successful starter. We're not even up to the one-year anniversary of his perfect game; that outing sure demonstrated his ability to dominate at times. The problem is that since that date, he has been fairly ineffective, rarely fooling anyone, with a 5-13 record, 4.81 ERA and 1.45 WHIP in 24 starts. (No, those numbers are not misprints.) Buehrle has averaged only 3.5 strikeouts per nine innings during that span and 3.5 K's per nine in 2010 alone. Although he has never been a strikeout artist, that's too low a number for a pitcher as talented as Buehrle working in front of a mediocre defense.
Wade LeBlanc, San Diego Padres: Three straight so-so outings might not be a huge concern for most starting pitchers, but when they come from a pitcher like LeBlanc, who has just 22 career starts to his credit and plenty of competition for his job, they are. Location has been an issue for him during a recent cold spell; he has eight strikeouts compared with eight walks and has allowed 14 runs on 22 hits, including all five home runs he has served up this season. LeBlanc has been keeping the ball up in the zone, as evidenced by 24 fly balls on 43 total balls in play. Chris Young's return from a shoulder injury might not be imminent, but LeBlanc needs to get his season back on track quickly or face a threat to his rotation spot when Young is ready, perhaps a few weeks from now.
Brian Matusz, Baltimore Orioles: Although Matusz has had a couple of sharp outings in the past few weeks, including Tuesday's outing at the New York Yankees during which he allowed only one earned run in 6 2/3 innings, his overall performance the past two months hints at a pitcher enduring a rough adjustment period. He's 0-4 with a 7.30 ERA and 1.95 WHIP in his past five starts, during which opponents are batting .355 against him and he has only 19 K's compared with 10 walks. Not that fantasy owners should be surprised, as many young, soon-to-be stars endure brief cold spells around this stage of their careers.
Wandy Rodriguez, Houston Astros: Has he already peaked? That's the question his fantasy owners are asking, as his ERA has ballooned to 5.37 and his WHIP to 1.63, numbers that look eerily similar to his unproductive first two years in the majors in 2005 and '06. Rodriguez's plummeting strikeout rate is of concern, as he's averaging 5.9 K's per nine, his worst rate since his rookie year of 2005, but it's the ineffectiveness of his curveball that's most disconcerting. Per FanGraphs, it has been worth minus-3.52 runs above average per 100 thrown, down significantly from 1.97 in 2009. Whether that's the product of an injury or a mechanical flaw, it's enough of a shift in performance to have his owners legitimately worried.
Pickups of the week
Mixed: Jeremy Bonderman, Tigers. It wasn't long ago he was coming off a 14-win, 4.08-ERA, 202-K campaign, his career trending toward several Cy Youngs predicted at the time of his big league debut; those were his numbers in 2006. The following three years, however, presented difficult times for Bonderman. From 2007 to '09, he had a 4.96 ERA and 1.47 WHIP and made 41 starts (plus seven relief appearances). He also underwent shoulder surgery in June 2008 for thoracic outlet syndrome. Through nine starts and one relief appearance this season, however, Bonderman's peripherals look a lot like his 2006 standout self, including 7.1 strikeouts per nine and 2.9 walks per nine. He no longer throws as hard as he did back then and therefore might be susceptible to tougher matchups against elite offenses, but for the most part he's looking start-worthy in most formats.
AL-only: Luke Hochevar, Kansas City Royals. Fantasy owners have been waiting so long for this 2006 No. 1 overall pick to develop, they've seemingly given up waiting; he's owned in only 1.6 percent of ESPN.com leagues. Still, in his past three starts, Hochevar has shown hints of straightening himself out, most notably his 18 strikeouts compared with four walks. During that time, he has a 3.75 ERA, 0.96 WHIP and .209 batting average against, surrounding an effective mid-90s fastball with a good slider, cutter and curveball. Now 26 years old, Hochevar has 59 career big league starts to his credit; those put him right around the point where many pitchers begin to fully settle in. If you're in an AL-only league, it's a risk well worth taking.
NL-only: P.J. Walters, St. Louis Cardinals. Digging deep is the name of the game in AL- and NL-only leagues, and if you're going to speculate on a somewhat-unknown starter, wouldn't you prefer the one working with a pitching genius? Walters pitched well in his first start of the season, tossing five shutout innings of four-hit ball, and although it's easy to dismiss it because it came in San Diego's Petco Park, what if it's simply the first step toward his figuring it out? His career minor league ERA (3.68) and WHIP (1.28) weren't eye-popping, but his numbers in three starts for Triple-A Memphis this season, after missing time thanks to family leave when his daughter, born 14 weeks prematurely, passed away at the beginning of the season, were: 0.48 ERA, 0.64 WHIP, 23 K's, 18 2/3 innings.
"I think that the situation I've gone through has helped me to concentrate much better," he told the Cardinals' official website. "I'm able to worry about what's going on right then in that situation, not what could happen. … It has definitely made me stronger as a player, as a person, as a Christian and everything down the line."
Tristan H. Cockcroft is a fantasy baseball analyst for ESPN.com and a two-time champion of the League of Alternative Baseball Reality (LABR) experts league. You can e-mail him here or follow him on Twitter @SultanofStat.
Fantasy
Senior writer for ESPN.com
Co-host of the Fantasy Focus Baseball podcast
Two-time LABR, two-time Tout Wars champion
Member of the FSWA Hall of Fame
SPONSORED HEADLINES
FANTASY TOP HEADLINES
MOST SENT STORIES ON ESPN.COM