Commentary
Command rates revisited
Cahill, Hanson, Weaver improving; Lackey, Kazmir, Santana regressing
Comparable to plate discipline for hitters, command is a pitching trait that shouldn't go unnoticed.
We've discussed pitchers' command rates in this space many times before, including the May 12 revisiting of my preseason "Kings of Command," which attempted to identify pitching bargains by performances in the command categories: strikeout rate (K's per nine innings), walk rate (walks per nine innings) and strikeouts per walk. But it's actually a pitcher's improvement in these departments that can help identify a trend as legitimate or an aberration.
So, with that in mind, let's take a look at five pitchers who have either improved or regressed in those important categories this year this will help to pinpoint them as pitchers who should keep up either their hot or cold starts.
Five who have improved
Trevor Cahill, Oakland Athletics: Before we get too carried away with his sophomore-year breakthrough, let's not forget that, through 15 starts as a rookie, Cahill sported a 3.68 ERA, a 1.34 WHIP and a .253 batting average allowed, all of which are within the ballpark of his 3.19/1.05/.206 numbers through 16 starts this season. Still, outside of his major league-best .225 BABIP, all of Cahill's peripherals point to him finishing this season significantly stronger than he did in 2009. His strikeouts per nine are up (from 4.53 to 5.84), his walks per nine have decreased (3.63 to 2.83), his ground-ball rate is up (from 47.8 percent of all balls in play to 55.3 percent) and his numbers against left-handed hitters have improved (from .286/.361/.558 in terms of AVG/OBP/SLG to .215/.283/.301). In other words, Cahill has made significant adjustments, as you'd expect a developing 22-year-old to do, and it's those advances that should keep him valuable through September. (For more on Cahill's resurgence, check out Jason Grey's recent profile.

)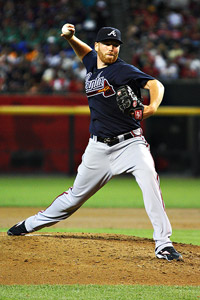 Doug James/Icon SMITommy Hanson may be getting hit hard lately, but his walk and strikeout rates are better than last year's solid numbers.
Tommy Hanson, Atlanta Braves: He's 1-3 with a 6.93 ERA, a 1.86 WHIP and a .368 BAA in his past five starts, and sports a 5-4 record with 5.46/1.52/.299 numbers in his past 12. You can complain about his performances in the past two months all you want, but everything about Hanson's peripherals say this is a mere adjustment period and is nothing to sweat over the long haul. Heck, during his 12-start cold spell, he has averaged 8.81 K's per nine and 3.08 walks per nine; both of those numbers are better than he registered in 21 starts during his rookie year in '09. This shows that Hanson is as good a buy-low candidate as you'll find right now.
Brandon Morrow, Toronto Blue Jays: If there's anything that should surprise us about Morrow's 2010 season, it's that he has been able to stay healthy through 19 starts, not the fact that he has been fairly valuable in them. So why the health concerns? The Seattle Mariners couldn't seem to decide where he fit best and bounced him between the rotation and the bullpen over four seasons, which can take a toll on a young arm. So why no surprise with his performance? The Blue Jays have been completely consistent with his role since acquiring him. Morrow has rewarded them with a 10.01 K's-per-nine ratio, significantly higher than his 8.14 number of 2009, and a 4.12 walks-per-nine, which represents a career best. If you're looking for a reason to expect more from him down the stretch, consider this: He has allowed a .274 BABIP on ground balls. The Blue Jays' number in that department is .208, and the American League's composite number in the category is .226.
Carlos Silva, Chicago Cubs: That he has been pummeled in back-to-back outings is cause for concern, especially since he combined for five walks and two strikeouts in those games, but it's difficult to dismiss Silva's exploits in his first 16 starts of 2010. In addition to bringing his walk rate (1.84 per nine) back to where it was during his days with the Minnesota Twins, he has elevated his strikeout rate (6.31 per nine) to levels he has never experienced before as a big leaguer. Increased use of his changeup -- he has thrown it 30.3 percent of the time -- is largely the reason, as Inside Edge shows that he has limited opponents to .230/.252/.336 rates with it thus far. Silva has also generated misses on 17.0 percent of hitters' swings, which is a career best. It can no longer be said that he's a lock to fall apart at some point; he has shown he can help at least NL-only and deep-mixed owners all year.
Jered Weaver, Los Angeles Angels: If you never seriously considered him an elite source of strikeouts, you need to seriously get caught up. Weaver is second to only Morrow in K's per nine (9.98), he's third in the majors in K's per walk (5.07), his swinging strike percentage is fourth-best (11.3) and he's on pace for 242 K's (his previous career-high is 174). He has also maintained a career-best 1.97 walks-per-nine ratio, which continues to underscore his potential as a fantasy ace. Thanks to four big league seasons that seemed to paint him as a top-25 rather than a top-10 contender, Weaver might still be a bit undervalued in fantasy leagues. But now, he certainly has crossed the threshold and now stands in the top-10 category.
Five who have regressed
Scott Kazmir, Los Angeles Angels: It's easy to knock a guy who currently resides on the disabled list but, even when healthy, Kazmir hasn't offered much room for optimism. His K's-per-nine was easily a career worst (5.85) and his walks per nine (4.78) showed an almost complete regression to his early big-league years. His velocity was down (career-worst 90.5 average mph with his fastball, per FanGraphs) and his swinging-strike percentage was 8.6 (also a career worst). Maybe his health has something to do with it, but if that's the case, even a two-week stint on the DL probably won't be enough to turn his season around.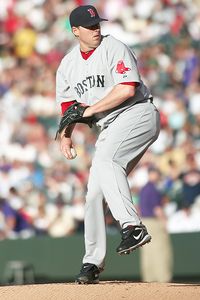 J. Neil Prather/Icon SMIJohn Lackey is still piling up wins with the Red Sox, but his strikeout and walk rate show why his other numbers are so-so.
John Lackey, Boston Red Sox: The Red Sox must feel swindled out of $85 million by this point, because the Lackey they signed isn't the Lackey we saw in Los Angeles for eight seasons. His strikeout rate has tumbled (5.33) and his walk rate has risen (3.60) to career-worst levels, and opponents have made contact on 85.7 percent of swings against him which is, again, an all-time low for Lackey. On reputation alone, Lackey might still have some believing he can become a top-25 starter, except that none of his peripherals offer that level of hope. He's a guy you want to speculate for wins -- he is backed by one of the game's most potent offense, after all -- but beyond that he's merely above-average.
Wandy Rodriguez, Houston Astros: I've discussed him many times in this space, and while it might seem like what spawned his breakthrough run from 2008-09 was improved performance on the road, the truth is that polished command was the real driving force behind those seasons. He struck out at least eight batters and walked fewer than three per nine innings in each of the past two years, but this season has seen his K rate drop to 6.62 and walk rate swell to 3.44. And, sure enough, Rodriguez's home/road splits are once again significant. There's still potential to play him based on streaks and matchups, but the days of him making a run at elite-starter status seem clearly behind him.
Johan Santana, New York Mets: A pitcher with his experience and his home ballpark is unlikely to completely go in the tank, but the Santana of 2010 is significantly less valuable than the one we saw in any of his final four seasons in Minnesota. The topic of his declining strikeout rate was discussed in the preseason, and he only continues to regress in that department with averages of 5.87 K's per nine, 2.10 K's per walk, 18.2 percent swings and misses and 9.0 percent swinging strikes, every one of those representing a personal low for the left-hander. With Santana's velocity continuing to drop, he's forced to keep making adjustments, which helps explain some of his hot-and-cold spells to date. I suggested Santana's downside was that of a player outside the top 100 at year's end; that No. 100 cutoff still seems like a good over/under.
Randy Wolf, Milwaukee Brewers: It didn't help that leaving the National League West during the winter robbed him from some of the pitcher-friendly venues in that division; Wolf was 8-4 with a 3.18 ERA and 1.04 WHIP in 25 starts in ballparks within the division this past season. But what has hurt the left-hander most this year has been complete regression in the command categories; his 1.28 K-per-walk ratio is the lowest number of his big-league career. He's not fooling anyone, as evidenced by his 6.1 swinging-strike percentage.
TOP 100 STARTING PITCHERS
Note: Tristan H. Cockcroft's top 100 starting pitchers are ranked for their expected performance from this point forward, not for statistics that have already been accrued.
Rnk

Player, Team

Prev
Rnk

1
Josh Johnson, FLA
3
2
Roy Halladay, PHI
1
3
Jon Lester, BOS
4
4
Adam Wainwright, STL
6
5
Ubaldo Jimenez, COL
2
6
Tim Lincecum, SF
5
7
Cliff Lee, TEX
7
8
Felix Hernandez, SEA
9
9
CC Sabathia, NYY
8
10
Jered Weaver, LAA
12
11
Zack Greinke, KC
11
12
Justin Verlander, DET
10
13
Yovani Gallardo, MIL
16
14
Clayton Kershaw, LAD
13
15
Stephen Strasburg, WAS
15
16
Dan Haren, ARI
17
17
Chris Carpenter, STL
14
18
Johan Santana, NYM
21
19
Roy Oswalt, HOU
20
20
Francisco Liriano, MIN
18
21
David Price, TB
19
22
Tim Hudson, ATL
23
23
Tommy Hanson, ATL
22
24
Ryan Dempster, CHC
27
25
Mat Latos, SD
25
26
Cole Hamels, PHI
26
27
Matt Cain, SF
24
28
Clay Buchholz, BOS
29
29
Ricky Nolasco, FLA
41
30
John Danks, CHW
33
31
Gavin Floyd, CHW
37
32
Phil Hughes, NYY
28
33
Javier Vazquez, NYY
32
34
Ted Lilly, CHC
30
35
Colby Lewis, TEX
34
36
Jeff Niemann, TB
36
37
Jonathan Sanchez, SF
35
38
Matt Garza, TB
39
39
Scott Baker, MIN
31
40
Max Scherzer, DET
42
41
Ervin Santana, LAA
43
42
Trevor Cahill, OAK
45
43
Jaime Garcia, STL
40
44
Chad Billingsley, LAD
44
45
Brandon Morrow, TOR
47
46
James Shields, TB
48
47
Wandy Rodriguez, HOU
52
48
Jair Jurrjens, ATL
61
49
Brett Myers, HOU
50
50
Joel Pineiro, LAA
60
51
Ricky Romero, TOR
46
52
John Lackey, BOS
49
53
Josh Beckett, BOS
54
54
C.J. Wilson, TEX
57
55
Jason Hammel, COL
59
56
Johnny Cueto, CIN
63
57
Andy Pettitte, NYY
38
58
Edinson Volquez, CIN
81
59
Hiroki Kuroda, LAD
56
60
Carl Pavano, MIN
65
61
Bronson Arroyo, CIN
71
62
Jonathon Niese, NYM
62
63
A.J. Burnett, NYY
55
64
Clayton Richard, SD
64
65
Daisuke Matsuzaka, BOS
76
66
Tom Gorzelanny, CHC
74
67
Shaun Marcum, TOR
69
68
Derek Lowe, ATL
70
69
Jorge De La Rosa, COL
51
70
Kevin Slowey, MIN
58
71
Fausto Carmona, CLE
67
72
Mike Pelfrey, NYM
53
73
Edwin Jackson, ARI
68
74
Anibal Sanchez, FLA
66
75
Ian Kennedy, ARI
73
76
Kris Medlen, ATL
75
77
Ben Sheets, OAK
78
78
Jon Garland, SD
79
79
Barry Zito, SF
80
80
Mark Buehrle, CHW
77
81
Gio Gonzalez, OAK
83
82
Madison Bumgarner, SF
96
83
Travis Wood, CIN
98
84
Brett Anderson, OAK
88
85
Mike Leake, CIN
82
86
Rick Porcello, DET
NR
87
Tommy Hunter, TEX
93
88
Jason Vargas, SEA
89
89
Jhoulys Chacin, COL
91
90
Joe Blanton, PHI
95
91
Wade LeBlanc, SD
97
92
Wade Davis, TB
99
93
Vicente Padilla, LAD
NR
94
Carlos Silva, CHC
85
95
Brian Matusz, BAL
72
96
Justin Masterson, CLE
84
97
Brett Cecil, TOR
86
98
Randy Wolf, MIL
87
99
J.A. Happ, PHI
NR
100
Jamie Moyer, PHI
90
Four up
Madison Bumgarner, San Francisco Giants: He continues to thrive at the big league level, winning his third consecutive road start on Monday. During that stretch, he has posted a 0.92 ERA and a 1.07 WHIP. Granted, it'd be nice to see Bumgarner strike more hitters out, as his 6.42 K's per nine ratio through five starts is a lot closer to his 6.07 number in Double-A and Triple-A from 2009-10, compared to the 10.14 ratio he sported at the lower minor league levels. At least his 1.87 walks-per-nine, not to mention his 50.0 percent ground-ball rate, suggest that his hot start isn't luck-driven. Bumgarner might hit an adjustment period at some point, but for now, he's looking absolutely trustworthy in all formats.
Josh Johnson, Florida Marlins: Yes, it's time. For the first week all season, Johnson takes over the No. 1 spot in my rankings, and it's thanks to an unbelievable hot streak that includes 17 straight quality starts, during which time he has a 1.22 ERA, 0.88 WHIP, .196 BAA, 9.15 K's-per-nine ratio and 5.71 K's-per-walk ratio. Can you find anything to complain about with those statistics? Me neither. As much as the rankings are about projecting forward, there's nothing in those numbers to hint an inability for Johnson to continue posting them, either.
Vicente Padilla, Los Angeles Dodgers: He's another pitcher whose command numbers are on the rise, as he's sporting career bests in terms of K's per nine (8.03) and walks per nine (2.19) through his first 10 starts of 2010. Padilla has been red-hot since returning from the DL on June 19; he has a 2.03 ERA and 0.80 WHIP in six starts since that date and is currently in the midst of a streak of five consecutive quality starts. Even at his worst he's a matchups consideration; he has a 3.27 ERA and 1.00 WHIP in 12 career appearances at Dodger Stadium.
Edinson Volquez, Cincinnati Reds: He had an impressive first big league start coming off Tommy John surgery, limiting the Colorado Rockies to one run on three hits while striking out nine in six innings on Saturday. His velocity was right in range of his previous levels, averaging 93.9 mph with his fastball (93.6 career number), and he generated swinging strikes 15.6 percent of the time. That's not to suggest that Volquez can continue such lofty performances every time out, but on top of a rehabilitation stint that drew nothing but raves, it sure appears he can make a run at 2008-level value from this point forward.
Four down
Scott Baker, Minnesota Twins: No matter how you feel about his numbers in the command categories -- heads up: they're still pretty good -- it's hard to look at Baker in a positive light when he's complaining of elbow issues. They were the reason his first start exiting the All-Star break was pushed back to Monday and, once he took that turn, he struggled, allowing six runs on 10 hits in 4 2/3 innings against a light-hitting Cleveland Indians offense. Baker also walked three and struck out one, which doesn't seem like him at all. His peripherals do suggest bounce-back potential looking forward, but that's only true if he's completely healthy.
Jorge De La Rosa, Colorado Rockies: Make that back-to-back disappointing outings fresh off the DL, as De La Rosa has allowed 14 runs (11 earned) on 10 hits in 7 2/3 innings during those two starts. Most troubling: He walked five Cincinnati Reds and surrendered three home runs on July 17, a sign that his command is sorely lacking. The Rockies have already been rumored to be considering pulling the left-hander from the rotation for Jhoulys Chacin, who served an adequate stand-in while De La Rosa was on the DL. Such a move probably isn't imminent, but it might not be more than another bad start or two away.
Jamie Moyer, Philadelphia Phillies: Back-to-back poor outings followed by his early departure on Tuesday due to an elbow injury might be all his fantasy owners needed to permanently hop off the bandwagon. Hey, the guy's 47 years old. He's done, right? It's logic you've probably heard before, only Moyer has bounced back time and time again throughout his career. But when you see that he has allowed 13 runs on 14 hits, five of them home runs, in 9 1/3 innings in his past three starts combined, you can't help but steer clear of having him in an active fantasy lineup. Moyer's value, even at its best, isn't great, and he's the kind of pitcher who tends to deal with some painful streaks from time to time.
Mike Pelfrey, New York Mets: A stiff neck pushed back his first start coming out of the All-Star break to Monday, and once he made it, Mets fans (and Pelfrey's fantasy owners) probably wish it had been skipped entirely. He was pounded for six runs on seven hits in 1 1/3 innings, giving him a 1-4 record, 9.11 ERA, 2.39 WHIP and .421 BAA in his past six starts. During that time, Pelfrey has issued 13 free passes compared to 11 strikeouts, so clearly something is off with his command. Whether he needs a DL stint or merely more work with the coaching staff to straighten things out, he shouldn't be in fantasy lineups right now.
Upgrade your roster
Add: J.A. Happ, Philadelphia Phillies
Drop: Scott Kazmir, Los Angeles Angels
Happ's return to the Phillies' rotation is imminent, as the demotion of Kyle Kendrick opens up a spot that could just as easily be filled by the left-hander. Happ tossed three shutout innings in a rehabilitation start in Triple-A on Tuesday, allowing only three hits while striking out three. He had previously been clocked in the low 90s on the radar gun during his rehab stint, so clearly, he's about ready to return.
But the real question: Can Happ be as valuable to fantasy owners as he was during his breakthrough 2009? An 85.2 percent strand rate suggests his 2.93 ERA in 2009 won't be repeated; he limited opposing hitters to .212/.298/.352 marks with runners on base and his .650 OPS allowed in those situations ranked him among the top 20 best in baseball. Happ's performance in that area will likely regress, and his ERA/WHIP numbers should fall closer in line.
Still, this was a pitcher who has been remarkably good with the proper matchups. In his career, he's 9-2 with a 1.77 ERA and 1.08 WHIP in 21 games (15 starts) on the road, and 11-2 with a 2.19 ERA and 1.21 WHIP in 26 games (16 starts) against teams with sub-.500 records. That suggests he'll be able to help owners in NL-only and deep-mixed formats, so long as you avoid his home starts versus potent offenses. Having missed so much time on the DL, however, Happ is a pitcher smarter to leave on the bench for a couple turns to evaluate his prospects.
Also consider adding …
Rick Porcello, Detroit Tigers: After nearly a one-month stay in the minors, Porcello returned to the Tigers' rotation for a spot start during this past Saturday's doubleheader, and impressed, tossing eight innings of one-run, six-hit baseball. That's enough to earn him a longer look, as rookie Andy Oliver was demoted to Triple-A Toledo on Monday. Porcello didn't completely overwhelm in his four starts for Toledo; he had a 3.21 ERA, 1.21 WHIP and 1.90 K-to-walk ratio. Still, he's the same up-and-comer he was during the preseason, and his six K's compared to zero walks in his most recent outing are a nice start.
Tristan H. Cockcroft is a fantasy baseball analyst for ESPN.com and a two-time champion of the League of Alternative Baseball Reality (LABR) experts league. You can e-mail him here, or follow him on Twitter @SultanofStat.
Fantasy
Senior writer for ESPN.com
Co-host of the Fantasy Focus Baseball podcast
Two-time LABR, two-time Tout Wars champion
Member of the FSWA Hall of Fame