Commentary
30 Questions: What impact will Dusty Baker have?
Thirty teams, 30 burning fantasy questions. Throughout the preseason, we put one of these questions to an ESPN.com analyst for an in-depth look at the most interesting, perplexing or dumbfounding fantasy facet of each major league team.
What does the team's hiring of manager Dusty Baker mean to your fantasy expectations?
Despite a 72-90 mark in 2007, there were glimmers of hope in Cincinnati and for fantasy owners heading into 2008. Aaron Harang had established himself as an ace, Brandon Phillips had emerged as a 30-30 player, Adam Dunn had hit 40 homers again and Ken Griffey Jr. even stayed healthy. More importantly, the team had two stud hitting prospects (Joey Votto and Jay Bruce) just about ready for prime time, plus three promising young arms (Homer Bailey, Johnny Cueto, Edinson Volquez) not far away from being major league regulars.
Then the Reds hired Dusty Baker as manager.
Skipper changes don't usually have much of an impact on the fantasy game. For instance, you won't see questions about how Joe Torre or Joe Girardi will impact fantasy this year. But in the case of Baker, his philosophies and tendencies are so well-known, it's not hard to see how he would mesh with his current roster. Unfortunately, there are red flags everywhere.
If I were relying on Votto and/or Bruce to make a significant impact in the majors this year, I'd be downright terrified. I would also feel somewhat uneasy about Harang, Dunn and Bronson Arroyo.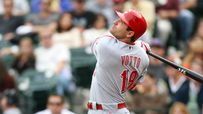 Brad Mangin/MLB Photos via Getty ImagesVotto could be starting regularly at first base for the Reds in '08 -- or he could be back in the minors.
As much as he's trying to refute the notion this spring, Baker has long had a reputation for favoring veterans over rookies. That's strike one against Votto, who is fighting for playing time at first base with 38-year-old
Scott Hatteberg
. Never mind that Votto hit .321 with four homers in 84 at-bats last September. There's no guarantee a starting job or even a major league roster spot is his on Opening Day; there'll be a spirited competition this spring.
Not helping Votto's cause was this quote from Baker on the Reds' official Web site earlier this month about the rookie's approach to hitting: "I think a lot of this on-base percentage is taking away some of the aggressiveness of some of the young kids to swing the bat. Most of the time with young guys, you have to put handcuffs on them not to swing."
Votto had a .385 on-base percentage in the minors, but he also struck out 661 times in 2,553 at-bats. Baker was actually trying to get Votto not to strike out so much -- especially on called third strikes -- but comments like Baker's are still somewhat troubling, given the success he's had doing things his way. Ironically, Votto is a lot like the incumbent Hatteberg, who also is an on-base machine but has more walks than strikeouts the past two seasons. Votto has the potential, but the opportunity is still a major question mark.
As an aside, Dunn also has to be a little concerned by that quote about aggressiveness as well, given his reputation as a "three true outcomes" hitter. If Dunn actually follows Baker's advice, maybe he'll get a couple of extra homers, but what about the already low batting average? And could he crack 200 strikeouts in a season?
Bruce, who has even more upside than Votto, has his own veterans blocking his way. Initially, Ryan Freel and Norris Hopper were his competition for the starting center-field job. Then earlier this month, the Reds signed Corey Patterson, who played for Baker in Chicago from 2003-05. Suddenly, Patterson (and his .298 career on-base percentage) has a great shot at regular playing time in center and becomes a sleeper candidate for steals, possibly at the expense of Bruce.
Baker says he wants to protect Bruce, who is just 20, from all the hype and unreasonable expectations, using Patterson, who went through the same scrutiny as the Cubs' top prospect earlier this decade, as a comparison and an excuse to do so.
"Jay Bruce is where Corey used to be, [with] fans saying, 'Where's Corey? Where's Corey? We want Corey,'" Baker told the Dayton Daily News. "He came up and did good, then failed a little bit and they said it was time to run him out of town and get somebody else. Corey has been through quite a bit of stuff, and because of it he is tough, although that's a tough pill to swallow sometimes."
In short, it's not a given that Bruce will be on the major league roster on Opening Day. Then again, Ryan Braun started last season in the minors and he's already a very high draft pick this year. Even if Bruce starts the season in the minors, there are plenty of plausible scenarios that could get him to the majors, such as a Dunn trade or a Griffey injury. But don't draft him as if he'll be the everyday center fielder right now.
Baker's penchant for veterans is not the only thing worrying fantasy owners with regards to the Reds. Baker has the tendency to overwork pitchers, even youngsters, and has been blamed for the downfall of Kerry Wood and Mark Prior in Chicago thanks to their heavy workloads. Getting 220-230 innings out of a starting pitcher is a good thing, but forcing them to throw 120-130 pitches on a regular basis isn't, especially with a young arm.
In 2003, Baker's first year as Cubs manager, Prior, who turned just 23 that September, had nine games with at least 120 pitches, including five in September. Wood, who turned 26 midway through the season, had 11, including four in September. Neither has made more than 27 starts in a single season since then, as injuries have wreaked havoc on their careers. On the other hand, Carlos Zambrano, who was just 21 to begin the season, had six high-workload games that season and is still going strong.
In each of the past three seasons, Harang has thrown at least 211 2/3 innings (more innings than either Wood or Prior in 2003) but has broken the 120-pitch barrier just 10 times total. Arroyo has 451 2/3 innings in his two seasons with the Reds and has just six games with at least 120 pitches in that time.
You can bet that Baker will lean on these two to throw lots of innings (maybe close to 240-250 each), especially with the rest of the rotation still up for grabs and the bullpen somewhat uncertain beyond closer Francisco Cordero and setup man David Weathers. But will Harang and Arroyo hold up like Zambrano or Livan Hernandez (who had 33 games with at least 120 pitches in just 3½ seasons under Baker in San Francisco) did, or more like Wood and Prior? It likely won't be an issue this season, but it might be in 2009.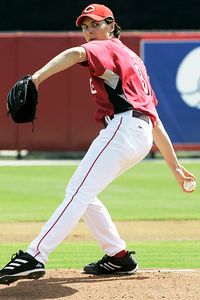 AP Photo/Al BehrmanWe hope Homer Bailey isn't someday mentioned in the same breath as Kerry Wood and Mark Prior.
It's scary to think that Baker now has the opportunity to "overwork" young pitchers Bailey, Cueto and Volquez, but there's hope there. Baker's reliance on veterans likely means he won't rely too heavily on those youngsters. They may get their turns in the rotation this year, but expect a lot more of veterans
Jeremy Affeldt
,
Matt Belisle
and
Josh Fogg
. The three youngsters are fine speculative picks, especially for keeper leagues, but don't expect consistent production this year. In fact, staying conservative with the young arms is probably best for the long term.
For all the criticisms Baker has gotten over the years, his approach isn't unlike many you might see in your fantasy league: leaning very heavily on proven quantities/veteran players, being cautious about rookies and paying attention to the stats that actually count in the standings. It's not a sexy approach, but it can work.
But can Baker make it work? There are many lingering doubts, given his recent track record, which is why it's best to tread carefully.
James Quintong is an editor for ESPN.com Fantasy.
Fantasy
Editor for ESPN.com Fantasy.
Member of FSWA Hall of Fame
MOST SENT STORIES ON ESPN.COM