Commentary
Yours Truly, The Talented Mr. Roto
A see-you-next-spring mailbag as TMR shifts his attention to the NFL
Updated:
September 3, 2009, 2:45 PM ET
By
Matthew Berry
| ESPN.com

Never. Not once, not ever, not one time has anyone, in the history of fantasy sports, published rankings that everyone has agreed with. My
10 Lists of 10
article from the other week, in which I did my way-too-early 2010 rankings for players at every position, drew fast-and-furious reaction on the ESPN Conversation pages.
Jcfern1109 (ESPN Conversation): Way to mail it in, Mr. Roto.
TMR: Hah! You think that was mailing it in? Wait 'til you get a load of this week's effort.
Jason (Syracuse, N.Y.): Tim Lincecum for Kendry Morales and Gordon Beckham; would you do it? Ten-team H2H league and I have A.J. Burnett, Andy Pettitte, Ubaldo Jimenez, Brett Anderson, Randy Wells.
TMR: No, I wouldn't. Frankly, Ubaldo is the only pitcher you have I truly trust these days. I like Morales and Beckham quite a bit, but neither guy is as dominant as a guy like Lincecum. And in a head to head, where starts are so much more magnified (because there are so few), you need to get an unbelievable stud. You look at Burnett's past 10 games: 2-4 with a 5.17 ERA. And it's getting worse, as Burnett has a 6.54 ERA over his past seven and a 7.77 ERA over his past four. Pettitte, meanwhile, has an ERA of 4.76 and 5.86 in his past two Septembers.
Ron Silsbee (ESPN Conversation): No Verlander? Highest K per 9 for SP in MLB, 13-7, 3.29 ERA. In his 4th full year already been 17-9 and 18-6 with one bad year last year. Leads AL in strikeouts. Will be only 27 next year with 775 innings pitched in his major league career so far.
TMR: No question, it was tough to leave Verlander off my top 10 pitchers next year. But that one bad year is the concern. Over the past 30 days, he's 25th among pitchers on our player rater, and he had a 4.12 ERA in August. I have him in my top 12 for next season and we'll see how he finishes. He may be top-10 overall next year. The rankings are super early; this is why I hate keeper questions now. Value changes every day.
CactusJack04 (ESPN Conversation): Chone Figgins over Kevin Youkilis and Pablo Sandoval? Someone made a mistake.
TMR: Wouldn't be the first time (or last) I've made a mistake but I don't think this is one of them. Look, I love both Youk and Kung Fu Panda. Youk is at No. 6 and Pablo at No. 7 among third basemen for next season. But the reason I have Figgins at No. 5 is, very simply, you don't normally get what he gives you at third base. So far this year, he is top-3 in the American League in runs scored, steals, walks and on-base percentage. He's hitting .310 with 39 steals, and only Mark Reynolds has been a better fantasy third baseman this year than Figgins. Speed is scarcer than power, and considering Figgins is a career .293 hitter (and two years removed from a .330 season), I like that kind of high average/great speed combo from a third baseman. Especially since first base is SO deep next year, everyone's corner infielders will come from first base (and you'll get power there, too).
Ryan Hoffman (Raymond, Maine): Who would you keep in a 10-team mixed keeper league with 5 keepers? Ichiro, Ellsbury, Mark Reynolds, Ryan Braun, Johan Santana, Matt Kemp, Dan Haren?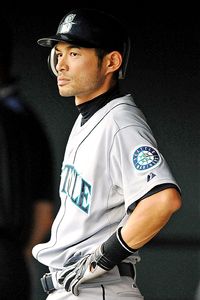 Ron Chenoy/US PresswireIf you love Ichiro, set him free!
TMR:
Well, I hope you won your league. The good news here is you can't screw this up. All are studs, obviously. But, believe it or not, I throw back Ichiro and Haren. I want to see how Santana's surgery goes, but assuming all systems go for him at the start of the year, I'm losing Ichiro and Haren. Haren's second-half woes are well-documented -- he currently has a 4.50 ERA since the All-Star break -- and the concern with Ichiro, if you can call it that, is the declining speed. He will be 36 next year and has only 24 steals this season, on pace for 30, which would be a career low. The average is so hard to give up, but of the other guys listed, only Reynolds poses any threat to your batting average. For next year only, I have Ichiro just ahead of Ellsbury, but given that it's a keeper league, I say Ichiro has to be let loose. And I love Ichiro.
Dan (New York): Your columns are insightful. I'd like to know if you are as good as your advice. What's your personal record in fantasy leagues?
TMR: Only you (and everyone else who reads me) can decide if my advice is worthwhile for you, but I will say this: How I do in my leagues has absolutely no bearing on how good or bad I am as an analyst. I get this question a lot, however, so I'll answer it.
First, understand this: I don't really care that much how I do in leagues. I wrote a version of the following in my "100 facts you need to know" column for football, so plagiarizing liberally from myself, let me say this: I've been playing fantasy sports for 25 years now. And when I started, I desperately wanted to win every league I was in. To talk smack, to prove how smart I was, to be the best. And I realize this may come across as cocky, but I don't mean it to. Just being honest. Once I got my job here at ESPN, there's not a league in America I could win that could give me a better feeling than the one I got when it happened. I still love to play and I care deeply about longtime leagues I have been in with friends but honestly ... I care so much more about getting picks right than winning a league. If I've said all preseason that I love Shin-Soo Choo, Mark Reynolds, Shin-Soo Choo and Jorge De La Rosa (which I did), I root for them to do well regardless of whether they are on my team or not. In fact, it was rare that I got any of those guys or people like Wandy Rodriguez because everyone I draft against has read me, knows whom I like and don't, and bid me up accordingly.
I'd rather lose the leagues and be right about my sleepers and busts than the other way around. All the people who say they could beat me in a league, they are probably right. I spend much more time pouring over stats, scouting reports and trends than I ever do on my own teams. Just doesn't matter to me the way my job does and I get sucked into so many leagues because of ESPN, etc., I just don't have that much time to devote to each of them.
Here's another big secret that few will admit: "Expert" Leagues are a crock. I've won plenty in my time and finished in the bottom in others. They are done early for publication, half the people don't pay attention and it's not at all a representation of how good I am or any of the other participants is as an analyst. The leagues I care about the most are the ones I have been in for 25 years: my first two leagues that I started in. Same group for a quarter of a century -- they are among the best fantasy players I've ever dealt with.
That said, if you must know, here's how I am doing:
ESPN the League: It's a 10-team mixed auction keeper league with various fantasy folks like Nate Ravitz and Pierre Becquey plus various ESPN execs. I'm in first.
BRIX: Named after the restaurant we draft at, this is also a 10-team auction keeper with various ESPN execs and Bill Simmons. Bill and his partner, Gus Ramsey, and I have been trading third and fourth for a while now. As of Thursday morning, I'm in fourth but like my chances to get third.
AL Only: A 10-team weekly league, AL only, as the incredibly imaginative league name hints at (never let a suit name your league -- just sayin'). I'm in sixth. This is a league with Nate, Pierre, Keith Olbermann and various other ESPN folks. I'm a point out of fifth with an outside shot at fourth. AL-only leagues are so deep, injuries really kill you. Chien-Ming Wang killed my ERA there (Week 1, my ERA was, um, 50) and Grady Sizemore's injuries and Miguel Cabrera's power outage didn't help. Olbermann is in second, incidentally. He's a good player and pays attention.
FanEds: This is a 12-team mixed head-to-head league with all of the ESPN fantasy guys: Eric Karabell, Jason Grey, AJ Mass, Keith Lipscomb, James Quintong, our Answer Guys Dave Hunter and Shawn "C-Dub" Cwalinski, Stephania Bell et al, plus Steve Phillips and "Baseball Tonight" Executive Producer Jay Levy. I'm in first. And this one I am trying in: I want to win ever since Steve Phillips called me and Karabell out on one of his baseball telecasts. Phillips is second, Levy is third and Quintong, Grey and Karabell are neck and neck for the final playoff spot. Very competitive league.
Bristol Bullpen: This is a 19-team league that Nate and I reference on the podcast all the time. I'd been in the top 5 most of the year, but injuries have decimated me. Nate McLouth, Corey Hart, Carlos Delgado, plus Huston Street now, losing George Sherrill as a closer ... I think I am now down to 13th or something. In leagues this deep, any injury is devastating. Nick Blackburn's falling off a cliff didn't help either. It's ugly and getting uglier.
Fat Dog Rotisserie League: This is my 12-team, NL-only, auction keeper league that is currently in its 25th season. I'm in second, two points out of first, and it's gonna come down to the wire. This is the league I care the most about.
Lone Star Rotisserie League: My 12-team, AL-only, auction keeper league made up of the same guys in the Fat Dog. I'm in fifth, with a good chance at fourth (one point out) and a shot at third.
Tout Wars: The 12-team, AL-only "expert" league that has been written about many places. Pitching killed me here as I went with the high-risk, high-reward pitching staff. John Lackey pulled his weight. Francisco Liriano, Joba Chamberlain and David Price did not. I'm currently in ninth, four points out of eighth.
There you go. Of the eight leagues, I think I am going to win three of them and finish in the money in another two. If that matters to you, then use it to decide whether you like my advice or not. And if it bored you to tears to read about how I'm doing, welcome to my world, friend. Let's get back to the fun stuff.
Ian Jaray (Manitou Springs, Colo.): I have been holding on to Jose Reyes since he's been injured and cannot decide what to do with him. Jake Peavy is available and I was wondering if it would be worth swapping them on my DL. I also have Roy Oswalt and Carlos Beltran injured so it's not as though I am intentionally looking for beat-up players to fill my bench.
TMR: Drop Reyes and grab Peavy. There's still a chance that Jake could pitch this year, but there is no chance that Reyes plays this season. I think Jake's contributions won't be great but at least he will do something.
The Unforgettable Fire (ESPN Conversation): Nice touch using the end of the column for your personal whining!!!
TMR: End of the column? I like to think I use all parts of the piece as my personal pulpit of plaintiveness. Did you not see my whole 19-team-league injury excuses?
Well, kids, this is my last baseball column of the year as we move toward football. We will still have plenty of great fantasy baseball content here on the site for the rest of the year, and those that crave TMR fantasy baseball analysis should check out our daily Fantasy Focus podcast. I still do that daily with Nate Ravitz and will through the end of the season.
Thanks for reading all year. I hope it helped and entertained somewhat, and we'll see you next season. Peace out.
Matthew Berry -- The Talented Mr. Roto -- is a five-time award winner from the Fantasy Sports Writers Association, including a Writer of the Year award. He is also the creator of RotoPass.com, a Web site that combines a bunch of well-known fantasy sites, including ESPN Insider, for one low price. Use promo code ESPN for 10 percent off. Cyberstalk the TMR | Be his Cyberfriend
Fantasy
• Senior Fantasy analyst for ESPN
• Member, FSWA and FSTA Halls of Fame
• Best-selling author of "Fantasy Life"

MOST SENT STORIES ON ESPN.COM