Commentary
Answering for my rankings
It's always a "what?"
If I were to rank the top questions we get when we do rankings, it's almost always a "what?" What were you … thinking, smoking, seeing, feeling, taking, watching? The words run the gamut from genuine curiosity to crazed anger, but they all boil down to the same essence: What was the thought process behind this particular rank?

With our re-ranked top 250 for the year just released, there was no shortage of questions on my particular ranks, in among the usual assorted questions about random stuff. So I thought I'd take some time to answer some in today's column. Questions were submitted either to my Twitter feed along with comments on my Facebook page. Here we go.
@PatMcKenna1: Adrian Gonzalez several spots after Lance Berkman? Berkman is a nice story but AGonz is a lock to keep this up. Reasoning?
TMR: Well, I have Berkman at 13 and Adrian Gonzalez at 18, so I'm not sure I would call that "several spots," but yeah … I have Berkman five spots in front of A Gonz. It's more a statement on me believing in Berkman than a knock on Gonzalez. I mentioned this in my recent "Just Saying" column; Berkman is a career .296 hitter, but a career .275 hitter in March and April. So if he's hitting like this now, imagine what he's gonna do when the weather heats up? He's never played (or hit behind) a group like Colby Rasmus, Albert Pujols and Matt Holliday and he's finally healthy again after a rigorous offseason workout program; I expect Berkman to hit for a higher average than Gonzalez (based on career numbers), for their other numbers to be similar, and I give Berkman a little more value for being outfield-eligible. Obviously, this could change if the injuries suffered by Berkman and Holliday on Wednesday night turn out to be serious.
@a1rfann1ng How can you rank Juan Pierre 155 but not even rank Jason Bourgeois? You take Pierre, I take Bourgeois, put it on the board.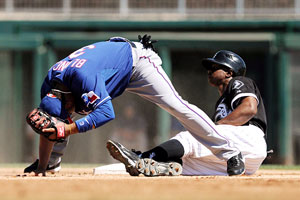 Christopher Hanewinckel/US PresswireJuan Pierre's track record on the basepaths is beyond reproach. Get it? "Track" record? And he runs fast? Ah, what do you know about comedy.
TMR: Thanks for listening to the podcast. Since you do, you know I like Bourgeois, especially if he gets second-base eligibility when he comes off the DL. (He had played two games there before getting injured). But … we are less than two months into the season. You'll hear this refrain a lot in this column, but I'm not going to go nuts over every hot or cold start. Too small a sample size. Remember, on May 1 of last season, Drew Stubbs was hitting .186 with just one home run.
I want to be aware of the first six to seven weeks, but not let that be the main influence on my ranks. Bourgeois is 29 years old (a little old for a true break-out); his BABIP is .440, which is very high even with his speed factored in (career BABIP, per FanGraphs.com, is .296); and he doesn't have second-base eligibility yet. He's also currently hurt. With Pierre, he's a career .296 hitter who has never had fewer than 30 steals in his career. And when he gets at least 400 at-bats (he's on pace for 600 after getting 650 last season), he's never had fewer than 45. I believe that all the White Sox players -- Alex Rios, Adam Dunn, Alexei Ramirez, Gordon Beckham -- will be turning it around, and when they do, Pierre will have a shot at matching last season's 96-run, 68-steal pace for the rest of the season.
@seahwk8: Do I have to give a speech as the best man at a wedding, or can I have a one-on-one with the groom?
TMR: Ask the groom. It's his day; find out what he wants. But generally speaking, yes. You have to. You might be nervous or uncomfortable, but I don't care. Not about you. Weddings, bachelor parties, birthday parties, baby showers … anything where it's a gathering to celebrate one person … it's all about that person. Period. In the case of weddings, that person is the bride, but the groom gets special consideration, especially from his friends. I recently went to a fairly large bachelor party and we started with, like, 35 guys. It was an all-day thing, and by the end of the night there were only three or four guys with the groom-to-be. Everyone else had peeled off, looking for their own fun, and I couldn't believe that. We're there for that guy. Period. End of story. Hopefully we have fun with the guy, but ultimately everything is about him. I think stuff like that is really important, so especially as best man, you're doing everything he wants with no complaining, OK?
Frank Cas Florez (via Facebook): What's your favorite non-sports video game?
TMR: Sad to admit, I'm among the millions addicted to "Angry Birds." It's awesome on a tablet. Have gotten through all of the original and halfway through the Holiday one.
Reed DeSalvo (Facebook): Trevor Cahill at 142? His ERA is less than that, Matthew.
TMR: Yeah, I might have been a little too low on Cahill. Overall, I ranked starting pitching low. In a standard 10-team mixed league there's always quality starting pitching available (see " The Wandy Line") … so that's part of it. He's also getting lucky (strand rate of 87 percent, third-highest in MLB per FanGraphs) and I figure wins will be hard to come by in Oakland. He's very solid, but with a K/9 under seven (higher than last year for him, but still not as high as most elite fantasy guys), and his xFIP (expected ERA when you eliminate the vagaries of fielding) is 3.09. I had a hard time going all-in on him.
@TryTheVealChild Don't think Tommy Hanson (16th among starting pitchers) or Jaime Garcia (27) can keep up top-10 SP pace?
TMR: As Nate Ravitz and I discussed on the podcast yesterday, with a lot of these starting pitchers, its personal preference. Not a ton of differentiation between many pitchers. I like Garcia a lot, I'm just still a little worried about last season, when he faded and did poorly down the stretch. When we're looking at the rest of the season, you have to take the consideration that he couldn't do it over a full season (3.53 post-All-Star last year, 2.17 before), plus he's also getting a little bit lucky (.268 BABIP), but yeah, guy is a stud. As for Hanson, he's also a stud. Just liked 15 guys a little more. Like I said, all very close.
@Amanforallseaso Who has the highest fall from grace? Rafael Soriano?
TMR: Arnold Schwarzenegger? Well, other than the obvious closers who have lost jobs (Matt Thornton, Ryan Franklin, etc.) and injured guys, for me it's Francisco Liriano. Ranked 88th in the preseason (and was on my "love" list, yeesh), I ranked him 207, and I didn't feel great about it. He's had one great start … but it was against Seattle, you know? Even his no-hitter didn't impress me very much (two strikeouts, six walks). The Seattle game was a good start, but I'm gonna need a lot more to trust him.
Darryl Bortoli (via Facebook): Hottest "90210" cast member from either series.
TMR: Well, Lori Loughlin is a perennial, and Anna-Lynne McCord is both beautiful and hilarious on the current show, but for me, nothing tops Tiffani-Amber Thiessen (Valerie) from the original. The exact right blend of looks, open-mindedness and good ol'-fashioned crazy.
@thirdnline: thoughts on Chase Utley going forward: pick him up if he's available? Look for a sucker if you have him stashed?
TMR: Before the injury, I had concerns about Utley. Declining average, power and speed (due in part to injury last year, but still) … And honestly, I have no idea what we'll see out of him. But yes, if he's out there I'd pick him up based on upside. And if you've held onto him this long, don't try to sell. I can't imagine you'll get anything great, so might as well see what you have. There's always a chance he goes all Joe Mauer on us.
@la_frankie: I love Justin Verlander and Max Scherzer 58/59, but why so much lower than Hernandez at 30? Felix won't win 12 this year.
TMR: Wins are by far the hardest category to project, and for what it's worth, Felix is currently on pace for 16 wins this year. So I disagree with your assessment. In the AL West, only Texas has an offense that scares me even a little. Obviously, I'm very very high on Verlander and, if you listened to me at all in the preseason, Scherzer as elite guys this year. I mean, I have them 10 and 11 among starting pitchers. But Felix (No. 5 among my starters) has just done it at a higher level, and for longer.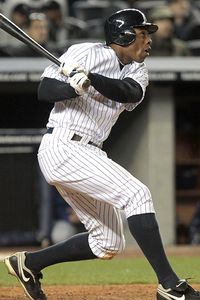 Noah K. Murray/The Star-Ledger/US PresswireMaybe we were a year early on Curtis Granderson ... but I like to think he's the one who's a year late.
@ItsDis Do you really believe in Curtis Granderson (28) that much?
TMR: I really do. I tweeted something about this the other night. Granderson's HR/FB rate of 24.6 percent (per FanGraphs) is unsustainable, of course, but he's finally hitting left-handed pitching. Seven home runs against lefties so far this year, while he had hit just six against them the two previous seasons combined. Finally 100 percent healthy, he's putting up the numbers we all expected from him last season when he came to New York.
@uncleatherhead Are you going for the Mavs because they took out the Lakers or do you want them out this round?
TMR: Nah, I'm rooting for the Mavericks. Frankly, I'm a member of the "Anyone but the Heat" bandwagon, so I'd be fine with the Thunder, Bulls or Mavericks, but if I had to choose, I go Dallas. I'm a fan of Mark Cuban and have always been impressed with his thought process, business acumen and honesty. Plus, they should have already won a title in 2006 if the refs hadn't called a foul every time Dwyane Wade saw a shadow.
@JMayer54: Are you concerned about things that may be in the ESPN book?
TMR: Yes and no. On a personal level, no, I am not. It's a book about the 30-year history of ESPN and I'm a nothing in that story. I spoke with the author and he asked me a total of three questions. I'll be surprised if I am even in the book, and if I am, I suspect it will be just a very small footnote about fantasy in general. But on a larger level, yes. I am worried about the perception of people in the public about ESPN. This will sound Pollyannaish and company shill, but the truth is there are over 5,000 people that work here, the majority of whom are very hardworking, care deeply about both sports and the product we put out and are overall good, decent people. I'm worried that the "dirt" of a handful of people over 30 years will paint a picture that isn't reflective of the majority of the people who work here.
@PatMcKenna1 Re: David Wright. Looks like you ranked him pre-back scare. How far does he fall now? Would you rather have him or Youk now?
TMR: Yeah, I screwed up here, I'll cop to that. I started working on my ranks last Friday, and Wright's rank was pre-injury. We did an update Tuesday and I messed around with a few ranks, but totally flaked on Wright; I was looking at my much lower rankings. The injury doesn't sound good (although Stephania Bell offers a good perspective on why not to panic), but since we're still not sure how long he'd be out, I'd rank him 48, just behind Jay Bruce and just ahead of struggling guys like Andrew McCutchen and Dan Uggla. I have Kevin Youkilis at 19, so obviously I'd rather have Youk.
@NickCapozzi Should the Redskins change their name?
TMR: Nick, dude, they need to change everything.
Matthew Berry -- the TMR -- had Big Fat Bartolo Colon at No. 251. Berry is the creator of RotoPass.com, a website that combines a bunch of well-known fantasy sites, including ESPN Insider, for one low price. Use promo code ESPN for 10 percent off. He is a charter member of the Fantasy Sports Writers Association Hall of Fame. Cyberstalk the TMR | Be his cyberfriend
Fantasy
• Senior Fantasy analyst for ESPN
• Member, FSWA and FSTA Halls of Fame
• Best-selling author of "Fantasy Life"

MOST SENT STORIES ON ESPN.COM