Commentary
Cockcroft: Don't be afraid to buy high
Patience is the buzzword of the week, apparently.
Look all around, and advice to stick with your struggling studs is rampant. I'm sure you might have heard these incredibly helpful tips somewhere: "Don't drop David Ortiz." "Stay the course with Alfonso Soriano." "Keep waiting on C.C. Sabathia."
To borrow a Seinfeldism, who are these people?
I don't know about you, but no one in any of my leagues is so stupid as to cut Ortiz, Soriano or Sabathia. (Nor would I want to be in a league with anyone that stupid.)
More likely, your fellow league mates are smarter than that, prepared to stay the course with their high draft picks. And if your league is anything like most of mine, not only is the competition bright, it's so informed that the only way to gain a competitive advantage is to either be faster with your moves, or get more creative with your strategy.
It's that latter point to which I speak today, and I do it offering something bold, something brash, something creative. It's something few seem willing to do in April:
Be aggressive. Don't be afraid to be reactionary.
Now, on the surface, that kind of advice might appear to border on the absurd. First, understand that in no way am I saying that it's time to bail on an Ortiz, Soriano or Sabathia, or anyone of comparable value. Again, my advice is based on the presumption you already knew that kind of thing.
What I am saying, however, is that there's no greater time than right now to gamble on the next big thing. Remember all those out-of-nowhere breakout performers of 2007? Ever stop to consider what time of year they all burst upon the scene? That's right, in April, or at latest, in early May. This might surprise you, but the chart below demonstrates how 10 of last year's biggest surprises sustained a healthy share of fantasy value even after an unexpected hot start (defined as a hitter's first 20 games played, a starting pitcher's first five starts or a relief pitcher's first 10 appearances):
| | | |
| --- | --- | --- |
| | FIRST 20 G (HITTERS) 5 GS (SP), 10 G (RP) | REST OF THE SEASON |
| Jeremy Accardo | 0 SV, 0.00 ERA, 0.86 WHIP, 11 2/3 IP, 11 K's | 30 SV, 2.59 ERA, 1.17 WHIP, 55 2/3 IP, 46 K's |
| Fausto Carmona | 3 W, 2.97 ERA, 1.20 WHIP, 33 1/3 IP, 11 K's | 16 W, 3.07 ERA, 1.21 WHIP, 181 2/3 IP, 126 K's |
| Jack Cust | .231 AVG, 8 HR, 20 RBIs, 1.071 OPS, 65 AB | .261 AVG, 18 HR, 62 RBIs, .881 OPS, 330 AB |
| J.J. Hardy | .279 AVG, 6 HR, 14 RBIs, .882 OPS, 86 AB | .277 AVG, 20 HR, 66 RBIs, .770 OPS, 506 AB |
| Corey Hart | .276 AVG, 1 HR, 5 SB, .745 OPS, 58 AB | .298 AVG, 23 HR, 18 SB, .911 OPS, 447 AB |
| John Maine | 4 W, 1.35 ERA, 1.05 WHIP, 33 1/3 IP, 30 K's | 11 W, 4.45 ERA, 1.32 WHIP, 157 2/3 IP, 150 K's |
| Carlos Pena | .194 AVG, 5 HR, 15 RBIs, .659 OPS, 62 AB | .294 AVG, 41 HR, 106 RBIs, 1.088 OPS, 428 AB |
| Hunter Pence | .364 AVG, 4 HR, 16 RBIs, 1.078 OPS, 77 AB | .314 AVG, 13 HR, 53 RBIs, .863 OPS, 379 AB |
| James Shields | 2 W, 3.75 ERA, 0.92 WHIP, 36 IP, 37 K's | 10 W, 3.87 ERA, 1.15 WHIP, 179 IP, 147 K's |
| Shane Victorino | .282 AVG, 8 RBIs, 5 SB, .726 OPS, 78 AB | .280 AVG, 12 HR, 32 SB, .779 OPS, 378 AB |
Ask yourself this: How many of the above names did you believe in on, say, May 15? Chances are most, if not all of them landed on a good share of fantasy writers' "sell high" lists -- yet another of the obvious-advice traps -- around that date.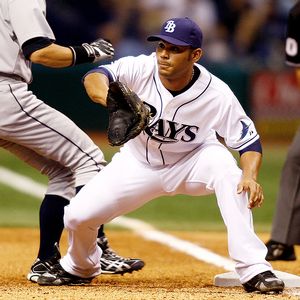 J. Meric/Getty ImagesCarlos Pena surprised many last year, especially if you picked him up when he started getting hot.
I put the sell-high strategy in the classification of "obvious advice" not because I don't believe in it, more in that it requires clever thinking. Too many people don't consider all the variables that go into making it work. Those same people forget that you can't "sell high" on a player for whom there's little perceived value; if no one else believes in the hot-starting player, how are you really selling high? To take a 2007 example, how many of you were able to peddle off Pena in mid-May for anything close to player value of a guy who had 39 homers and 100 RBIs from May 16 forward?
No, what I recommend is the bolder move. Keep the 2008 Pena candidate. Better yet, buy high on him in trade. Not that I'm saying you offer up a certain 39 homers and 100 RBIs -- an Alex Rodriguez -- for him, not by any means. But if his trade value checks in at an 18-homer, 60-RBI performer straight up, don't be afraid to make that deal. The one caveat: First make sure that you're confident in that 2008 Pena candidate, that at worst you believe he's worth those 18-60 numbers.
Or, if that Pena candidate is sitting out there on your waiver wire today, be bold, snatch him up now before it's too late. If you're in a league that uses FAAB (free-agent acquisition budget) bidding, don't be conservative; make a winning bid. Many people tend to hoard FAAB until the July 31 trade deadline, but how many times have you seen three-quarters of a league sit on their budgets, only to see few worthy players actually switch leagues? Such things help make Ty Wigginton $80 in-season FAAB pickups.
So, to you Casey Blake, Akinori Iwamura or Barry Zito mixed-league owners, for example, don't fear letting them go to get a guy you believe in. It's those lesser draft picks, the round-out-your-roster types, perhaps even players you picked as early as the 15th round, on whom there's no need to be patient. Besides, at worst, you can always snatch them back up later should they begin to turn things around. Patience pays off, but when we say that, we're obviously referring to the core of your lineup, the true studs.
Taking a look at some of the first week and a half's hot starters, here are 10 players I'd snatch up, "buy high" or otherwise hoard on my roster on the chances they're legit:
Jonathan Daniel/Getty ImagesNick Blackburn could be the next big thing in the Twins rotation as early as this year.

Nick Blackburn, SP, Twins (owned in 2.7 percent of ESPN leagues): Most don't realize it, but he was one of the Twins' top prospects entering spring training, called the best of the team's pitching bunch and checked in at No. 28 on Jason Grey's preseason rankings. In 2007, he dominated in Double-A, then in Triple-A. Then he dominated this spring, with a 2.25 ERA in 16 innings. Then he dominated the Angels in his first career big league start. So why can't he be one of 2008's pitching breakouts?
Johnny Cueto, SP, Reds (owned in 100.0 percent of ESPN leagues): What wasn't there to like in his spectacular debut, a seven-inning, one-hit, 10-strikeout masterpiece against the Diamondbacks, or his equally impressive encore, a 6 1/3-inning, two-run, eight-K gem against the Brewers? They won't all be like that, but there'll be plenty to like about Cueto, 18th in Grey's preseason rankings. To say he'll have an impact comparable to Tim Lincecum's from a year ago isn't a stretch.
Ryan Doumit, C/OF, Pirates (owned in 10.6 percent of ESPN leagues): Since the start of 2007, he's a .290 hitter with 10 homers in 276 at-bats. Double that, which amounts to a typical full-time hitter's season, and it's quite a year for a catcher-eligible player. Not that it's anything close to an automatic that Doumit gets 552 at-bats, but he has five starts at catcher in the Pirates' seven games, so 450 can't be called impossible.
Scott Hairston, OF, Padres (owned in 15.3 percent of ESPN leagues): He's a great example of the player you might think an obvious "sell high" candidate, except for one problem: You have to find someone willing to buy high. I'd volunteer, but I already own Hairston in most of my leagues. In other words, like most of these 10 names, Hairston is a player you're probably better off keeping around, at the very least riding the hot streak. I can say this in his defense: He has averaged one homer per 18.8 at-bats while batting .282 between Triple-A and the majors in his career, so why can't he do something extraordinary, say, bat .260 and belt 25-plus homers?

It's not too late! You have until April 18 to sign up and draft your own free fantasy baseball team!
Sign Up Today!

Nate McLouth, OF, Pirates (owned in 100.0 percent of ESPN leagues): Ahhh, there we go, now everyone is on the McLouth bandwagon. Get comfy, folks, because I think we're in for a long, fun ride. Seriously, who wants to trade a guy batting .290 with 13 homers and 20 steals in 81 games since last July 1?
Micah Owings, SP, Diamondbacks (owned in 71.8 percent of ESPN leagues): I admit, forced to pick between the two, I'd have opted for "sophomore slump" over "huge breakout" when forecasting Owings' 2008. But as a guy who generally drafted him playing the middle ground, I also didn't deny he had a shot at the latter.

Mark J. Rebilas/US PresswireMark Reynolds is the early major league leader in home runs.

Mark Reynolds, 3B, Diamondbacks (owned in 79.5 percent of ESPN leagues): Quick quiz, who leads MLB in homers? That's right, this guy, with five. It shouldn't be called entirely shocking, either; he belted 31 in the minors in 2006 and 23 between the minors and majors in 2007. Yes, I've been feeling especially silly for plopping down that $6 on Chad Tracy in LABR. It doesn't seem like he has a chance at earning that.
Wandy Rodriguez, SP, Astros (owned in 0.9 percent of ESPN leagues): He's so incredibly predictable, but in a good way. Check out his home splits: Of his 16 starts at Minute Maid since the start of last year, 11 were quality starts, his ERA is 2.73, his WHIP 1.06 and he has 94 K's in 102 1/3 innings. Isn't that worth grabbing, a matchups-worthy pitcher, even if he never amounts to anything better? I'll roll the dice that maybe, just maybe, he becomes marginally useful in his road starts, too.
Joe Saunders, SP, Angels (owned in 30.5 percent of ESPN leagues): In two starts, he has faced 15 right-handed hitters on two decent offenses, and the three lefties he has faced are Travis Hafner, Justin Morneau and Grady Sizemore. In other words, Saunders' first two tests were tough, and as always, the question of how far he'll go this year depends on how he handles righties. Considering they were a combined 7-for-43 (.163 average) with one extra-base hit -- Jhonny Peralta's home run -- in those two starts against him, I'll take the gamble Saunders is figuring it out.
Justin Upton, OF, Diamondbacks (owned in 100.0 percent of ESPN leagues): To be fair, he kicked off his big league career in 2007 red hot, too, batting .294 with a 1.015 OPS through his first 10 games. Still, while Upton is only 20 years old and looked overmatched at times after last year's hot start, who's to say he can't perform like a hitter five years his senior? There's a ton of upside in him, so while he's the one obvious "sell high" bet of these 10, you don't want to let him go too cheaply, either.
Remember, there's one, small consolation with guys like these: If they don't pan out, you can always cut them and replace them with the next-best Pena candidate.
Tristan H. Cockcroft covers fantasy sports for ESPN.com. You can e-mail him here.
Fantasy
Senior writer for ESPN.com
Co-host of the Fantasy Focus Baseball podcast
Two-time LABR, two-time Tout Wars champion
Member of the FSWA Hall of Fame
SPONSORED HEADLINES
FANTASY TOP HEADLINES
MOST SENT STORIES ON ESPN.COM