Commentary
Called Out: Midseason Top 250
Our experts explain their rankings of guys like Haren, Rollins, Bartlett, Hoffman
Ah, rankings -- such an exercise in imperfection.
But therein lies its greatness. No ranking set can conceivably achieve 100 percent accuracy, which is why it's such a fun, challenging, debate-inspiring exercise.
Second-half preview
Check out all our coverage leading into the second half of the baseball season:
• Fantasy Focus: 2nd-half preview


• Consensus top 250 rankings
• Our experts defend their rankings
• Berry: My rankings discrepancies
• Harris: Where my rankings differed
• Karabell: 10 guys I think are legit
• Mass: The value of value
• Starting pitching rankings analysis
• Relief pitching rankings analysis
• Hitting rankings analysis

Debate rankings we shall: With the All-Star break comes our midseason top 250, an exercise in which our staff of writers -- Matthew Berry, myself, Jason Grey, Christopher Harris, Eric Karabell and AJ Mass -- all participated. We each submitted our lists, our editing staff compiled them and spit out a group ranking, then sent that final list and the individual ones to me …
At which point I went to work tearing those rankings to shreds. Sure, our writers spent hours pouring their blood, sweat and tears into their rankings, but damned if I'm not going to prod them and require a defense for their more outlandish choices.
Again, that's the fun of this: We all have our opinions, and now it's time to share them. Heck, I've even shared mine, for the players about whom I most differed from the group rankings.
Let's get started.
The Jay Bruce conundrum
The most complicating factor with doing midseason rankings is that baseball news is in constant change during the season. A good example: Up-and-coming youngster Jay Bruce broke his wrist in a game Saturday, during the process of our compiling our individual rankings. Wanting the most accurate set of rankings at press time, the group was scrambling to change Bruce's placement. Originally the 95th-ranked player overall, Bruce dropped to 231st in the re-rank.
I deleted Bruce, whom I originally had 114th, entirely. Milton Bradley, whom I really wanted in my top 250 in the first place, squeaked into the final spot.
"Quick click" by author, if you're seeking a specific writer's take:
Matthew Berry | Tristan H. Cockcroft | Jason Grey
Christopher Harris | Eric Karabell | AJ Mass
Francisco Liriano, SP, Twins: Berry rank 91, group rank 114.
Cockcroft: I was really tempted to put Liriano in my top 100, even as disappointing as he has been thus far, but I just couldn't do it. Still, you seem optimistic about his second half. What do you see in him that's so promising?
Berry: Well, he has been better. Forty-three strikeouts in his past 43 1/3 innings and then you look at what he has traditionally done over the second half last year and in previous years. He was lights-out in the second half last year and simplifying his pitching (using only one sinker, etc.) seems to have helped as well. My take on Liriano is that you are either a believer or you aren't. I am.
Bobby Jenks, RP, White Sox: Berry rank 172, group rank 117.
Cockcroft: Bobby Jenks might not feel like all that exciting a fantasy closer, but it seems like year in and year out, he gives solid, albeit unspectacular numbers. Do you have concerns about his wearing down?
Berry: Anyone who has read me for any amount of time knows I couldn't care less about closers. They are all the same, and, in ESPN standard 10-team leagues, which these rankings are based on, they're readily available on the waiver wire. Ryan Franklin, David Aardsma and Andrew Bailey are three recent examples.
With Jenks specifically, his ERA this year is basically a run worse than in the previous two years, his ERA in the second half last year was significantly worse than before the break, plus save opportunities are a crapshoot. I'll always be the lowest on closers and Jenks just does not seem as dominant as in years past.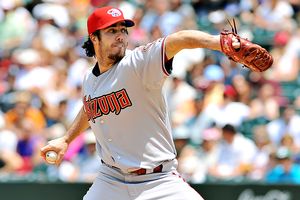 Ron Chenoy/US PresswireCan Dan Haren maintain his outstanding first half? Matthew Berry doesn't think so.
Dan Haren, SP, Diamondbacks: Berry rank 59, group rank 15.
Cockcroft: Inquiring minds must know: How is it that you could rank Dan Haren, the No. 2 player -- not just pitcher, player -- in all of fantasy in the season's first half, only 59th for the second half?
Berry: Nate Ravitz and I discussed this on Monday's podcast

and we've discussed it before. In each of the past three years, Dan Haren has been lights-out in the first half and has an ERA over 4 in the second half. Three straight years! He pitches for a bad team, so wins will be hard to come by, and in a bad pitchers' park. He has also given up 12 home runs so far this year, not a ton, but the most he has allowed in the first half in any of the past three seasons. That stat is there just for those who argue the second-half-past-three-years stat and say, "Yeah, but he's never been this dominant before." So, no, I don't expect him to sustain this kind of success.
Johan Santana, SP, Mets: Berry rank 52, group rank 18.
Cockcroft: I'm anticipating a little in advance that your Haren answer might have something to do with his career second-half track record. If you're playing that, it doesn't follow that you'd have Johan Santana, an annual second-half beast, only seven spots higher than Haren.
Berry: Fair enough and clearly, I'm a second-half stats guy. My argument against Santana is due to his team -- the Mets are barely better than a Triple-A team with all the injuries -- and his June. Santana's June numbers were brutal (6.19 ERA) and his strikeout rate was way down as well. From what I've watched, he doesn't seem to be the dominant guy he was. Still very good, yes, but not insanely good. I feel he rebounds somewhat, but I'd be lying if I said I wasn't concerned that something was amiss. He has never had that bad a stretch before.
Cliff Lee, SP, Indians: Cockcroft rank 80, group rank 105.
A lot of people seemed to hop off the Lee bandwagon after his back-to-back rough starts to begin the season, which came during a time when it became obvious the Indians weren't going to be consistent winners or even contenders. There's a real paranoia in the fantasy baseball world regarding pitchers on bad teams; there's so much emphasis placed on the win column, even though I think it's so much more a crapshoot today than it has ever been. Here's a good example: Since his poor first two starts of 2009, Lee has 15 quality starts in 17 tries, yet only four wins to show for it. That's some atrocious luck in the run-support department, and I'd lean more toward the fact that he has a 2.92 ERA, 1.32 WHIP and 83 K's in 117 innings during that span for future evaluation purposes.
Lee's recent numbers are really not all that far off his Cy Young stats from 2008, except for fewer wins and a slightly worse WHIP (due mostly to a somewhat inflated BABIP), and let's face it, if he was the Lee of 2008, I'd have ranked him higher than 80th. Even accounting for his diminished win potential -- which might yet have a cure if he's traded later this month -- I think he's still capable of a top-100 finish.
Scott Baker, SP, Twins: Cockcroft rank 187, group rank 133.
I was a huge believer in Baker at the onset of spring training, but it was during camp that a very troubling thing happened that changed my stance on him: He got clobbered during Grapefruit League competition and then word broke that a stiff shoulder was the cause. Baker has had a penchant for gopheritis all year, with a 1.6 HR/9 that is easily his highest in any full big league season, and 27 homers surrendered in 125 innings combined between the preseason and regular season.
Here's another warning sign: Against the top 10 teams in baseball going by OPS, Baker is 0-5 with a 9.64 ERA and nine homers allowed in five starts this season. Against everyone else, he's 7-2 with a 4.15 ERA and nine homers allowed in 12 turns. That hints at a guy whose stuff isn't quite as sharp as usual.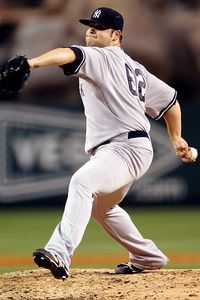 John Cordes/Icon SMITristan H. Cockcroft is starting to lose faith in Joba Chamberlain and his inefficient way.
Joba Chamberlain, SP/RP, Yankees: Cockcroft rank 173, group rank 150.
I watch this guy pitch almost every time out, and the two biggest complaints people have about him are dead-on: He's terribly inefficient with his pitches, and his velocity is down a tick or two from last year. Chamberlain was hammered in his final two starts of the season's first half, and don't make excuses that he was "wearing down"; he's on pace for a very reasonable 164 innings.
To say that Chamberlain belongs in the bullpen is an easy argument to make right now, but I stood by it in the preseason and I stand by it today. The guy nibbles way too much as a starter, whereas in the late innings he comes right at you with blazing fire. Not that I'd expect him to shift to the bullpen at this point, not with the state of the Yankees' rotation as it is, but I'm wary about his chances in a starting role.
Russell Branyan, 1B/3B, Mariners: Cockcroft rank 185, group rank 141.
Funny, as I was probably the highest on Branyan of the group in the preseason, and now I'm the lowest on him in our midseason rankings. Oh, how quickly opinions change. The power is for real, the everyday at-bats are for real, but in no way is the .280 batting average for real.
In his past 25 games, Branyan is a .200 hitter with a .773 OPS, and while his homer output during that span projects to a healthy 42 over a 150-game season, it shows the level to which he's a batting-average risk. Plus, another concern that people aren't taking into account: Branyan is on pace for 628 plate appearances, by far a personal best, and at age 33 I have to wonder whether some slight fatigue worries might come into play. Sure enough, even in his shorter past seasons, he has a career second-half OPS (.793) lower than his first half (.858). I'd advise caution.
Joe Nathan, RP, Twins: Cockcroft rank 49, group rank 69.
I find it interesting that everyone in our group seems higher on Twins starting pitchers than I am (Baker, Kevin Slowey, and, for the most part, Francisco Liriano), though if there's such optimism with them how could there not be with their closer? By the way, is Nathan not one of the most talented closers in baseball? All he did in the first half was save 23 games, second-most in the majors, rank second among closers on our Player Rater and posted what would represent his lowest ERA and WHIP of his career. He hasn't been scored upon since May 15, and is 17-for-17 in save chances with 19 2/3 innings, 28 strikeouts and a .108 batting average allowed in 21 appearances since then. What's not to like?
Javier Vazquez, SP, Braves: Grey rank 29, group rank 57.
Cockcroft: I never understood the Vazquez buzz in the preseason, and I still don't. C'mon, man, the guy's on pace for 11 wins and he was 24-32 with a 4.72 ERA in 73 second-half starts from 2004 to 2008!
Grey: You of all people know wins aren't everything, Tristan. Give me the skills and the rest should eventually fall in place. I also think we can put too much emphasis on past second-half splits, even if they are over a few years. It's just another arbitrary time period. Instead, let's talk about what Vazquez has done so far and what he can continue to do this year. Vazquez, a pitcher who has had a lot of poor luck in the past, was among my top pitching targets at the beginning of the season given the benefits of switching from U.S. Cellular to Turner Field and the expected strikeout bump moving back to the National League. His curveball is also massively improved this year. It's a perfect mix for a big season.
Think the first-half numbers of a 2.95 ERA and 1.05 WHIP are out of line? Think again. His modified curveball is posting the highest strikeout rate of his career, while he's also posting his lowest walk rate and best ground-ball rate. His BABIP of .316 is actually higher than his career mark, and his homers per fly ball are right at the norm. His FIP (fielding independent pitching) ERA is 2.49. It has been skill, a killer out pitch and the right team/park situation -- not luck. And that's why it can continue.
Sure, there may be some tiny regression, but he's still going to post an ERA in the low 3s and keep the rest of the numbers in line, and he has a good chance to keep up this level of production over the balance of the season.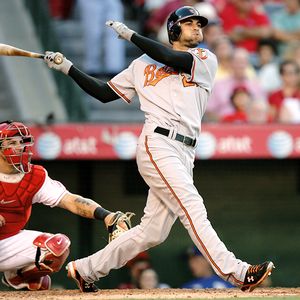 Larry Goren/Icon SMINick Markakis has plenty of talent but has been a minor disappointment so far this season, and Jason Grey doesn't see a huge uptick coming.
Nick Markakis, OF, Orioles: Grey rank 70, group rank 22.
Cockcroft: If you scale Nick Markakis' career second-half numbers to 162 games, he's a .316 hitter with 26 homers, 108 RBIs and a .909 OPS. Are you concerned about his recent funk, or is it something else?
Grey: Again, let's not put too much stock in second-half splits. It can be a dangerous thing to do. Look, I love Markakis as much as anyone, ever since sticking with him on multiple rosters when he was a rookie and flirting with the Mendoza line for the first two months of his career. He also has not had his best season yet. But .291 with eight homers and two steals isn't fantastic production worthy of being among the top players, and is actually disappointing for me at this juncture of both the season and his career.
Neither his average nor his power looks like it's going to take a huge leap forward, and we can't assume he's all of a sudden going to start running. He can repeat those numbers in the second half and have a fine season, but right now he's barely among the top 70 hitters on our Player Rater, much less the top 70 players overall. I could very easily be wrong, and hope I am, but I'm not automatically assuming a huge second-half surge.
Chris Carpenter, SP, Cardinals: Grey rank 48, group rank 90.
Cockcroft: I'm as big a Chris Carpenter fan as the next guy ... no, wait, not as much as you, apparently! Here's what I see: a pitcher who by all rights could rank 48th if healthy. But I think that's a big assumption to make.
Grey: In this exercise of midseason rankings, I am asking Carpenter to stay healthy for 2½ months, not a full season, and that is not an unreasonable expectation, especially as his injury issues in the first half were not related to his arm. He has shown he can still throw strikes, miss bats and get ground balls as though his life depended on it. Admittedly, I am taking a chance and hoping to get lucky, but I think it's a less risky play than most think, and the upside is clearly big.
Jason Bartlett, SS, Rays: Grey rank 55, group rank 98.
Cockcroft: Bartlett finished the first half ranked 24th on our Player Rater, and apparently you feel his performance is almost entirely legit?
Grey: When I see a player outperforming his previous levels of production, the first thing I look at is if there is anything fundamentally different about the way he's playing the game that may cause the change, and not just necessarily assume it's just a hot streak and the player is going to come back to earth. Bartlett has changed his swing and has gradually gotten better at reading pitchers and getting good jumps on the base paths, and we're seeing the results.
Bartlett has always had the speed to steal bases, so the 18 thefts are no surprise, and the fact he has gone 18-for-19 is a good sign for maintaining a good steals pace in the second half. The old scout adage is "speed doesn't slump." I admit his BABIP of .392 is high, which is keeping his batting average near .350, but we can't assume it's going to go completely in the tank, especially given his speed and previous averages around the .300 mark.
You may be asking about the eight homers. That goes back to the change in his swing. His ground-ball rate is half of what it was last season, a very significant change. He's opened up his swing a bit to try to drive the ball more and the result is that he's hitting with more authority, with more balls to the gaps and over the wall. He's been a bit more selective in attacking balls he can drive, instead of ones he can just make contact with, and he's rolling over fewer balls (and hitting fewer weak grounders as a result.) The homers are not necessarily a fluke. I thought that a month ago, but after watching him hit, I've changed my mind.
Will the numbers slide a bit in the second half? Sure, but not nearly as much as some think, and he's still going to be a pretty valuable shortstop, which is why I have him ranked where I do.
Jason Bay, OF, Red Sox: Harris rank 55, group rank 21.
Cockcroft: OK, Red Sox fan, you're the least optimistic about your own left fielder, one, by the way, who's on pace for 39 homers and 137 RBIs, one who had a monster August and September for Boston last year, and one who is currently playing for free-agent bucks.
Harris: That "on a pace" stuff is terrific, but did you know that after April and May, Bay was "on a pace" for 51 homers and 166 RBIs? Don't mistake that Bay for the one who hit .230 with a .301 on-base percentage in June. I'm not saying he's bad; I've got him listed as my 16th-best outfielder in baseball. But I didn't think he could keep up his torrid pace back in May, and I think his truth probably lies somewhere in between his amazing start and his flop-filled June. When you watch this guy every day (which I do), you see that he's one heck of a streaky hitter: either completely locked in or clueless, especially against off-speed stuff.
Adam Lind, OF, Blue Jays: Harris rank 136, group rank 74.
Cockcroft: Not a believer in Adam Lind? I just can't buy the argument that "he's bound to slow down sooner or later." The kid can rake and he has batted .331 with 11 homers and a 1.028 OPS since June 1 alone.
Harris: Oh, the irony. When I wrote the American League East player previews and made the statistical projection for Adam Lind, I set it at .280 with 20 homers and 80 RBIs. I actually got a tweak about that from one of our editors, that I was too high on Lind. Now that he's essentially met that projection in the first half, I'm too low. I went on TV in March saying this guy was going to be ownable in a standard mixed league, but now I hate him? Hmmm.
For me, there are a few things I look at for a home run hitter. One of them is home run per fly ball rate. Right now, Lind's is at 18.8 percent. That's really high -- as in top 25 in all of baseball. Consider that Lind still hits more grounders than fly balls (only eight of the 22 players ahead of Lind in HR/FB hit more grounders than fly balls, while 14 of them have 19 or more homers), and you see that Lind is a good candidate to drop off this homer pace. There's also something a little hinky in an OBP that jumps from .316 in '08 to .377 this year. Lind whiffs a lot (nearly 20 percent strikeout rate), and to me that means he's due for at least one bad midsummer drought.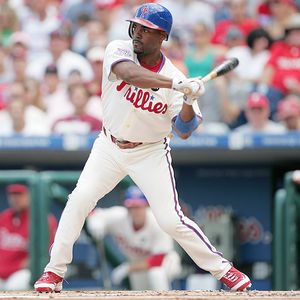 Paul Jasienski/Getty ImagesChristopher Harris believes Jimmy Rollins can come close to his old self again despite a subpar first half, but Eric Karabell doesn't buy it.
Jimmy Rollins, SS, Phillies: Harris rank 29, group rank 54.
Cockcroft: Maybe in the past I'd have been more confident that Jimmy Rollins would be able to contend for top-25 status. But bad as he has looked all year, I'm skeptical. What do you think he has left in the tank down the stretch?
Harris: You might want to amend that "all year" statement, mightn't you? After all, in 12 games in July, Rollins is hitting .378 with a .500 OBP and a 1.078 OPS to go with a homer and six steals. He's finally taking walks again, and his hitting mechanics, on which he worked so hard the past few weeks, are reportedly finally coming around. His manager saw difference enough to get J-Roll back in the lineup -- and the leadoff spot -- and it's paid off in a huge way. It's no coincidence that Philadelphia has won nine of its past 10 games with Rollins finally making solid contact. This strikes me as a case of a guy coming out of a protracted funk, and he'll make up for it in a big way in the second half. Rollins and Dustin Pedroia are two guys who finally look like their old selves again. Watch out.
Alexei Ramirez, 2B/SS, White Sox: Harris rank 40, group rank 68.
Cockcroft: You and I can go head-to-head on Alexei Ramirez; I just don't see him as being a consistent player and that detracts from his value no matter his specific, year-end Player Rater number (currently No. 93, incidentally).
Harris: I was never as high as the others were on Ramirez when we did our initial ranks back in January (when I ranked him No. 72) or even our re-ranks back in May (when I ranked him No. 82), but his June and (so far) July convinced me I was wrong just in time for everyone else at ESPN to give up on him? Wacky. I grant you that Ramirez is an inconsistent defensive shortstop, but I actually haven't found him to be that inconsistent at the plate. His walk rate was putrid last year (3.5 percent), but that's come up to 7.5 percent this year without any corresponding drop in strikeout rate (12.1 percent). I agree that his 21 homers in 509 plate appearances last year was probably inflated, but he's locked in on a 20-20 season this year, at minimum. I'm finally convinced (that seven-homer June had something to do with it) that Ramirez is a top-five fantasy shortstop the rest of the way.
Jason Bartlett, SS, Rays: Harris rank 168, group rank 98.
Cockcroft: Curious how you and Grey have such differing opinions on Jason Bartlett. Grey loves him; you're nowhere near as optimistic.
Harris: Hilariously, another player I was out on a limb for before the season started. I went on TV and suffered the slings and arrows of defending Bartlett as a mixed-league option when nobody thought he was, based on the fact that he'd run: 18 of his 20 steals last year came in the first half, before a leg injury limited him. And his 18 steals so far in '09 haven't disappointed. But I'm really interested to see what J-Grey's defense of Bartlett's bat is. He's got no track record of hitting like this. His previous career-high batting average was .309; he's hitting .347 now, bolstered by a .392 BABIP. He's already set a career high with eight homers, bolstered by a 9.5 percent HR/FB rate, double the best season of his career in that category. Since returning from injury, his average has gone down 26 points and his OPS has gone down 84 points and he's hit exactly one homer. This is a fluky first six weeks that just seems like more than that, because Bartlett was on the disabled list for a month. I have no hesitation saying that while the speed is for real, the rest isn't.
Jose Reyes, SS, Mets: Harris rank 68, group rank 119.
Cockcroft: You and I seem to be at least somewhat optimistic about Jose Reyes, but I felt a little dirty even ranking him 81st! Any speedster afraid to test his healing legs just scares me. What makes you more confident?
Harris: I have to admit I may be a little high on Reyes at No. 68, because I believed what now turns out to have been an erroneous Boston Globe report that Reyes was set to begin a rehab stint in the next few days. Unfortunately, he just received a cortisone shot in his hammy, so you'd have to figure he'll have to sit for a week or so to help that take effect. The Mets seemed optimistic about Reyes' return right after the break just a week or so ago, but apparently in stepping up his legwork, he must still be feeling pain. I mean, in the case of Reyes, even when he doesn't give you steals he's a very useful fantasy player (remember the .297 average last year, the 16 homers, the 68 RBIs, the sick 113 runs scored), so if he's back out on the field in the leadoff spot, I think his fantasy upside is very high, even if he doesn't have the green light. But yeah, a lot of the tale will be told on Reyes in the next week to 10 days.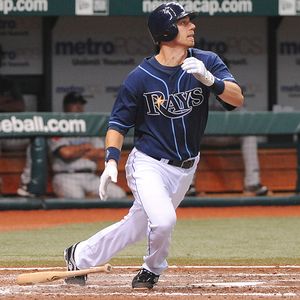 Al Messerschmidt/Getty ImagesInstead, Eric Karabell believes Ben Zobrist will continue to be a fantasy star.
Ben Zobrist, 2B/SS/OF, Rays: Karabell rank 43, group rank 108.
Cockcroft: We've discussed Ben Zobrist before, and sure, the dude is batting .297 and on pace for 32 homers and 99 RBIs. That's a great season, absolutely, but are you really expecting those final numbers?
Karabell: Absolutely! I never understand why people simply assume a guy performing at a very high level for three months can't continue that success. Zobrist isn't some 22-year-old kid, and these are big-boy numbers he's putting up. Plus, you conveniently left out the 11 steals, the pace for 95 runs, and the fact he's eligible at both middle infield spots and outfield. That matters for his rank, too. If I told you a middle infielder was on pace for 32-99-21 you wouldn't select him in the top 50? You would if Alexei Ramirez was doing it. Just ignore the fact this is Zobrist's first time doing it, because I don't see a problem moving forward.
Adam Jones, OF, Orioles: Karabell rank 123, group rank 63.
Cockcroft: Adam Jones has firmly established himself as one of 2009's biggest breakout candidates, and while I'd agree that you're not condemning his second-half chances, it seems like you expect some regression. Why is that?
Karabell: What Jones did in June, hitting .229 with no power and no speed, really looked like a young player hitting a wall to me, or someone who was not making the proper adjustments at the plate as pitchers figured him out. A breakout is wonderful until the numbers become below average. Jones is a rising talent, and will see more All-Star Games in his future, but he's not stealing bases, and I think his batting average could see a significant drop as he continues his Alfonso Soriano approach to swinging at everything. I definitely see regression this season from him and, for that matter, quite a few of the Baltimore hitters as the losses pile up.
Jimmy Rollins, SS, Phillies: Karabell rank 98, group rank 54.
Cockcroft: OK, Phillies fan, I saw what you were talking about: Jimmy Rollins looks like he either isn't properly motivated or has lost a step. Not sure which it is, or if it's something else, but would you share your insight on him?
Karabell: I just can't buy that Rollins is going to be a special fantasy player this season just because he has been in the past. We saw regression from him last season as well, though he salvaged things in September. Can we assume that happens again? I wish I knew what the reason was for his play, but it's an across-the-board drop, really. Power, speed, among the league's worst for range in the field -- it's all negative. If Rollins continues his pace for 14 home runs and 31 steals, it would make him a top-100 player, but I'm not sure why we expect he'll hit better than .250 the rest of the way, which cancels some of the cumulative stats out. Look, I hope he figures things out, but just because a former MVP is hitting .230 or so at the All-Star break doesn't mean he's due for a big second half.
Cole Hamels, SP, Phillies: Karabell rank 93, group rank 80.
Cockcroft: The same thing goes for Cole Hamels. Heading into the year everyone seemed to think the guy was destined for Cy Young votes and a top-10 finish at the position. Do you really see slim-to-no chance of that?
Karabell: Well, you know I'm not anti-Phillies, so that can't be it. Hamels has many red flags, really, not the least of which is a huge rise in innings in 2008, and he hasn't shown much consistency this season, unless you're talking about how he's getting pounded on the road for a 6.34 ERA, .352 batting average against, and has a low K rate. It's not that I think he's automatically out of the top 10 or 15 among starting pitchers, but let's be realistic about him. There's upside here, but the World Series run has clouded Hamels' fantasy value. That high price is why I don't own him on any teams.
Trevor Hoffman, RP, Brewers: Karabell rank 85, group rank 138.
Cockcroft: Trevor Hoffman is a closer past 40 years old on a team one would have to think can't keep up this pace without making another CC Sabathia-like midseason trade. What makes you think he'll remain a top-100 fantasy option?
Karabell: I don't think it matters one bit how old he is, or whether the Brewers make improvements to their starting rotation. Saves count the same whether it's Sabathia starting or Dave Bush, don't they? And I can tell you this: Bush isn't finishing what he's started. Sabathia was! Hoffman has proved he's far from toast so far, and the Brewers will be contenders and give him plenty of leads to protect. Even missing nearly all of April, Hoffman is capable of saving 40 games because he doesn't issue walks or home runs. I generally wouldn't take a closer like him if he had to go in the first 10 rounds, but since your take reflects what many believe about the all-time saves leader, I wouldn't have to.
Dan Uggla, 2B, Marlins: Mass rank 98, group rank 128.
Cockcroft: If you look at Dan Uggla's career second-half numbers, boy, he seems to live up to his name. A .243 batting average and a .770 OPS? Sounds like his year-to-date stats! How is it you see him cracking the top 100 players?
Mass: Call this a hunch based on the injury status of Hanley Ramirez. Uggla is hitting .370 this season from the third spot in the Marlins' lineup, a place he sees only when Han-Ram is unable to play. While I don't think the hip flexor problem causes Ramirez to miss a lot of action, he's bound to miss at least a few games along the way. Uggla's stats should see enough of a bump during those at-bats to sneak into the top 100.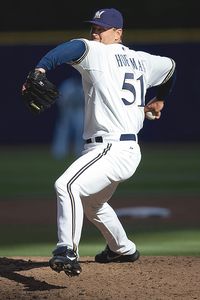 Jeff Hanisch/US PresswireAJ Mass doesn't usually buy closers, even established guys like Trevor Hoffman.
Trevor Hoffman, RP, Brewers: Mass rank 203, group rank 138.
Cockcroft: Hey, what do you have against the elderly? Trevor Hoffman's not even worthy of a top-200 ranking? Ouch. I think Karabell had the all-time saves leader ranked a tad high, but you've gone entirely in the opposite direction. Is it that you think he's a risk to lose the job, or that he's due for a second-half swoon?
Mass: No disrespect to the man who put the "hell" in "Hell's Bells" all those years in San Diego, but the 2009 version hasn't been all that scary. He's got the lowest K/9 rate of his career (6.8) and his highest BB/9 (2.39) since 2003. Plus, even in his prime, he never went through an entire season without allowing a home run, so there's at least one and maybe more coming in the second half. "Paging, Mr. Hoffman … Swoon on Line 2."
Josh Beckett, SP, Red Sox: Mass rank 87, group rank 47.
Yovani Gallardo, SP, Brewers: Mass rank 72, group rank 42.
Cockcroft: I'm curious whether your ranks of Josh Beckett and Yovani Gallardo are based more on performance or injury. The group seems to regard them as top-50 capable, but why are you proceeding with caution?
Mass: This one just goes to my natural bias against pitchers, especially as the year goes on. I like both of these guys: Yo-Ga is my No. 10 starter and Beckett is my No. 14. However, we're talking about value "from this point forward" and pitchers, especially starters, don't have as much impact as hitters do. At this point of the season, your team ERA and WHIP aren't going to move all that much, except in a negative direction, so their value comes more from preservation of the status quo than bringing you a late-season surge in the standings.
CC Sabathia, SP, Yankees: Mass rank 52, group rank 30.
Vernon Wells, OF, Blue Jays: Mass rank 57, group rank 112.
Cockcroft: CC Sabathia was just about as untouchable as a fantasy pitcher could be during a pennant race down the stretch last season, and he's a Yankee, with oodles of run support and guaranteed meaningful September games ahead. Meanwhile, Vernon Wells -- who has played every game, mind you -- finds himself on pace for a miserable .263 batting average, 16 homers and 68 RBIs. Yet you've got him only a few short steps behind Sabathia, just outside the top 50?
Mass: Again, the comparison with Sabathia simply goes to my starting pitcher bias, rather than a rousing endorsement of Wells in comparison. CC is my No. 6 starter overall, so I don't disagree with your assessment of his value relative to other pitchers -- just to hitters in general who can provide help in far more categories. Obviously, in a head-to-head format, all starters deserve a jump in my rankings, but most owners in those leagues play the week-to-week matchup game anyway, rather than utilizing the long-term view that our rankings provide. As far as outfielders go, Wells ranks No. 22, which I think is appropriate for a guy who I still think ends up going 25-25, despite the low batting average to date.
Tristan H. Cockcroft is a fantasy baseball analyst for ESPN.com and a two-time champion of the League of Alternative Baseball Reality (LABR) experts league. You can e-mail him here.
Fantasy
Senior writer for ESPN.com
Co-host of the Fantasy Focus Baseball podcast
Two-time LABR, two-time Tout Wars champion
Member of the FSWA Hall of Fame
SPONSORED HEADLINES
FANTASY TOP HEADLINES
MOST SENT STORIES ON ESPN.COM