Commentary
Fantasy Camp Notes: Lidge ahead of schedule
Updated:
March 12, 2008, 2:24 PM ET
By
AJ Mass
| ESPN.com
Here's some of the latest news from around spring training, and what it means from a fantasy point of view:
• Brad Lidge may not miss as much time as originally thought, according to the Phillies' Web site. The Philadelphia closer threw off a mound on Monday for the first time since having arthroscopic knee surgery. He'll throw another bullpen session on Wednesday, then either live batting practice or a simulated game by Friday. "He was very impressive," pitching coach Rich Dubee said. "Watching him throw as naturally as he did makes us feel great." Lidge, in his mind, will be ready for Opening Day. While Dubee wouldn't go that far, he certainly didn't find the claim to be out of the realm of possibility, calling March 31 "in the neighborhood." If so, it will be a beautiful day in the Phillies' neighborhood indeed.
• The Astros' Michael Bourn, who had missed two games with back spasms, led off and went 2-for-4 including a solo home run in the fourth inning. Two batters later, Hunter Pence sent a first-pitch homer over the left-field fence. Bourn is now batting .345 for the spring, and Pence is even better, hitting at a .351 clip.
As much as new Astros manager Cecil Cooper liked what he saw in his young outfield talent, he was far more impressed with Brandon Backe's outing. Backe, who was limited to five starts last September after undergoing Tommy John surgery in 2006, pitched four scoreless innings Tuesday against the Reds. Backe told the Houston Chronicle that he didn't want to be babied in spring training. "I don't want the surgery to be used as an excuse," he said. Another couple of outings like this one, and Backe could well earn himself the No. 2 spot in the rotation behind Roy Oswalt.
• For the other Texas team, the Rangers, the news is not nearly as bright. The team's Web site reports that promising prospect Travis Metcalf, who had been hitting .412 with two home runs in Grapefruit League action, returned to Dallas and is expected to be out six to eight weeks with a torn left hamstring tendon that will require surgery. Metcalf hit .255 in 57 games last season and filled in admirably for Hank Blalock after the third baseman got hurt. His performance so far was leading to a possible roster spot, but now those hopes appear to be gone. "Obviously I don't want to deal with this, especially when I'm swinging the bat well," Metcalf said. "It's a bad situation, but I just want to take care of it and not have it linger into the season."
The news on teammate Brandon McCarthy is also disappointing. The right-hander originally was expected to be out four to six weeks with a right forearm strain, but a club spokesman said Tuesday that it now will likely will be four to eight weeks.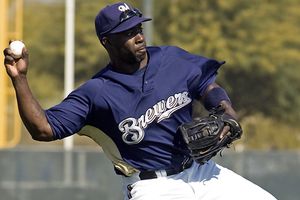 AP Photo/Morry GashBill Hall has 66 career starts as a third baseman.
• Call
Bill Hall
"The Yo-Yo." Though the Brewers moved him from shortstop to the outfield last season, Hall now finds himself summoned back to the infield, this time at third base. Defensively, he seems to be doing just fine replacing
Ryan Braun
, who himself is moving to left field to replace the departed
Geoff Jenkins
. "I've been in the infield my whole life outside of one year, which was last year, so it's an easy adjustment going back to the infield," Hall said, according to the Associated Press. "Once you know how to field ground balls it's kind of like riding a bike, you never really forget, it just takes a little while to get back on, get comfortable." Now that Hall has reached a comfort level in the field, perhaps his hitting can rebound as well. Hall has managed to hit only .222 so far this spring.
Meanwhile, Ben Sheets got hammered against the usually anemic Giants' offense. According to the Brewers' Web site, Sheets was scheduled to go four innings, but couldn't go more than three, allowing five runs on eight hits and three walks. Up until now Sheets had not given up a run this spring, so there's no need to panic yet, but certainly the performance is not the right direction for a team's top starter to be headed.
• Chien-Ming Wang appears to be back on track, according to the Yankees' official Web site. After failing to make it out of the first inning against the Reds in his last start, Wang righted the ship against the Blue Jays. The right-hander allowed only two hits, struck out one and walked none in 3.2 solid innings of work. The Yankees were without Johnny Damon, who had X-rays and an MRI taken on his injured right foot at a local hospital on Tuesday. Both were negative. Damon had fouled a ball off his foot on Monday and was walking gingerly. He is being listed as day-to-day.
Damon's injury has opened up a spot in the lineup for Thursday's game against the Pirates, which apparently may be taken by 60-year-old rookie, Billy Crystal. Yes, apparently New York is signing the actor-comedian and longtime Yankees fan to a one-day contract; a move that MLB.com reports has the blessing of Commissioner Bud Selig. This is one form of fantasy baseball that we simply cannot get behind. But who knows, maybe he can manage a weak infield single, after which you can convince one of the more gullible owners in your league that this Crystal kid is the next Donnie Baseball.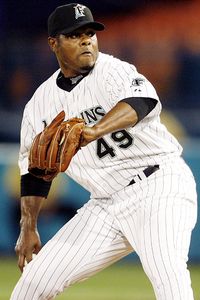 Richard C. Lewis/WireImageArmando Benitez, who split time between the Giants and Marlins in 2007, missed the end of the season with a back injury.
• The Blue Jays' official Web site reports that the quest of
Gustavo Chacin
to make the Toronto rotation has ended. Chacin was removed from his first start of the spring after allowing four runs in two innings Tuesday against the Yankees. "He has to build his arm back up. He's not throwing really hard, but that's going to come with time," manager John Gibbons said, "With what he's coming off of, it's going to take a while to build that." Multiple injuries have limited Chacin's performance over the past two seasons, who began last season as Toronto's No. 3 starter. After Chacin's poor performance and
Casey Janssen
hurting his shoulder on Tuesday, it appears that
Jesse Litsch
is now the front-runner for the lone vacancy in the Jays' rotation. (Editor's note: It has now been reported that Casey Janssen has a torn labrum and is out for the season.)
Looking to add depth, the Jays have signed veteran Armando Benitez to a minor league contract. Even if he makes the team, it's hard to imagine Benitez, who walked 29 batters and allowed eight home runs in only 50 1/3 innings in 2007, having any fantasy value behind B.J. Ryan, Jeremy Accardo and the resurgent Brandon League, but it should be noted that Benitez can still register a strikeout per inning and that he has a streak of 10 consecutive seasons with at least nine saves. Of course, all good streaks must come to an end.
• An MRI of Cardinals starting pitcher Joel Piñeiro's shoulder showed no structural damage, but it is not known when he'll be cleared to return to a mound. "We're optimistic again," manager Tony La Russa said, according to the St. Louis Post-Dispatch. "We'll see when he's ready to throw." The Cardinals can ill-afford to lose Piñeiro for too long. With Matt Clement and Anthony Reyes already having missed starts and Mark Mulder and Chris Carpenter still recovering from their respective surgeries, there aren't too many arms left to choose from. Names like Todd Wellemeyer and Brad Thompson probably aren't going to elicit "oohs and aahs" in draft rooms around America, but they are all the team has to put out there on the mound for a few months. Carpenter is still looking at a July return, but made major progress according to the Cardinals' Web site, throwing off a mound on Tuesday for the first time since his Tommy John procedure. "It was good," Carpenter said. "It was fun. I think I made 20 pitches. I got the ball going down real good. It came out nice. Everything was good."
• When the Dodgers face off against the Padres in two exhibition games in China later this week, Andruw Jones and Matt Kemp will be the team's only projected starters on hand for the affair. According to the Dodgers' official Web site, Nomar Garciaparra has been scratched from the team's trip. After getting hit by a pitch last week, Garciaparra's wrist swelled up, and it hasn't improved enough to allow the veteran to make the journey overseas. "We want to make sure it's improving every day, and it is," Garciaparra said. "It hasn't stalled in healing and it hasn't gone backwards. We're moving forward, so that's a good sign." No timetable has yet been set for Nomar's return, but with Andy LaRoche now sidelined for eight to 10 weeks after needing surgery to repair a torn ligament in his right thumb, the Dodgers certainly are hoping for that healing to move way faster than say, a slow boat to China.
• Cubs outfielder Felix Pie will miss the next three to five days while he recovers from surgery, according to the Chicago Tribune. In his absence, Sam Fuld will have one last chance to make a case for playing time in center field, needing to improve on his .158 average this spring to have any chance of displacing Pie. Manager Lou Piniella said Pie's "situation" -- a twisted testicle -- wouldn't have any long-term impact on the outfield competition, though it's likely Pie will be exposed to lots of friendly ribbing from his teammates. Hopefully, Pie will be able to shrug all that off and continue his significant progress toward becoming a key contributor in Chicago.
AJ Mass is a fantasy football, baseball and college basketball analyst for ESPN.com. You can e-mail him here.
SPONSORED HEADLINES
FANTASY TOP HEADLINES
MOST SENT STORIES ON ESPN.COM