Commentary
Daily Notes for Tuesday: Another tough test for E-Jax, Eveland
Updated:
April 14, 2008, 4:36 PM ET
By
Will Harris
| Special to ESPN.com
Tuesday's slate includes the third outings for three young American League hurlers -- Toronto's Shaun Marcum, Tampa Bay's Edwin Jackson and Oakland's Dana Eveland -- who are all off to terrific starts. Marcum experienced enough success last year to become a mixed-league mainstay in 2008, but Jackson and Eveland are still largely unowned in ESPN standard leagues. Let's go to it.
Matchups for Tuesday, April 15
Time
Visitors
L/R
Record
ERA
WHIP
Home
L/R
Record
ERA
WHIP
2:05 p.m.
Dana Eveland
L
1-0
0.68
0.98

@

John Danks
L
0-1
8.00
1.56
2:05 p.m.
Dustin Moseley
R
1-1
7.36
1.64

@

Kevin Millwood
R
1-2
1.29
1.33
4:35 p.m.
Micah Owings
R
2-0
2.68
0.88

@

Kevin Correia
R
1-1
2.63
1.17
6:40 p.m.
John Bale
L
0-2
5.84
1.62

@

Miguel Batista
R
0-2
6.00
1.83
7:05 p.m.
Shawn Chacon
R
0-0
3.75
1.42

@

Kyle Kendrick
R
1-1
6.14
2.73
7:05 p.m.
Shaun Marcum
R
1-0
2.57
0.79

@

Steve Trachsel
R
1-1
3.00
1.25
7:05 p.m.
Tim Wakefield
R
1-0
3.27
1.55

@

Paul Byrd
R
0-2
11.05
2.32
7:05 p.m.
Scott Baker
R
2-0
4.63
1.11

@

Nate Robertson
L
0-1
7.84
1.84
7:10 p.m.
Collin Balester
R
0-0
0.00
0.00

@

Mike Pelfrey
R
1-0
3.60
1.40
7:10 p.m.
Jair Jurrjens
R
1-1
4.38
1.54

@

Scott Olsen
L
1-0
4.61
1.24
7:10 p.m.
Andy Pettitte
L
1-1
3.09
1.46

@

Edwin Jackson
R
2-0
0.64
0.93
8:05 p.m.
Aaron Harang
R
1-1
2.14
0.90

@

Ryan Dempster
R
1-0
0.69
0.62
8:15 p.m.
Dave Bush
R
0-2
8.44
1.87

@

Adam Wainwright
R
1-1
3.60
1.13
10:05 p.m.
Ubaldo Jimenez
R
1-1
4.91
2.00

@

Randy Wolf
L
0-0
2.25
1.00
10:10 p.m.
Matt Morris
R
0-1
5.25
1.92

@

Hong-Chih Kuo
L
0-0
0.00
1.20
All times are ET. Statistics are from the 2008 regular season.
Injury report
Out
Willy Aybar, 3B, Rays (hamstring)
Michael Barrett, C, Padres (elbow)
Cliff Floyd, OF, Rays (knee)
Tony Gwynn, OF, Brewers (hamstring)
Mike Lowell, 3B, Red Sox (thumb)
Dave Roberts, OF, Giants (knee)
Rafael Soriano, RP, Braves (elbow)
Ryan Sweeney, OF, A's (quad)
Shane Victorino, OF, Phillies (calf)
Ty Wigginton, 3B, Astros (thumb)

Day-to-day
Orlando Cabrera, SS, White Sox (head)
David DeJesus, OF, Royals (ankle)
Carlos Guillen, 1B/SS, Tigers (hamstring)
Torii Hunter, OF, Angels (toe)
Derek Jeter, SS, Yankees (quad)
Chipper Jones, 3B, Braves (quad)
Adam LaRoche, 1B, Pirates (illness)
Jose Reyes, SS, Mets (hamstring)
Francisco Rodriguez, OF, Angels (ankle)
Jimmy Rollins, SS, Yankees (ankle)

Start 'em, sit 'em
Hitters: Chone Figgins might be hitting better than .400 so far this year, but he belongs on the bench Tuesday. The Angels third baseman is an amazing 0-for-21 versus Rangers right-hander Kevin Millwood. … Jason Varitek is 7-for-18 with a .611 slugging percentage against Cleveland starter Paul Byrd. … Corey Patterson has decimated Pirates right-hander Matt Morris. In 38 at-bats against Morris in his career, Patterson has managed 14 hits -- four of which were home runs -- and 11 RBIs. … Expect to see Nick Punto and Craig Monroe get starts over Mike Lamb and Denard Span, respectively, when the Twins face Detroit lefty Nate Robertson.
Pitchers: Micah Owings is off to a great start, and he draws the offensively challenged Giants on Tuesday. Owings has held the current San Francisco roster to a miserable line of .171/.209/.244 in 41 at-bats. Oh, and three of the club's seven hits off Owings came from the bat of the currently injured Dave Roberts. … Randy Wolf is a good bet for success at home in Petco on Tuesday against a Rockies team that has struggled to score runs this year.
Waiver-Wire pickups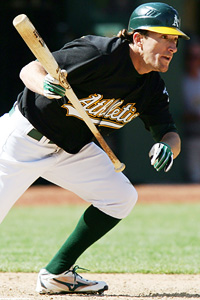 Phil Carter/US PresswireChris Denorfia could be a nice fill-in option the next few days.
Hitters:
With Oakland's Ryan Sweeney ailing,
Chris Denorfia
has a chance to reclaim some playing time in center field. Denorfia has been reduced to occupying the right-handed side of a platoon but would be a dark-horse, 20-20 candidate as an everyday player. Pick him up while Sweeney is out. … With more walks than strikeouts last year and so far this year, Orioles veteran Steve Trachsel has demonstrated that his days as an effective starter are over. Any starting hitter for the opposition -- the Blue Jays, in Tuesday's case -- is a solid spot start with Trachsel on the mound. …
Mike Morse
likely will start over
Brad Wilkerson
in right field when Seattle faces Royals left-hander John Bale. … Twins second baseman
Brendan Harris
was leading the majors with a .471 batting average as of Saturday. He's also 3-for-6 with a home run in his career against Tigers left-hander Nate Robertson. … Dodgers manager Joe Torre has been criticized for his distribution of playing time in the outfield, but the mess hasn't affected
Andre Ethier
. He has been one of the league's hottest hitters and is still unowned in the majority of ESPN leagues. …
Jonny Gomes
should be in Tuesday's lineup since the Rays face a left-hander. This time it's Andy Pettitte, against whom Gomes has had some success in the past.
Pitchers: Twins starter Scott Baker's ERA isn't gaudy, but nine strikeouts against one walk show the 26-year old's excellent command. Don't hesitate to use him against the struggling Tigers on Tuesday. … Ryan Dempster can't be counted on to maintain his torrid pace for long, but it's a good idea to use him while he's pitching so well, especially as flammable Reds starter Josh Fogg will make it easy for Dempster's teammates to supply him with plenty of run support.
Weather concerns
Games at Seattle and Tampa are always weatherproof, and Tuesday's forecasts call for clear conditions for the other games.
Will Harris is a fantasy baseball and college football analyst for ESPN.com
SPONSORED HEADLINES
FANTASY TOP HEADLINES
MOST SENT STORIES ON ESPN.COM