Commentary
Daily Notes for Tuesday: Time to bench Sabathia, Verlander?
Updated:
April 21, 2008, 1:51 PM ET
By
Will Harris
| ESPN.com
In 2007 Justin Verlander, C.C. Sabathia and Ted Lilly won a combined 52 games. None posted an ERA worse than 3.83 or a WHIP worse than 1.23. This year, however, is a different story. The trio is a combined 0-9, with ERAs ranging from 7.03 to 13.50. All three pitchers are almost certain to finish the season with better numbers than the current ones that will be displayed on the Jumbotron on Tuesday. Yet pitchers are strange, streaky, fickle creatures. In the present, these three past and future stars are better left on the bench until they exhibit clear signs of progress.
Matchups for Tuesday, April 22
Time
Visitors
L/R
Record
ERA
WHIP
Home
L/R
Record
ERA
WHIP
1:05 p.m.
Kyle Lohse
R
2-0
1.48
1.03

@

Manny Parra
L
1-1
5.40
1.65
2:20 p.m.
Nelson Figueroa
R
1-0
3.60
0.80

@

Ted Lilly
L
0-3
9.16
1.71
7:00 p.m.
John Lannan
L
0-2
4.86
1.56

@

John Smoltz
R
3-0
0.56
1.00
7:05 p.m.
Jered Weaver
R
1-3
3.60
1.28

@

Josh Beckett
R
2-1
5.12
1.03
7:05 p.m.
Vicente Padilla
R
2-1
3.12
1.54

@

Justin Verlander
R
0-3
7.03
1.40
7:05 p.m.
Ricky Nolasco
R
1-1
6.46
1.43

@

Paul Maholm
L
0-2
5.28
1.76
7:10 p.m.
Jesse Litsch
R
2-0
4.60
1.60

@

James Shields
R
1-1
3.52
1.48
7:10 p.m.
Hong-Chih Kuo
L
0-0
0.79
1.15

@

Edinson Volquez
R
2-0
1.17
1.37
8:05 p.m.
Jake Peavy
R
3-0
1.20
0.90

@

Brandon Backe
R
1-2
4.26
2.05
8:10 p.m.
C.C. Sabathia
L
0-3
13.50
2.56

@

Gil Meche
R
1-2
6.08
1.61
8:11 p.m.
Chien-Ming Wang
R
3-0
3.81
1.08

@

Jose Contreras
R
1-1
4.34
1.45
8:35 p.m.
Brett Myers
R
2-1
3.96
1.16

@

Jeff Francis
L
1-2
5.89
1.47
9:40 p.m.
Barry Zito
L
0-4
4.50
1.68

@

Brandon Webb
R
4-0
1.86
0.79
10:05 p.m.
Livan Hernandez
R
3-0
3.00
1.22

@

Joe Blanton
R
1-3
4.24
1.41
10:10 p.m.
Adam Loewen
L
0-1
6.32
1.79

@

Felix Hernandez
R
2-0
1.47
1.17
All times are ET. Statistics are from the 2008 regular season.
Injury report
Out
Adam Everett, SS, Twins (shoulder)
Jimmy Rollins, SS, Phillies (ankle)
Howie Kendrick, 2B, Angels (hamstring)
Marlon Byrd, OF, Rangers (knee)

Day-to-day
Alex Rodriguez, 3B, Yankees (quad)
Chris Young, OF, Diamondbacks (illness)
Chipper Jones, 3B, Braves (quad)
Gary Sheffield, DH, Tigers (shoulder)
David DeJesus, OF, Royals (toe)
Gabe Kapler, OF, Brewers (shoulder)
Brian Schneider, C, Mets (forearm)
Travis Buck, OF, A's (shin)
Jason Bartlett, SS, Rays (shoulder)
Carlos Pena, 1B, Rays (hamstring)

Start 'em, sit 'em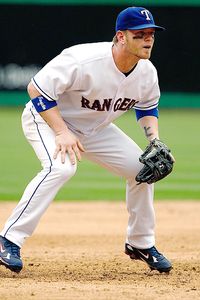 Chris Graythen/Getty ImagesThe red-hot Hank Blalock is itching to face the struggling Justin Verlander.
Hitters:
Don't expect
Coco Crisp
to start over
Jacoby Ellsbury
when Boston hosts the Angels. Crisp is 1-for-11 against right-hander Jered Weaver. ...
Hank Blalock
is heating up. He's 12-for-25 with two home runs during the past six games; get him active for his meeting with struggling Tigers starter Justin Verlander. ...
Jhonny Peralta
is hitting only .227 so far this year, but don't bench the struggling Cleveland shortstop Tuesday: He's 8-for-16 against Royals starter Gil Meche. ...
Aubrey Huff
should sit Tuesday. He is only 4-for-22 during the past week. Mariners starter Felix Hernandez has been nearly untouchable so far this year, and Huff hasn't had any luck with him in the past anyway. ...
Lance Berkman
may be a stud, but he's only 6-for-30 with 11 strikeouts versus Padres ace Jake Peavy. Sit him if you have another option.
Pitchers: Don't be seduced by the 11 strikeouts in six innings that Washington starter John Lannan recorded in his last outing. Lannan is a finesse pitcher unlikely to ever repeat the achievement; he'll never be a good spot start in mixed leagues. ... Edinson Volquez has allowed only two runs in his first three starts. Make sure he's active against the struggling Dodgers, who have managed just six runs in the past five games. ... Remarkably, Barry Zito is still owned in nearly a fifth of ESPN leagues. Be sure he's on the bench Tuesday when he travels to Chase Field to face baseball's highest-scoring team.
Waiver-wire pickups
Hitters: Craig Monroe should pick up a start Tuesday. He's 7-for-11 versus A's starter Joe Blanton. ... Expect to see veteran Craig Counsell at the hot corner for Milwaukee on Tuesday. Counsell is 7-for-13 against Cardinals starter Kyle Lohse, while starting third baseman Bill Hall is only 1-for-10. ... Cubs shortstop Ryan Theriot has been crushing the ball lately, posting a 1.348 OPS in 30 plate appearances over the past week. ... With left-hander Jeff Francis on the mound, Jayson Werth will start over platoonmate Geoff Jenkins in the second game of the Phillies' series in Coors Field. Werth is off to a decent start this season and is 3-for-10 with three doubles against Francis.
Pitchers: Jose Contreras should be considered for a spot start. The former Yankee has pitched well in six starts against his old team and was in excellent form in his latest outing. ... Ricky Nolasco has poor overall numbers so far, but he's worth a look against a struggling Pirates offense that's managed more than two runs just once during the team's five-game losing skid. Nolasco has owned Pittsburgh in 17 career innings, posting a 1.08 ERA and holding the team's current roster to an ugly .182/.238/.200 line in 55 at-bats. Also, Nolasco silenced the Bucs for 2 2/3 innings back on April 6.
Weather concerns
Games at Tampa, Seattle, Milwaukee and Houston are always weatherproof. Scattered rain and storms across the Midwest could threaten the Indians at Royals as well as both games in Chicago.
Will Harris is a fantasy baseball and college football analyst for ESPN.com
Betting
College football handicapper
Covering fantasy sports for ESPN since 2008
SPONSORED HEADLINES
FANTASY TOP HEADLINES
MOST SENT STORIES ON ESPN.COM