Commentary
Daily Notes for Tuesday: Unbeaten Smith, Saunders square off
Updated:
April 28, 2008, 2:12 PM ET
By
Will Harris
| Special to ESPN.com
It is now four weeks into the 2008 season and the best records in the American League belong to the West division-leading Los Angeles Angels and Oakland Athletics. A big part of the teams' success will be on display Tuesday night when two undefeated, young finesse left-handers take the hill. Greg Smith has given his team 25 solid innings so far, but he's owned in only 5 percent of ESPN leagues. Meanwhile, Angels starter Joe Saunders is owned in more than 94 percent of leagues. The 26-year-old has improved each year since reaching the majors.
Matchups for Tuesday, April 29
Time
Visitors
L/R
Record
ERA
WHIP
Home
L/R
Record
ERA
WHIP
7:05 p.m.
Jason Hammel
R
2-1
4.32
1.24

@

Garrett Olson
L
0-0
0.00
0.00
7:05 p.m.
Roy Halladay
R
2-3
3.73
1.15

@

Daisuke Matsuzaka
R
4-0
3.14
1.22
7:05 p.m.
Carlos Silva
R
3-0
2.83
1.17

@

Fausto Carmona
R
3-1
2.89
1.71
7:05 p.m.
Kenny Rogers
L
1-3
7.66
1.91

@

Phil Hughes
R
0-3
7.85
1.96
7:05 p.m.
Greg Maddux
R
2-1
3.66
1.06

@

Cole Hamels
L
2-3
2.75
1.08
7:10 p.m.
Tom Glavine
L
0-1
2.38
1.68

@

Tim Redding
R
3-2
3.67
1.22
7:10 p.m.
Tom Gorzelanny
L
1-3
8.46
2.06

@

Oliver Perez
L
2-1
4.64
1.69
7:10 p.m.
Derek Lowe
R
2-1
2.45
1.19

@

Andrew Miller
L
1-2
7.94
2.21
8:05 p.m.
Brett Tomko
R
1-3
5.25
1.50

@

Jason Jennings
R
0-4
7.46
1.74
8:05 p.m.
Ben Sheets
R
3-0
0.96
0.64

@

Jason Marquis
R
1-0
3.47
1.50
8:10 p.m.
Gavin Floyd
R
2-0
2.84
1.03

@

Boof Bonser
R
1-4
4.34
1.28
8:15 p.m.
Johnny Cueto
R
1-2
4.05
0.87

@

Joel Pineiro
R
1-2
5.29
1.41
9:40 p.m.
Jack Cassel
R
1-0
5.40
1.40

@

Edgar Gonzalez
R
1-1
4.66
1.55
10:05 p.m.
Greg Smith
L
2-0
2.88
1.16

@

Joe Saunders
L
4-0
2.55
1.02
10:15 p.m.
Aaron Cook
R
3-1
2.91
1.03

@

Tim Lincecum
R
4-0
1.23
1.40
All times are ET. Statistics are from the 2008 regular season.
Injury report
Out
Travis Buck, OF, A's (shin)
Sean Casey, 1B, Red Sox (hip)
Kevin Correia, SP, Giants (oblique)
Nomar Garciaparra, 3B, Dodgers (calf)
Howie Kendrick, 2B, Angels (hamstring)
Jorge Posada, C, Yankees (shoulder)
Brian Schneider, C, Mets (thumb)
Jake Westbrook, SP, Indians (ribs)

Day-to-day
Hank Blalock, 3B, Rangers (hamstring)
Mike Cameron, OF, Brewers (suspension served)
Yunel Escobar, SS, Braves (finger)
Troy Glaus, 3B, Cardinals (eye)
Carlos Gomez, OF, Twins (calf)
Mark Grudzielanek, 2B, Royals (back)
Cesar Izturis, SS, Cardinals (forearm)
Maicer Izturis, 2B, Angels (back)
Mike Jacobs, 1B, Marlins (finger)
Chipper Jones, 3B, Braves (back)
Derek Lowe, SP, Dodgers (elbow)
Daisuke Matsuzaka, SP, Red Sox (flu)
Bengie Molina, C, Giants (quad)
David Ortiz, DH, Red Sox (knee)
Ben Sheets, SP, Dodgers (triceps)
Justin Upton, OF, Diamondbacks (hamstring)

Start 'em, sit 'em
Hitters: Roy Halladay has never enjoyed facing Kevin Youkilis (.344/.447/.563 in 32 at-bats) or J.D. Drew (.438/.526/.625 in 16 at-bats.) … Royals starter Brett Tomko has handled Milton Bradley in 22 at-bats, allowing only four singles and a walk. … Florida first baseman Mike Jacobs is mired in a 2-for-23 slump, and he has only a single to show for nine trips to the plate against Derek Lowe.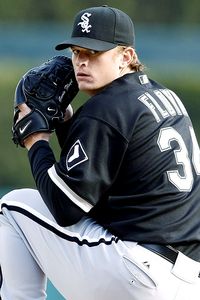 Andy Altenburger/Icon SMIGavin Floyd is off to a good start, but his BB-K ratio is worrisome.
Pitchers:
There are plenty of reasons to keep Carlos Silva on the bench Tuesday. He has compiled a 5.30 ERA in 90 career innings versus Cleveland and has been more than a run worse than that in his 44 innings at the Jake. His surface stats show a fast start but are not supported by his performance. Not only is Silva's strikeout-to-walk ratio his worst since 2003, he's also been fortunate with his hit and strand rates. Oh, and he's limping into this start with an injured thigh. … Gavin Floyd is making definite progress this year, but the fact is he's notched only 14 strikeouts against 12 walks in 25 innings. He can be used against the Twins, but consider other options first as Floyd hasn't pitched as well as his gaudy ERA and WHIP indicate. Those results are fueled by an unsustainable 16 percent hit rate. … Verbatim from last Tuesday's daily notes:
Tom Gorzelanny is owned in nearly a quarter of ESPN leagues, but 15 walks against only nine strikeouts say that the Pirates left-hander won't be making a quick recovery from the 9.35 ERA he's compiled thus far. Keep him benched, even at home against the Cardinals.
Well, after seven free passes in a 6-2 loss to the Cards, it's now 22 walks and 13 strikeouts. To the remarkable 18 percent of mixed-league owners still rostering Gorzelanny: It probably won't get better Tuesday against the Mets.
Waiver-wire pickups
Hitters: Jonny Gomes has a career .290/392/.534 line versus left-handers. He'll have a big advantage against flammable lefty Garrett Olson in a park that offers a 20 percent increase in home runs by right-handed hitters. … Yankees first baseman Jason Giambi has obliterated Tigers starter Kenny Rogers over the years, posting a 1.567 OPS in 23 at-bats. The Yankees' current roster has an amazing 1.231 OPS versus Rogers in 152 at-bats. … Greg Maddux might not be headed to the Hall of Fame if Geoff Jenkins had been on the other end of all those pitches. Jenkins has owned Maddux, batting .426/.483/.574 in a considerable 54 at-bats. … Thrust into action when starter Paul LoDuca went down, Nationals catcher Johnny Estrada started slowly but has heated up during the past week. Estrada has six hits in 17 at-bats without a whiff against Tom Glavine, who is coming off his first-ever trip to the disabled list to start for the Braves on Tuesday. … Jerry Hairston Jr.'s best days are behind him, but he was raking in Triple-A at the time of his call-up, and he's continued to crush the ball since he joined the Reds. He's not a bad filler option while he's this hot, and he certainly won't fear Joel Pineiro, who couldn't manage even a single strikeout in his first two starts.

Always looking for that extra piece of fantasy insight? We've got you covered. ESPN Fantasy experts Matthew Berry and Nate Ravitz provide you with all the fantasy strategy you'll need:
Listen to the Fantasy Focus Podcast
Pitchers:
Rockies starter Aaron Cook hasn't pitched quite as well as his ERA and WHIP suggest, but like most pitchers he's still a good bet against the punchless Giants. … Diamondbacks swingman Edgar Gonzalez is also an acceptable spot starter, thanks to the expectation of solid run support by his high-scoring teammates and a recent hitting slump by the visiting Astros, who haven't put the bat on the ball well since having their six-game winning streak snapped three games back.
Weather concerns
Games at Minnesota and Arizona are always weatherproof. A smattering of rain throughout the Northeast shouldn't cause any postponements but could conceivably delay games at Cleveland, Philadelphia, Boston, New York and Baltimore.
Will Harris is a fantasy baseball and college football analyst for ESPN.com
SPONSORED HEADLINES
FANTASY TOP HEADLINES
MOST SENT STORIES ON ESPN.COM