Commentary
Daily Notes for Monday: Dempster-Billingsley will be high-K affair
Updated:
May 26, 2008, 4:59 PM ET
By
Adam Madison
| ESPN.com
One of Monday's most intriguing pitching matchups is between Chad Billingsley and Ryan Dempster, two relatively similar pitchers. Dempster has been the veteran surprise, with a 2.70 ERA (the last time he started games for a prolonged period of time, five years ago, he compiled a 6.54 ERA for the Reds), while Billingsley is the youngster showing off his stuff. The two have similar high-strikeout, high-walk styles, and both have been able to keep the ball in the ballpark this season. In fact, given Billingsley's peripherals (60 strikeouts, just two home runs allowed), you could switch Dempster's raw numbers with Billingsley, and most wouldn't blink. And although Billingsley is the superior pitcher, he is assigned the tougher matchup, and it'd be a success if he could last six innings.
Also, Brandon Webb goes for his 10th win against the emerging Jair Jurrjens, Bartolo Colon and Scott Kazmir try to continue their successful returns, and King Felix takes on the best offense in the league (the Red Sox). Let's get to the games.
Matchups for Monday, May 26
Time
Visitors
L/R
Record
ERA
WHIP
Home
L/R
Record
ERA
WHIP
12:37 p.m.
Brett Tomko
R
2-5
5.76
1.46

@

Shaun Marcum
R
4-3
2.80
0.87
1:00 p.m.
Brandon Webb
R
9-1
2.69
0.98

@

Jair Jurrjens
R
5-3
2.64
1.17
1:35 p.m.
Ben Sheets
R
5-1
2.92
1.05

@

Jason Bergmann
R
1-1
5.47
1.33
1:35 p.m.
Darrell Rasner
R
3-0
1.89
0.84

@

Garrett Olson
L
3-1
5.19
1.62
2:20 p.m.
Chad Billingsley
R
4-5
3.76
1.41

@

Ryan Dempster
R
5-2
2.70
1.06
7:05 p.m.
Javier Vazquez
R
5-3
3.43
1.17

@

Paul Byrd
R
2-4
4.10
1.14
7:05 p.m.
Jorge De La Rosa
L
1-2
7.78
1.73

@

Jamie Moyer
L
4-3
4.37
1.60
7:10 p.m.
Ricky Nolasco
R
3-3
4.62
1.36

@

Mike Pelfrey
R
2-5
5.00
1.73
7:10 p.m.
Sidney Ponson
R
3-0
2.95
1.31

@

Scott Kazmir
L
3-1
1.57
1.13
9:05 p.m.
Kenny Rogers
L
4-4
6.66
1.88

@

Jon Garland
R
5-3
4.34
1.48
10:10 p.m.
Bartolo Colon
R
1-0
3.60
1.60

@

Felix Hernandez
R
2-4
3.34
1.46
All times are ET.
Injury report
Out
Clint Barmes, SS, Rockies (knee)
Juan Uribe, SS/2B, White Sox (hamstring)
Jayson Werth, OF, Phillies (oblique)

Day-to-day
Garrett Atkins, 3B, Rockies (neck)
Hank Blalock, 3B, Rangers (carpal tunnel syndrome)
Ryan Church, OF, Mets (concussion)
Chone Figgins, 3B, Angels (hamstring)
Paul Konerko, 1B, White Sox (hand)
Victor Martinez, C, Indians (finger)
Matt Stairs, OF, Blue Jays (neck)
Willy Taveras, OF, Rockies (knee)
Start 'em, sit 'em
Hitters: Paul Byrd has a massive difference between his versus-lefty and versus-righty splits this season. Lefties have hit .324, with a .356 OBP and .577 slugging percentage against him this season, while righties have a microscopic .183/.216/.280 line against him. Also, eight of his 11 home runs allowed have come against lefty batters. The White Sox have just three decent lefty bats -- Jim Thome, A.J. Pierzynski and Nick Swisher -- but they are second in the AL in home runs, and giving up homers has been a problem for Byrd. Start all your decent White Sox hitters, especially those with power. … Even though he has struggled a bit against them this season (albeit in just 44 at-bats), Torii Hunter had a .900-plus OPS against southpaws each of the past three seasons. More importantly, he gets to face one of the majors' worst lefties (pitchers?) this season in the 43-year-old Kenny Rogers, who looks close to done.
Pitchers: With just one home run allowed in 61 1/3 innings, Jair Jurrjens has been a pleasant surprise for the Braves. The Diamondbacks have played much better when at home (.853 OPS) than on the road (.690 OPS) and are much tougher on southpaws than righties, so Jurrjens is a good bet to extend his streak of quality starts to nine. … Thirty-three of Ryan Dempster's 53 strikeouts have come in his past four starts (26 1/3 innings), and he has dropped his ERA to a tidy 2.70. Although losing Andruw Jones to the disabled list will actually improve the Dodgers' offense, the team is still without its best player (Rafael Furcal) and has not hit well this month. Dempster won't resemble an elite pitcher much longer, but right now you can't argue with the results. … The Cubs are third in the majors in OBP and sixth in slugging, so Chad Billingsley's walk rate of five per nine innings probably isn't going to fly. The Cubs are just too good offensively, especially at home, where they rank first in OBP and slugging. … Scott Kazmir should be able to rack up plenty of K's against the Rangers. They are fourth in the majors in strikeouts, and they struggle significantly against southpaws (.736 OPS) compared to righties (.830).
Waiver-wire pickups
Hitters: With four multi-hit games in his past six games, including three extra-base hits, Jason Giambi deserves notice, and unlike a lot of left-handed hitters, he's decent enough against southpaws to be worthy of an everyday player. The average will remain poor, but the strong secondary skills will stay; only a lack of health will prevent Giambi from being productive, and even that is no reason not to add him right now. … Blake DeWitt has been on a hot streak and all, but he simply doesn't have enough power to become a viable fantasy threat at a corner infield spot. He hasn't had an extra-base hit since May 17 -- his slugging percentage is down to .485 -- and in the minors was never much of a power threat (career .444 slugging percentage). And in the long term, playing time is a concern for him, as Andy LaRoche could easily hit his way back to the majors while DeWitt slumps as pitchers adjust.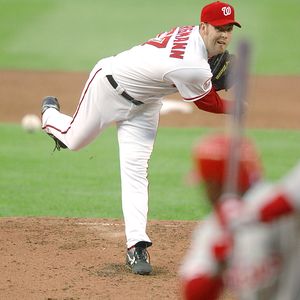 Mitchell Layton/Getty ImagesWashington's Jason Bergmann has been pitching well ... against offenses better than Milwaukee's.
Pitchers:
Since allowing 16 earned runs in his first three starts, Jason Bergmann has been nearly perfect, with zero runs and 14 strikeouts in 14 innings since. And that was against the Mets and Phillies, who both pose threats offensively. The Brewers, on the other hand, are 24th in the majors in OBP and struggle against righties. Combine the two and Bergmann becomes a decent spot-starter. … Darrell Rasner might be nothing more than rotational filler in fantasy leagues, but lesser pitchers have benefited from good Yankees run support. Rasner has a win in each of his first three starts, thanks in part to an average of seven runs of support per game he has received. The Yanks face Garrett Olson, whom they lit up for six runs in 2 2/3 innings last week, so if you're chasing wins, Rasner is a good bet. … The Rockies could be without five regulars Monday, leaving the likes of
Omar Quintanilla
,
Scott Podsednik
and
Ryan Spilborghs
in the lineup. Almost any opposing pitcher would be a decent bet against them, especially considering the game is away from Coors Field. There's not much to say to pretty up Jamie Moyer's stats, but he's not quite done as a pitcher yet, and he is coming off back-to-back quality starts. … Despite a 2.42 ERA in his past four starts, Jon Garland gets a big red "avoid" flag because he has struck out a ridiculously low five total batters in those starts and has just 14 strikeouts on the season. That's an insane amount of pitching to contact, and considering the defense behind him isn't that great (20th in defensive efficiency, 24th last season), Garland should be getting roughed up -- and probably will soon. … Bartolo Colon gets another easy assignment in his second start back. He went five innings and allowed two runs versus the Royals in his first, and now faces the equally punchless Mariners offense. That should equal a win with the Red Sox's high-powered offense backing him. Toss in his strikeout potential and you have an easy spot-start candidate.
Weather concerns
Chicago is expected to see isolated thunderstorms throughout the morning and early afternoon, which means rain could affect the Dodgers-Cubs affair. Considering it should be relatively clear by late afternoon, though, don't be too concerned. … Scattered thunderstorms have a chance of affecting the White Sox-Indians game, especially since the weather is expected to worsen by nightfall. There's a decent chance that game could be postponed due to rain. … Royals-Blue Jays, Rangers-Rays and Red Sox-Mariners are all weather-proof games.
Adam Madison is a fantasy baseball analyst for ESPN.com
MOST SENT STORIES ON ESPN.COM