Commentary
Daily Notes for Tuesday: Dice-K's Sox versus Batista's M's is a mismatch
Updated:
May 27, 2008, 2:28 AM ET
By
Will Harris
| Special to ESPN.com
Boston's Daisuke Matsuzaka will try to become the American League's first nine-game winner Tuesday when the Red Sox take on Miguel Batista and the struggling Mariners at Safeco Field. On paper, the game is a mismatch, but the woeful Mariners have been far better at home than away, while the Red Sox, who have been invincible at home this year, are playing well below .500 ball on the road.
Matchups for Tuesday, May 27
Time
Visitors
L/R
Record
ERA
WHIP
Home
L/R
Record
ERA
WHIP
7:05 p.m.
Ian Kennedy
R
0-3
7.27
1.79

@

Brian Burres
L
4-4
3.16
1.26
7:05 p.m.
Mark Buehrle
L
2-5
4.82
1.46

@

Aaron Laffey
L
2-3
1.60
0.89
7:05 p.m.
Hiroki Kuroda
R
2-3
3.48
1.27

@

Sean Gallagher
R
1-1
5.68
1.58
7:05 p.m.
Ubaldo Jimenez
R
1-4
4.61
1.61

@

Kyle Kendrick
R
2-2
5.19
1.59
7:10 p.m.
Vicente Padilla
R
6-2
3.33
1.42

@

Andy Sonnanstine
R
6-2
5.09
1.32
7:10 p.m.
Ian Snell
R
2-3
4.84
1.70

@

Johnny Cueto
R
2-5
5.56
1.27
7:10 p.m.
Andrew Miller
L
4-3
5.33
1.66

@

Johan Santana
L
5-3
3.36
1.18
8:05 p.m.
Tim Hudson
R
7-3
2.97
1.05

@

Dave Bush
R
1-5
6.56
1.46
8:10 p.m.
Nick Blackburn
R
4-3
3.55
1.41

@

Brian Bannister
R
4-6
4.94
1.27
8:15 p.m.
Shawn Chacon
R
1-0
4.11
1.40

@

Braden Looper
R
6-3
4.34
1.41
9:40 p.m.
Tim Lincecum
R
6-1
2.17
1.28

@

Dan Haren
R
5-3
3.39
1.01
10:05 p.m.
Jeremy Bonderman
R
3-4
4.58
1.61

@

Ervin Santana
R
6-2
3.24
1.08
10:05 p.m.
A.J. Burnett
R
5-4
4.69
1.47

@

Greg Smith
L
2-4
3.18
1.18
10:05 p.m.
Shawn Hill
R
0-1
4.08
1.42

@

Randy Wolf
L
3-4
4.76
1.33
10:10 p.m.
Daisuke Matsuzaka
R
8-0
2.40
1.32

@

Miguel Batista
R
3-6
6.47
1.97
All times are ET.
Injury report
Out
Moises Alou, OF, Mets (calf)
Marlon Anderson, OF, Mets (hamstring)
Josh Bard, C, Padres (ankle)
Clint Barmes, SS, Rockies (knee)
Fausto Carmona, SP, Indians (hip)
Adam Everett, SS, Twins (shoulder)
Chone Figgins, 3B, Angels (hamstring)
Eric Gagne, RP, Brewers (shoulder)
Brad Hawpe, OF, Rockies (hamstring)
Matt Holliday, OF, Rockies (hamstring)
Andruw Jones, OF, Dodgers (knee)
Austin Kearns, OF, Nationals (elbow)
Nick Punto, 3B, Twins (hamstring)
Jayson Werth, OF, Phillies (oblique)

Day-to-day
Garrett Atkins, 3B, Rockies (neck)
Daric Barton, 1B, A's (illness)
Lance Berkman, 1B, Astros (hand)
Ryan Church, OF, Mets (head)
Shawn Hill, SP, Nationals (elbow)
Paul Konerko, 1B, White Sox (hand)
Luke Scott, OF, Orioles (shoulder)
Willy Taveras, OF, Rockies (knee)
Jose Valverde, RP, Astros (head)
Reggie Willits, OF, Angels (finger)
Ryan Zimmerman, SP, Nationals (shoulder)

Start 'em, sit 'em
Hitters: Ian Kennedy pitched six innings of one-run ball against the Orioles in his last start, but the rookie right-hander still didn't show good command. His opponent, Brian Burres, is also not pitching as well as his surface results indicate, so load up your lineup with Yankees and Orioles for what could be one of Tuesday night's highest-scoring contests. Be sure to include Yankees second baseman Robinson Cano, who is finally heating up after a dreadful start to the season. Cano is hitting better than .300 over the past month and over .400 during the past week. He has also been hitting left-handers better than righties, so get him active against Burres if he's been on reserve because of his lengthy slump. … Vladimir Guerrero has struggled against Detroit starter Jeremy Bonderman over the years, managing only four hits, to go along with eight strikeouts, in 18 at-bats. New teammate Torii Hunter, however, is familiar with Bonderman from his days with the Twins. The Angels center fielder has certainly gotten the best of that matchup, going 14-for-30 with six extra-base hits versus the Tigers right-hander. … Reds slugger Adam Dunn is a miserable 2-for-20 versus Pirates starter Ian Snell. … If his early-season power outage has forced Corey Hart to the fantasy bench, it's past time to activate the Brewers outfielder. Hart has slugged four bombs in the past week, and is a nifty 5-for-13 versus Braves starter Tim Hudson. … The Brewers' double-play combination of Rickie Weeks and J.J. Hardy has not been as successful against Hudson. The duo is a combined 0-for-15 versus the Braves right-hander. … The Astros' Hunter Pence started slowly in 2008, but his average is up to .292 after an 8-for-26 week that saw the second-year outfielder slug three home runs. Opposing outfielder Ryan Ludwick continues to rake as well, batting .318/.400/.636 during the past week. He's up to 13 home runs on the year and is finally owned in all mixed leagues. Both Ludwick and Pence should be active Tuesday when the Astros and Cardinals send lightly skilled starters Shawn Chacon and Braden Looper to the mound in what could be a high-scoring affair.
Pitchers: Texas starter Vicente Padilla has made only three starts against the Rays, but he has allowed 13 runs in those outings, and the current Tampa Bay roster is batting .364 against him. Padilla's early success is thanks in large part to a fortuitous strand rate; he's a poor option for both Tuesday and beyond despite his popularity (26 percent ownership) in mixed leagues. … Kansas City's Brian Bannister is owned in about a quarter of mixed leagues. He has been pitching reasonably well this year, but given his career splits, Bannister should be rostered only in broad daylight. He's 10-2 with a sporty 3.17 ERA in day games but has a 4.73 mark in night affairs like Tuesday's clash with the Twins. Also, Bannister is concerned that he has been tipping his pitches from the stretch lately, another reason to keep the right-hander reserved for now. … His past success has him owned in 40 percent of ESPN leagues, but Detroit starter Jeremy Bonderman still hasn't cured what ails him. Bonderman has recorded more walks than strikeouts this year and should not be used until he corrects his wildness. … Oakland's Greg Smith has pitched like a legitimate rookie of the year candidate so far, and while he's still not a great bet to replicate his success during a second tour of the league, Smith can be used Tuesday versus a Blue Jays squad that struggles mightily against left-handers. … Dodgers import Hiroki Kuroda is also having a fine rookie year, but he's a risky play Tuesday against a Cubs offense that plated 23 runs in the three-game weekend series with Pittsburgh and is leading the majors in runs scored. … Colorado's Ubaldo Jimenez hasn't met the club's expectations this year, but he blanked the Giants for seven innings last week in his first career scoreless start. Jimenez got 16 of his 21 outs on the ground, a good omen for his trip to Philadelphia's Citizens Bank Park. Jimenez has had little trouble with the long ball this season and can be used in deeper leagues versus the Phillies on Tuesday.
Waiver-wire pickups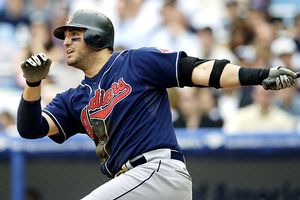 Rob Tringali/Sportschrome/Getty ImagesHey, don't be so quick to sit Ryan Garko. He has hit Mark Buehrle (and other lefties) well.
Hitters:
Indians first baseman
Ryan Garko
has struggled all year, but he's still crushing left-handed pitching at his usual pace. Garko is available in more than half of mixed leagues and has reached base 11 times in 17 tries against White Sox lefty Mark Buehrle. … Outfielder
Ben Francisco
is another Tribe hitter worth a look Tuesday. The 26-year-old is sure to be in the lineup against the left-handed Buehrle. He's hitting .353./.371/.603 in 68 at-bats since his call-up and has smacked a home run and five doubles en route to a .986 OPS during the past week. … Undefeated Boston ace Daisuke Matsuzaka is a tough assignment, but owners seeking middle infield help Tuesday should still consider Seattle shortstop
Yuniesky Betancourt
. The 26-year-old is on fire right now, with a .435 average and .652 slugging during the past week. Plus, he has hit .364 and slugged .636 versus Matsuzaka so far in his career. … Those seeking a fill-in at catcher Tuesday should grab little-used Reds backup
Javier Valentin
. The 32-year-old backstop went 2-for-4 Sunday and likely will earn another start Tuesday based on his history versus Pirates starter Ian Snell (9-for-18, 2 HR, 3 BB, 5 RBI). … The streaky
Adam LaRoche
is hot again, with nine hits -- including six for extra bases -- in his past 25 at-bats. The Pirates first baseman has always mashed right-handers and is a solid option versus Reds rookie Johnny Cueto.
Pitchers: Mark Buehrle has struggled in his career versus Cleveland, including a seven-run pounding on Opening Day. However, Buehrle has pitched one-run ball in his past two starts, including a seven-inning stint against the Indians last time out. The White Sox left-hander thinks a now-corrected mechanical flaw was responsible for his uncharacteristically high walk totals recently, and he looks like a streaking pitcher right now. … Shallow leaguers in need of a pitching fill-in for Tuesday can capitalize on the Giants' lack of offense by grabbing one of Arizona's fine relievers. Chad Qualls, Tony Pena and Juan Cruz don't get many saves working behind Diamondbacks closer Brandon Lyon, but all three are high-skill relief arms having good years, and all have pitched well recently. … San Diego left-hander Randy Wolf is largely unowned because of his mediocre overall numbers, but like most Padres pitchers, Wolf is always an option at home in Petco Park, where opposing batters are hitting only .188 against him. … Nationals right-hander Shawn Hill, who has been the team's most effective starter during the rare times when he's fully healthy, has made only one career start in Petco. Odds are he'll enjoy his repeat visit Tuesday against a punchless Padres club that has scored even fewer runs than the Giants.
Weather concerns
Games in Tampa, Seattle, Milwaukee and Arizona are always weatherproof. Unfortunately, games at those sites are the only ones sure to be played Tuesday. Rain and thunderstorms across the nation will threaten just about every outdoor contest except the three games on the West Coast.
Will Harris is a fantasy baseball and college football analyst for ESPN.com
Betting
College football handicapper
Covering fantasy sports for ESPN since 2008
MOST SENT STORIES ON ESPN.COM