Commentary
Daily Notes for Saturday: Lots of pitching options on waiver wire
Updated:
June 6, 2008, 11:47 AM ET
By
Sean Allen
| Special to ESPN.com
With only four starting pitchers scheduled for Saturday that are owned in 100 percent of ESPN leagues, there will be lots to choose from on the waiver wire regardless of your league's depth. Look for a pitching duel in Toronto, where Jeremy Guthrie is available in 91 percent of ESPN leagues. Greg Smith should bounce back from a rough outing and is available in 70 percent of ESPN leagues. I'm even looking at the 80 percent-available Bronson Arroyo to have a good start.
Matchups for Saturday, June 7
Time
Visitors
L/R
Record
ERA
WHIP
Home
L/R
Record
ERA
WHIP
1:05 p.m.
Brian Bannister
R
5-6
4.60
1.26

@

Andy Pettitte
L
5-5
4.21
1.43
1:07 p.m.
Jeremy Guthrie
R
2-6
3.58
1.23

@

A.J. Burnett
R
5-5
4.32
1.40
3:55 p.m.
Miguel Batista
R
3-6
5.90
1.85

@

Tim Wakefield
R
3-4
4.50
1.38
3:55 p.m.
Aaron Laffey
L
3-3
3.02
1.16

@

Kenny Rogers
L
4-4
5.54
1.73
3:55 p.m.
Carlos Zambrano
R
8-1
2.51
1.22

@

Derek Lowe
R
3-5
4.17
1.33
7:05 p.m.
Livan Hernandez
R
6-2
4.81
1.58

@

Mark Buehrle
L
2-6
5.20
1.50
7:05 p.m.
Dan Haren
R
6-4
3.40
1.06

@

Tom Gorzelanny
L
4-5
7.22
1.87
7:05 p.m.
Adam Wainwright
R
5-3
3.12
1.06

@

Shawn Chacon
R
2-1
4.41
1.40
7:10 p.m.
Jonathan Sanchez
L
4-3
4.08
1.43

@

Shawn Hill
R
0-2
4.67
1.53
7:10 p.m.
Kyle Kendrick
R
5-2
5.00
1.48

@

Jo-Jo Reyes
L
2-3
4.78
1.46
7:10 p.m.
Bronson Arroyo
R
4-5
5.61
1.68

@

Scott Olsen
L
4-2
3.72
1.28
8:05 p.m.
Andy Sonnanstine
R
6-3
4.96
1.41

@

Scott Feldman
R
1-2
4.56
1.24
8:05 p.m.
Dave Bush
R
2-5
5.49
1.30

@

Greg Reynolds
R
0-3
5.72
1.52
9:05 p.m.
Jon Garland
R
5-3
3.99
1.45

@

Greg Smith
L
3-4
3.56
1.20
10:05 p.m.
Oliver Perez
L
4-4
5.70
1.63

@

Cha Seung Baek
R
1-2
5.60
1.44
Injury report
Out
Ryan Freel, OF, Reds (hamstring)
David Ortiz, DH, Red Sox (wrist)
Carlos Pena, 1B, Rays (finger)
Nick Punto, 2B/3B/SS, Twins (hamstring)
Ramon Santiago, SS, Tigers (shoulder)
John Smoltz, RP, Braves (shoulder)
Ryan Zimmerman, 3B, Nationals (shoulder)

Day-to-day
Rick Ankiel, OF, Cardinals (knee)
Asdrubal Cabrera, 2B, Indians (hip)
Raul Casanova, C, Mets (bereavement)
Joe Crede, 3B, White Sox (hand)
Ryan Doumit, C/OF, Pirates (thumb)
Ray Durham, 2B, Giants (calf)
Jacoby Ellsbury, OF, Red Sox (wrist)
Jesus Flores, C, Nationals (wrist)
Jason Giambi, 1B, Yankees (foot)
Vladimir Guerrero, OF, Angels (knee)
Aaron Hill, 2B, Blue Jays (concussion)
Brandon Inge, C/3B/OF, Tigers (oblique)
Conor Jackson, 1B, Diamondbacks (quadriceps)
Albert Pujols, 1B, Cardinals (calf)
Omar Quintanilla, 2B/SS, Rockies (wrist)
Clete Thomas, OF, Tigers (ankle)
Jayson Werth, OF, Phillies (oblique)

Start 'em, sit 'em
Hitters: Ray Durham, Jason Giambi and Albert Pujols all appeared as pinch hitters on Wednesday or Thursday. Giambi and Pujols both homered and should be watched closely for a return as their abilities to hitare clearly not keeping them out of the lineup. As for Durham, hopefully you aren't too excited to get him back. ... Don't expect to see Conor Jackson on Friday, but he should be good to go on Saturday. Manager Bob Melvin said he was purposely giving Jackson an extra day off Friday, so he could come back against three straight Pittsburgh lefties. Not a bad idea considering his 1.151 OPS versus southpaws. ... Check for signs of Vladimir Guerrero, Ryan Doumit and Joe Crede in Friday's box scores before getting too excited about them on Saturday. ... As Tristan Cockcroft pointed out in Friday's notes, Jerry Hairston Jr. is batting .433 with a 1.100 OPS versus lefties. He gets to face another one in Scott Olsen on Saturday. ... Russell Martin and Andre Ethier are the only Dodgers you should not hesitate to start against Carlos Zambrano. Martin (5-for-9) and Ethier (4-for-9) are the only two Dodgers to hit him very well at all. ... Carlos Lee can grab a seat versus Adam Wainwright. He is just 1-for-13 against the Cardinals ace righty. ... Considering how A.J. Burnett mows down the Orioles (5-0 in six career starts with a 3.32 ERA) you might want to think about benching any fringe guys in deep leagues, but Brian Roberts must remain active everywhere. He is 6-for-19 (.316) with a pair of home runs against Burnett. ... Adrian Beltre can't hit a knuckleball for the life of him. He is 0-for-14 against Tim Wakefield. ... Start all your Diamondbacks with confidence. Tom Gorzelanny has issued 40 walks this season while striking out just 28. ... The Texas attack has had solid games when Andy Sonnanstine is on the hill, going 16-for-42 (.381) with a 1.004 OPS.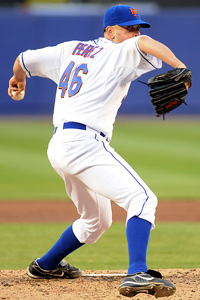 Tomasso DeRosa/US PresswireOliver Perez draws a great opponent to bounce back from his awful start earlier in the week.
Pitchers:
Despite the fact that four of the nine home runs that Adam Wainwright has allowed this season have come in two starts versus the Astros, he still has studly numbers against the division rival; 2-0 with a 2.12 ERA. All four moon shots were of the solo nature, and they account for all four runs he has allowed this season to Houston. ... A stretch of rough early-May outings is responsible for a dip in Derek Lowe's ESPN league ownership, but it's time get back on board with the sinkerballer. Lowe has three straight quality starts, including a seven-inning shutout of the Cubs on May 28. It may be another no-decision versus Chicago for Lowe, but some good ratio numbers can be had if you start him. ... Would you dare trust
Oliver Perez
after his horrific outing on Monday? He allowed six runs while retiring just one batter before being yanked. The trouble is, the matchup is about as good as it can get as he gets the hapless Padres (.656 OPS versus lefties) in Petco Park (the league's most pitcher-friendly confines). I am going out on a limb on this one and saying that Ollie will have one of his better starts. Left-handed batters are only hitting .100 versus Perez this year and two of the Padres bigger offensive threats hit from the left (
Adrian Gonzalez
and
Brian Giles
). ... Greg Smith gets the benefit of the doubt from me. He may have been roughed up for seven runs in his last start, but the Rangers have had the benefit of three starts against him already this season. He should get back into form for this game against the Angels.
Waiver-Wire pickups
Hitters: Eric Hinske won't get many days off versus right-handers while Carlos Pena is on the DL. Feel free to use him so long as a southpaw isn't opposing the Rays; he has a .935 OPS versus righties. ... Jamey Carroll could actually be a deep league option in the middle-infield slot. With Asdrubal Cabrera banged up Carroll should start, and with a lefty on the mound he should bat second. ... There is a chance Jayson Werth could be activated from the DL, and this would be one of the matchups to use him in as the Phillies face lefthander Jo-Jo Reyes. ... Filling in for the injured Ryan Zimmerman, Aaron Boone has a 1.080 OPS versus lefties, and the Nationals draw lefty Jonathan Sanchez on Saturday. ... Reiterating another point Tristan Cockcroft made in Friday's notes, Jason Kendall is a .395 hitter at Coors Field with 23 RBIs in 32 games. Start him all weekend. ... Wilson Betemit will be a deep-league option if Jason Giambi isn't able to start. Betemit homered on Wednesday and Thursday, and is 2-for-3 versus Royals starter Brian Bannister. ... Still widely unowned, Eric Chavez has two home runs in 27 career at-bats versus Angels starter Jon Garland. He also has six walks and just one strikeout versus Garland. ... Craig Monroe has two home runs and is 14-for-36 (.389) lifetime against Mark Buehrle, while Michael Cuddyer also has a pair of homers and is 21-for-66 (.318) in his career versus the lefty. ... Sean Casey could get the call for Boston as he is a solid 7-for-19 versus Miguel Batista.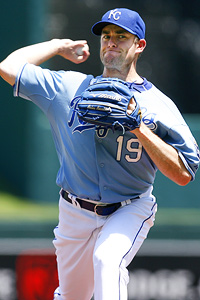 AP Photo/Ed ZurgaBrian Bannister should be happy that his Saturday start will happen in daylight.
Pitchers:
Brian Bannister has some interesting splits in day versus night games. He is 5-1 with a 2.16 ERA in daylight and 0-5 with a 7.71 ERA under the lights. Saturday's outing against the Yankees will be in the daytime, which lends me to believe Bannister will be a useful start. ... The A's collective lineup hits .310 versus Jon Garland and smacked him for seven runs on April 28. Garland is a useful spot start most of the time, but this looks like a matchup to avoid. ... Matchups with lefties are where the
Cincinnati Reds
are most dangerous, as they sport an OPS of .802 against southpaws. Scott Olsen may have made some strides in his last outing, but should be given another rest in this one. Definitely not someone to spot in. ... Mark Buehrle was roughed up his only start against Minnesota this season (seven runs in 5 2/3 innings on May 7). This is probably not the best time to try out the lefthander. ... Jonathan Sanchez has been rocking and rolling, with four straight starts with only two earned runs. The Nationals have a pathetic .655 OPS against lefties. There is no reason to think Sanchez won't continue his solid run in this game. ... The Marlins have been susceptible to strikeout pitchers this season, and with 8.48 K/9 this season, Bronson Arroyo certainly fits that bill. He already has a seven-inning shutout against the Fish this season. I'm on board for using Arroyo in this outing. ... Poor Jeremy Guthrie appears to get no love despite solid peripheral numbers. His 2-6 record is the only blemish on his fantasy contributions. He has five quality starts in a row and the Blue Jays lineup is a combined 12-for-59 (.203) against him. The only Toronto hitter with more than one career hit against Guthrie is also unlikely to suit up (Aaron Hill). ...
Tim Wakefield
also makes a solid spot start. He recorded an eight-inning, eight-strikeout, one-earned run game just two outings ago against these same Mariners. ... The Phillies bats might be a little much too handle for Jo-Jo Reyes. With an .835 OPS against lefties this season, look for
Chase Utley
and Co. to make you glad you didn't try to spot start the young lefty. ...
Aaron Laffey
is due for a few more outings like his last one: eight earned runs in five innings. He'll have his good outings too, but Detroit is not an opponent for him to toy with. The Tigers have still maintained solid numbers against lefties this season (.830 OPS, fourth in majors). ...
Kenny Rogers
has strung together two solid back-to-back outings after a couple rough ones. However, Cleveland's bats have woken up a little lately, with a team OPS of .882 (fourth in majors) over the last week. I don't think I'd use him here. ... Could you get a win out of
Livan Hernandez
? Sure you could, but you can also kiss your WHIP goodbye. Hernandez has allowed double-digit hits in four of his last five outings. ... Don't look now, but fantasy tease
Dave Bush
has rolled two straight quality starts against two above-average offenses (Atlanta and Houston). You may find the previous sentence interesting at your own risk.
Weather concerns
There is a chance of rain or thundershowers in Detroit, Pittsburgh, Miami and Chicago, but the possibility of precipitation in each case is 30 percent or lower. ... Weather-proof games will be played in Toronto (Orioles-Blue Jays) and Houston (Cardinals-Astros).
Sean Allen is a fantasy baseball and hockey analyst for ESPN.com. You can e-mail him here.
Sean Allen is a fantasy analyst for ESPN.com. He was the 2008 and 2009 Fantasy Sports Writers Association Hockey Writer of the Year. You can tweet him
@seanard
.
MOST SENT STORIES ON ESPN.COM