Commentary
Daily Notes for Wednesday: Aces on parade
Updated:
June 10, 2008, 1:00 PM ET
By
Sean Allen
| Special to ESPN.com
I know there have been a few other days like this so far this season, but this is the first Fantasy All-Star pitcher day I have had the pleasure of writing about. What am I supposed to tell you when there are so many ace pitchers set to take the mound? I suppose finding some solid hitters who are lucky enough to take on one of the below-average starters is sound advice.
There are still a few OK spot starters to be had, but really, odds are you already own a hurler who will be logging some numbers for you.
Matchups for Wednesday, June 11
Time
Visitors
L/R
Record
ERA
WHIP
Home
L/R
Record
ERA
WHIP
12:37 p.m.
Felix Hernandez
R
4-5
3.07
1.37

@

Shaun Marcum
R
5-3
2.52
0.97
3:35 p.m.
Scott Kazmir
L
6-1
1.40
0.91

@

John Lackey
R
2-1
1.70
0.95
7:05 p.m.
Garrett Olson
L
5-1
3.86
1.42

@

Bartolo Colon
R
3-1
3.91
1.39
7:05 p.m.
Nick Blackburn
R
4-4
3.94
1.41

@

Paul Byrd
R
3-5
4.46
1.19
7:05 p.m.
Javier Vazquez
R
6-4
3.64
1.26

@

Justin Verlander
R
2-9
5.05
1.39
7:05 p.m.
John Lannan
L
4-6
3.47
1.39

@

Ian Snell
R
2-6
5.65
1.80
7:10 p.m.
Brandon Webb
R
11-2
2.58
1.00

@

Mike Pelfrey
R
2-6
4.65
1.71
7:10 p.m.
Braden Looper
R
7-5
4.86
1.53

@

Johnny Cueto
R
5-5
5.06
1.34
7:10 p.m.
Cole Hamels
L
6-4
3.36
1.07

@

Andrew Miller
L
4-5
5.65
1.71
8:05 p.m.
Manny Parra
L
4-2
4.33
1.59

@

Brandon Backe
R
4-7
4.66
1.53
8:05 p.m.
Jair Jurrjens
R
6-3
3.77
1.44

@

Ryan Dempster
R
7-2
2.90
1.13
8:10 p.m.
Vicente Padilla
R
7-3
3.73
1.43

@

Kyle Davies
R
2-0
1.54
1.37
9:05 p.m.
Tim Lincecum
R
8-1
2.15
1.22

@

Ubaldo Jimenez
R
1-6
5.43
1.68
10:05 p.m.
Darrell Rasner
R
3-3
2.58
1.07

@

Justin Duchscherer
R
5-4
2.32
1.03
10:05 p.m.
Chad Billingsley
R
4-6
3.57
1.37

@

Josh Banks
R
2-0
0.39
1.04
Injury report
Out
Ryan Freel, OF, Reds (hamstring)
Jonny Gomes, OF, Rays (suspension)
Aaron Hill, 2B, Blue Jays (concussion)
Tadahito Iguchi, 2B, Padres (shoulder)
Chipper Jones, 3B, Braves (quadriceps)
Carlos Pena, 1B, Rays (finger)
Shannon Stewart, OF, Blue Jays (ankle)
Rickie Weeks, 2B, Brewers (knee)

Day-to-day
Rick Ankiel, OF, Cardinals (knee)
Alexi Casilla, 2B, Twins (back)
Ryan Church, OF, Mets (concussion)
Bobby Crosby, SS, A's (ankle)
Jacoby Ellsbury, OF, Red Sox (wrist)
Josh Hamilton, OF, Rangers (infection)
Xavier Nady, OF, Pirates (ankle)
Ian Snell, SP, Pirates (elbow/back)
Ryan Spilborghs, OF, Rockies (back)
Michael Young, SS, Rangers (knee)

Start 'em, sit 'em
Hitters: Maybe only good enough to be a matchups-type player anymore, Ivan Rodriguez has good numbers against Javier Vazquez. Pudge is 10-for-26 (.385) with a home run and three doubles. ... Adrian Beltre doesn't need an off day against Shaun Marcum (even though his Mariners can barely hit righties). Beltre is 6-for-10 versus Marcum, with a pair of doubles and a pair of home runs. ... B.J. Upton (10 at-bats), Dioner Navarro (12) and Eric Hinske (13) all hit below .200 versus John Lackey. Don't hesitate to bench any Rays hitter besides Carl Crawford, if you like micromanaging matchups. ... Todd Helton can hold his own just fine versus Tim Lincecum. With six hits in nine at-bats against the Giants phenom, Helton has a 1.838 OPS. ... Jason Giambi is a must-start versus Justin Duchscherer, even though the converted middle-man has been lights-out this season. Giambi is 3-for-4 with two home runs against Duke. That's as many home runs as Duchscherer has given up all season (in 54 1/3 innings), so I think the 93-percent-owned starter will hold his own versus the rest of the Yanks. ... Look for other options at second base, as Brandon Phillips is boggled by Braden Looper (1-for-11). ... No need to panic: Josh Hamilton is expected to be back in the lineup on Tuesday, so Wednesday should be a lock. Just double-check to make sure he's good to go.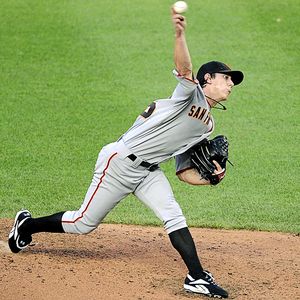 Mark Goldman/Icon SMITim Lincecum hopes to stay hot but goes to Coors, where the Rockies have hit .318 against him.
Pitchers:
Could we cram anymore stud fantasy pitchers into one day worth of games? Well, I guess technically we could, but then who would we start on offense?
Felix Hernandez
, Shaun Marcum,
Scott Kazmir
, John Lackey,
Brandon Webb
,
Cole Hamels
and Tim Lincecum can all be considered No. 1 pitchers in fantasy, and they all toe the rubber on Wednesday. Then there is a nice second tier of
Justin Verlander
,
Ryan Dempster
, Justin Duchscherer and
Chad Billingsley
. ... Of the aforementioned names, I will only warn you off Verlander. The White Sox just seem to find a way to smack him around.
Jermaine Dye
,
Jim Thome
,
A.J. Pierzynski
and
Nick Swisher
each have an OPS better than 1.000 versus Verlander (and they have at least 20 at-bats against him). The four players have combined for 14 home runs off the Tigers supposed ace. ... You'll notice I left
Johnny Cueto
off the list of pitchers I consider above-average fantasy assets. Let's just say I'm not a fan. I'll let the numbers speak for me though: 1 2/3 innings, eight hits, six earned runs. That is what the Cardinals did to Cueto last time they met. Overall, Cueto is still walking too many and surrendering too many long balls for me to generate much interest. ...
Jair Jurrjens
is coming off three straight non-quality starts and catches the offense with the second-best OPS in the league. No, thanks. ... The strikeouts aren't there, but
Bartolo Colon
was just shy of a quality start in his previous two outings, even though they don't look pretty at first glance. Colon allowed three earned runs in five innings against Seattle last time out, and four earned runs in six innings against Baltimore the time before that. The biggest factor that will make me lean towards recommending B.F.B.C most of the time, is the fact he gets to don a Red Sox jersey when he starts. His 3-1 record is indicative of that.
Waiver-Wire pickups
Hitters: If you are desperate for a usable outfielder, Kevin Mench does OK against Felix Hernandez (4-for-9, 1.000 OPS). ... Mark Teahen has been swinging a lukewarm bat lately (three home runs in June). He has an OPS of 1.357 in seven at-bats versus Vicente Padilla. He is another option off the wire for your outfield. ... For help at first base, look to Ryan Garko. He is as streaky as they come and is currently hitting .438 with 10 RBIs in June. ... Luke Scott is another streaky commodity, with a .348 average and two home runs in the previous week. ... For middle-infield help, Maicer Izturis is still available in 80 percent of ESPN leagues. In the weekend series with Oakland, Izturis homered in the first game, had a combo meal in the second game (home run and stolen base) and swiped a bag in the final game.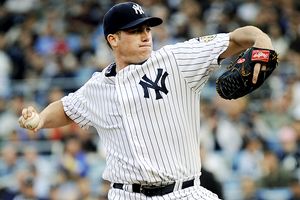 AP Photo/Bill KostrounDarrell Rasner has lost three straight starts, but has a 3.26 ERA during that stretch.
Pitchers:
Based on the number of above-average starting pitchers stepping out on Wednesday, the matchup better be pretty good before you consider spotting some of the other pitchers in. ... Ian Snell's command hasn't been great at the best of times this season. Note that he is nursing a sore elbow and back. Stay far, far away. ...
Andrew Miller
hasn't been getting deep enough into games and is in tough against Cole Hamels. There isn't enough upside to starting him. ...
Darrell Rasner
looks like the best option who isn't owned in 50 percent of ESPN leagues. Rasner fired off four straight quality starts before a slight rough-up against the Twins. The A's don't rank near the top in many offensive categories, notably home runs, which have been Rasner's bane so far. ...
Manny Parra
's last two starts look terrific: 13 innings, two earned runs, 14 strikeouts and six walks. The Astros were the victim of one of those outings, and Parra gets to work his rookie magic against them again in this matchup. He's not a bad option if you seek a win and strikeouts off the wire. ... Something has to give with
Kyle Davies
, and I expect the Rangers and their league-best OPS versus right-handers (.838) will be the ones to burst the bubble.
Weather concerns
Just two weather-proof contests, with the Mariners in Toronto and the Brewers in Houston. ... Scattered thunderstorms are in the forecast for Miami, so the Phillies-Marlins game is far from a guarantee to be played. ... The rest of the country gets a free pass from Mother Nature.
Sean Allen is a fantasy baseball and hockey analyst for ESPN.com. You can e-mail him here.
Sean Allen is a fantasy analyst for ESPN.com. He was the 2008 and 2009 Fantasy Sports Writers Association Hockey Writer of the Year. You can tweet him
@seanard
.
SPONSORED HEADLINES
FANTASY TOP HEADLINES
MOST SENT STORIES ON ESPN.COM