Commentary
Daily Notes for Friday: King Felix, Buchholz return
We won't yet see Rich Harden's Cubs debut on Friday, but we will see the debut of another pitcher in that deal for his new team: Sean Gallagher will take the hill for the A's. But that's only one of several pitching stories: Felix Hernandez returns from his DL stint for an ankle injury to play a favorable matchup at Kansas City, Clay Buchholz inherits Justin Masterson's rotation spot after an impressive run in Triple-A, and Oliver Perez attempts to string together a third straight standout start when he takes on the Rockies.
Matchups for Friday, July 11
Time
Visitors
L/R
Record
ERA
WHIP
Home
L/R
Record
ERA
WHIP
2:20 p.m.
Matt Cain
R
5-7
4.30
1.33

@

Jason Marquis
R
6-5
4.78
1.48
7:05 p.m.
Brian Burres
L
6-5
5.07
1.56

@

Clay Buchholz
R
2-3
5.53
1.63
7:05 p.m.
James Shields
R
7-5
3.64
1.12

@

Cliff Lee
L
11-2
2.43
1.04
7:05 p.m.
Glen Perkins
L
5-2
4.27
1.48

@

Armando Galarraga
R
7-2
3.27
1.16
7:05 p.m.
Doug Davis
L
3-4
3.74
1.48

@

Kyle Kendrick
R
8-3
4.39
1.46
7:05 p.m.
Kyle Lohse
R
10-2
3.61
1.26

@

Zach Duke
L
4-5
4.23
1.56
7:07 p.m.
Joba Chamberlain
R
2-2
2.45
1.35

@

Roy Halladay
R
10-6
2.88
1.04
7:10 p.m.
Aaron Cook
R
11-6
3.66
1.29

@

Oliver Perez
L
6-5
4.62
1.43
7:35 p.m.
Roy Oswalt
R
7-8
4.60
1.38

@

Tim Redding
R
6-3
4.06
1.34
8:05 p.m.
Josh Fogg
R
1-2
8.39
1.63

@

Manny Parra
L
8-2
3.65
1.52
8:05 p.m.
Gavin Floyd
R
10-4
3.22
1.12

@

Kevin Millwood
R
6-4
4.93
1.66
8:10 p.m.
Felix Hernandez
R
6-5
2.83
1.25

@

Luke Hochevar
R
5-7
5.40
1.55
10:05 p.m.
Jon Garland
R
8-5
3.76
1.38

@

Sean Gallagher
R
3-4
4.45
1.36
10:05 p.m.
Jo-Jo Reyes
L
3-7
4.40
1.43

@

Jake Peavy
R
6-5
2.67
1.15
10:40 p.m.
Chris Volstad
R
1-0
0.00
2.00

@

Eric Stults
L
2-1
2.22
1.19
All times are ET.
Injury report
Out
Ryan Church, OF, Mets (concussion)
Johnny Damon, OF, Yankees (shoulder)
Elijah Dukes, OF, Nationals (knee)
Bobby Jenks, RP, White Sox (shoulder)
Ryan Spilborghs, OF, Rockies (oblique)
Brett Tomko, RP, Padres (elbow)

Day-to-day
Aaron Boone, 1B/3B, Nationals (calf)
J.D. Drew, OF, Red Sox (back)
Edgar Renteria, SS, Tigers (hamstring)
Dan Uggla, 2B, Marlins (ankle)
Justin Upton, OF, Diamondbacks (oblique)
Ramon Vazquez, 3B/SS, Rangers (shoulder)
Vernon Wells, OF, Blue Jays (leg cramps)

Start 'em, sit 'em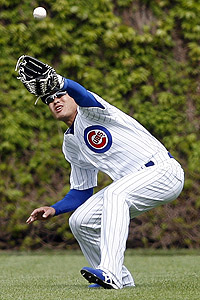 Kyle Terada/US PRESSWIREKosuke Fukudome seems to be a lot more comfortable playing in the Friendly Confines.
Hitters:
Jim Edmonds
and
Kosuke Fukudome
are especially attractive starters in a home game against a right-hander. Each is batting better than .300 with a greater than 1.000 OPS at Wrigley Field this season (Edmonds .310/1.256, Fukudome .368/1.033). …
Randy Winn
is a lifetime .438 hitter (7-for-16) with two home runs and a 1.313 OPS against the Cubs'
Jason Marquis
. … As a team, the Red Sox are 26-for-69 (.377 BA) lifetime against the Orioles'
Brian Burres
.
Jacoby Ellsbury
(4-for-5) and
Mike Lowell
(4-for-7, one home run) are two of the standouts. …
Jhonny Peralta
is 3-for-8 with two home runs in his career against the Rays'
James Shields
. Incidentally, Peralta has hit 46 of his 76 career homers at "The Jake." …
Joe Mauer
is 4-for-7 with five RBIs and three walks in his career against the Tigers'
Armando Galarraga
. With Galarraga's struggles against left-handed hitters -- he allows a .269 average and .810 OPS to that side -- Mauer,
Justin Morneau
and
Jason Kubel
are all must-starts. … Conversely, the Twins'
Glen Perkins
gets hit hard by right-handed batters, who have hit all 11 home runs he has served up this season.
Carlos Guillen
(4-for-7, 2 doubles, 1 home run) and
Gary Sheffield
(3-for-8) have been particularly successful against him in their careers. … Though
Chase Utley
and
Ryan Howard
generally are considered the Phillies' most productive hitters, the rest of the team actually hits left-handers fairly well, with a .789 team OPS against that side this season.
Pat Burrell
is a standout choice in home games against southpaws. …
Garrett Atkins
is 5-for-8 with a double, two home runs and three walks in his career against the Mets' Oliver Perez. …
Ryan Braun
has two hits in five career at-bats against the Reds'
Josh Fogg
, both of them home runs. … Both
Nick Swisher
and
Jim Thome
have really had
Kevin Millwood
's number throughout the years. Swisher is 9-for-22 (.409 BA) with three homers in his career against the Rangers right-hander; Thome is 3-for-4 with two homers. … Not that you'd ever sit him, but it's worth mentioning that
Chipper Jones
has been one of the most successful individual hitters against the Padres'
Jake Peavy
. Jones is 6-for-12 with two doubles and three homers against the right-hander. … Two of the Marlins' best lefty killers are
Jorge Cantu
(.321/.919) and
Cody Ross
(.280/.911), and both belong in your lineup even in a road game against the Dodgers'
Eric Stults
.
Pitchers: Matt Cain is 11-17 with a 4.35 ERA and 1.30 WHIP in 41 career games (40 starts) on the road, and he faces the Cubs, who have by far the game's best offense on their home field. The Cubs average 6.43 runs per game with an .894 team OPS at Wrigley Field, making this one of Cain's weakest matchups all season. Take all necessary precautions. … Though James Shields' 2-4 record, 6.09 ERA and 1.47 WHIP in eight road starts this season make him a less-attractive fantasy option in Cleveland, the fact that he's facing the light-hitting Indians keeps him at least AL-only and deep-mixed worthy. He lost his only career start at Progressive Field, but it was a quality-start effort on July 1, 2007 (6 1/3 IP, 6 H, 2 ER, 10 K's). … By comparison, Cliff Lee, Shields' opponent, is 4-0 with a 1.84 ERA and 0.98 WHIP in six home starts this season, and 2-1 with a 2.38 ERA and 1.03 WHIP in his past six turns overall. He's a must-ride for as long as this keeps up, even if the Rays bring a fairly formidable offensive attack. … Armando Galarraga has been underwhelming against the Twins in each of three meetings this season, and it's probably because they're a lefty-heavy offense and he's a pitcher who struggles to get out left-handers. Limit him to AL-only formats, at best. … Kyle Lohse has been a much-more-hittable pitcher on the road, where he has a 5.13 ERA and 1.66 WHIP in eight starts, than at home, where his ERA is 2.75 and WHIP 1.01 in 11 starts this season. The Pirates' offense is better than I've given credit in the past, so avoid this matchup if you can. … Aaron Cook dominated the Mets in their May 25 meeting (9 IP, 4 H, 1 ER), then they pummeled him in a June 20 rematch (7 IP, 12 H, 6 ERs). Meeting No. 3 comes at Shea Stadium this time, but Cook is 10-5 with a 3.44 ERA in his past 23 road starts, making him a worthwhile NL-only and deep-mixed option. … Of course, Oliver Perez is coming off back-to-back phenomenal starts against elite offenses (a combined 14 IP, 7 H, 1 ER, 14 K's against the Yankees and Phillies), so he's a slightly better pick than Cook. … Roy Oswalt pitched fine against the Nationals on May 7 (7 IP, 6 H, 3 ERs), so even though he has taken a noticeable step backward in fantasy production this season, he's well worth a look here. … Gavin Floyd is 6-1 with a 3.55 ERA and 1.16 WHIP in his past eight starts, but most importantly, he has 48 strikeouts compared to 13 walks during that span (3.69:1), backing up his effective pitching. An assignment at Texas' Rangers Ballpark isn't an easy one, but his hot streak is too good to ignore. … You can't ask for a much softer matchup for Felix Hernandez in his first start off the disabled list than one against the Royals. He's 2-0 with a 2.11 ERA and 0.89 WHIP in three career starts against them, and remember, his DL stint was more precautionary than a serious long-term concern. Activate him for this one.
Waiver-wire pickups
Hitters: Returning to the "play-Phillies-righties" thought, Jayson Werth is a must-start against left-handers at home. He's a .318 hitter with a 1.060 OPS against that side, and his OPS at Citizens Bank Park is .855 for the season. … Chad Tracy continues to play regularly against right-handers and is a .307/.874 hitter against that side for his career. In a game at Citizens Bank Park against a righty who is merely ordinary against left-handed hitters, he's worth a spot start. … The Nationals almost assuredly will slot in Aaron Boone at third base, considering he's a .391 lifetime hitter (9-for-23) with two homers and a 1.114 OPS against the Astros' Roy Oswalt. … The A's have more success than you might think against the Angels' Jon Garland. Bobby Crosby is a .370 hitter (10-for-27) with a 1.037 OPS, Daric Barton a .400 hitter (4-for-10) with a home run and Carlos Gonzalez a .667 hitter (4-for-6) with two doubles in their careers against the right-hander. … Kevin Kouzmanoff has been pretty productive against left-handers all season, batting .330 with a .954 OPS against that side. He's 2-for-3 with a double against the Braves' Jo-Jo Reyes. … Scott Hairston is also in the midst of a hot streak, with five home runs and an OPS greater than 2.000 in the month of July. His OPS is nearly 100 points higher against left-handers than right-handers, so get him in there against Reyes.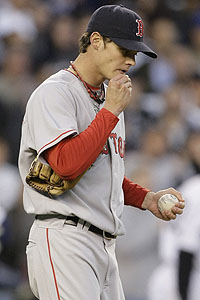 Rich Kane/US PRESSWIREClay Buchholz has his rotation spot back and returns to face the team he no-hit last year.
Pitchers:
Matt Cain might be the pitcher more fantasy owners trust in Friday's Giants-Cubs game, but Jason Marquis, despite his vastly inferior strikeout potential, should be at least as valuable an ERA/WHIP specialist in the contest. Marquis, by the way, is 3-1 with a 2.56 ERA and 1.01 WHIP in six career games (five starts) against the Giants, and three of those starts have come since 2006. … Go get Clay Buchholz right now. Seriously. He's available in nearly 75 percent of ESPN leagues, and in case you forgot, who was that team that he no-hit last Sept. 1? That's right, it was the Orioles, a team he has limited to a .029 team batting average in 12 career innings. It might seem bold to thrust a guy fresh off a minor league stint into your active lineup, but he was 4-2 with a 2.02 ERA and 1.18 WHIP in his past seven starts for Triple-A Pawtucket. Justin Masterson might not have deserved a bump from the Red Sox's rotation, but Buchholz should be no less effective in his spot, and he has the higher ceiling. …
Kyle Kendrick
is 10-3 with a 4.06 ERA and 1.30 WHIP in 19 career starts at home, and the Diamondbacks boast baseball's worst team OPS on the road (.659). Give him a whirl. …
Manny Parra
should be owned in more than 51.7 percent of ESPN leagues. He's 7-0 with a 2.65 ERA and 1.33 WHIP in his past 10 games (nine starts). For the season, Parra is 5-0 with a 2.70 ERA in 10 home games (nine starts), making him an effective must-start. … In his first start since his trade to the A's, I'm actually picking Sean Gallagher as the better option against the Angels' Jon Garland. The bottom line: He's the better strikeout artist, it's a home game in that pitcher-friendly ballpark, and in his past seven starts, Gallagher's ERA is 3.86 with a 1.26 WHIP. It's a close call, but that's how much an AL-only sleeper I'd call the guy now that he's in Oakland. … About the only thing not to like about Jo-Jo Reyes' start at San Diego's Petco Park is that he suffers the misfortune of being matched up against Jake Peavy. Remember, I don't play for wins, and there's enough ERA/WHIP/K's potential here to make Reyes well worth your time. … The Marlins are weak enough offensively against left-handers (.698 team OPS) that Eric Stults makes an intriguing NL-only sleeper for Friday. I'd probably base my decision to use him on whether Dan Uggla is out of the lineup, but Stults has pitched well in four spot starts for the Dodgers after managing respectable numbers in Triple-A.
Weather concerns
Only two games are weatherproof: Yankees-Blue Jays and Reds-Brewers. Outside of those, though, the weather should be beautiful across the board, with the only even remote chance of rain in Los Angeles and San Diego (20 percent apiece), cities where games virtually never are rained out. In most cities, temperatures should be right around 70 degrees, though Chicago's day game (Giants-Cubs) could see the heat index around 101. Sounds like a beautiful day to catch a game!
Tristan H. Cockcroft covers fantasy sports for ESPN.com. You can e-mail him here.
Fantasy
Senior writer for ESPN.com
Co-host of the Fantasy Focus Baseball podcast
Two-time LABR, two-time Tout Wars champion
Member of the FSWA Hall of Fame