Commentary
Daily Notes for Sunday: Aces rested and ready
Updated:
July 19, 2008, 9:50 PM ET
By
Adam Madison
| ESPN.com
As teams deploy their fully rested rotations to begin the second half, at least eight teams send out their respective aces Sunday, with Derek Lowe versus Brandon Webb being the highlight showcase. That again limits the viable hitting options, and it might be wise to sit even your accomplished hitters against some of these studs.
Edinson Volquez takes his 2.29 ERA and 12-3 record against the Mets, whose offense has finally come alive in recent weeks, and Cole Hamels attempts to conquer his troubles against the Marlins, who have scored nine runs in 13 2/3 innings against him this season.
Matchups for Sunday, July 20
Time
Visitors
L/R
Record
ERA
WHIP
Home
L/R
Record
ERA
WHIP
1:05 p.m.
Sean Gallagher
R
4-4
4.25
1.29

@

Andy Pettitte
L
10-7
4.03
1.34
1:10 p.m.
Cole Hamels
L
9-6
3.15
1.02

@

Josh Johnson
R
0-0
5.40
1.20
1:15 p.m.
Mike Pelfrey
R
8-6
3.64
1.47

@

Edinson Volquez
R
12-3
2.29
1.24
1:30 p.m.
Odalis Perez
L
2-7
3.71
1.46

@

Jo-Jo Reyes
L
3-8
4.40
1.43
1:35 p.m.
Justin Verlander
R
7-9
4.15
1.27

@

Brian Burres
L
7-5
5.02
1.55
1:40 p.m.
John Parrish
L
1-0
2.77
1.08

@

Scott Kazmir
L
7-5
3.04
1.17
2:05 p.m.
Ryan Dempster
R
10-4
3.25
1.18

@

Brandon Backe
R
6-9
4.76
1.56
2:05 p.m.
Brian Bannister
R
7-8
5.24
1.37

@

John Danks
L
7-4
2.67
1.15
2:10 p.m.
Vicente Padilla
R
10-5
4.70
1.45

@

Scott Baker
R
6-2
3.47
1.16
2:15 p.m.
Cha Seung Baek
R
2-5
5.14
1.31

@

Jaime Garcia
L
0-0
0.00
1.00
3:05 p.m.
Zach Duke
L
4-6
4.40
1.58

@

Aaron Cook
R
11-6
3.57
1.28
4:05 p.m.
Manny Parra
L
8-2
3.78
1.49

@

Tim Lincecum
R
11-2
2.57
1.25
4:10 p.m.
Cliff Lee
L
12-2
2.31
1.03

@

Carlos Silva
R
4-11
5.46
1.46
4:10 p.m.
Derek Lowe
R
7-8
3.85
1.23

@

Brandon Webb
R
13-4
3.23
1.16
6:00 p.m.
Tim Wakefield
R
6-6
3.60
1.18

@

Jon Garland
R
8-6
4.20
1.45
All times are ET.
Injury report
Out
Wily Mo Pena, OF, Nationals (shoulder)
Justin Upton, OF, Diamondbacks (oblique)

Day-to-day
Coco Crisp, OF, Red Sox (forearm)
Yunel Escobar, SS, Braves (shoulder)
Carlos Guillen, SS, Tigers (personal)
Jose Guillen, OF, Royals (back)

Start 'em, sit 'em
Hitters: Jorge Cantu is 3-for-6 with three home runs and no strikeouts versus Hamels this season. Hamels' lone weakness is his susceptibility to the home run, so Cantu's success against Hamels might not be a fluke. … Derrek Lee is just 3-for-15 against Brandon Backe, and with just two home runs in his past 160 at-bats, the power outage is worrisome.
Pitchers: Facing the Reds away from the confines of Shea Stadium will be a decent test for Mike Pelfrey. It'll give us a chance to see if he has truly turned the corner, as his past three starts might suggest. Pelfrey has a 5.56 ERA and 1.95 WHIP on the road this season, though, and facing Reds ace Edinson Volquez is further incentive to exercise patience and keep Pelfrey on your bench. … Since allowing seven runs in five innings against the Angels on May 18, Derek Lowe has been nearly lights-out, averaging more than 6 2/3 innings per start, with a 2.64 ERA and 1.01 WHIP, a stretch of 10 starts. Despite that recent success, Lowe is still a free agent in more than a quarter of leagues, and against the light-hitting Diamondbacks, he's an essential start.
Waiver-wire pickups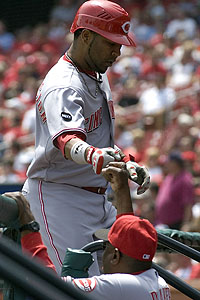 Jeff Curry/US PRESSWIREIf you take out May, Edwin Encarnacion has been very good.
Hitters:
An atrocious May (.172 BA, HR) has masked an otherwise productive campaign from
Edwin Encarnacion
. He has hit .303 with 15 home runs in 211 at-bats in all other months, including a blistering .357 average with three home runs so far in July, yet he's a free agent in more than half of ESPN standard leagues. …
Kevin Kouzmanoff
is hitting .286 with 10 home runs since May, and has done even more damage against left-handers, with four home runs and a .311 average in 103 at-bats this season. Kouzmanoff has a beneficial matchup against Cardinals rookie left-hander Jaime Garcia. … July has traditionally been
Adam LaRoche
's most productive month of the year, and like clockwork, LaRoche is hitting .400 with three home runs this month. Owners have been slow to warm to him -- he's still available in around 50 percent of ESPN standard leagues -- but LaRoche actually has hit .356 over his past 20 games, so his hot play goes beyond July.
Pitchers: Odalis Perez has been quite effective since coming off the disabled list, notching two quality starts in three outings and pitching well in the third before he was ejected. That makes him a solid option against the Braves, who haven't hit well this month and struggle against lefties. … The Giants have been just awful offensively in July, with their .583 team OPS sitting a full 69 points below the next worst performance (the Rays). Manny Parra takes the mound Sunday against them, and his recent performances (2.70 ERA his past seven starts) and above-average strikeout rate make a strong case for him as a spot start candidate.
Weather concerns
New York (A's-Yankees) and Miami (Phillies-Marlins) are the only potentially serious weather threats, with both areas being forecasted for a 30 percent chance of thunderstorms. … Blue Jays-Rays, Cubs-Astros, Rangers-Twins, Indians-Mariners and Dodgers-Diamondbacks are all weatherproof.
Adam Madison is a fantasy baseball analyst for ESPN.com
SPONSORED HEADLINES
FANTASY TOP HEADLINES
MOST SENT STORIES ON ESPN.COM