Commentary
Daily Notes for Thursday: Big Phils-Mets series wraps up
Updated:
July 23, 2008, 1:17 PM ET
By
Will Harris
| ESPN.com
The Phillies and Mets send left-handers Jamie Moyer and Oliver Perez, respectively, to the mound as they jockey for first place in the National League East. Also on the senior circuit, the Brewers and Cardinals clash in a battle for control of second place in the Central Division behind the Cubs, who have ace Carlos Zambrano pitching for them. Only two American League contests grace Thursday's seven-game slate.
Matchups for Thursday, July 24
Time
Visitors
L/R
Record
ERA
WHIP
Home
L/R
Record
ERA
WHIP
12:10 p.m.
Jamie Moyer
L
9-6
3.90
1.36

@

Oliver Perez
L
6-6
3.84
1.29
12:35 p.m.
Roy Halladay
R
11-7
2.89
1.03

@

Daniel Cabrera
R
6-5
4.57
1.44
3:45 p.m.
Tim Redding
R
7-4
4.17
1.37

@

Matt Cain
R
5-8
4.08
1.34
7:05 p.m.
Clay Hensley
R
1-0
0.00
0.40

@

Yoslan Herrera
R
0-1
19.50
3.83
8:05 p.m.
Scott Olsen
L
6-4
3.84
1.29

@

Carlos Zambrano
R
10-4
2.98
1.26
8:10 p.m.
Matt Garza
R
8-5
3.68
1.20

@

Gil Meche
R
7-9
4.55
1.35
8:15 p.m.
Ben Sheets
R
10-3
2.88
1.15

@

Todd Wellemeyer
R
8-4
4.22
1.27
All times are ET.
Injury Report
Out
Daric Barton, 1B, A's (neck)
Michael Cuddyer, OF, Twins (finger)
Chris Duncan, OF/1B, Cardinals (finger)
Julio Lugo, SS, Red Sox (quad)
Jorge Posada, C, Yankees (hand)
Justin Upton, OF, Diamondbacks (oblique)
Kerry Wood, RP, Cubs (finger)

Day-to-day
Geoff Jenkins, OF, Phillies (shoulder)
Billy Wagner, RP, Mets (shoulder)

Start 'em, sit 'em
Hitters: Only unbenchable Orioles should be in the lineup against Roy Halladay, who is 17-4 with a 2.93 ERA in his career versus Baltimore, including two shutouts in his past four outings. In fact, the current Orioles' roster has managed only a .624 OPS in 314 career at-bats against the Blue Jays' ace. Aubrey Huff (12-for-50) and Kevin Millar (7-for-47) have found it particularly tough sledding against Halladay. … Carlos Pena is batting a disappointing .232 this season, but he's 8-for-22 with two doubles and three home runs against Royals starter Gil Meche. … Carlos Delgado is on a tear in July, batting .403/.487/.731 after a slow start to the season. The Mets' first baseman has been on an equally impressive tear against Phillies left-hander Jamie Moyer, batting .405/.476/.824 in 74 career at-bats. Teammate Carlos Beltran, however, has not fared as well versus the 45-year-old lefty, managing just 10 hits in 46 at-bats. … Marlins left-hander Scott Olsen is having a solid season, but his skills need further development before he's a must-start hurler in mixed leagues. Olsen is not in sharp form currently and should be on the bench versus good offensive teams like the Cubs. … Among St. Louis hitters, only Albert Pujols and the recently disabled Chris Duncan have had any fortune against Milwaukee ace Ben Sheets. As with Marlins and Orioles hitters facing opposing aces, all but the essential Cardinals bats should be benched.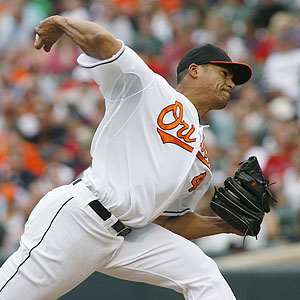 Geoff Burke/US PRESSWIREThe wild bug seems to have found its way back to Daniel Cabrera.
Pitchers:
Daniel Cabrera has been lousy of late, walking 15 batters with just nine K's in his past three starts. The inconsistent Orioles right-hander can't be relied upon versus Toronto. … Talented Rays right-hander Matt Garza is young and inconsistent. But he has been sharp more often than not in June and July, and the offensively challenged Royals make for a fine matchup on Thursday. … Oliver Perez has a 1.42 ERA in July, raising his ownership in ESPN leagues to near the 50 percent mark. The Mets' lefty is still walking too many batters, though, and is not recommended on Thursday against the potent Phillies. … Washington right-hander Tim Redding is still owned in 7 percent of ESPN leagues. That's 7 percent too many; Redding's skills aren't worth the downside even against the woeful Giants. … Todd Wellemeyer is still owned in half of ESPN leagues, but he's not the same pitcher he was before missing time because of elbow trouble. The Cardinals right-hander has allowed 18 earned runs in 22 innings during July and is not a good bet going forward.
Waiver-wire pickups
Hitters: Toronto outfielder Adam Lind struggled earlier in the season, but was handed a starting job again when Cito Gaston took over as the Blue Jays manager. Since then Lind has thrived, batting a healthy .379/.390/.672 in July. Lind fares much better against right-handers and makes an excellent addition versus Baltimore's Daniel Cabrera. … Austin Kearns' bat is starting to come around. The Nationals outfielder is 7-for-19 with four extra-base hits in his past four games. … Even mixed leaguers are starting to notice Padres second baseman Edgar Gonzalez. Not to be confused with the Diamondbacks pitcher of the same name, San Diego's Gonzalez is now hitting .328/.373/.466 on the season. Gonzalez is a nifty 14-for-27 in his last six games, making him a nice pickup against struggling Pirates rookie Yoslan Herrera.
Pitchers: With Washington closer Jon Rauch traded to Arizona, it appears that Joel Hanrahan will get the first ninth-inning look for the Nats. Hanrahan doesn't have the control to succeed in the role, long term, but he's the latest closer candidate worth a speculative pickup for mixed leaguers who desperately need saves.
Weather concerns
Rain across the Midwest could affect home dates for both the Royals and Cardinals. Showers in the northeast might threaten the Phillies' visit to the Mets as well. The other four contests Thursday will be dry.
Will Harris is a fantasy baseball and college football analyst for ESPN.com
Betting
College football handicapper
Covering fantasy sports for ESPN since 2008
SPONSORED HEADLINES
FANTASY TOP HEADLINES
MOST SENT STORIES ON ESPN.COM