Commentary
Daily Notes for Friday: Pedro makes long-awaited return
Updated:
July 31, 2008, 2:41 PM ET
By
Adam Madison
| Special to ESPN.com
Pedro Martinez will take the mound for the first time in nearly three weeks, thanks to a combination of the All-Star break, his father's passing, and shoulder and hip problems. Now that he's widely available in fantasy leagues, owners and Mets supporters alike will try to assess how much the brittle Martinez has left in him for the final two months of the season. The Diamondbacks and Dodgers also will resume their battle for first in the NL West, where premier left-handers of the past (Randy Johnson) and potentially future (Clayton Kershaw) face off in Dodger Stadium.
Matchups for Friday, Aug. 1
Time
Visitors
L/R
Record
ERA
WHIP
Home
L/R
Record
ERA
WHIP
2:20 p.m.
Jeff Karstens
R
0-0
0.00
0.00

@

Jason Marquis
R
6-6
4.69
1.45
7:05 p.m.
Ervin Santana
R
11-5
3.57
1.15

@

Sidney Ponson
R
6-2
4.59
1.66
7:05 p.m.
Justin Duchscherer
R
10-7
2.37
0.94

@

Tim Wakefield
R
6-8
3.94
1.20
7:10 p.m.
Ubaldo Jimenez
R
7-9
3.80
1.43

@

Chris Volstad
R
2-1
2.38
1.19
7:10 p.m.
Zach Miner
R
5-3
3.65
1.36

@

Scott Kazmir
L
8-5
2.84
1.16
7:30 p.m.
Jeff Suppan
R
5-7
5.04
1.61

@

Chuck James
L
2-3
8.22
1.78
7:35 p.m.
Homer Bailey
R
0-4
6.52
1.97

@

Odalis Perez
L
3-8
4.38
1.52
8:05 p.m.
Pedro Martinez
R
3-2
6.25
1.63

@

Brandon Backe
R
6-10
4.73
1.54
8:05 p.m.
Shaun Marcum
R
5-5
3.22
1.09

@

Tommy Hunter
R
0-0
0.00
0.00
8:10 p.m.
Javier Vazquez
R
7-9
4.73
1.36

@

Luke Hochevar
R
6-8
5.38
1.48
8:10 p.m.
Jeremy Sowers
L
1-5
5.86
1.65

@

Nick Blackburn
R
7-6
3.69
1.28
8:15 p.m.
Cole Hamels
L
9-6
3.27
1.04

@

Kyle Lohse
R
12-3
3.68
1.27
10:05 p.m.
Tim Lincecum
R
11-3
2.78
1.25

@

Josh Banks
R
3-4
3.92
1.27
10:10 p.m.
Garrett Olson
L
7-5
5.90
1.63

@

Jarrod Washburn
L
5-9
4.50
1.43
10:40 p.m.
Randy Johnson
L
8-7
4.58
1.34

@

Clayton Kershaw
L
1-3
4.53
1.70
All times are ET.
Injury report
Day-to-day
Rick Ankiel, OF, Cardinals (abdominal)
Michael Bourn, OF, Astros (ankle)
Milton Bradley, OF, Rangers (quadriceps)
Nomar Garciaparra, SS/3B/1B, Dodgers (knee)
Khalil Greene, SS, Padres (hand)
Cristian Guzman, SS, Nationals (thumb)
Brian McCann, C, Braves (concussion)
Scott Rolen, 3B, Blue Jays (shoulder)
Freddy Sanchez, 2B, Pirates (back)
Skip Schumaker, OF, Cardinals (hamstring)
Luke Scott, OF, Orioles (shin)
Michael Young, SS, Rangers (finger)

Start 'em, sit 'em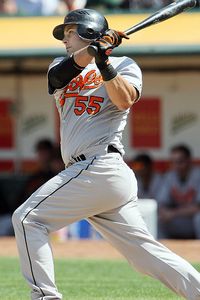 Dave Stephenson/Icon/SMIIt's taken awhile, but Ramon Hernandez is finally starting to hit.
Hitters:
Howie Kendrick
hit .364 in July and had four of his seven walks of the season to boost his OBP to .351. He's hitting second in the lineup ahead of newly acquired
Mark Teixeira
and
Vladimir Guerrero
, and is in line to be the biggest beneficiary of the trade. … The Tigers are one of the few teams that match up very well against Scott Kazmir, as most of their hitters are superb against lefties.
Placido Polanco
(.378),
Magglio Ordonez
(.360),
Edgar Renteria
(.316),
Carlos Guillen
(.311) and
Marcus Thames
(9 HRs in 80 at-bats) are all more productive against southpaws than righties. The Tigers as a team hit .296 against lefties, tops in the majors. …
Ramon Hernandez
is now up to a .371 average and four home runs in his past 10 games since the All-Star break. He hit a respectable .273 with three home runs in June, too, so he could be both a short- and long-term option at catcher. …
Conor Jackson
(.392 BA, 3 HRs in 97 at-bats),
Chris Young
(.315 BA, 4 HRs in 124 at-bats) and
Mark Reynolds
(.267 BA, 9 HRs in 105 at-bats) all punish lefties and should be started against Dodgers rookie southpaw Clayton Kershaw. …
Matt Kemp
is hitting .360 with six home runs in 111 at-bats against lefties, and he's 2-for-2 with a stolen base in the few times he's faced Randy Johnson.
Pitchers: With six scoreless innings against the Reds in his most recent start, Ubaldo Jimenez improved his ERA to a 2.07 mark in his past 10 starts. The Marlins' offense has struggled in July and actually hits worse at home than on the road, so there's no reason Jimenez shouldn't continue to pitch well and possibly pick up his seventh win in nine starts. … It should be an easy choice to bench Shaun Marcum, who has allowed four, six and four runs his past three starts against the Brewers, Orioles and Mariners. He's allowed six home runs in those games. … Javier Vazquez's past four starts have been a great example of his inconsistency as a pitcher: six runs against the Tigers, 10 strikeouts versus the Rangers, six runs against the Royals and 10 strikeouts versus the A's. He faces the Royals again, who sport a .301 OBP in July, and you wouldn't think Vazquez could do poorly against such a weak-hitting team twice. … Everyone's allowed at least one mulligan, and Kyle Lohse was facing a streaking Mets lineup in Shea Stadium, so his seven-run, five-inning pounding wasn't a surprise. He still limited the Brewers and Cubs, two quality offenses, to a combined five runs in 15 innings in two previous July starts. He faces another test in the Phillies, but at least this one is in Lohse's comfort zone: he has a superb 2.79 ERA and 1.02 WHIP in 13 starts in Busch Stadium. … Randy Johnson has a 2.95 ERA in 12 road starts since rejoining the Diamondbacks in 2007, compared to a bloated 5.40 ERA in 17 starts at Chase Field, a noted hitters' park. The Dodgers are decent enough against lefties (.765 OPS, 10th in the majors) to call starting Johnson into question, but his past two starts and that sparkling road ERA seal the deal.
Waiver-wire pickups
It's not too late! Leagues are forming and drafting until Sep. 20, with scoring retroactive to Week 1.
Sign Up Today!
Hitters:
Bill Hall
has been superb against lefties this season (.350 BA, 6 HRs in 100 at-bats) and had his best month in more than a year in July (.278 BA, 4 HRs, .870 OPS). Friday's Braves pitcher, Chuck James, has served up seven home runs in 23 innings, including three in his last start.
Pitchers: Although he's allowed 10 runs in his past two starts, Tim Wakefield is still sporting a sub-4.00 ERA, and he'll face what is probably the weakest lineup in the AL at this point in the A's. Jack Cust is the only regular with an OPS over .800, and the team averaged just 3.4 runs per game in July. … Chris Volstad has three straight quality starts, with a decent 15 strikeouts in 20 2/3 innings. Throw in just one home run in those innings -- against the Cubs, an excusable team to serve one up to -- and Volstad seems like he can stay a legitimate major league starter, at least his first time through the majors. Facing the Rockies away from Coors makes him another viable start, too. … Pedro Martinez is scheduled to pitch Friday for the first time since July 12, but keep him reserved because he likely won't go past 80 pitches and four or five innings against the Astros. … Nick Blackburn will face the Indians for the fourth time on Friday, and judging from his previous three starts -- 1.31 ERA, 1.02 WHIP -- it seems he has them all figured out. Blackburn limited them to one run in seven innings just this past Sunday, but this time the game will be in the Metrodome, where Blackburn has a 2.70 ERA and 1.22 WHIP.
Weather concerns
The Pirates-Cubs matchup has the day's highest probability of rain, with a 40 percent chance of storms. Outside of that, the lone game with weather concerns is in Miami for the Rockies-Marlins contest, which has a 30 percent chance of rain. Tigers-Rays, Mets-Astros, Indians-Twins and Orioles-Mariners games are weatherproof.
Adam Madison is a fantasy baseball analyst for ESPN.com
MOST SENT STORIES ON ESPN.COM