Commentary
Daily Notes for Saturday: Fine day for pitchers
Updated:
August 8, 2008, 11:58 AM ET
By
Sean Allen
| Special to ESPN.com
It looks like a pretty good day for pitching. Based on matchups, strengths and recent streaks, I think I've managed to recommend as many as 18 pitchers as having a shot at a quality start. Keep that in mind as you mix and match your offense trying to find the weak pitchers who do take the hill Saturday.
That also means you should watch for your opponent in head-to-head leagues as they may try to sneak in some spot starts against you. With so many options, you should be able to match him or her.
Matchups for Saturday, Aug. 9
Time
Visitors
L/R
Record
ERA
WHIP
Home
L/R
Record
ERA
WHIP
1:07 p.m.
Paul Byrd
R
6-10
4.72
1.34

@

Roy Halladay
R
13-8
2.77
1.02
3:55 p.m.
Dan Giese
R
1-3
2.51
1.05

@

John Lackey
R
9-2
3.10
1.10
3:55 p.m.
Todd Wellemeyer
R
8-4
4.01
1.29

@

Carlos Zambrano
R
12-4
2.76
1.21
7:05 p.m.
Vicente Padilla
R
12-5
4.59
1.44

@

Daniel Cabrera
R
7-7
4.97
1.48
7:05 p.m.
Dan Meyer
L
0-0
0.00
0.80

@

Armando Galarraga
R
9-4
3.23
1.13
7:05 p.m.
Daisuke Matsuzaka
R
12-2
3.04
1.36

@

Jose Contreras
R
7-6
4.60
1.36
7:05 p.m.
Ian Snell
R
4-8
6.14
1.90

@

Brett Myers
R
4-9
5.34
1.47
7:05 p.m.
Tim Redding
R
8-6
4.44
1.39

@

Ben Sheets
R
10-5
3.14
1.19
7:10 p.m.
Francisco Liriano
L
1-3
7.16
2.08

@

Zack Greinke
R
9-7
3.93
1.32
7:10 p.m.
Brian Moehler
R
7-4
4.01
1.33

@

Bronson Arroyo
R
10-8
5.55
1.51
7:10 p.m.
Scott Olsen
L
6-6
3.87
1.28

@

Brian Stokes
R
0-0
0.00
0.00
8:05 p.m.
Greg Maddux
R
5-8
4.17
1.25

@

Aaron Cook
R
14-7
3.68
1.28
8:10 p.m.
Jair Jurrjens
R
10-7
3.12
1.31

@

Dan Haren
R
12-5
2.75
0.98
9:05 p.m.
Hiroki Kuroda
R
6-8
4.21
1.27

@

Kevin Correia
R
2-6
5.53
1.60
10:10 p.m.
Matt Garza
R
9-7
3.70
1.23

@

Miguel Batista
R
4-11
6.80
1.95
All times are ET.
Injury report
Out
Elijah Dukes, OF, Nationals (calf)
Adam Jones, OF, Orioles (foot)
David Murphy, OF, Rangers (knee)
Billy Wagner, RP, Mets (elbow)
C.J. Wilson, RP, Rangers (elbow)

Day-to-day
Rick Ankiel, OF, Cardinals (abdominal)
Jason Bartlett, SS, Rays (finger)
Milton Bradley, OF, Rangers (quadriceps)
Asdrubal Cabrera, 2B/SS, Indians (ankle)
Jose Contreras, SP, White Sox (forearm)
David DeJesus, OF, Royals (back)
Jerry Hairston Jr., SS/OF, Reds (hamstring)
Maicer Izturis, 2B/3B/SS, Angels (thumb)
Andy LaRoche, 3B, Pirates (thumb)
Mark Loretta, 1B/2B/3B/SS, Astros (thigh)
Mike Napoli, C, Angels (shoulder)
Tim Redding, SP, Nationals (quadriceps)
Ivan Rodriguez, C, Yankees (knee)
Ryan Theriot, 2B/SS, Cubs (foot)
Kevin Youkilis, 1B/3B, Red Sox (hand)

Start 'em, sit 'em
Hitters: Of the listed day-to-day hitters who are fantasy regulars, look for Rick Ankiel, Ryan Theriot and Kevin Youkilis possibly to be ready to go Saturday. Check to see what, if anything, they did Friday and make a judgment call from there. I will note that Ankiel is 0-for-6 versus Carlos Zambrano, though. ... Raul Ibanez has two home runs in six at-bats versus the Rays' Matt Garza and has 16 RBIs in his past six games (entering Friday). ... If any Pirate manages to touch up Brett Myers, it'll be Nate McLouth. He is 2-for-5 versus the Phillies' righty, with both hits being home runs. ... Ryan Ludwick's six home runs in six games are impossible to ignore. The streak of straight games with a bomb ended Thursday, but keep him active until it's clear he's cooled off.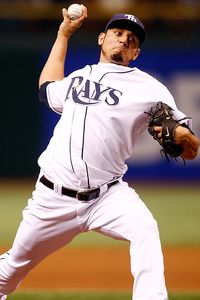 J. Meric/Getty ImagesMatt Garza looks like a good bet against a weak Mariners lineup.
Pitchers:
There is no reason to consider benching
Francisco Liriano
in his second start back from the minors. Kansas City is a middle-of-the-road offense versus lefties, but has been in the bottom 10 for OPS since the All-Star break (.742). ... Fantasy owners have five stud starters to choose from on this slate.
Roy Halladay
takes his 5-1 career record against the Indians into a home start;
John Lackey
is back in his friendly confines for a rematch with the Yankees; Carlos Zambrano carries a career 2.26 ERA in 19 starts against the opposing Cardinals;
Ben Sheets
gets the offensively inept Nationals at home; and the NL's WHIP leader --
Dan Haren
-- is home to face the Braves. I will go on record as urging caution with the Lackey start against New York. Every Yankees regular, except for
Alex Rodriguez
,
Bobby Abreu
and Ivan Rodriguez, hits .300 or better versus Lackey. I'd only march out the Angels' ace if you really need a big performance to save a head-to-head matchup. ... Even when he's not at his best, Matt Garza usually doesn't do too much damage to your fantasy team. Even though the Mariners have been hitting much better since the All-Star break, they still split out as an easy matchup for right-handed pitchers (.679 OPS versus righties this season). Use Garza here. ...
Daisuke Matsuzaka
is a must-start when the Red Sox are away from Fenway Park. He is 5-0 with a 2.20 ERA in eight starts outside of Boston. Opponents are batting just .158 against Matsuzaka in road starts. ...
Armando Galarraga
is a terrific option versus the A's, although you could probably say that about most pitchers. The A's have a league-worst .598 OPS since the All-Star break and have scored a measly 49 runs in 18 games since then (2.72 per game). ... Coming off two straight quality starts, look for
Zack Greinke
to give you a third against the light-hitting Twins. The Twinkies have just a .708 OPS since the All-Star break and have a combined-lineup average of just .238 versus Greinke (24-for-101).
Justin Morneau
,
Joe Mauer
and
Nick Punto
all hit below .200 versus him. ...
Aaron Cook
has dominated the Padres in two starts this season; going 2-0 and allowing one run in 16 innings. Shrug off his last outing and use him here. ...
Jair Jurrjens
is always a decent start when the Braves are on the road (2.92 ERA away, 3.34 at home).
Waiver-wire pickups
Hitters: Jeff Mathis hit very well with Mike Napoli on the mend, but Napoli should still return to a timeshare and is the choice among Angels' catchers for power. He's expected off the DL for Friday's game. ... Lastings Milledge had a pair of home runs Thursday, and has four bombs in his previous six games (entering Friday). ... New Cardinal Felipe Lopez has an encouraging history versus Carlos Zambrano. In 31 at-bats, Lopez is a .290 hitter with a double, a triple and two home runs. Throw in his six walks versus Big Z, and Lopez has a .405 on-base percentage against him. He looks like a candidate for a stolen base here. ... Let it be known that Austin Kearns--a popular pickup lately--is a big 0-for-9 versus Ben Sheets with six strikeouts. ... Marlon Byrd finished the series with the Yankees with a home run, two stolen bases and four RBIs. ... No current Cleveland hitter has ever homered off Roy Halladay. The Tribe's current lineup is a combined 20-for-91 (.220) with a meager .595 OPS. Look elsewhere for some spot-start hitters. ... If Mark Loretta looks healthy, don't hesitate to use him somewhere in your infield. He is 11-for-20 (.550) versus Bronson Arroyo. ... It goes against his usual splits, but Reed Johnson is 4-for-9 versus Cardinals' righty Todd Wellemeyer. If he is in the lineup, he could be a good last minute start in the outfield. ... Watch for Jarrod Saltalamacchia as the Rangers lineup gets announced before game time. He's 2-for-3 with a home run versus Daniel Cabrera. ... Jason Kendall is 7-for-16 (.438) versus the Nats' Tim Redding. It's just empty average, but you could do worse for a No. 2 catcher. ... Mike Cameron has a pair of home runs and a pair of steals over his previous five starts (entering Friday). He's available in 85 percent of ESPN leagues. ... Denard Span is still making a name for himself. He has five RBIs, a home run and a steal in his previous four games (entering Friday). ... It's time to perk up and pay attention to Red Sox shortstop Jed Lowrie. In Boston's previous two series, Lowrie managed 11 RBIs.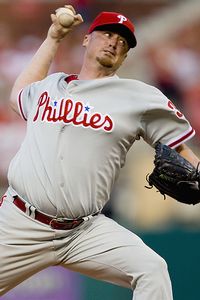 Dilip Vishwanat/Getty ImagesMaybe that trip to the minors has fixed Brett Myers' game.
Pitchers:
I'm just about ready to declare Brett Myers back. In three starts since his minor-league assignment, Myers sports a 2.50 ERA, hasn't allowed more than four hits in a game and has walked just one batter. Most importantly, Myers has allowed just one home run after leading the league in that category before his demotion. In seven career appearances versus the Pirates, Myers has a 2.92 ERA. ...
Dan Giese
has been great out of the bullpen for the Yankees, and his last assignment happened to be three innings against the Angels on Aug 3. He allowed only one hit. Giese has held opponents to a .192 batting average out of the bullpen and could log a quality start here against the Angels' tough bats. He looks more like an option in AL-only or 14-team leagues, though. ... The Orioles have a terrific .818 OPS since the All-Star break.
Vicente Padilla
is not an option in this matchup, especially considering
Brian Roberts
and
Nick Markakis
hit better than .500 versus him. ...
Hiroki Kuroda
ended a string of terrible outings with 7 1/3 innings of one-run baseball against the Diamondbacks his last time out. The Giants have been an absolute cakewalk for opposing pitchers since the All-Star break (.616 OPS) and have only six home runs in their previous 18 games (entering Friday). It's interesting to note that Kuroda's July 28 outing was a disaster against the Giants (3 2/3 innings, nine hits, seven earned runs), but the numbers favor him so much that two outings like that in a row against San Francisco just doesn't seem likely. ... Don't read much into Jose Contreras' return from the DL. He has been a terrible pitcher against the Red Sox in his career, with a 9.12 ERA in nine starts. He could still prove valuable down the stretch even if he lays an egg here. ...
Dan Meyer
has looked great in two relief appearances this season, but a matchup against the lefty-killing Tigers isn't the place to test him out. ... It's somewhat unexpected considering the ballpark's tendencies, but Bronson Arroyo has been much better at Great American Ball Park this season than on the road. In 12 home starts, Arroyo has a 3.98 ERA, compared to 7.48 on the road. Even though he coughed up six runs to these same Astros two starts ago, I feel comfortable in recommending him in a home rematch. ...
Greg Maddux
is only a spot-start candidate at home. His ERA on the road is 6.02 this season, and he coughed up eight runs in 4 2/3 innings June 30 in Coors Field. ... Start Todd Wellemeyer against the Cubs. In his previous three outings, Wellemeyer has allowed two runs or fewer and although the Cubs offense has been sixth in OPS since the All-Star break (.815), two of those Wellemeyer starts came against the tough Phillies and Brewers lineups. You know he won't give you strikeout numbers and may not get a win against Carlos Zambrano, but a ratio-helping quality start is useful in deeper leagues. ...
Paul Byrd
has been doing his best
Cliff Lee
impression over his past three starts, sporting 0.90 ERA in that span. He's won all three of those games and has a nice matchup against the light-hitting Blue Jays. ... Avoid
Scott Olsen
. His numbers on the road this season are ugly (5.37 ERA away, 2.91 ERA at home).
Weather concerns
Looks like a good day for baseball. Only New York and Denver have a chance of showers in the forecast, with both the Marlins-Mets game and Padres-Rockies game calling for a 30 percent chance of rain. ... Four games will be played under a roof: Indians-Blue Jays, Nationals-Brewers, Braves-Diamondbacks and Rays-Mariners.
Sean Allen is a fantasy baseball and hockey analyst for ESPN.com. You can e-mail him here.
Sean Allen is a fantasy analyst for ESPN.com. He was the 2008 and 2009 Fantasy Sports Writers Association Hockey Writer of the Year. You can tweet him
@seanard
.
SPONSORED HEADLINES
FANTASY TOP HEADLINES
MOST SENT STORIES ON ESPN.COM